Victoria's Secret Problems: 3 Big Issues the Lingerie Chain Needs to Address
Unless you've been on a media diet for the last month or so, you probably know the Victoria's Secret Fashion Show (VSFS) happened last week. Billed as the "Sexiest Night on Television," this year was the 10th televised broadcast of VSFS (even though there's been a version of the show since the mid-90s) and it's turned into a bit of a tradition. Between its millions of viewers (and subsequent millions of sales), the VSFS is one of the effective marketing campaigns in the world.
Usually, I do a quick write-up after the show talking about my favorite looks and maybe what I did or didn't like about the broadcast. But as I was reviewing my notes for this post (Rihanna was great, the lingerie was plain, and the interviews in between segments were forced), I felt like I would be missing some bigger issues if I just spoke about the show and nothing else. Because the truth is, Victoria's Secret, despite its position as the #1 lingerie retailer in America, has a few issues it needs to deal with right now. Issues that make the fashion show seem a bit silly in comparison.
Some of you may be surprised I'm saying this. After all, a few months ago I wrote a post about how Victoria's Secret actually benefits the lingerie industry (short version: it exposes a lot of women to lingerie who might otherwise never get a chance to try the stuff), and I upset quite a few people who interpreted that post as a blanket acceptance of everything Victoria's Secret has ever done and ever will do. So it feels appropriate now to spend some time talking about the ways Victoria's Secret is really messing up.
Victoria's Secret Has a Race(ist) Problem
Less than two months after Victoria's Secret shocked anyone with a conscience over their blatantly racist 'geisha' costume (modeled by the ultra blonde and very-definitely-not-Asian, Candice Swaenpoel), they upped the ante by putting the very Midwest and most-certainly-not-Native-American, Karlie Kloss, in an Indian costume. As the saying goes, once is an accident, twice is a coincidence, but three times is a pattern. And the third time, if you remember, is last year's fashion show which crammed all the black models into one 'tribal' sequence).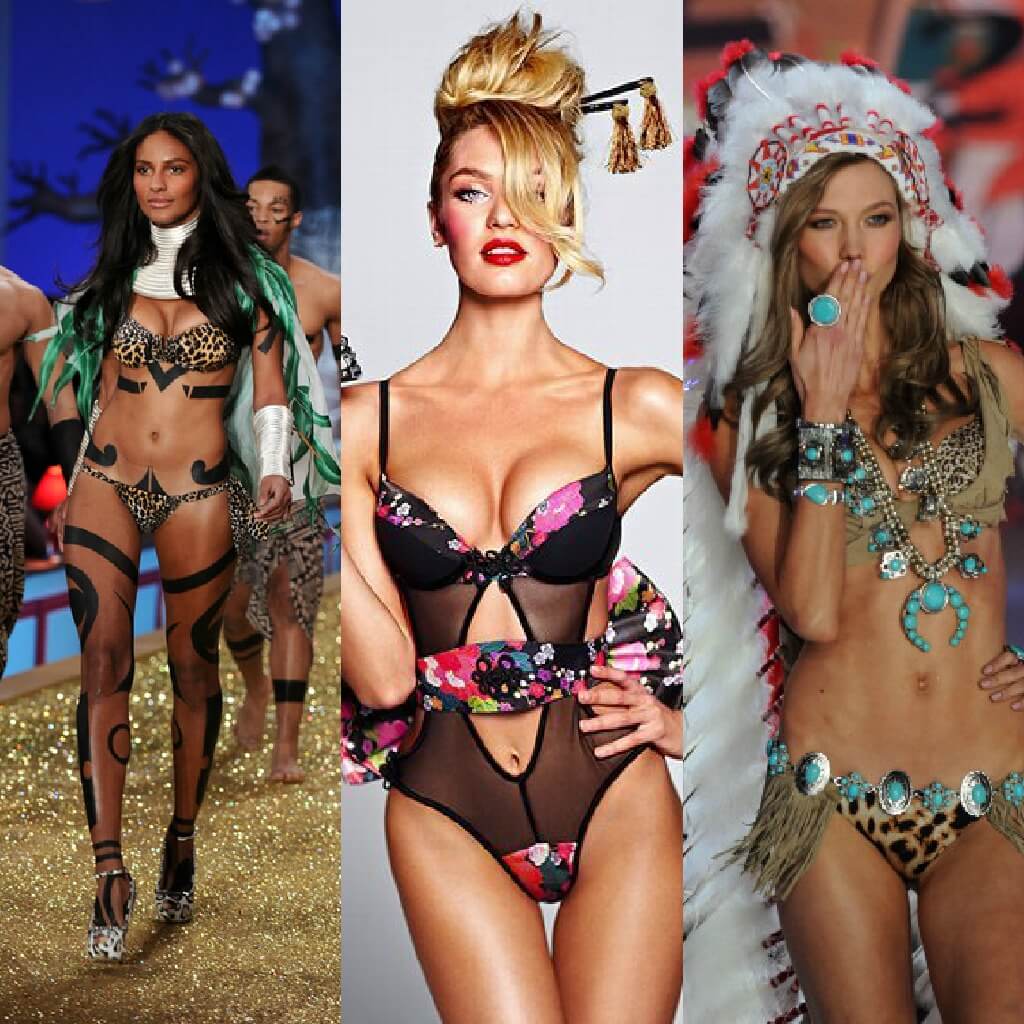 Now, I don't think the people in charge of Victoria's Secret are idiots. At the very least, the company has more than enough money to spend on diversity consultants or customer focus groups or even a book or three on racial stereotyping. Yet it appears they do none of those things prior to spending thousands (if not millions) of dollars on making and manufacturing these explicitly racist costumes. So that makes me wonder if they either don't care (which is bad) or if they're deliberately trading on racist controversy to bring some attention to the brand (which is worse).
Inevitably, when the R-word (by which I mean racism) comes up, someone responds with, "Well, they probably don't intend to be racist!" Which may be true. After all, I don't live with any of their designers. But I think we can at least agree that Victoria's Secret doesn't intend to avoid being racist either. And one can only be 'accidentally' racist so many times before other people begin to wonder what exactly is going on.
Victoria's Secret Has a Gender Problem (and It's Not the One You're Thinking Of)
The current roster of Victoria's Secret Angels (i.e. their headliners) includes the following nine models: Adriana Lima, Lily Aldridge, Alessandra Ambrosio, Miranda Kerr, Doutzen Kroes, Behati Prinsloo, Candice Swanepoel, Lindsay Ellingson, and Erin Heatherton. When it comes to the Angels, many people focus on the physical homogeneity of the women and that is a problem.
Unfortunately, it's not a unique issue to Victoria's Secret, and that discussion often leads to incredible amount of body snark, body shame, and body hate... three things I have no interest in or tolerance for. Instead, I want to spend some talking about the whole Virgin/Whore complex Victoria's Secret actively trades in.
I'm not sure if you've noticed, but in the past few years, there's been an increasing emphasis on the models' (always heterosexual) relationships. The first five Angels listed above are married (they also happen to be the most popular Angels), and I've often noticed their relationship is invoked by the brand during promotional events. It's as if to imply, "Yes, these women are famous for being underwear models, but they're ladies. They're good girls, so everything's okay."
Meanwhile, in the rest of the country, women are having to deal with police officers who say things like "Dressing like a slut makes you rapeable." That contrast... that juxtaposition is very unsettling to me. I know the company is attempting to capitalize on the "They're wives and moms just like you" angle, but it's very distressing when the legitimacy of their most popular models is so heavily linked to their relationship status. Because it reinforces the notion that expressing your sexuality or being a sexual being, is only okay if you're doing it the right way.
Victoria's Secret Has an Image Problem
The last year has been full of scandals for Victoria's Secret. From the use of child labor in Burkina Faso to photoshopping away model's limbs to ever-decreasing product quality and a reputation for egregious fitting techniques, the bright and shiny image Victoria's Secret has built up over the last decade is slowly being chipped away.
While they are still the name in lingerie, at least in America, every new scandal reminds the public that Victoria's Secret isn't about women's empowerment or being sexy or even lingerie... they're just a regular, run-of-the-mill clothing company out to make a buck. And once that "secret" gets all the way out, the brand may never recover.
What are you thoughts on Victoria's Secret? Did you watch the fashion show? Have you kept up with the scandals this year? Let's chat in the comments.