At a Snail's Pace: Starting the Lingerie Brand 'Karolina Laskowska'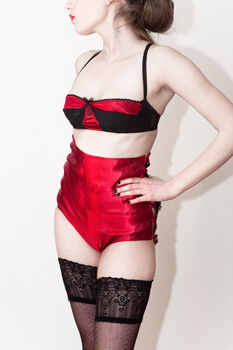 The first lingerie set that I ever made, January 2011
Since I learned to sew in early 2011, I've turned into a bit of a lingerie-making machine; the space under my bed is literally stuffed full with boxes of bras and knickers. Those of you who've been following my antics will know that it all started in an attempt to get a place at De Montfort University for the Contour Fashion degree --- a course that specialises in lingerie design and, quite frankly, my dream degree.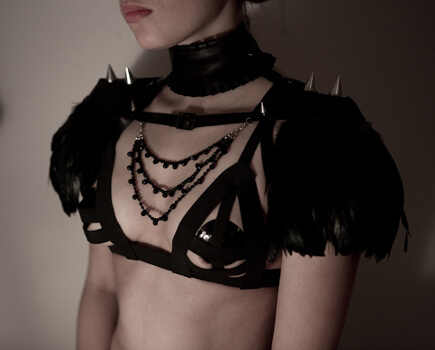 My first foray into lingerie (handsewn!)

I've always enjoyed making things – my mother used to joke that I was a 'factory.' Once the lingerie obsession took hold, it was pretty much inevitable that I'd be chaining myself to the sewing machine. What made this obsession different to my previous ones, though (take greeting cards and candles as an example), was that it gave me a step into the fashion world. People started to notice the creations I shared online – or, more relevantly, photographers started to notice them. They liked what I was doing and soon enough I was collaborating with people whose work I'd previously only admired from afar, well before I'd even started my degree.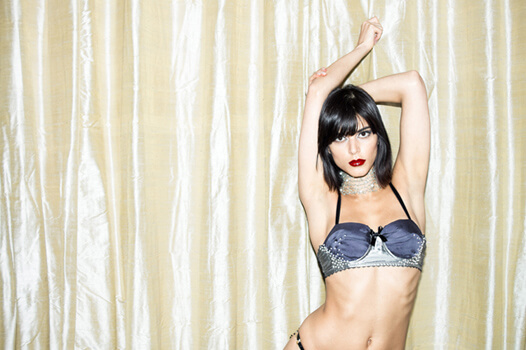 Padded silk chiffon bra with freshwater pearls. Model is Sundal, photographed by Simon Crinks
It may be strange to admit, but seeing such gorgeous and professional photos of my designs gave me a sense of confidence and almost validated my decision to study lingerie. It also meant more people saw my work --- soon enough I was seeing my work reblogged all over the place and people were contacting me to make things for them. The idea of starting my own 'brand' began to play on my mind….
Yet it was an event at the beginning of this Summer that really made my mind up. I'd been told repeatedly by all sorts off people in the industry that starting a brand was a terrible idea, that there was no money in it, that my ideas weren't original.... Until, one day, I received an email from a certain boutique asking if I did wholesale.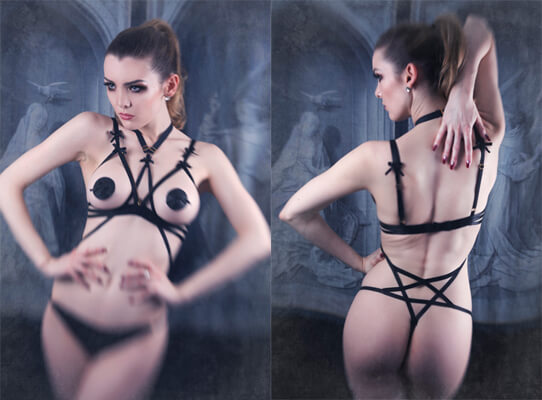 The pentagram thong playsuit and frame bra, two of the items requested for wholesale. Model is Miss Miranda, photography by Anna Swiczeniuk.
When I first read it, I wasn't too hopeful. I'd had enquiries before but they'd all fallen through. After all, I wasn't a proper 'brand.' I didn't have anything established. As far as I was concerned, I was just a girl on the internet who occasionally posted photos with some knickers that she'd made. Yet, as it turned out, this was a serious enquiry – I began to consider it, and a burst of unseasonal confidence made me agree to it – styles and quantities were discussed, and before I knew it, I'd given a delivery date and had a deposit in my bank account.
Then the realisation hit me that I was responsible for making 26 garments to retail standard. As did the realisation that I was responsible for all of the small things that come with clothing in retail – labels, tags, packaging…. All of a sudden it seemed like a mountain of work. I didn't have time to hang around.
Straight away, I set about buying materials, designing labels, and ordering samples. And then I set about the real hard work – grading my samples into different sizes and making sure that they fit. My poor friends had to suffer my incessant requests to cover them in elastic straps, all in a bid to make sure that garments actually looked good on the body! Eventually, I got everything into a state I was happy with – lingerie that I'd want to own.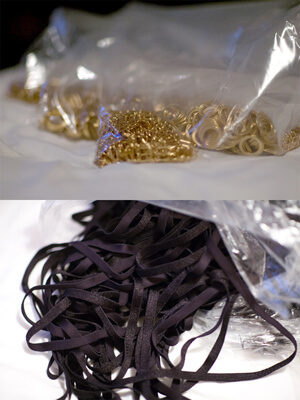 Copious amounts of components and elastic
And so, production began. For several weeks, I confined myself to my room. I went through literally hundreds of metres of elastic and endless amounts of gold rings and sliders. I seemed to have a panic attack nearly every day (the worst being when I thought my sewing machine had broken, with just one week to go), yet eventually, I managed to get everything sewn.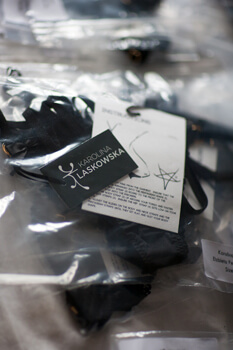 Pentagram thongs, packaged up with instructions attached
Soon enough, I was labelling everything and packing it up in plastic bags, ready for shipping. It was quite a surreal experience, seeing everything packaged up and actually looking professional. As if these garments actually belonged in a shop. Before I knew it, I was handing a big box full of knickers over to a FedEx man, ready to be shipped to a boutique far, far away.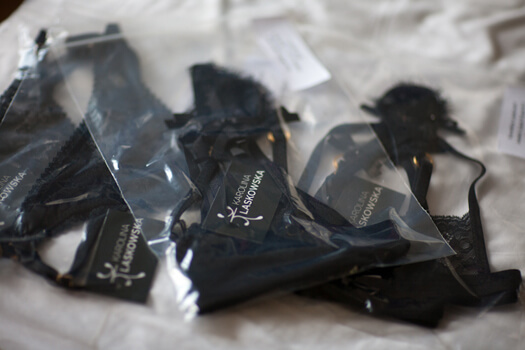 Packaged frame bras
I spent the next few days worrying – what if they didn't like what I'd made? What if it was all a big mistake? Luckily, my worrying was all assuaged soon enough. I received a lovely email from the retailer, and soon enough I realised – if my designs are considered good enough for an actual shop, they're good enough for the rest of the world too. Starting my own brand – the dream I'd had for a while but was always a bit too scared to pursue – was actually happening.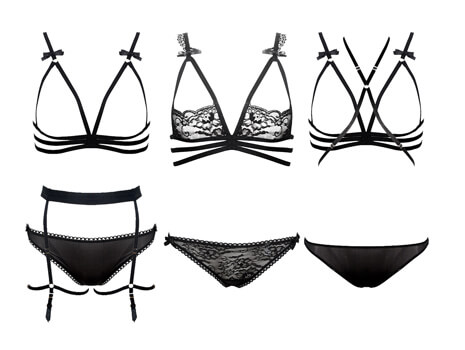 My ready-to-wear range of lingerie
So what can you expect from my brand? Well, that's a question I've been puzzling over myself, and one I still haven't thought of a proper answer to! I've ended up deciding to have three different 'ranges' of products – with the main theme running through them being that it's lingerie I'd like to own myself.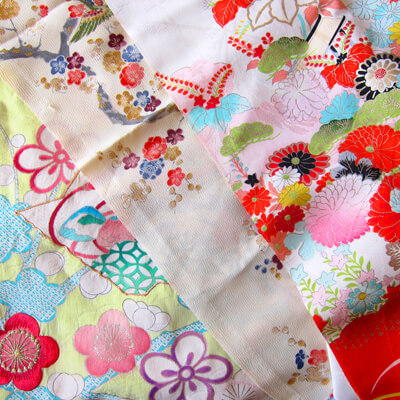 Some of the kimono silks that I can't wait to start working with
The first is my 'ready-to-wear' range, which is based around my most popular designs – strappy frame bras and my pentagram playsuit. The second is the 'limited edition' range – this will contain the one-off designs that I get most excited about, using rare and luxurious fabrics and embellishment. My current plan is to use my recently acquired vintage kimono silks – each piece will be truly unique as I only have so much of each fabric! I'm also dreaming of one day getting my hands on some couture laces and pairing them with some of my more bondage-inspired influences….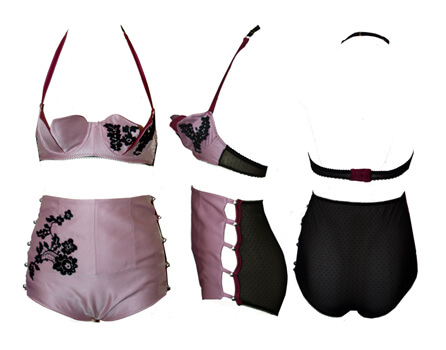 An example of a one-off design
Finally, I want to give my customers of having something truly unique, made just for them – bespoke lingerie sets. Bespoke lingerie is something I can get incredibly excited and passionate about – there's something so satisfying in creating something for an individual, knowing it's going to be something truly special for them. The experiences I've had so far with people approaching me for bespoke lingerie have all been wonderful, and I want more people to know it's a service that's available instead of just being scared to ask!
I've finally got round to making my own website, finally giving people a chance to buy my garments and to showcase my work so far (from my one-off designs to all the lingerie and fashion photoshoots I've been lucky enough to participate in). Everything I'm doing is still at an incredibly small scale – after all, I'm only just about to go into my second year of university. I know all the work I'll have to do in the forthcoming year means I simply won't have time to expand things, plus there's no way I'd be able to get the money together to have things manufactured in a factory! Yet I'd still like to think I've made my first small step into joining the lingerie industry. I know it's not something I'll be able to pursue at any serious business level until I've finished my studies, but until then, it's a good feeling to know that people genuinely want to buy my lingerie and admire my work!
As a thank you to all of the readers who've been following my work, I'd like to offer a 15% discount code for my shop on all individual items! Code: lingerie-love (expires on 09-12-12, not valid on sets or bespoke orders).
Readers: What do you think of my foray into becoming a lingerie brand?  Are my designs something you'd like to own yourself?