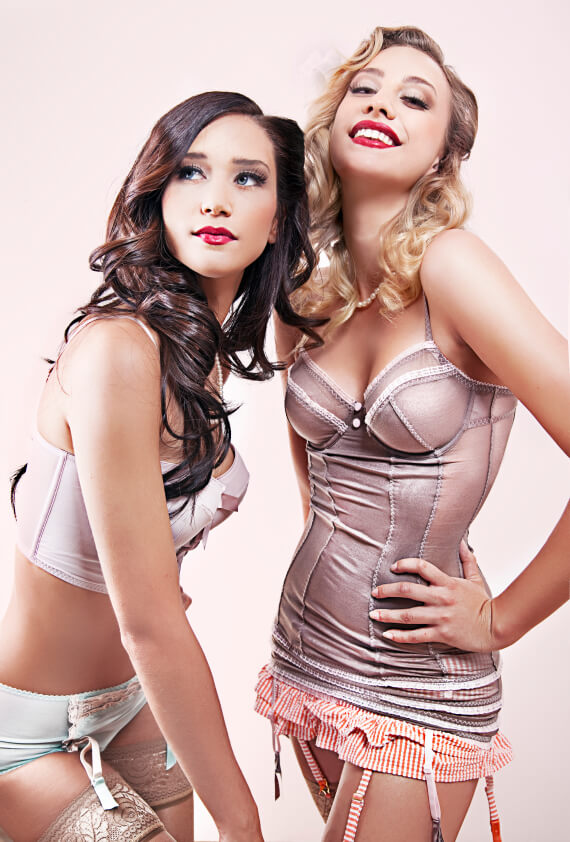 We're continuing Pin-up Week with an in-depth discussion of pin-up lingerie–what it is, which pieces you need, and how to keep it looking like new for as long as possible.  So let's get started!
What is Pin-up Anyway?
The word pin-up refers to the kind of mass-produced images that were originally "pinned up" on people's walls in the form of posters, postcards, magazine cutouts, and the like.  These photos and drawings were often of "glamour girls" like actresses, models, and other celebrities.  
Though the pin-up genre began in the 1890′s with the iconic Gibson Girls, it didn't really take off until the 1940′s and 50′s with the debut of pin-up models like Betty Grable and Bettie Page and pin-up artists like Alberto Vargas and Gil Elvgren. 
No matter the era though, the thing all pin-ups have in common is that they represent an idealized (and, in some cases, unrealistic) version of the female form.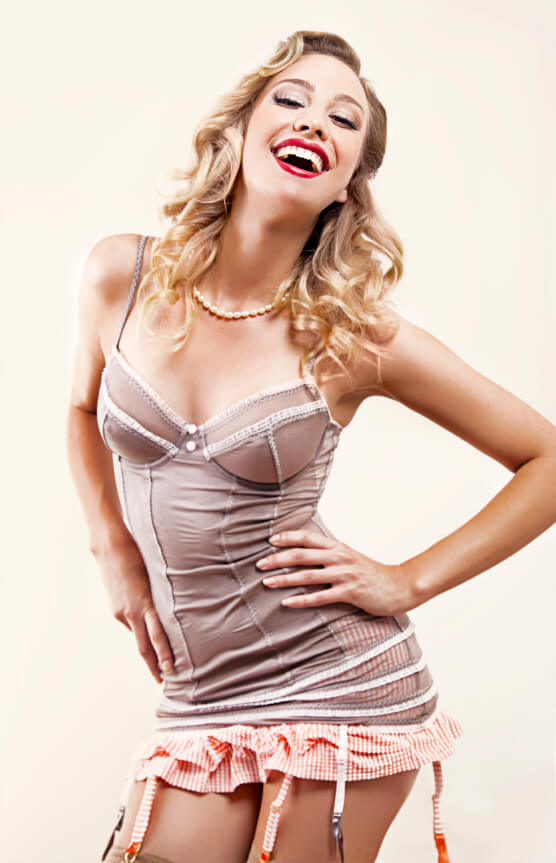 The Pin-up Silhouette
The quintessential pin-up shape is the classic hourglass figure, with the waist being much smaller than the bust or hips.  In the Gibson Girl era, that figure was achieved through the use of corsets, bustles, and hoopskirts. In the 1930s through 50′s, girdles, bullet bras, and waist cinchers were used.
Though modern day clothing really isn't cut to accommodate pin-up lingerie, these retro underpinnings are essential if you prefer to wear vintage fashions. Without pieces like girdles and slips, your vintage clothing simply won't have the right shape, and the entire look will seem "off" as a result.
In terms of fabrics, pin-up style lingerie is traditionally made with materials like powermesh, silk, satin, lycra, lace, and nylon. You'll see very little cotton, and almost no recently invented fabrics like microfiber.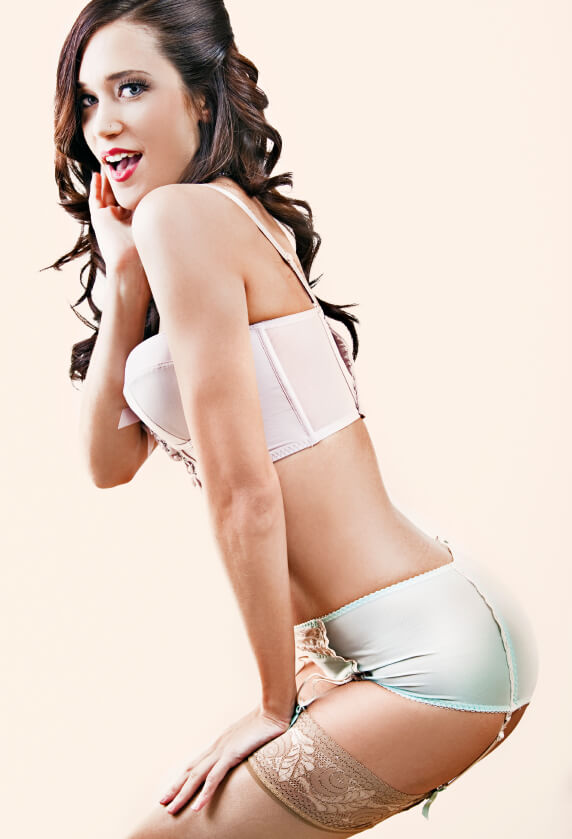 Essential Pin-up Lingerie 
Now that we've got the foundations covered (no pun intended), it's time to move on to the actual pieces a lover of pin-up lingerie should have in their wardrobe–


Bullet Bra
–Sophia Loren didn't wear a t-shirt bra, and though they have their place in a modern girl's wardrobe, there is no room for them in a vintage gal's lingerie drawer.  Bullet bras are known for their pointy cups, and often utilize concentric stitching to help maintain their shape without underwires.  Because bullet bras are made with vintage patterns )which often require non-stretch fabrics), I recommend buying up one band size from what you normally wear.  If you have shallow breasts (like I do), bullet bra pads can help you fill out the cups. 
Secrets in Lace
carries the most comprehensive selection of bullet bras I've ever seen, though they don't stock cup sizes below B or over D.
Brief or Tap Pant Knickers
–Rita Hayworth didn't wear thongs, and if you want that vintage look, neither should you.  Full cut knickers not only give the appropriate shape to the bottom, they also avoid that bane of every woman's existence…visible pantylines.  My absolute fave high-cut knickers are made by Lucy B. Try her burlesque style
Scantie Panty
or, if you're feeling a little minxish, the animal print
Tigress Panty
.  Tap Pant fans will want to take a look at
Lady Jane Lingerie
…they specialize in handmade silk tap pants.
Girdles
–Girdles smooth, shape, and support…giving a firm, tight look under clothing.  In the old days, a woman was not considered respectable if she left the house without her girdle, and in some parts of the country, that's still true today (I grew up in Georgia, and clearly remember shopping with my Mom for my very first girdle as a teenager). Girdles are sold by your waist size, and as a general rule, if your hips are 10″ or more larger than your waist, you'll want to go up one size.  Readers with slimmer frames may want to opt for a traditional 6-strap garter belt instead of a girdle, while those who need more tummy control (instead of hip and bottom shaping) will want to look for a waist cincher. 
Kiss Me Deadly
makes the best girdles in the world, and
What Katie Did
makes my favorite garter belts.
Fully-fashioned stockings
–Pantyhose weren't invented until the 1960′s, and while there are images of vintage pin-ups in fishnet tights, the definitive pin-up look requires stockings.  But not just any stocking…authentic fully-fashioned stockings.  Unlike modern day hosiery, which is knitted in the shape of a tube, fully fashioned stockings are knitted flat.  Afterward, the two sides are sewn together to form a fully-functional backseam (as opposed to the purely decorative backseam on most nylons). The two trademarks of a fully-fashioned stockings are the keyhole at the back of the welt and the fancy heel at the back of the foot.  Because fully-fashioned stockings are made with 100% nylon and have no stretch, they're purchased according to the height and shoe size of the wearer.  My favorite stockings brand is Cervin, which you can purchase from
Hepburn & Leigh
. I also like the fancy vintage stockings from
Kay Marel
(though readers who are taller than about 5'6″ aren't a good candidate for them).
Slips–Thanks to vintage-inspired shows like Mad Men, the slip is experiencing a resurgence in popularity. While the slip's main wardrobe function is to provide an extra layer for thin, rough, or sheer fabrics, it's also a remarkably sexy piece of bedroom wear that flatters almost every woman.  In fact, The Boyfriend's favorite kind of lingerie for me to wear is a lacy, satiny full sip.  My favorite slips come from Farr West, and Lingerie Addicts on a budget will want to visit their e-bay outlet store, where I've purchased nearly half a dozen slips so far.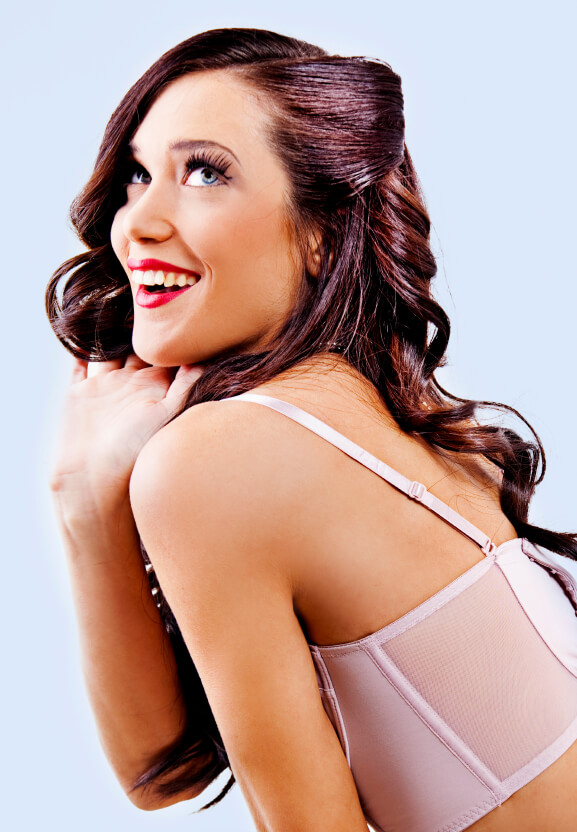 How to Keep Your Pin-Up Lingerie Looking New
So you've bought your bullet bras, stockings, and garter belt and you're all ready for a night on the town in full on Dorothy Dandridge glory.  But before you get too excited, invest in your lingerie by purchasing these two things:
1) Hosiery Gloves–I've got to get a little stern here because this is serious business. If you wear stockings, you must own a set of hosiery gloves. No excuses. Nylon is incredibly delicate, and the slightest hint of a hangnail will rip your stockings to shreds (ask me how I know this). Save yourself the heartache of tearing your favorite stockings by buying a pair (or three!) of hosiery gloves. I buy mind for $3.95 at Stocking Showcase.
2) Lingerie Wash–It goes without saying that you're special pin-up lingerie should not be subjected to the tortures of a washing machine. The material is far too fragile, and you'll wind up with a bunch of expensive rags at the end.  But just soaking them in your sink in regular hand soap isn't enough either.  True lingerie addicts know to use a dedicated lingerie wash for their intimates. I recommend Forever New
for bras, knickers, and garter belts and Hosiery Mate for stockings. Together, they're less than $30, but they could literally save you hundreds.
I hope this article helps you in your search for vintage and pin-up style lingerie. Got a tip of your own to share? Tell us in the comments!