Introducing Adina Reay: Luxurious Lingerie for Full Busts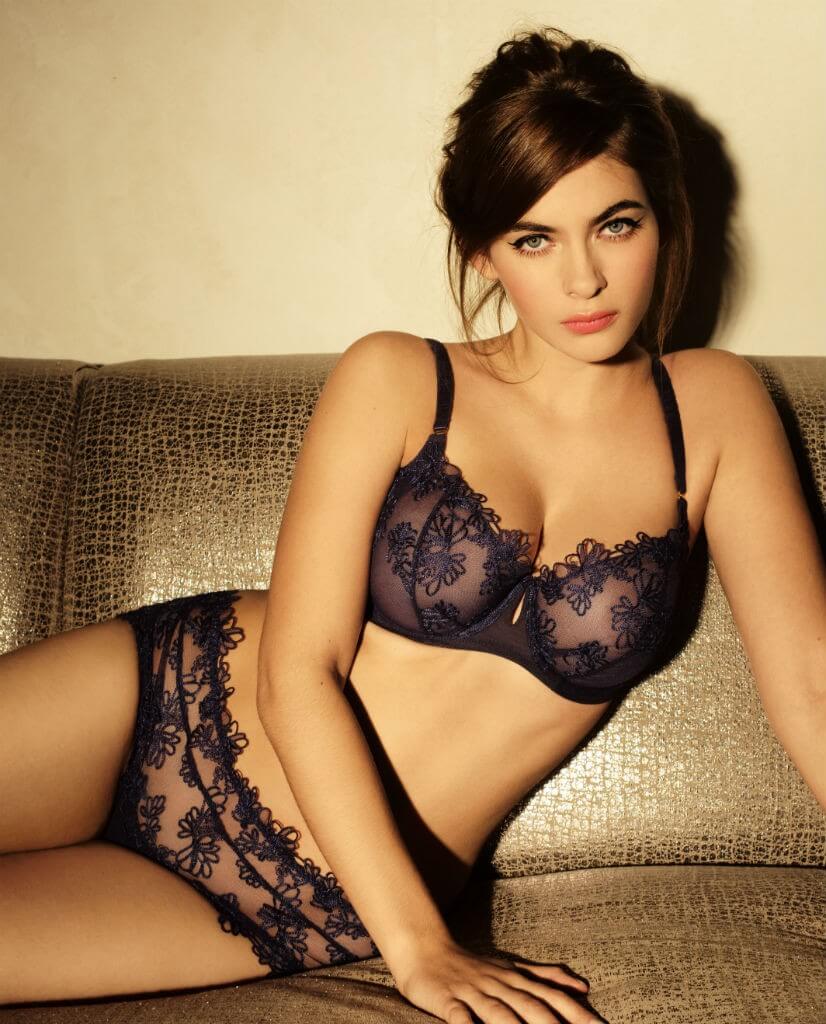 In the last several years the luxury full bust market has really taken off, and we couldn't be more thrilled! There are more options than ever for gorgeous larger cup bras (at least up to a G cup) that include the lush materials, rich fabrication, and innovative design details normally reserved for smaller cup sizes. The newest brand to emerge in the luxury full bust market is London-based Adina Reay.
Part of the challenge of designing for larger cup sizes is, obviously, the engineering required to accommodate the weight of heavier breasts. It isn't as easy as just scaling up cup sizes. What makes Adina Reay so exciting is its use of invisible engineering to create full bust bras whose delicacy belies their exceptional fit architecture. Fine, intricate fabrics are crafted into incredibly romantic styles with hidden internal sling structures that provide lift and support.
Adina Reay has launched with three seductive and sophisticated styles where lace (and your curves!) take center stage. 'Pen' (shown above) utilizes a bespoke Austrian embroidery atop sheer tulle which was designed in-house. This balconette style features a two-part cup with a vertical seam. The intricacies of the embroidery are shown to great effect along the top edge, beautifully framing your décolletage. Slim, wide-set straps are ruched for texture and join to the band in a ballet-back style. The center gore features a cut-away that points the eye to dramatic cleavage. Styles are available in a deep navy (a gorgeous departure from basic black), a rosy coral pink, and white.
The 'Pen' range also includes a beautiful brief where the delicate embroidery edges the front at the waist band and hips. So, so pretty! The back of the briefs features a cheeky style in sheer mesh to provide a sleek look under slim skirts. Or there's a coordinating thong if that's more your style. Lastly, 'Pen' is available as a bra-sized slip in the white colorway, making it a gorgeous full bust bridal option. The body of the slip is crafted of sheer mesh with dart detailing at the hips and a double panel at the front and back for smoothing. Removable garter straps complete the look.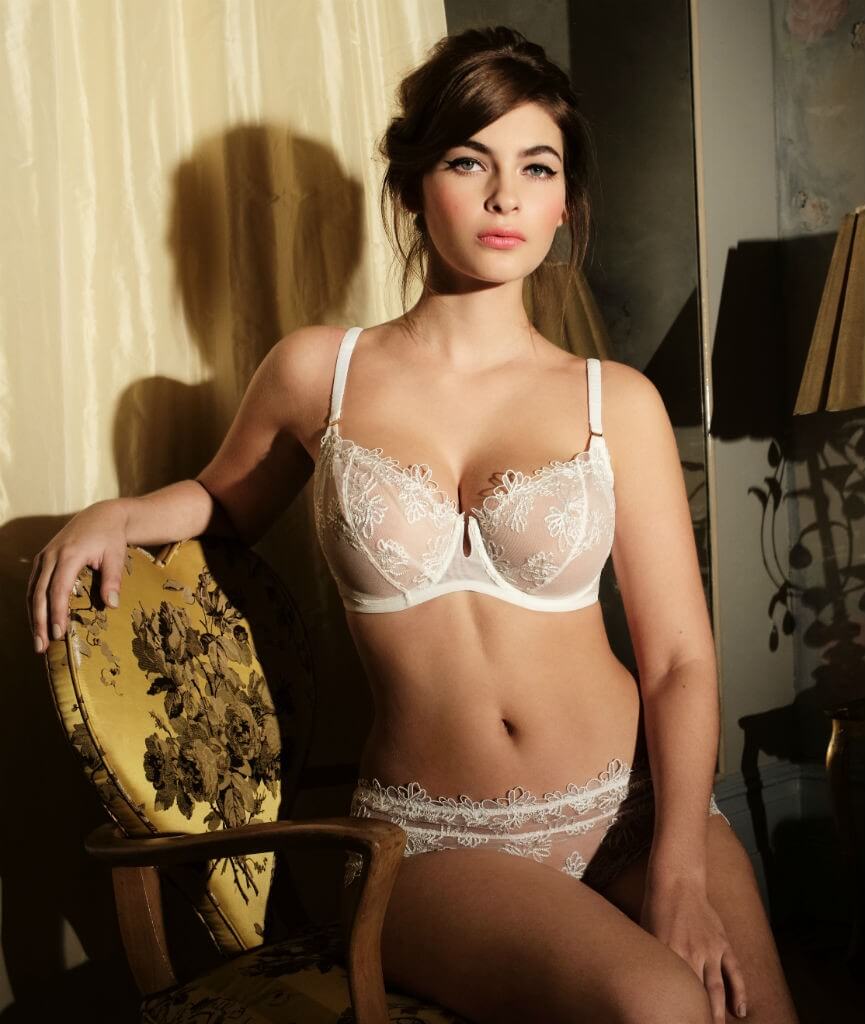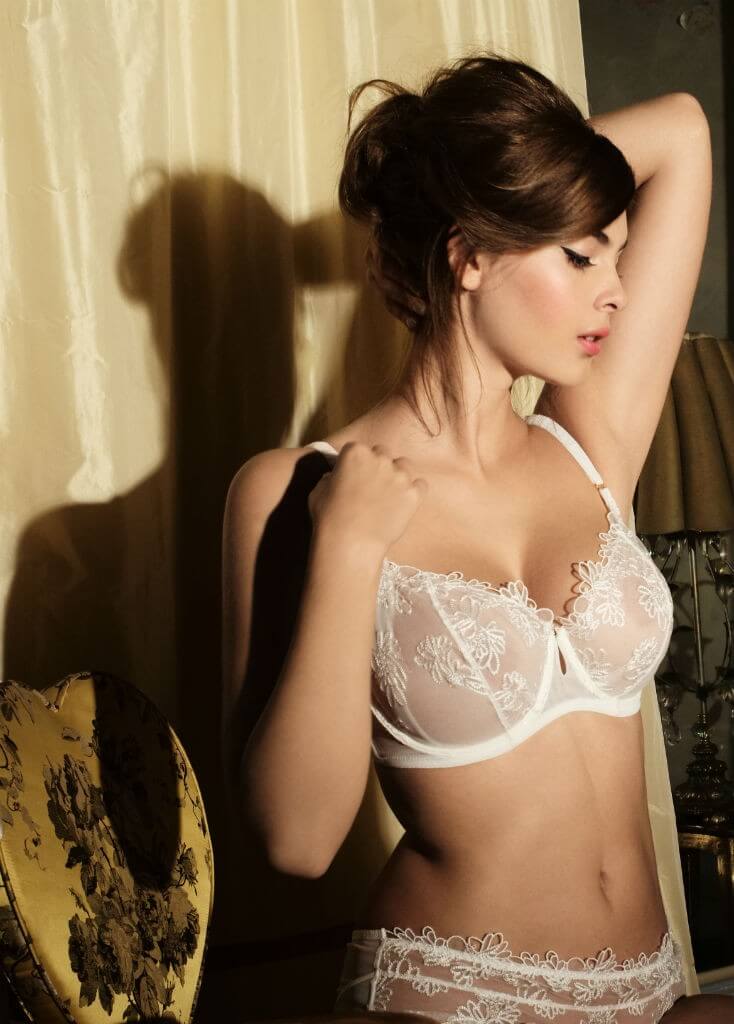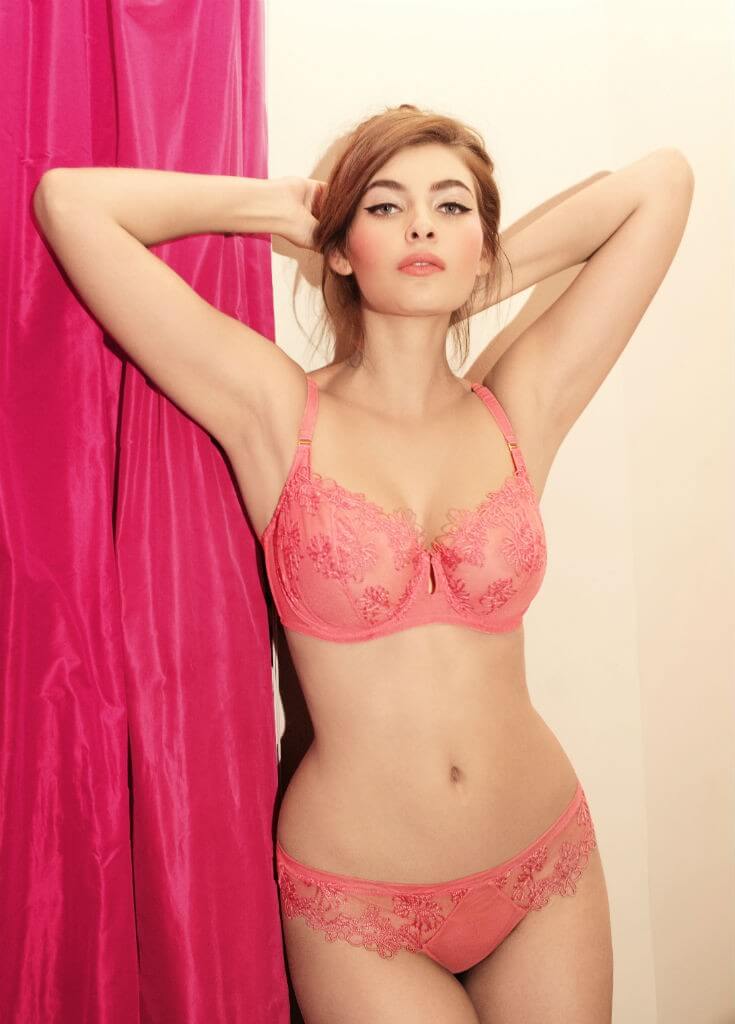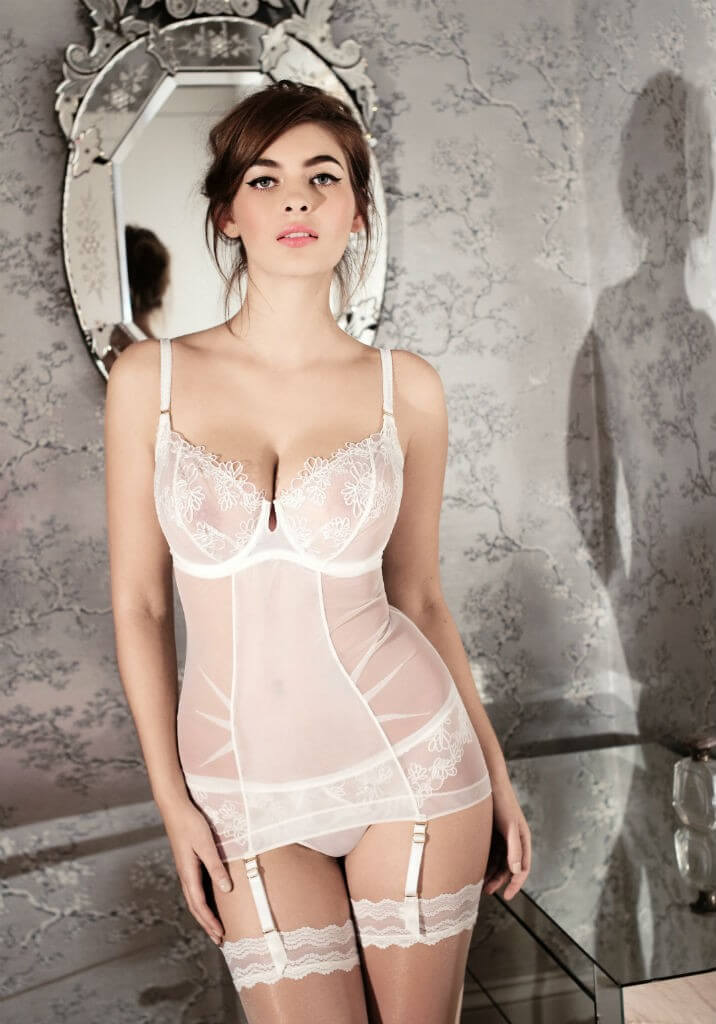 Adina Reay offers another balconette style with the 'Jean' range. The two-part cups have a horizontal seam and are crafted of Leavers lace. An internal sling not only provides additional support, it also helps direct the breasts forward. The center and band feature glossy satin for a lovely play on textures. What makes this bra really stand out is the unique back detail. Straps come together in the back in a double closure that forms a keyhole. This allows for two delicate closures (where so many full bust bras rely on four hook and eye closures on wider bands) and a way to show off more lace. Not only does this make for a dramatic exit, it works to keep straps in place (no more pesky straps slipping off shoulders).
The 'Jean' bra is paired with some seriously stunning knickers that feature a mid rise and lots of lace. I love how the back of the panties utilizes an inset of satin to form a triangle (and direct the eye downward). There is a coordinating satin-backed thong as well. The two colorways of this range are especially beautiful, with a vivid magenta or a soft, creamy taupe.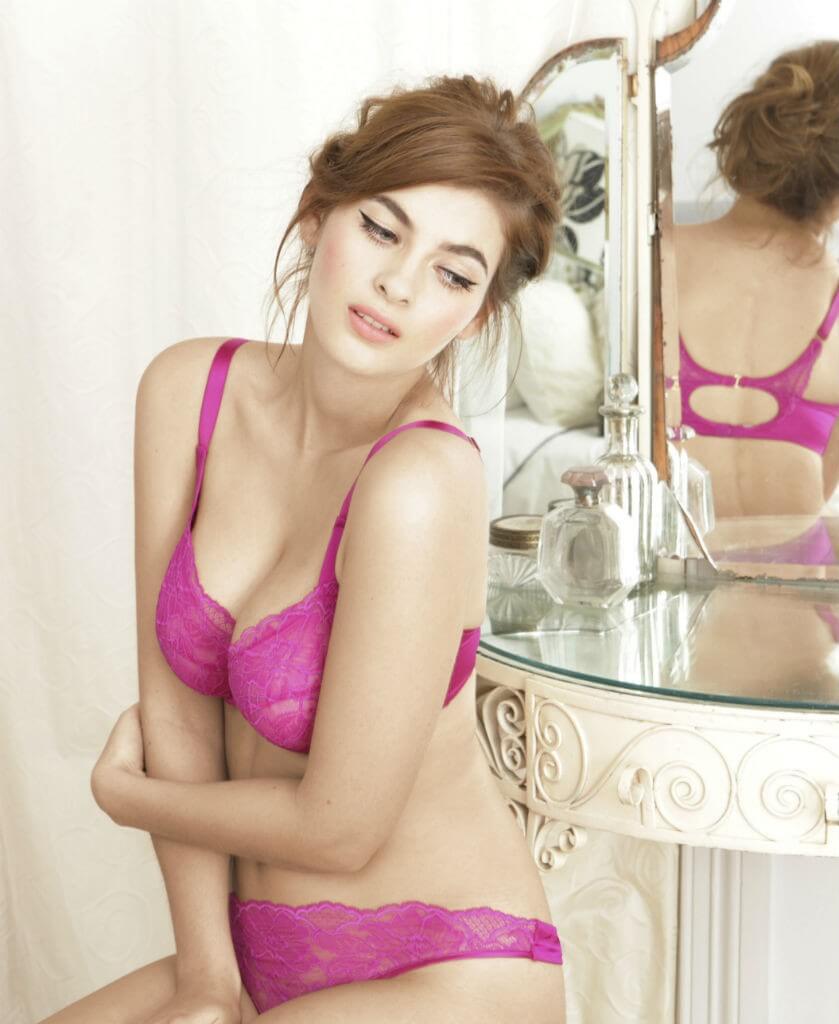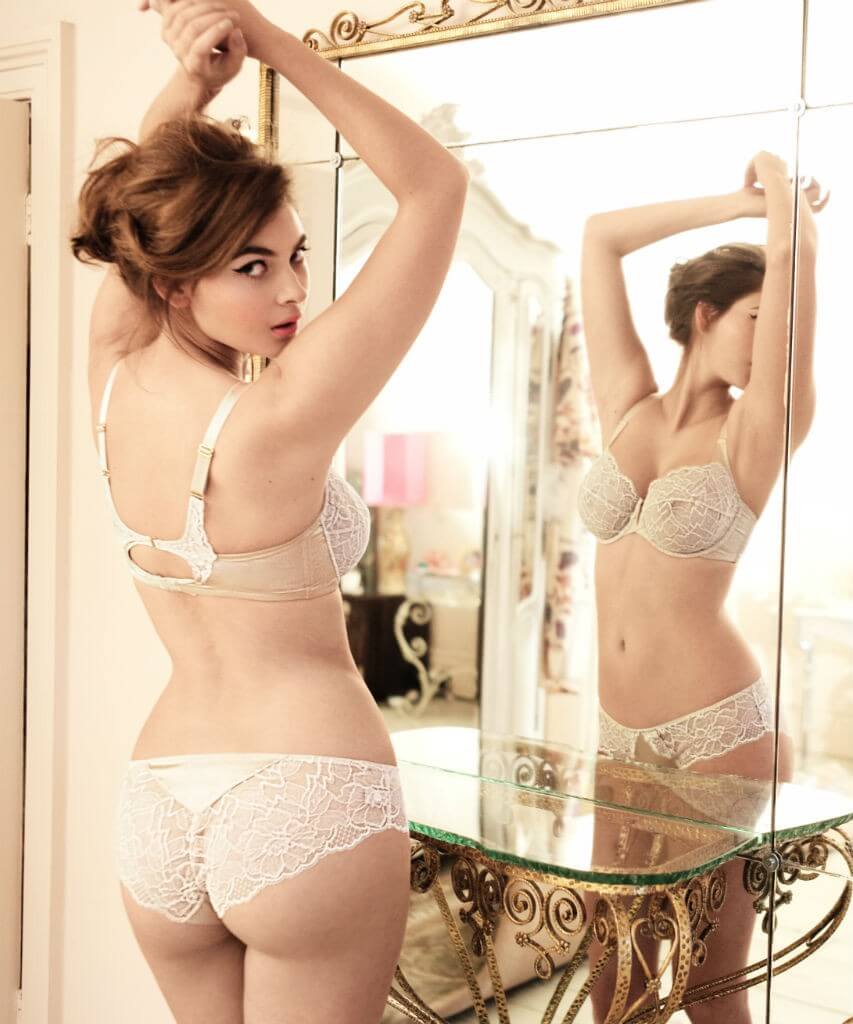 If you're looking for more of a plunge style, you'll love the 'Jo' range. A three-part cup in Leavers lace overlays an interior satin molded cup. There's quite a bit of coverage on this style, but the overall effect is definitely va-va-voom. Available in black or a luscious blush colorway, 'Jo' is paired with yet another pair of swoon-worthy panties. The high-waist style features lace panels set at angles set against bands of tulle for a striking look that plays up your curves. A tulle waistband is smartly stylish and a sheer back provides full coverage that is anything but covered up. There is a coordinating low-rise bikini style in this range as well.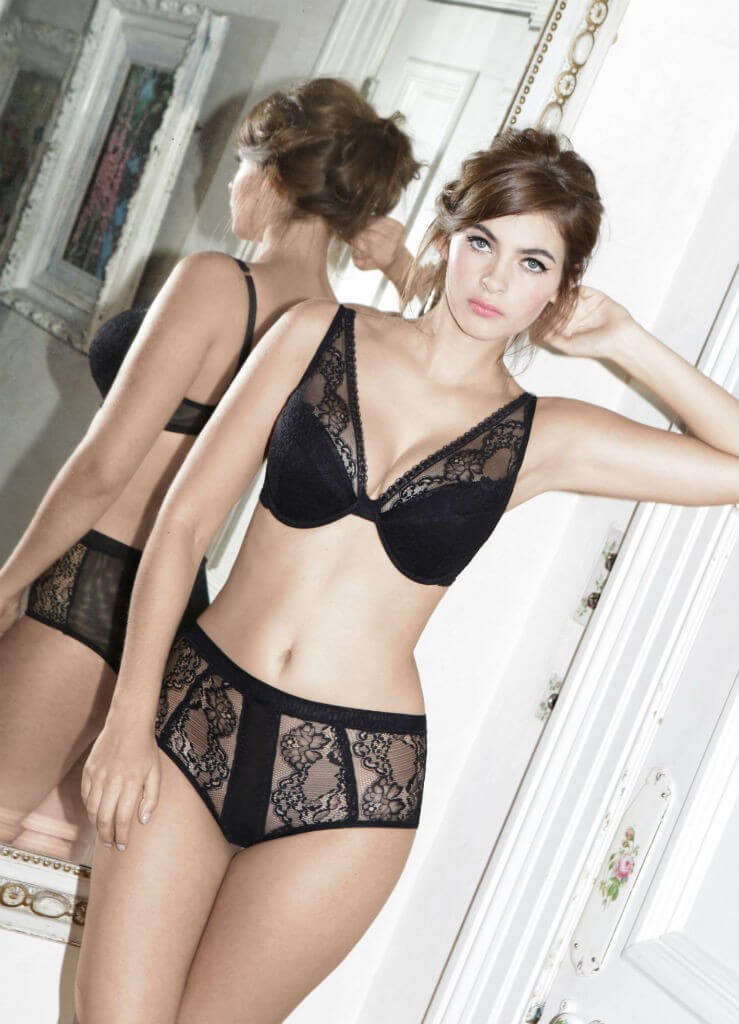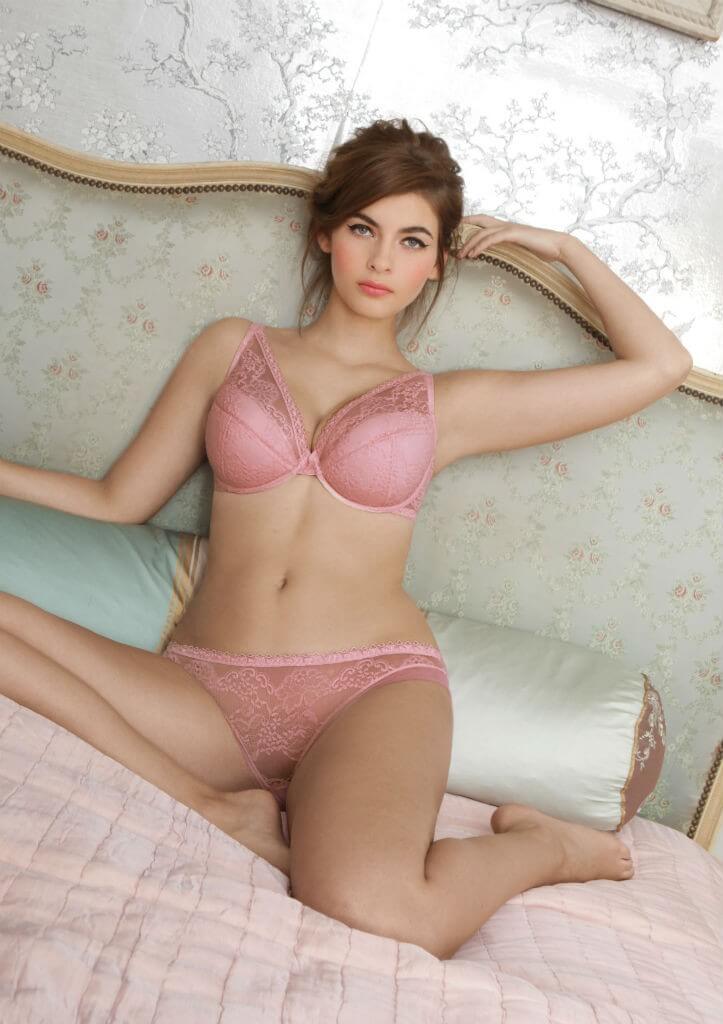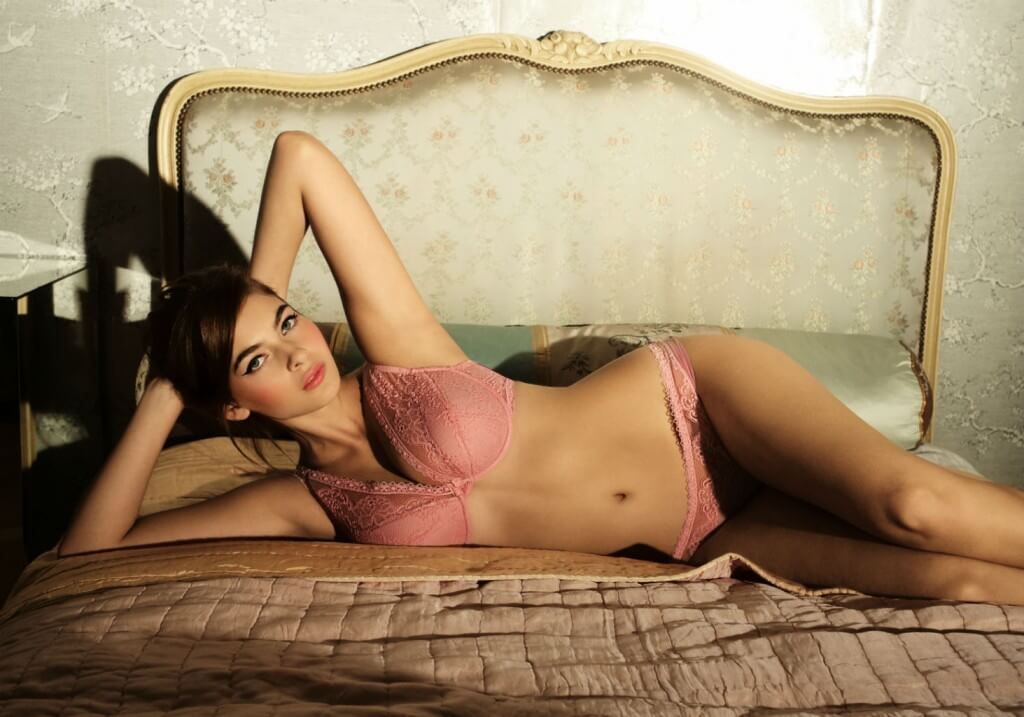 Adina Reay styles are available in band sizes 32-36, with U.K. cup sizes DD-G. Panties are sized S-L (fitting U.K. sizes 8-14 and U.S. sizes 4-10). Bras start at around $137, bottoms at $76, and the slip at $198.
Remember that the luxury full bust lingerie is still an emerging market, so don't be too disappointed if you continue to find luxury items in your size to be a challenge. Make sure to support your favorite full bust brands to ensure that the market continues to grow, so that you have more options available to you in the future (whether that be due to price or size concerns). I personally am really intrigued by Adina Reay and think they are bringing something truly unique to the market. Their thoughtful design details, paired with decadent fabrics in beautiful silhouettes, bring something both fresh and classic to the luxury landscape. I can't wait to see what they'll do next!
What do you think of Adina Reay? Would you invest in a new brand like this? Which is your favorite look from the collections?