Sale Swimwear of the Week: Huit Cleopatra Plunge Swimsuit
Disclosure: This blog post contains affiliate links.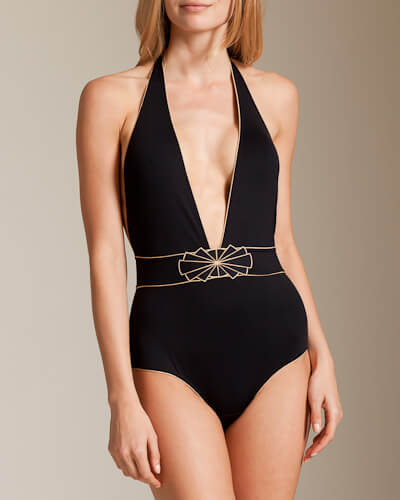 Now that it's officially the first day of Spring, it seems like a good time to incorporate some weekly swim content back into TLA's editorial calendar. Last year's Swimwear of the Week features were super fun; I got to explore a side of the industry I hadn't paid much attention to before, and hopefully, I connected at least a few of you with a killer swimsuit for the summer season.
I haven't purchased a new bathing suit in ages, but I remember falling head over heels for Huit's Cleopatra Plunge One-Piece when it came out. There's just something very old-school glamorous about this design. As you can see, it's an ultra-simple silhouette: black, halterneck, plunge. But the golden embroidery, and particularly that brooch-esque detail at the waist really set this piece off and turn it into something special.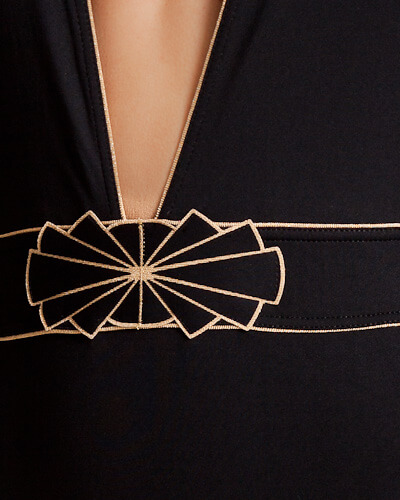 Now for the kicker: Huit's Cleopatra story came out a couple of years ago, which means this swimsuit is basically sold out almost everywhere. I'm keeping my fingers crossed for a re-release, but if you happen to be a size S, you can find this at Nancy Meyer right now for 40% off the original price of $125 (or $75). As always, sale items are usually in limited quantities, so I wouldn't assume that there are a ton of these left over, but it would be so sweet if there's been someone out there wanting this who can finally get it.
What are your thoughts on Huit? Have you tried this brand? And, if so, how was the fit?