Swimwear of the Week: Playful Promises Pansy Bikini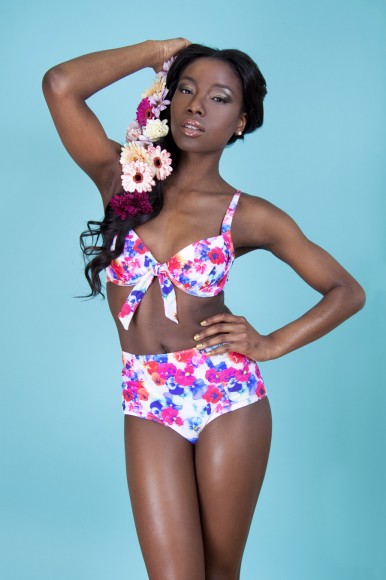 This will probably be one of our last regular "Swimwear of the Week" features for this season. The weather's starting to change where I live (sadness!), and I imagine the rest of the hemisphere is soon to follow. There also won't be as many new pieces to feature though, of course, if folks are super-duper excited about these posts, I can definitely look into keeping them going.
Anyway, I'm feeling all kinds of happy about this 'Pansy' bikini from Playful Promises. I'm digging the slight retro touch of the high waist bottom and front tie top, and I adore how fresh and vibrant those colorful pansies look against a white background. And it goes without saying that I'm loving the model and styling for this shoot; the print really "pops" against the model's skintone.
Playful Promises is a UK brand which means they use UK sizing. The general rule is that you want to subtract 4 from whatever the UK size is to get the American size (i.e. a 6 UK is a 2 US, a 14 UK is a 10 US and so on). With that in mind, sizing runs from XS to XL or a US 4-12. The top, though it has underwires and pushup padding, is not bra sized. So if fit is a concern for you, you'll want to contact Playful Promises directly for advice. The top and bottom together retail for £64.00 (approximately $107 USD). There's also a bandeau top and bikini brief set that retails for about $10 less.
What do you think of this bikini set? And are you going to miss summer?