Stuff I'm Wearing: Lingerie I've Been Spending My Own Money on Lately
Disclosure: This post contains affiliate links.
We talk a lot about the fashion of lingerie here on the blog, and, for me at least, that often means talking about things I'm not necessarily wearing. Like most women, I have brands and styles and colors I go to again and again and they don't always make an appearance when I'm sharing photos from an upcoming collection or writing a review for the site. So I thought it might be fun to actually share the stuff I spend my money on. These are things I buy because I love the way they fit and I think they're worth the money (even though I frequently make my purchases on sale). Some of these names might seem familiar, and that's because these really, truly are the brands I buy from all the time. It's pretty easy for a company to get my money the first time, but when I go back a second, third, or fourth time, you know it's quality.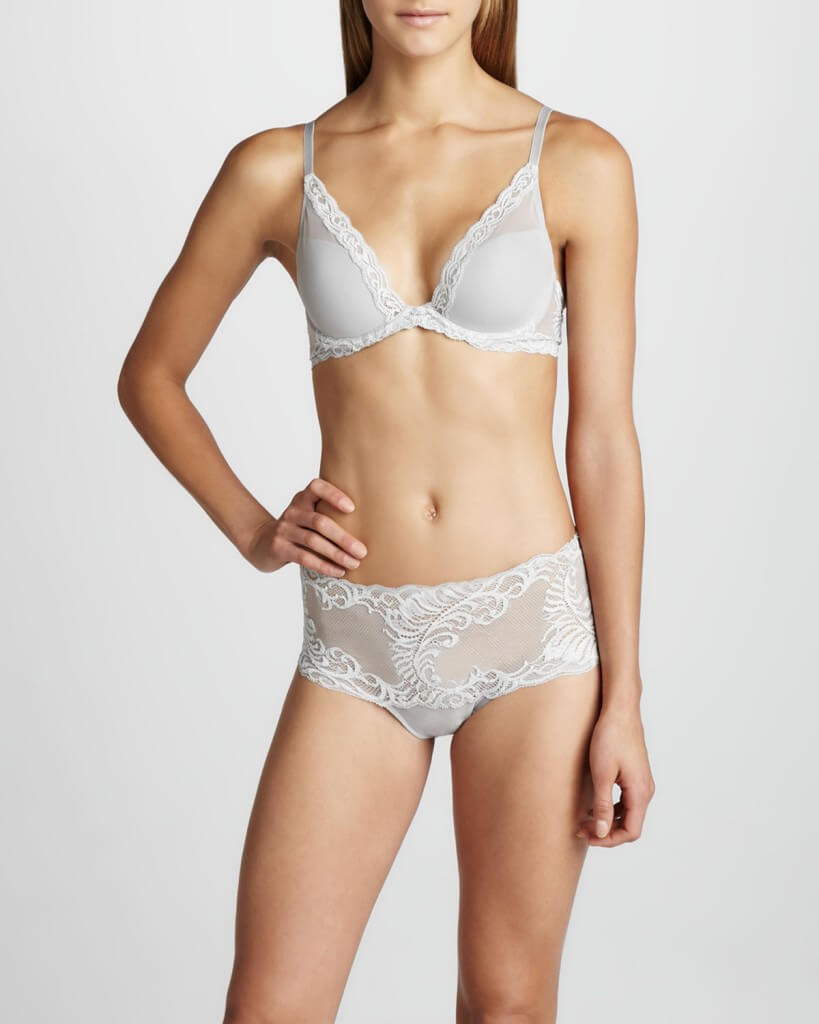 Natori Feathers Contour Plunge Bra and Brief - Full disclosure: The first time I tried a Natori 'Feathers' bra, it was given to me a sample from the Natori company. They'd asked if I'd tried their lingerie before and I had to be honest and say "Well, no, not really. It's a bit boring to me." After asking me more about what I liked, they offered to send me the Natori 'Feathers' in black because they thought it'd be my style. I tried it on (because I'll try anything anyone sends me), but I didn't expect to like it. And I loved it. Seriously, I've gone on to purchase their soft pink and oyster gray colorways, and I'm looking at committing to this season's bright magenta. This bra fits really well for women on the shallow and widely-spaced end of the boob continuum (like myself), and I get really great shaping, lift, and support (without feeling like my boobs are in the way). And the matching briefs are awesome! I rarely buy matching briefs because they're usually terrible, but these are beautiful. And they fit well and they're comfortable. I think this style is a nice everyday bra (perfect for work clothes or clingy knits), but it also manages to offer a little something extra too.
Claudette Mesh Dessous - Like Natori 'Feathers,' the first time I tried a Claudette Mesh Dessous bra, it was given to me as a sample. I didn't own anything in hot pink, but I adore mesh, so I gave it a wear. Since that first sample bra, I've bought at least another seven bras from Claudette... not only Dessous, but also bras from the En Dentelle, Cool Cotton, and Paramour ranges and I love them all (though the mesh Dessous is definitely my fave). This bra gives me such a great shape, and does so without any bulk or padding or contouring (I've been in a major cut-and-sewn phase lately) and it comes in so many great colors. I also love how Claudette is committed to making bras for women in a range of sizes; they go from A cup thru G cup and have plans to expand even more. I thought it was hubris when Claudette said they would become my new favorite bra, but in my case, it's very, very true.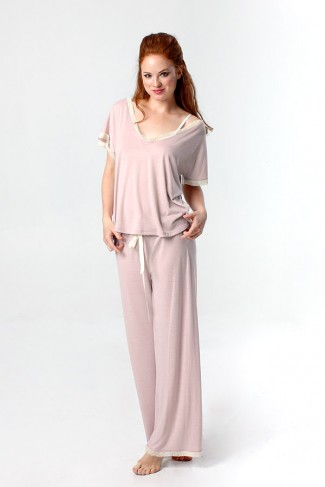 Between the Sheets Venus in Play - Growing up, I  had clothes you wore inside the house and clothes you wore outside the house. I know my parents had practical reasons for this (such as me not completely wrecking my good clothes), but I like to think they were introducing to the wonders of loungewear. I actually went through a phase where I didn't understand why people wore loungewear; if it wasn't lingerie and it wasn't "regular" clothes, then what was the point? Thankfully, I've moved past that and I am now a full-on loungewear addict. I first encountered Between the Sheets 'Venus in Play' collection at market last year, and I knew right away that I had to have this pants and top. I purchased this set in gray for my honeymoon thinking it'd just be nice to have something to slip on to wear around the hotel, and I wound up wearing this all the time. Seriously. All the time. Recently, I bought the pink set above, and now I plan on getting the navy and black colorways this fall. Best of all, Venus in Play is generously sized. I first purchased this set in a Large, now I own one in a Medium, and I think I could even size down to a small. I love generously cut clothing; it's so much better than the other kind.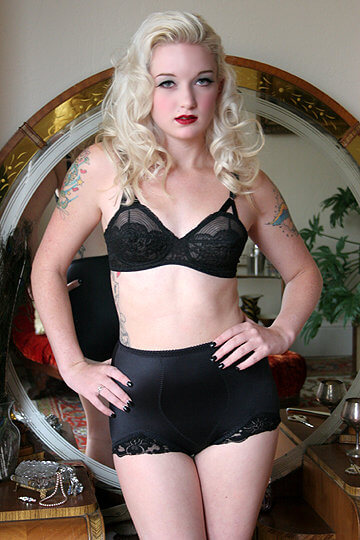 Rago Satin and Lace Control Brief - If you're into pin-up culture and/or you just like being able to wear pencil skirts without pantylines, let me recommend to you this Rago Satin and Lace Brief. I own several pairs of these (at least three) and they're a staple for both photoshoots and the aforementioned pencil skirts. I'm a fan of the Rago brand in general; I find their products to be extremely well made as well as very reasonably priced and these are no exception. They also come in multiple colors (red, pink, white, and beige) in case you're not as fixated on black as I am. One last sizing note: Dollhouse Bettie (the site this photo is taken from) sells these knickers in up to a 3X, but they're actually available up to an 8X from Rago's retail site American Shapewear. I just like Dollhouse Bettie's product photos better. They're also about a buck fifty cheaper direct from Rago.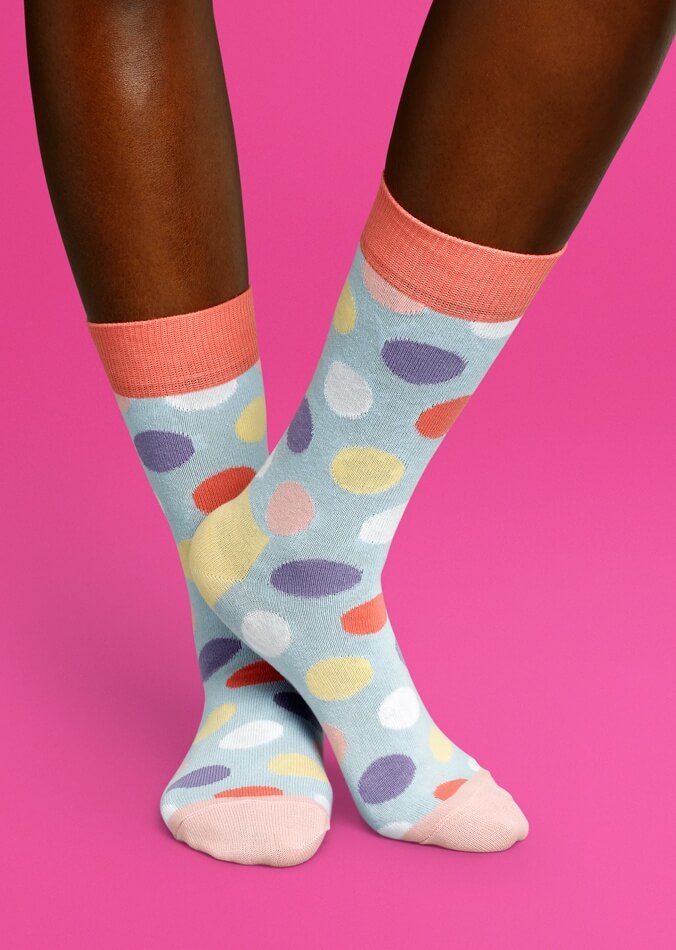 Happy Socks - I kind of have a thing for patterned socks. In fact, I'm pretty sure I don't even own any regular, plain socks anymore. Something about having wacky prints and colors on my legs just makes me happy. Ha! That was totally unintentional but I'm keeping it because this paragraph is about Happy Socks. I'm not really a sock expert, per se, but over the last few months, I've noticed that I keep reaching for my pairs of Happy Socks again and again. They're just really well made and really comfortable and really cute. And they hold up fantastically in the washer and dryer (which any decent sock worth its salt must do). Because socks, like everything else I talk about here, never really go out of style, I buy a ton of colorways on sale from the site or at Nordstrom Rack. They're a bit pricier than what you'd get from, say, Target, but the prices are comparable to other funky sock brands like Sock It To Me. Oh, and for my readers with big feet, these will fit. I wear a size 11, and they're great.
What are your go-to pieces of lingerie? Do any of your favorites line up with mine? Let's get a little conversation going on about everyday lingerie in the comments.