Lingerie of the Week: Simone Perele Ludivine Set
Disclosure: This post contains affiliate links.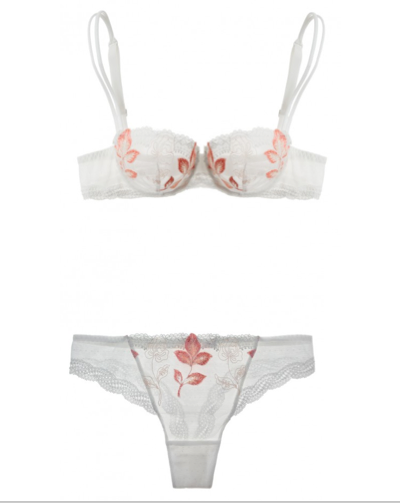 Often, the Lingerie of the Week is an item I ran across recently and couldn't get out of my mind. This week's selection is no different. I've seen Simone Perele Ludivine bra set a few times lately, and I fall in love with it every single time. Simone Perele is a brand I adore anyway. If you're unfamiliar with them, they're a French lingerie company (that still makes their lingerie in France), and the fit is divine. The quality of the bras, the fabrics they use, the laces... they're all a lingerie addict's dream, and I think of this brand as a perfect entry point into French, high-end, or lace lingerie.
I adore the Ludivine range in particular because of the white lace/peach embroidery combo. White often means bridal in the lingerie world, but I think this set works just fine as a way of celebrating the warmer, Summer weather. I also like that there's a boyshort and a thong to go with the bra; after all, more options is more better. The demi cup bra shown here is available in sizes 32B thru 36E. Both the thong and the boyshort are available in sizes XS thru L. I've found that Simone Perele's knickers are generously cut, so if you're between sizes on the bottom, it may be a good idea to size down. The set retails for $160 if you purchase the bra and thong, and for $170 if you purchase the bra and boyshort.
Have you bought anything from Simone Perele before? What did you think? I'd love to get your thoughts on the brand in the comments.