Minimizer Bra Review: Vanity Fair Beauty Back Full Figure Underwire Minimizer
I saw a minimizer bra for the first time in junior high. I was trying on bras at my local department store, and almost every bra in my size was labeled as a minimizer.
When I asked my mom about it, she said "It just means your nipples don't show through." But that didn't really make sense to me. Don't B cups have nipples, too?
I later learned that minimizer bras aren't meant for nipple coverage. They're meant to reduce your bust measurement. Given that they're usually only made in plus or fuller cup sizes, they feel a bit… regressive.
They still exist today, crafted by brands from Bali to Chantelle. But in an age of mainstream body positivity, increasingly diverse advertising, and growing acceptance of larger bodies, the minimizer bra feels solidly stuck in the past.
Obviously, the minimizer bra isn't my favorite concept. But if I'm honest, I can't deny the concept's usefulness when it comes to getting dressed.
Most clothing is just not designed for fuller busts, and not everyone can afford (or has the time) to have their clothing tailored. Speaking from experience, weight fluctuations can be so depressing when it comes to getting dressed. No matter how happy I am with the shape of my body, I often miss wearing clothes that fit my chest when I was a different size.
Sometimes, you just want to take an inch off your bust. So in the name of fashion versatility, I decided to review one of Vanity Fair's minimizer bras.
Vanity Fair is an American lingerie label that launched over 100 years ago. Today, Fruit of the Loom owns the brand, which is most often found in lower priced department and discount stores. Their Beauty Back Full Figure Minimizer comes in US sizes 34G-H, 36-42C-H, and 44C-DDD, and claims to minimize "up to 1.5 inches."
Vanity Fair Quality
While this bra typically costs $46, it's often marked down to around $30, which seems like an accurate price for its quality. I usually wear a US size 32G or 32H, so I chose size 36DD, which is my typical sister size for this type of brand.
The cups are molded, but they're not made with the injection foam featured on most molded bras. Instead, they're sewn with two layers of molded stretch fabric. This is designed to add less bulk to your bust, while providing some compression.
The outer layer of the cup is folded over a line of elastic along the top and sides. That elastic adds a bit of thickness to the edge of the cup, which cuts in a bit but assists in the encapsulation and compression effects.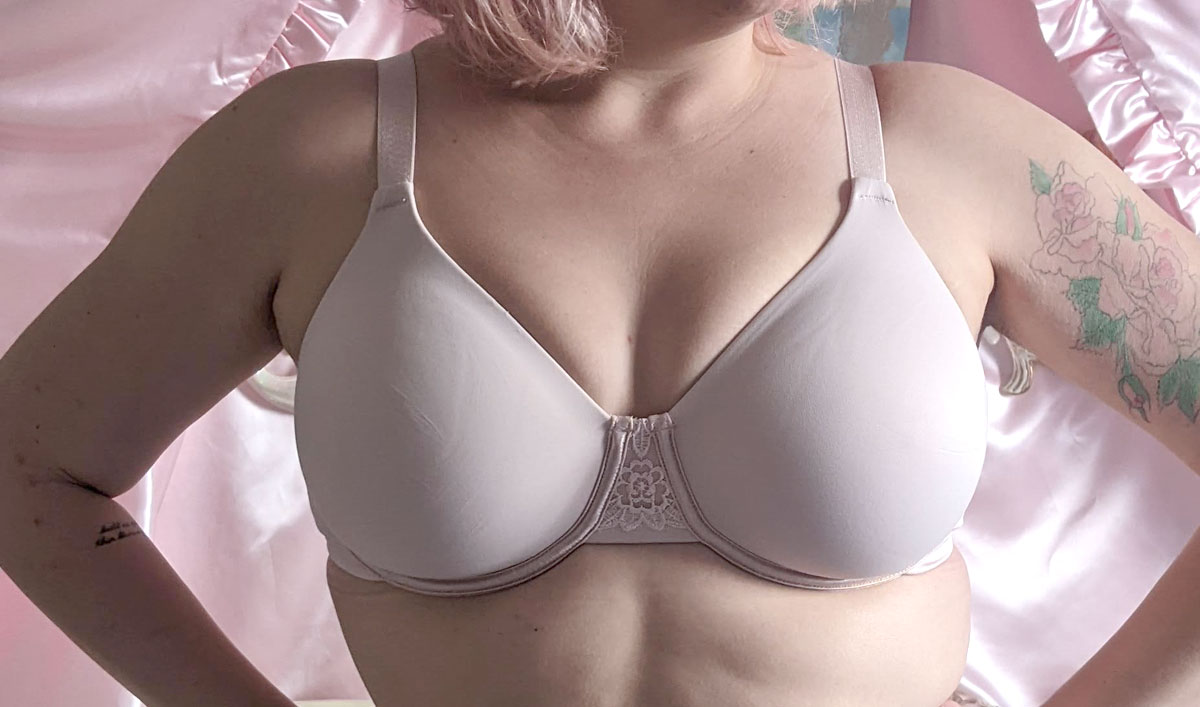 Vanity Fair Fit
When I first put this bra on, I thought the cups were far too small. Minimizer bras are supposed to encase the breast tissue, just like other bras. The difference lies in where the tissue is distributed. Minimizers compress the wearer's breasts slightly while pushing them out towards their arms, reducing projection.
That's when I realized I wasn't putting the bra on correctly. Since this is a minimizer, I pushed my breast tissue out to sit towards the outsides of my wires when I put it on, instead of scooping my tissue forward into the cups as usual.
Once I started working with the wide shape of the bra instead of against it, the fit was fine. It still cuts in a bit at the center top of the cups, but I think that's just because of where my breasts sit. (If you're close set at all, I imagine this will happen to you, too.)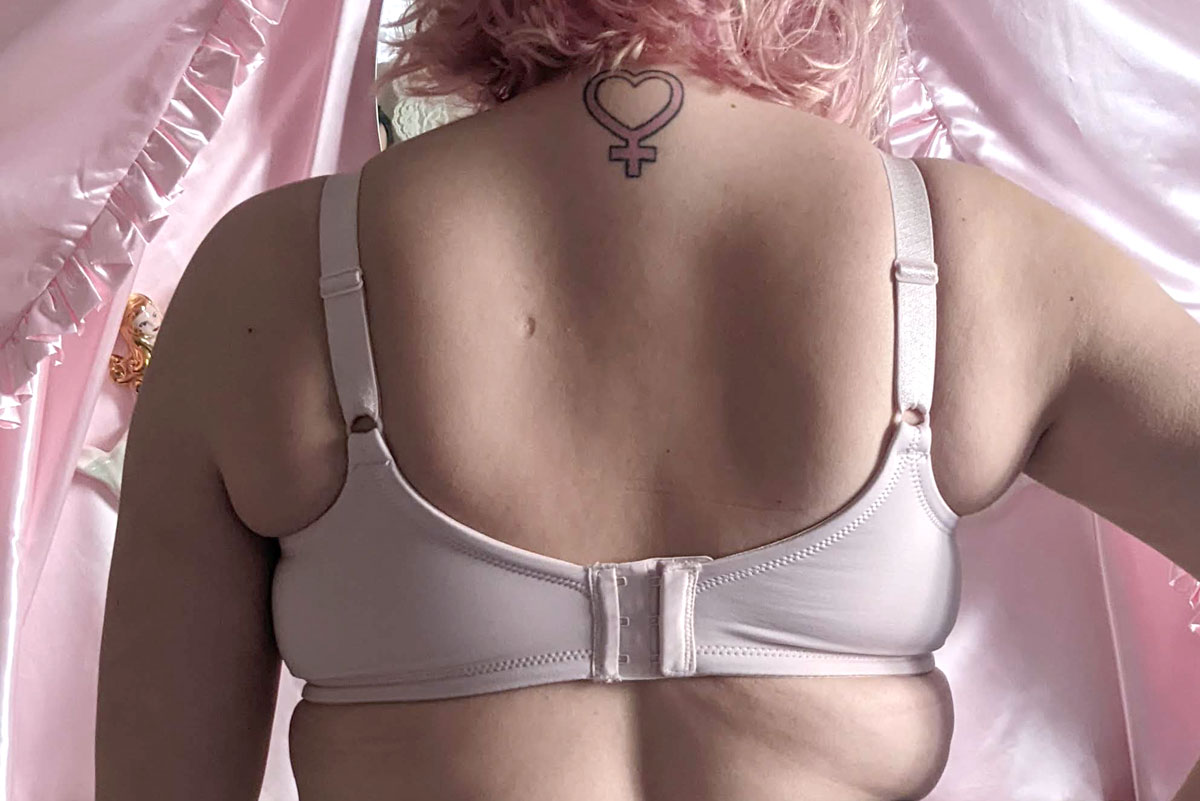 The thick microfiber back fits as I would expect a 36 band to fit. Before I took these photos, I assumed the ultra-smooth fabric wasn't giving me any "back bulge," as HerRoom claims, simply because it's so stretchy. But as I edited these shots, I noticed that it gives a pretty average amount of compression along the elastic at top and bottom. Maybe even a bit more, for a 36 band. The fabric has much more stretch than the elastic, so there's really no way it could lay flat against my skin.
I'm assuming this bra is named the "Beauty Back Minimizer" because of the aforementioned reduction of "back bulge." Unfortunately, it doesn't reduce much. If this is a selling point for you, look elsewhere.
Does It Work?
So how does this bra work as a minimizer? Technically, it only takes about half an inch off of my bust.
But under clothes, it does gives me a flatter look. My torso looks wider from the front, and narrower from the side.
I tried it under a handmade vintage dress I love. For me, this was the true test. This dress has never fit my bust right without a sports bra. It pops open during the day if I don't pin it shut! But it's so cute, I can't give it up.
The minimizer only minorly reduced the pull between buttons. But even more importantly, it did keep it from coming unbuttoned during the day. The lack of projection does at least some of its job here.
Final Thoughts on Vanity Fair's Minimizer Bra
I'm still not sold on minimizers. If you're looking to reduce your bust line for a certain garment, I think true shapewear would be a better option.
But this bra is easily accessible, a good price point for the quality, and doesn't feel as restrictive as a sports bra or shapewear. I'll probably be wearing it under a few vintage dresses in the future.