Luxury Lingerie Review: Edge o' Beyond Charlotte Embroidered Body
Disclosure: This set was purchased by The Lingerie Addict for the purposes of this review. All opinions are my own.
Edge o' Beyond is an ethically-made British luxury lingerie brand known for their delicate embroideries, chic strap details, and detachable gold chains. Each piece in their collections is adorned with tiny gold rings, allowing the wearer to clip on the brand's specially-designed body jewelry.
Their signature embroidered illusion tulle and adjustable satin straps have a delicate, jewelry-style look all on their own. Adding their 18k gold-plated chains turns your set into actual body jewelry.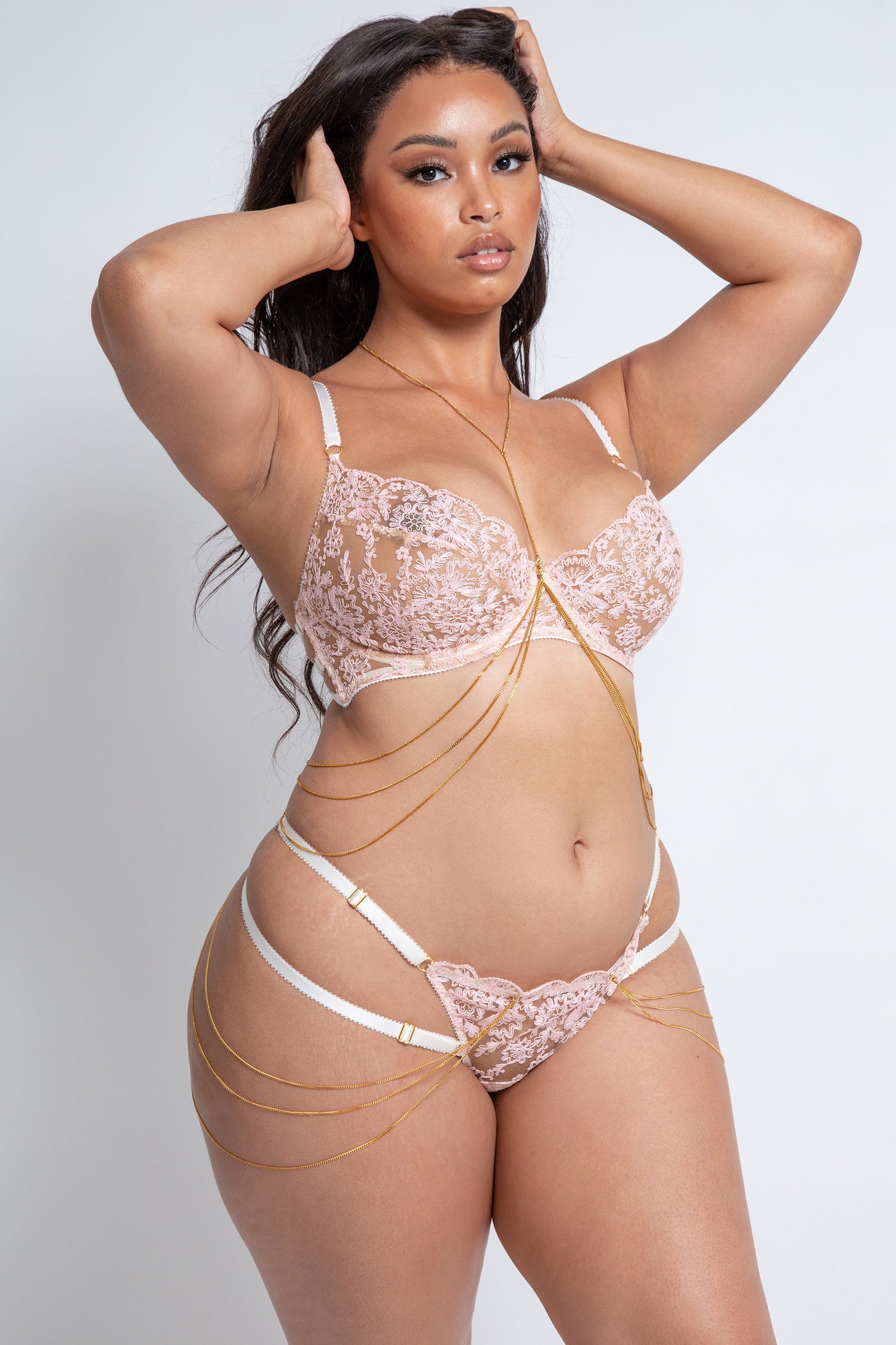 I remember admiring these pieces when I worked at one of their stockists years ago, but the sizing never worked for me. Fortunately, that's changed. Edge o' Beyond now offers up to 34GG/36G/38FF in cup sizes, and 4XL in bottoms.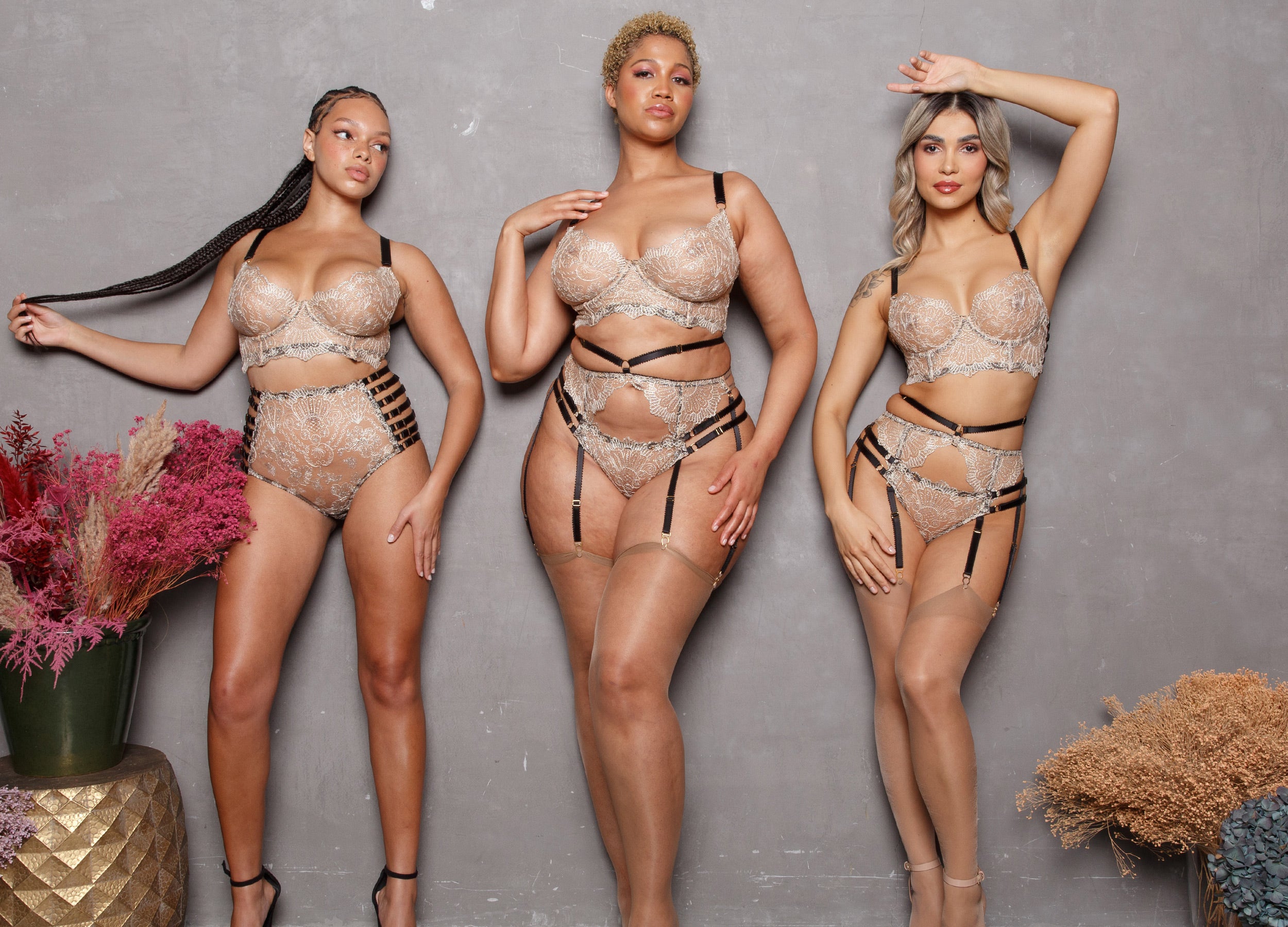 Of all their ranges, the Charlotte group is one of the most iconic. Tiny embroidered rose vines trail over sheer tulle, decorated with contrast strapping.
I was extra excited to try their new Charlotte Body, a bodysuit with detachable top and bottom so you can purchase it in multiple sizes. Bodysuits are notoriously hard to fit, but the detachable aspect here means you can order different sizes for each piece. It also means that you can wear the top separately, as a bralette!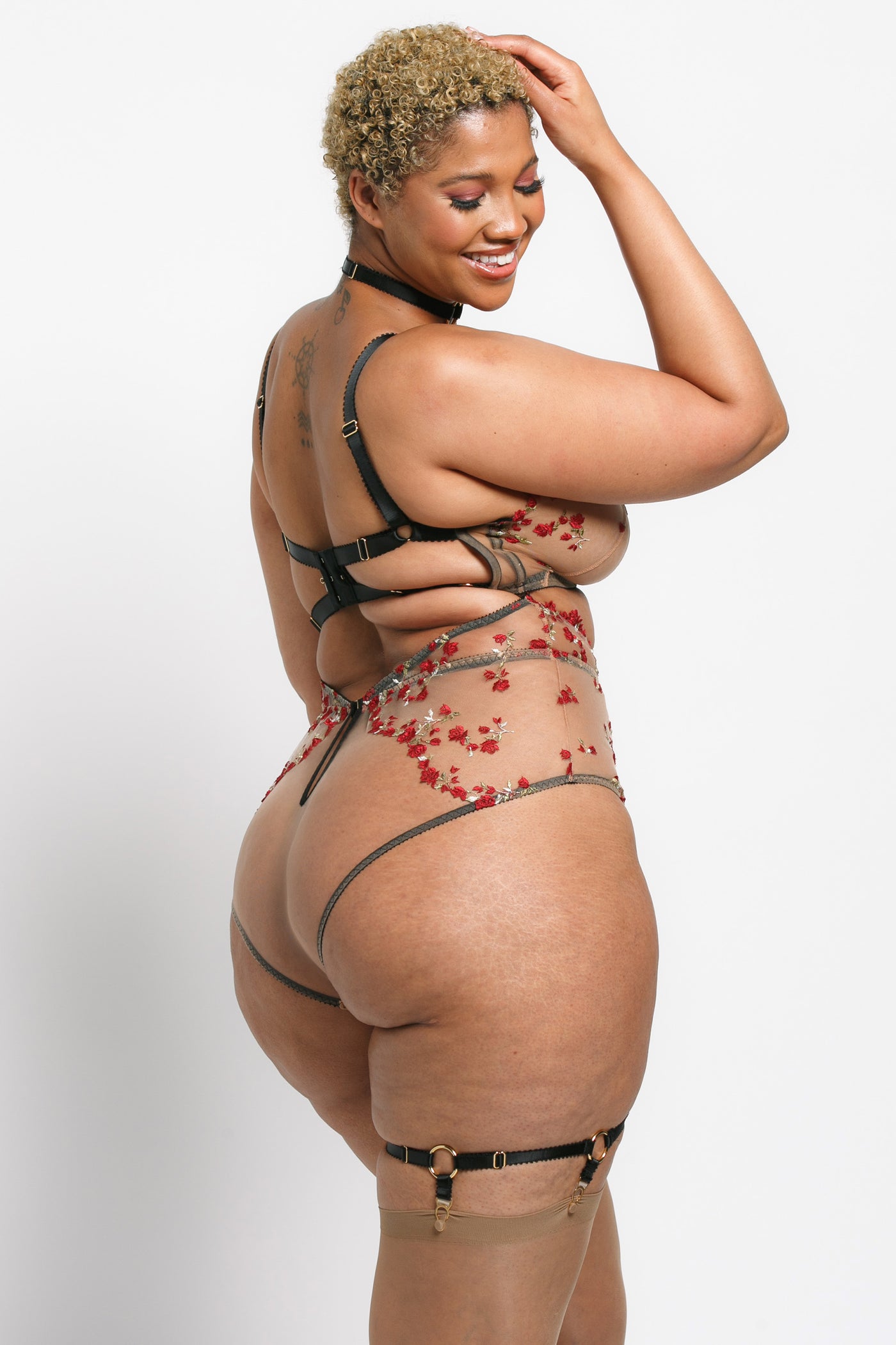 My typical bra size is a 32FF, so I selected Size 8 for the top, which covers my sister sizes of 34F, 36E, and 38DD. (I usually prefer buying a sister size for this style of lingerie, anyway.)
In knickers, I usually wear a Large or Medium. Edge o' Beyond's size chart doesn't list measurements for their bottoms, but it states that their size L (Size 4) is a US 8. I've never worn a US 8 on the bottom; My usual numbered size is 10 or 12. So I split the difference and went for their XL (Size 5).
The cost of this set including shipping was £240.00, or about $322.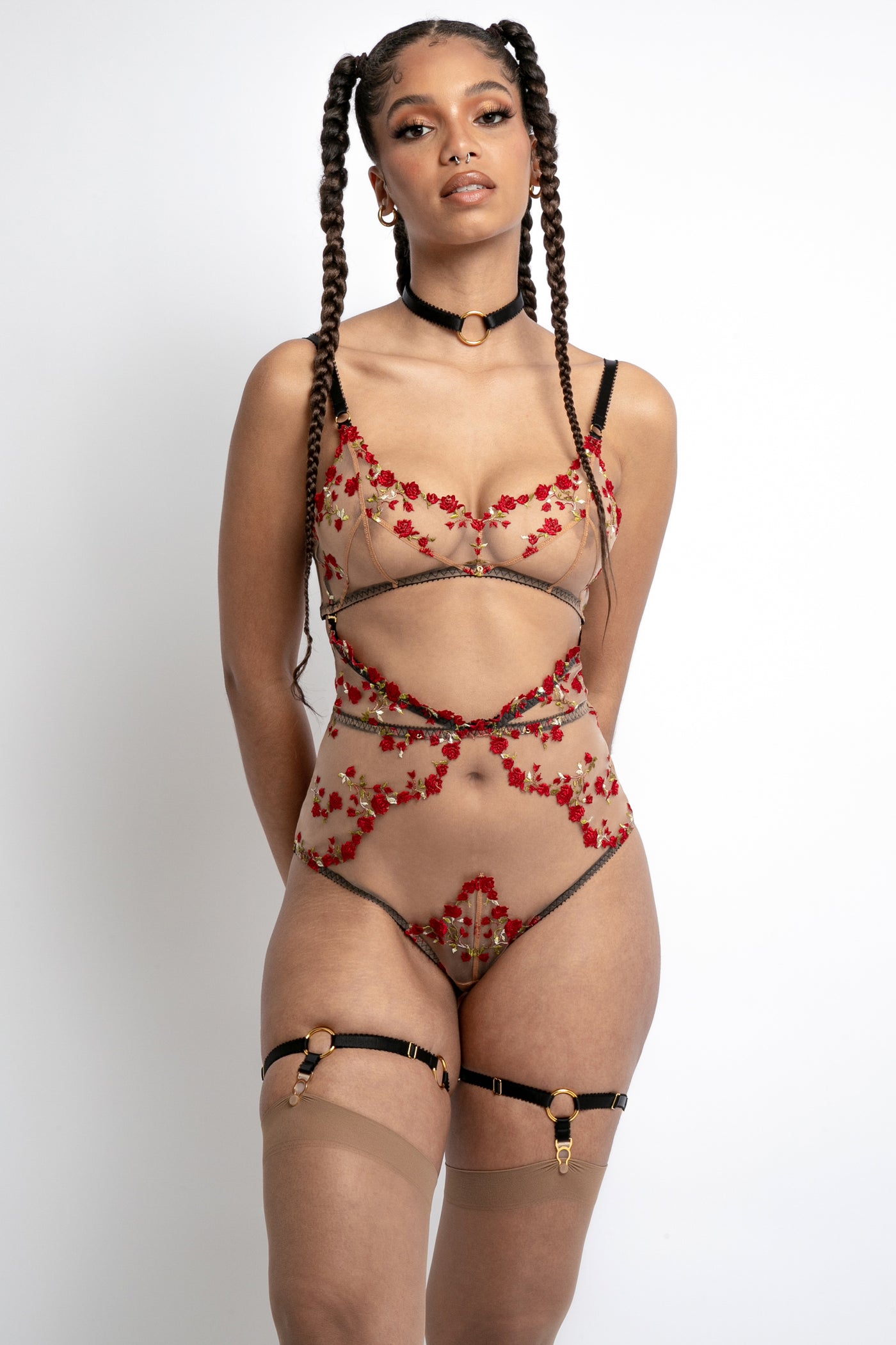 Quality and Fit
The Charlotte Body shipped from the UK, packaged in a logo-embellished satin bag (my favorite type of lingerie packaging!). The sewing quality is really lovely. Everything feels sturdy. The stitching is clean, and the tiny o-rings are sewn extra securely.
In person, those red blossoms are beautiful. However, the embroidery stitching isn't as tight and fine as I expected it to be for a luxury piece. I do appreciate how the motifs lack outline stitches, though. It makes each flower and leaf look more delicate on the skin.
Once I hooked the back of the bottoms, I realized they were a bit small. I'd probably be happier with one size up (XXL/Size 6) as they cut in on my 33" waist. The hips are fine, though. Since there are no measurements on their size charts, I have no idea if this individual piece runs small, or if I just bought the wrong size. I really hope Edge o' Beyond adds waist and hip measurements to their size chart!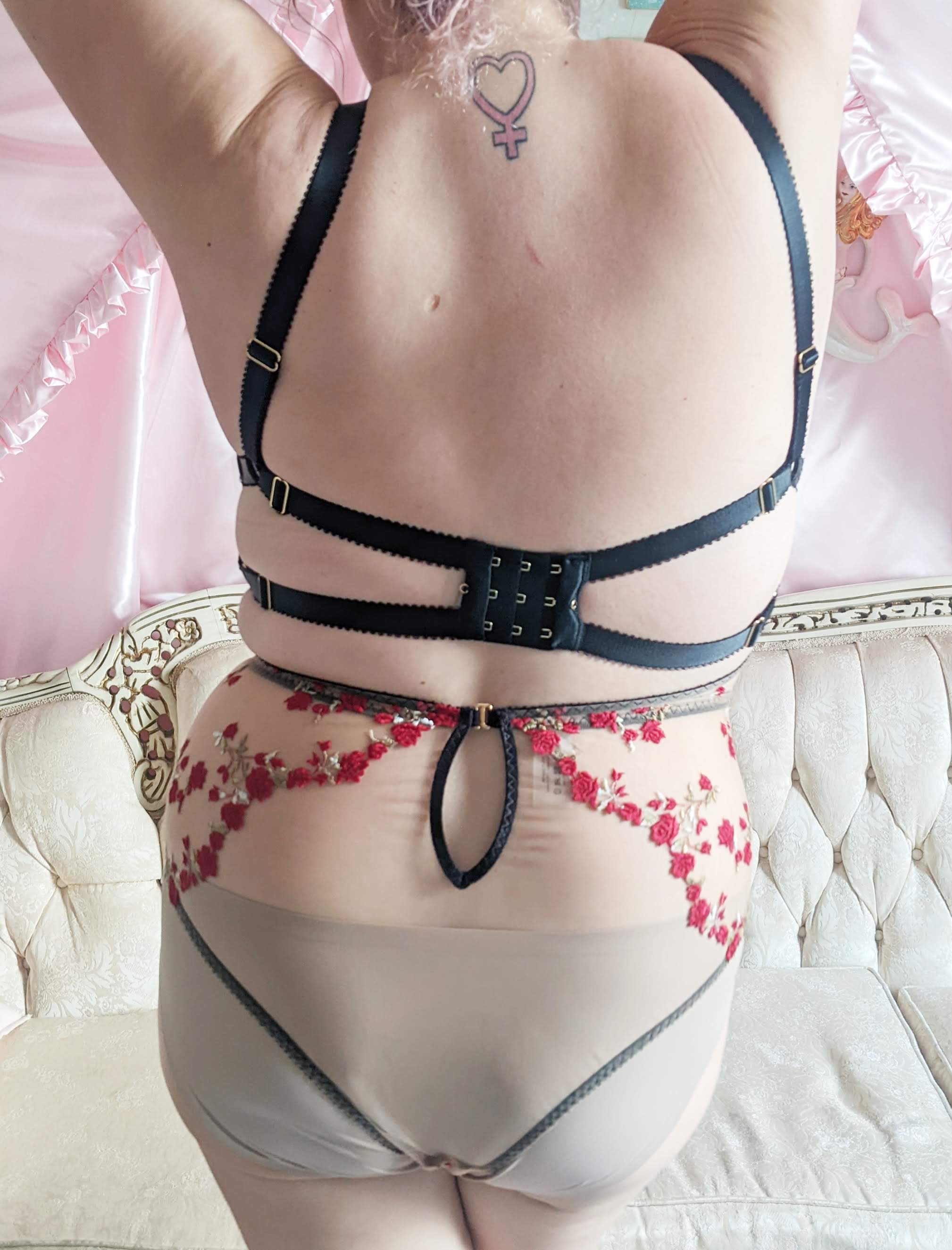 I also believe one - or even two! - sizes up in the top would be a better fit for me. Since the bodysuit top is wireless, it's very flexibly sized. That said, I'd still prefer more coverage on the sides and top. And even though their Size 8 is meant to fit band sizes 34 through 38, I have to extend the straps out almost all the way. I usually wear a 32, so I can't imagine this fitting someone who wears a 38 band!
At first, I thought this style didn't have any additional engineering for larger sizes. I appreciate that for the aesthetic, but not so much for the support. But after a few wears, I noticed that the top does indeed have a second layer of mesh! It's so fine, it's barely noticeable, visually. Overall, it's as supportive as a mesh bralette could be.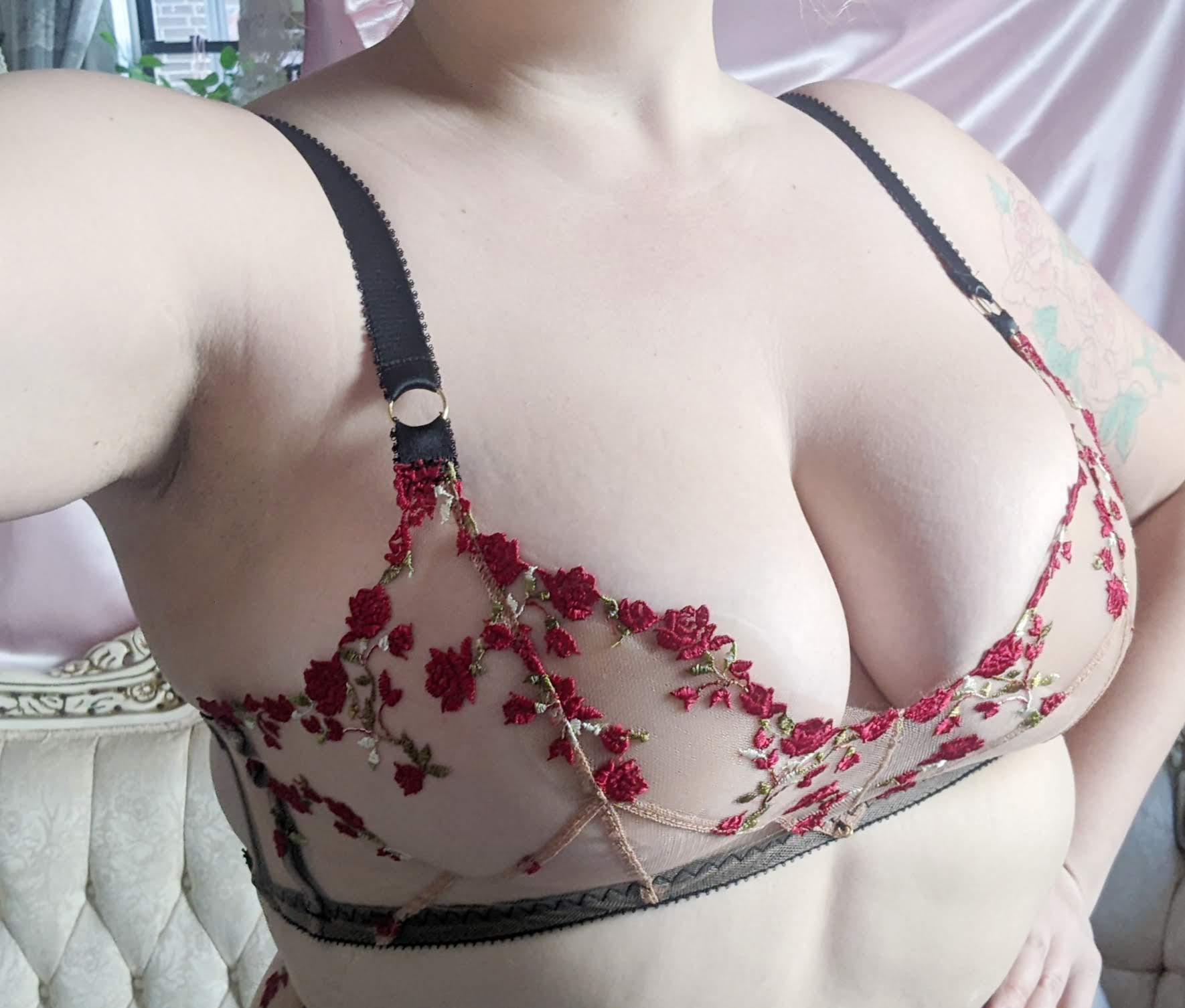 The sides of the top are a little strange, however. There's a small mesh panel at the side, connecting to the embroidered mesh front. That connecting seam seems to be an empty boning channel, which makes the seam sturdier without being stiff. The back side seam has the only boning in this garment.
On the top point of the side seam, the connecting embroidered piece is cut so the rose sticks up over the boning. I'm sure if it was deliberate design detail or not, but the more I wear this piece, the more it bugs me, personally. I think it would be nicer if that transition created a smooth line beneath your armpit.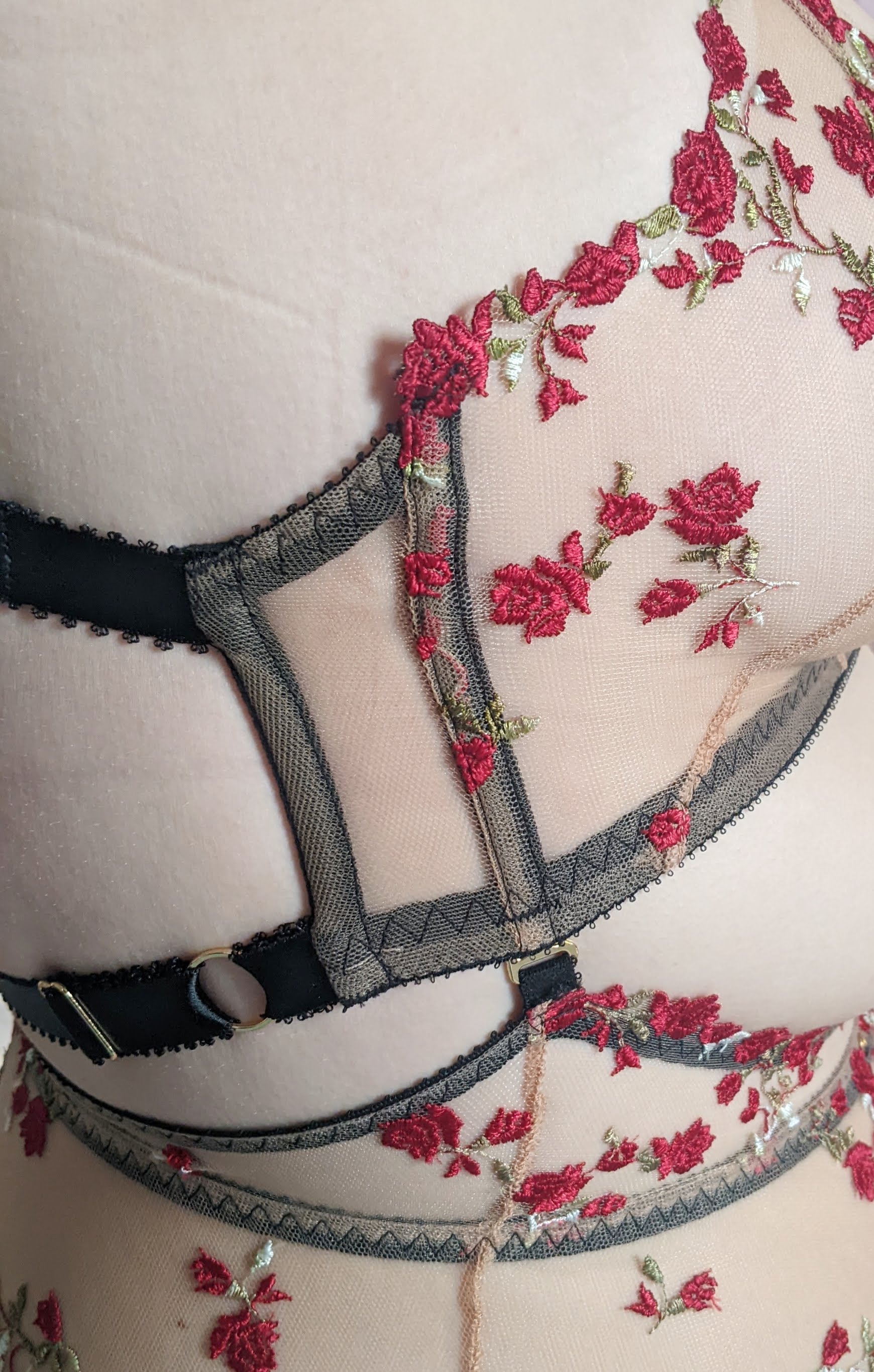 Overall, this piece runs small. I recommend sizing up in both the top and bottom pieces, especially if you're a larger band size.
Final Thoughts on Edge o' Beyond
Even though some parts are small on me, I love this bodysuit. The beautiful silhouette lines are glamorous on the body, and the wireless top looks effortless and chic. The embroidery isn't quite as fine as I expected, but the overall quality is in line for an ethically-made item at this price point.
Like Edge o' Beyond's other pieces, this style combines a modern silhouette with a luxurious aesthetic that I'm fully here for. I would absolutely buy one of their sets for a special occasion. Their multi-sized tops make for simple gift-giving, too. If you're into the Edge o' Beyond aesthetic and aren't incredibly particular about fit, I think you'll be happy with your purchase. Just size up.