SHEFIT Ultimate High Impact Sports Bra Review
Disclosure: This set was purchased by The Lingerie Addict for the purposes of this review. All opinions are my own.
As a distance runner and a fuller-busted person, sports bras are indispensable to me. "My sports bra is in the laundry" might be a convenient excuse to stay home from the gym. However, for people built like me, it means we really cannot train. I require specialized equipment (in the form of highly-engineered sports bras) to stop pain, chafing, and distraction during runs. It's non-negotiable.
My usual go-to sports bra is the Enell Sport, the most effective sports bra I've ever tried. It's also pretty ugly compared to trendy, modern sports bras. To me, it looks like a cheap piece of shapewear from 1970. But it works.
To be honest, I don't wear any other brands these days. I hook that Enell bra on under a performance t-shirt and forget about it for hours. No movement, no chafing.
But my friends are always raving about SHEFIT.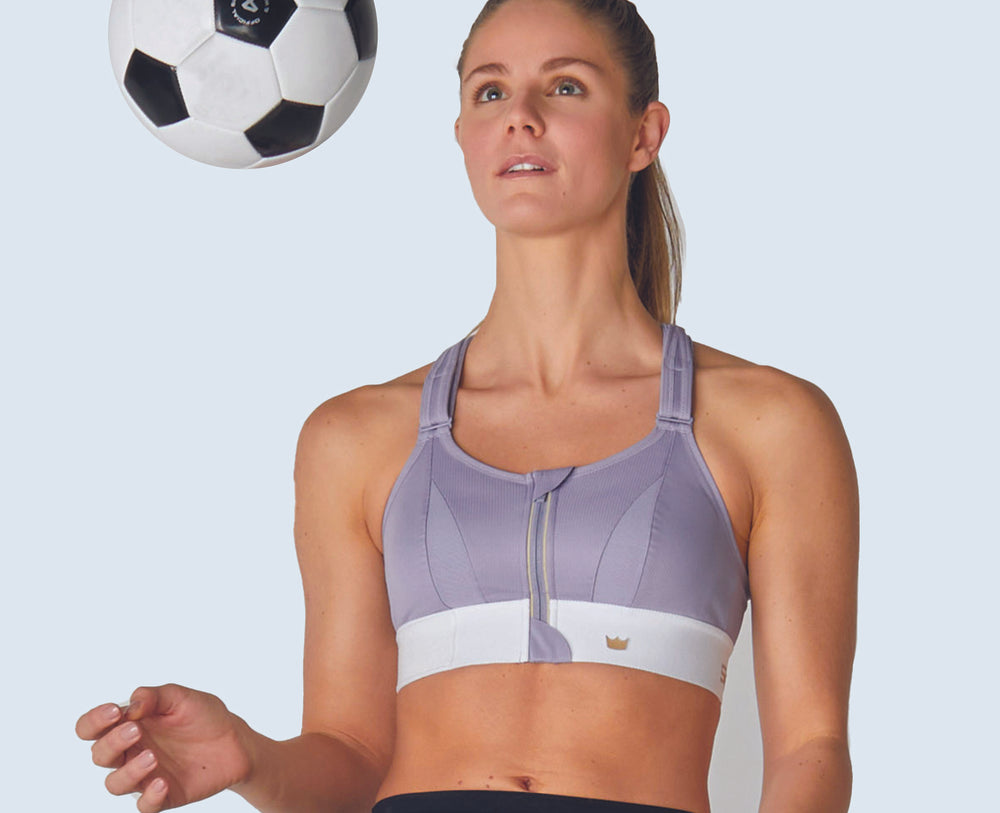 Facebook has served me SHEFIT ads for years. To me, they seemed like the invention of someone who has only ever tried those pretty, flimsy sports bras from the mall. "What if a sports bra, but you could tighten straps and band?!?" (The joke is that a well-fitting, well-engineered high impact sports bra doesn't need to be altered on the body to give compression or support.)
And then, I saw this.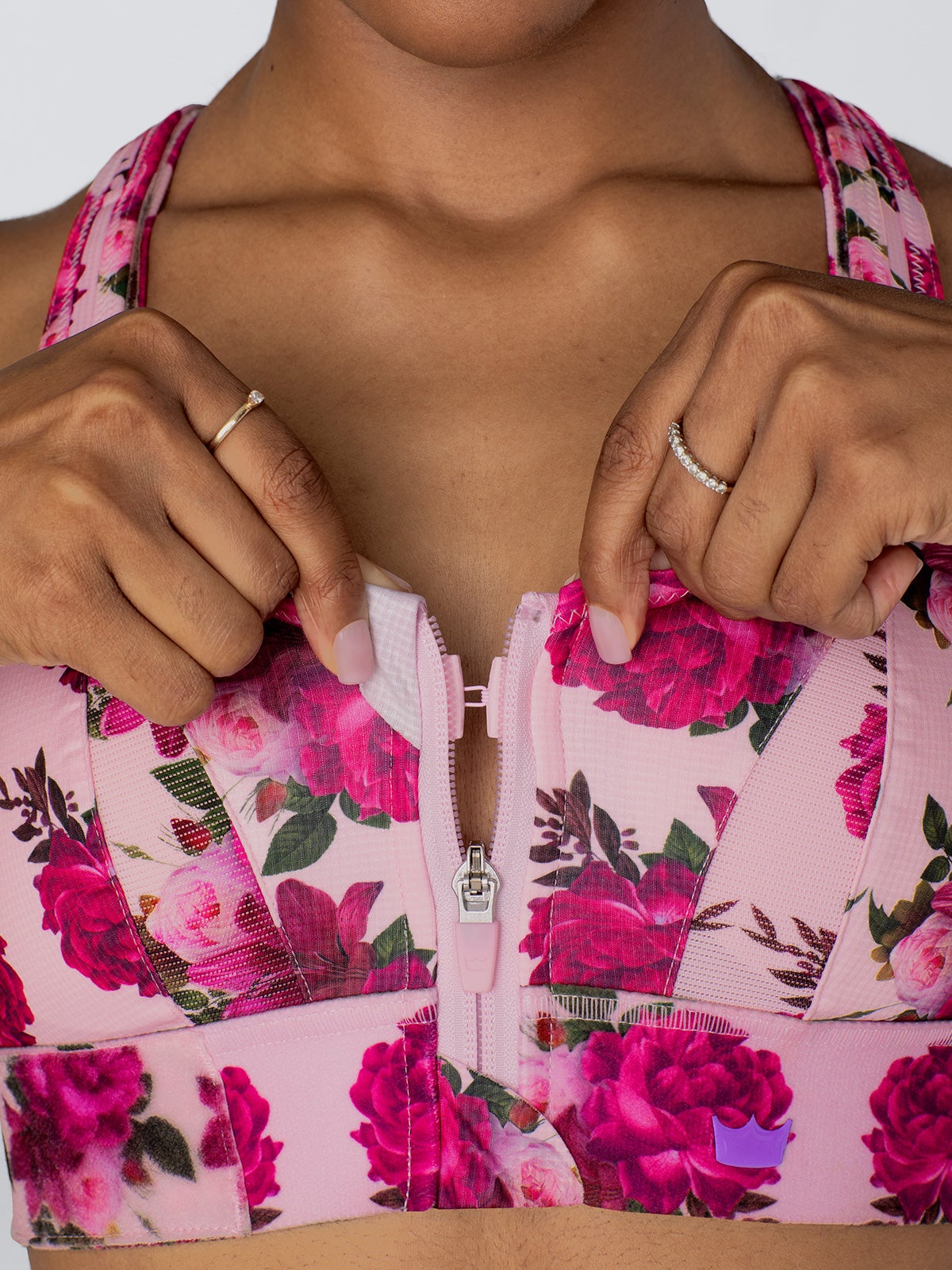 A pink, rose-printed, high-impact sports bra, that actually comes in my size?! I imagined jogging around the park in the summer, wearing nice leggings and a cute sports bra, like so many smaller-chested runners get to do. No more covering up my weird satin hook-and-eye sports bra! Maybe I could have support and look cute, too!
The SHEFIT Ultimate Sports Bra
SHEFIT's bras range from XS to 6X (or "6Luxe"), fitting bust sizes from 29" to 55".
My rib cage is 33" and my bust is 41."  I usually wear a UK bra size is 32FF (Euro size 32H). According to the size chart and the SHEFIT Fit Quiz, 1Luxe is the perfect size for me.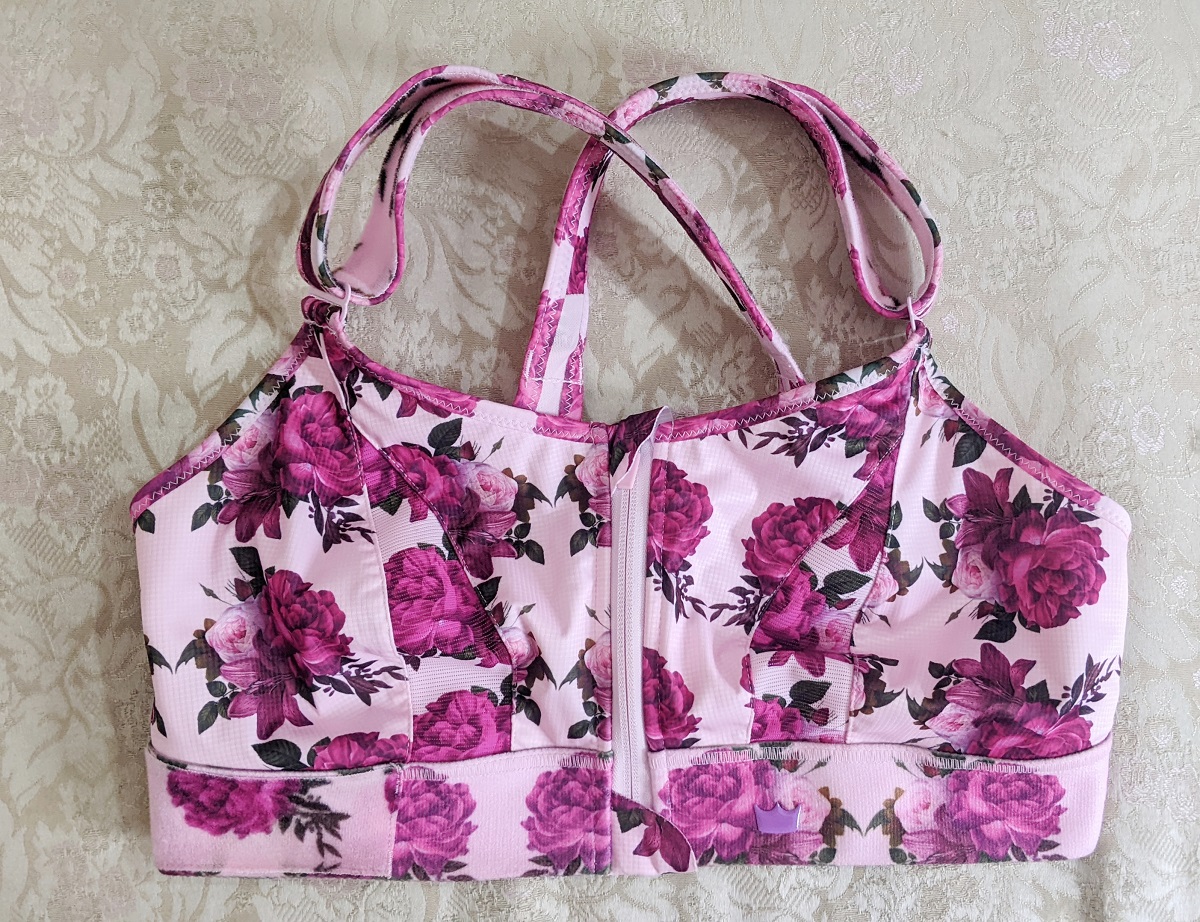 First of all, let me say that SHEFIT's branding is on point. My bra arrived with its own sports-y garment bag for laundry day. Instead of a piece of disposable plastic, its tags were attached with a printed elastic hairtie you can use for a workout. You also get a branded tape measure for easy fitting and exchanges. I haven't been so excited to get a new sports bra in, well, maybe ever!
SHEFIT's packaging and branding made me feel like an actual athlete. This isn't something I often feel from activewear companies, where I often wear the biggest size they offer. It was pretty cool.
But the first thing I noticed about this bra? It's…a lot of bra.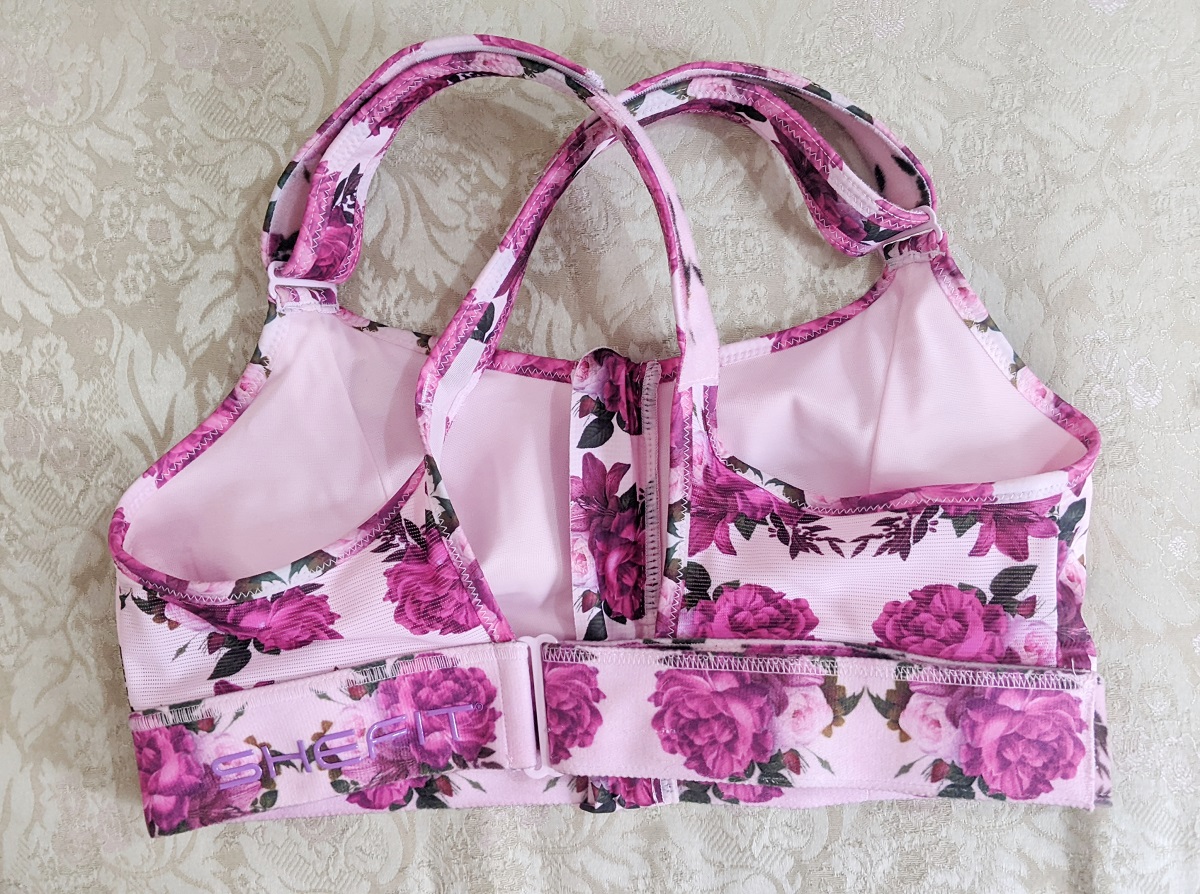 The straps and band are adjustable with (self-printed!) velcro, attaching via the biggest powder-coated metal sliders I've ever seen on a bra. The zipper has a couple hook-and-eyes on the back, but even those are sewn to thick, four-layer pieces of fabric. And of course, the overlock stitching has to be thick as well, to capture all those layers of fabric and velcro.
It's well made and feels very "heavy duty," but everything is just so bulky.
The bulky velcro keeps the wide elastic band from flipping up, but only on the parts that are velcroed together. The rest flips up a bit on my torso. After a few wears, it seems to be permanently rolled.
It's also hard to get on. I had to have my partner help me tighten my back band the first time I wore it. I also had to make sure my shoulder straps were even so the velcro wouldn't scratch me.
Then, once adjusted, it became so difficult to zip! There are two hook-and-eyes on the back of the zipper, but they're only on the center and top of the zipper. Not on the bottom, where you need to put the zipper together.
There has to be some structural reason why they didn't put a hook-and-eye here, but it's so annoying. It takes me at least 20 seconds to start the zipper every time I put it on. I hate it! I don't want to un-velcro the band every time I wear this bra. Honestly, I might add my own hook-and-eye to the bottom of my zipper.
Fit and Quality
SHEFIT's bras are designed to go up to an I cup, or a UK G cup. Since I typically wear a UK FF cup, I figured I'd be at the top end of their sizing, and I was right.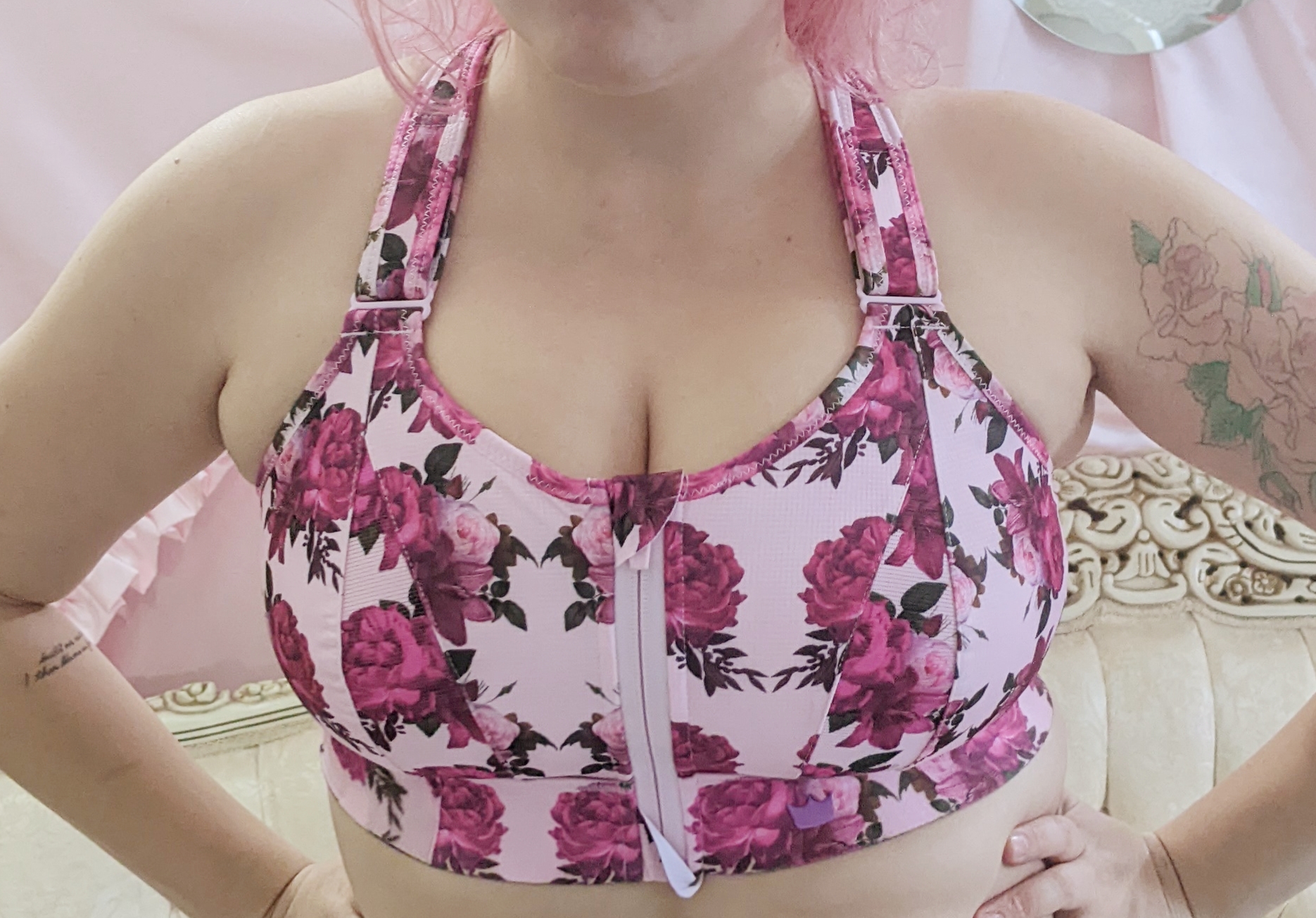 This is the first highly-engineered sports bra I've tried where I have cleavage. And I don't want it. There just isn't enough fabric to cover the entirety of my breasts, so they get pushed up and out of the bra. For me, that means movement around my collarbones, and no shirtless jogs around the park. (I am definitely getting SHEFIT's Clip Tank, though!)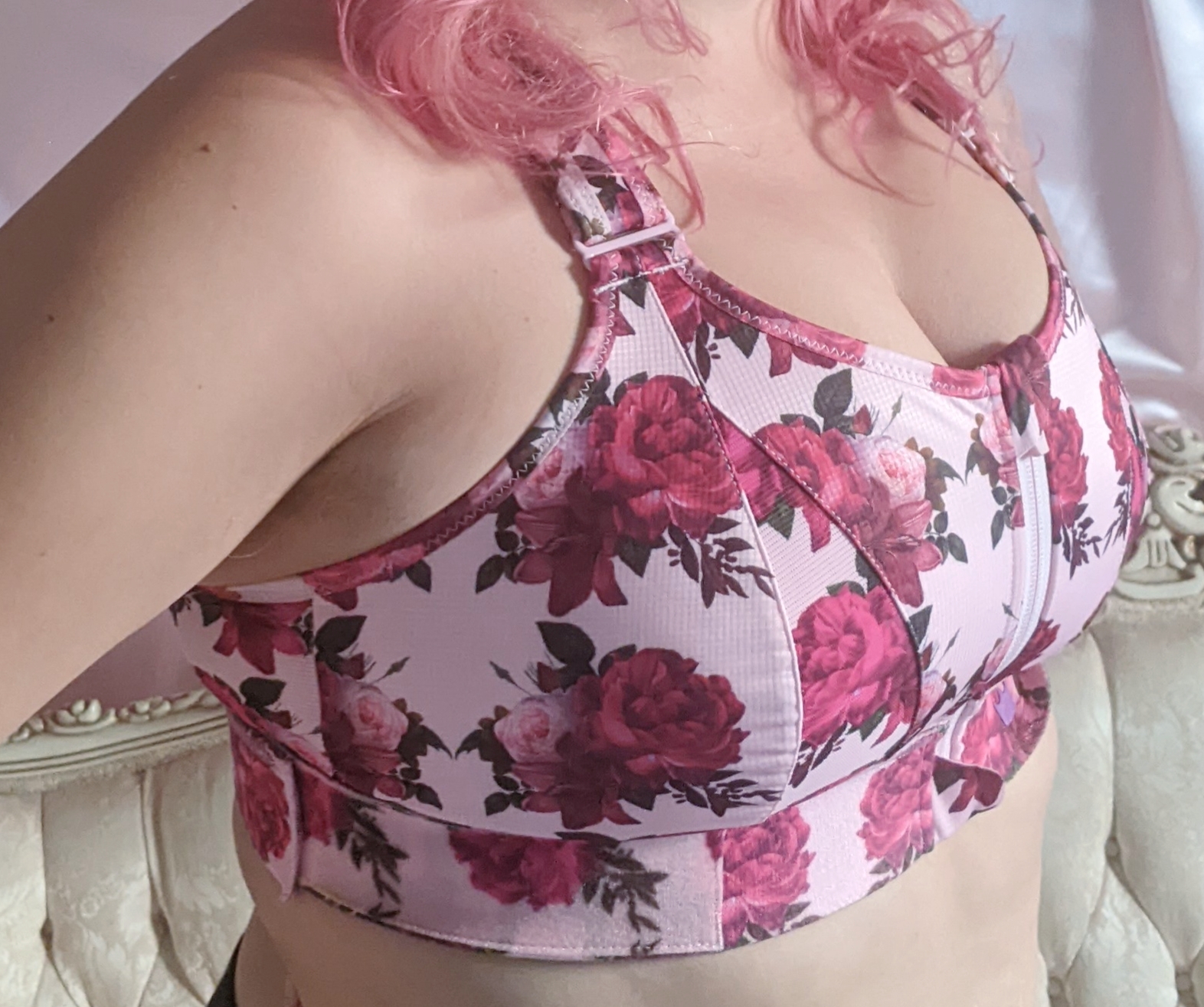 Aside from fit, many of my friends raved about adjusting the band and straps for the level of shock absorption you need. Loosen them for pilates, tighten them for sprints. But there's a point where you can't tighten the straps more, because the band starts riding up and your shoulders hurt…just like a regular bra.
Bands and straps work together with the cups of a bra, especially for high-impact sports bras. Adjusting the straps affects the band, which affects the fit of the cups or body of the bra. You can't just tighten one part or another and get better support. And that's basically what happened with my SHEFIT bra.
When I wear this bra, I keep my elastic in one position. Adjusting it doesn't give me significantly more or less shock absorption. Instead, it just worsens the fit.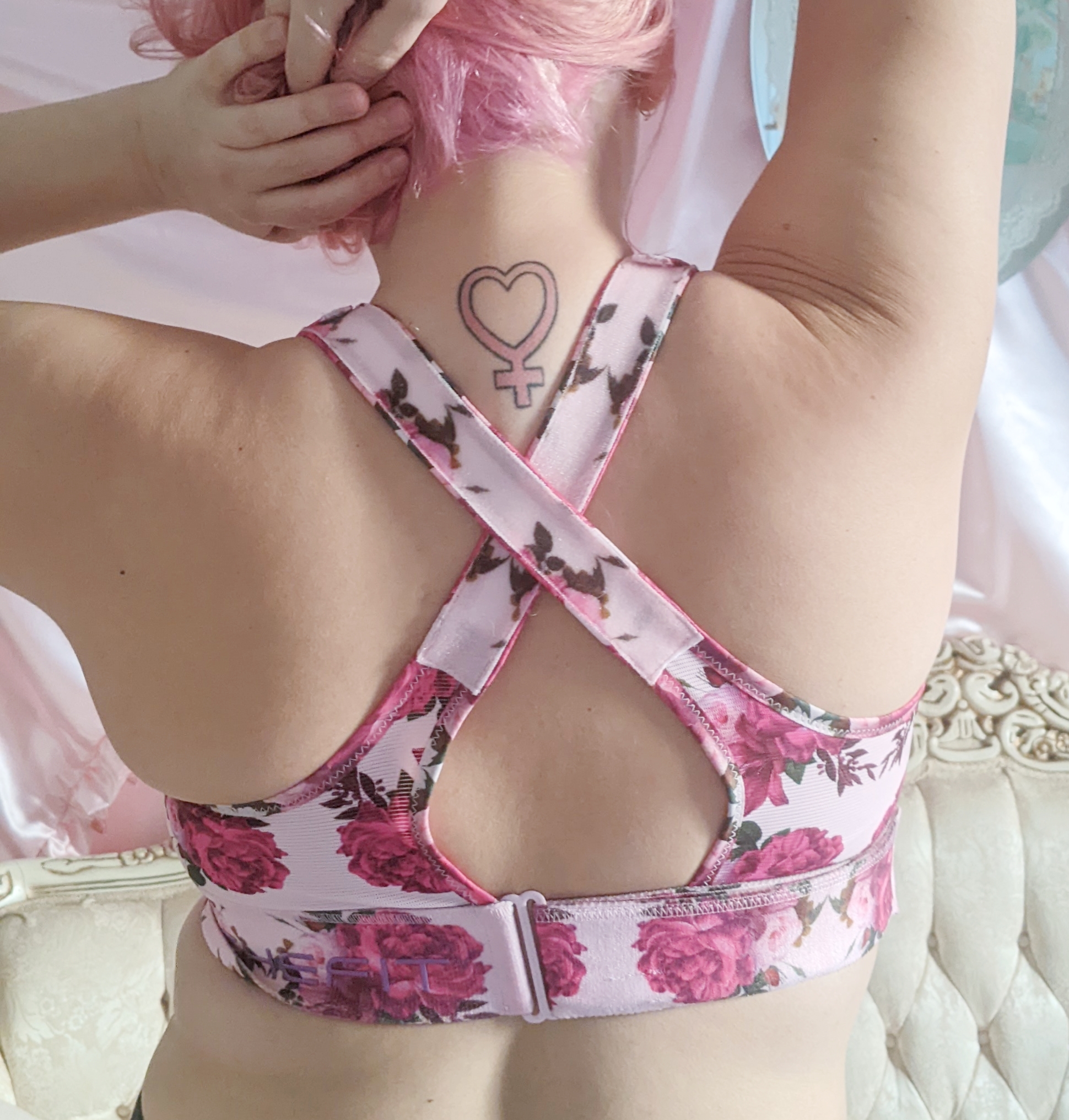 But while the adjustability isn't great for performance or fit, I believe it'll be great for longevity. Your SHEFIT bra will stretch out, but you can tighten it and wear it for much longer than other sports bras. I hate replacing sports bras, so I love this aspect.
Performance
I'm pretty active these days, so I put on my SHEFIT bra for a couple weeks of running, strength training, and yoga. Here's how it performed.
Running
I'm not doing super long runs right now, so I couldn't test it on anything too lengthy. But on a few four mile runs, I promptly forgot about my bra and the extra cleavage I had under my running shirt.
It provides a bit less support and shock absorption than my Enell, Shock Absorber, and Panache sports bras. However, I had no soreness or chafing, despite the bulky straps and band. I'll definitely grab this bra for runs in the future.
Strength Training
At first, I was constantly adjusting my SHEFIT bra during strength classes. The shoulders felt bulky and the straps moved around on my back. But after wearing it for a few classes, I got used to it.
I don't need this much shock absorption for strength training, but I would still wear this bra to class in a pinch.
Yoga
Oh man, I hated wearing this bra for yoga! The thick straps were so uncomfortable on my inner arms and shoulders. I noticed it on my body constantly. Every time I twisted my torso, stretched my arms, or bent at the waist, I found myself fidgeting with the straps.
Of course, high impact bras aren't made for yoga, or even strength training. But other high impact sports bras I've worn have been perfectly fine for these activities. Just something to keep in mind if you're looking to invest in one nice sports bra.
Final Thoughts on SHEFIT
This bra is highly engineered, well made, and super cute. It has a lot of shock absorption qualities, and I think it'll last an extremely long time, thanks to its adjustable band and straps.
But I believe my initial thought was right. SHEFIT's engineering is only spectacular if you haven't tried other highly-engineered sports bras.
It's hard to get on. It's a lot of bra. And unfortunately, it's just not designed for fuller cup sizes. If you have more than a 5" difference between your bust and ribcage, you'd be better off going with a sports bra from Panache, Elomi, Enell, or Goddess.