Polish Bra Review: Avocouture by Avocado
Disclosure: This set was purchased by The Lingerie Addict for the purposes of this review. All opinions are my own.

Avocouture by Avocado is the new name for Avocado Lingerie, a Polish line of fuller bust bras known for combining great support with fashion-forward details. Think collarbone panels and elegant cage details, combined with lace and mesh.
There are quite a few fashionable full bust bra labels these days, but many angle towards the hyper-feminine or super trendy. Avocouture's styles are elegant, chic, and feel grown up. They're stylish, yet feel timeless.
These days, I prefer buying comfortable DD+ bralettes and aesthetically-pleasing (but unsupportive) bits of lace over the highly-engineered bras that Polish brands are known for. My favorite everyday underwire bras are by UK brands I can easily pick up here in NYC.
Plus, I'll be the first to admit that I'm not hyper focused on fit. As my breasts aren't particularly full on top or bottom, and I'm on the smaller end of "full bust." Therefore, I don't have super specific fit needs. Because of that, all the size conversions, style abbreviations, and unique fit capabilities of Polish brands just seemed like too much work.
All that means this was actually my first Polish bra! If you've also spent a lot of time wearing UK full bust bras and have yet to dip your toe into the Polish bra landscape, this review is especially for you. But if you've been wearing other Polish brands for a while, I'm happy to tell you what I think of this brand's style and quality, too.
I chose to review the Misia Macaron HCN+ bra, which features a beautiful Austrian lace over a toasty beige tulle with matching trims. But the fancy ribbon tie on the back is really what sealed it for me. A sweet detail that doesn't feel twee is iconically Avocouture.
The Misia Macaron HCN+ bra costs 119 Euro, which is about 135 USD. Ground shipping was 12 Euro. It took two weeks for my order to ship, and about five weeks for it to arrive. In total, my package arrived after almost two months after placing the order.
Sizing
My typical size for UK bras is a 32FF, which translates to a 70H in European sizes. But I looked at Avocouture's size chart before placing my order, and it told me my measurements should be equal to an 80H.
Two band sizes up and two cup sizes larger? This seemed off, to say the least. So I emailed the company with my measurements and usual UK bra size, and their bra fitter suggested I should try a size 75F.
Interestingly, now that I'm writing this piece, I can't seem to find a size chart on their website at all. I would recommend emailing for fit advice regardless.
Avocouture makes 60 bands (US/UK 28) through 95 bands (US/UK 40), and cup sizes C to L (in UK sizes, that's C to H cups). The Misia Macaroon is available in Euro sizes 60F-L, 65E-L, 70-75D-K, 80C-J, 85C-H, and 90-95C-F.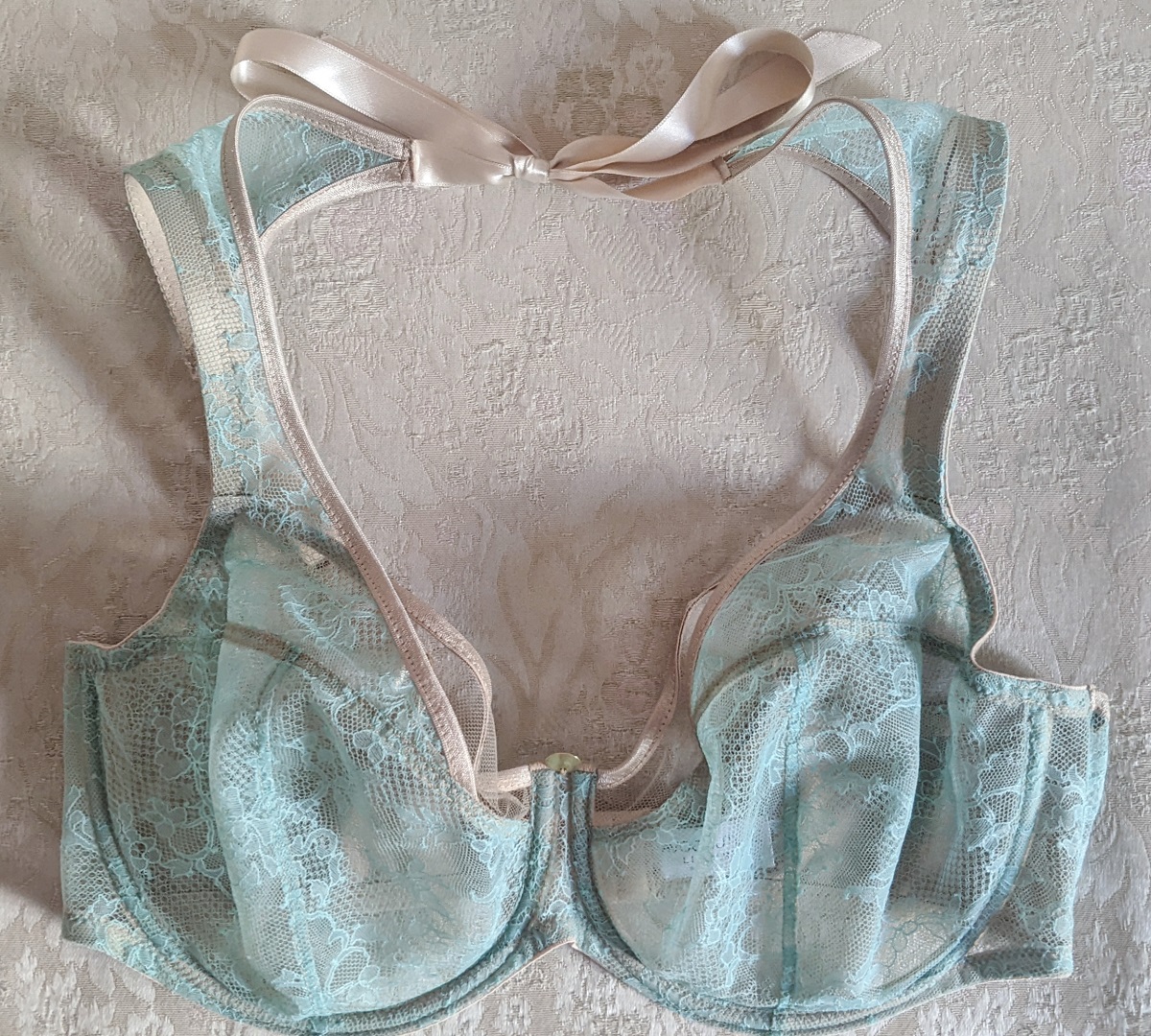 Polish Fit and Quality
At 75F, this bra is the correct size for my body. The band is significantly firmer than the UK full cup bras I typically wear, but it feels great. The slightly rounded cups and wider wires remind me of French brands like Empreinte, with the addition of extra stable wires. The top of the cup cuts in just slightly on me, but it's not noticeable under most items. (A larger cup wouldn't work on my frame, due to the wider wire Avocouture used here.)
This all makes me think that it may not be a good fit for people who are full on top, or who prefer a narrow wire. However, if you find that UK bra cups sit too close together for you, and you're looking for a round shape, this might be a good bra to try.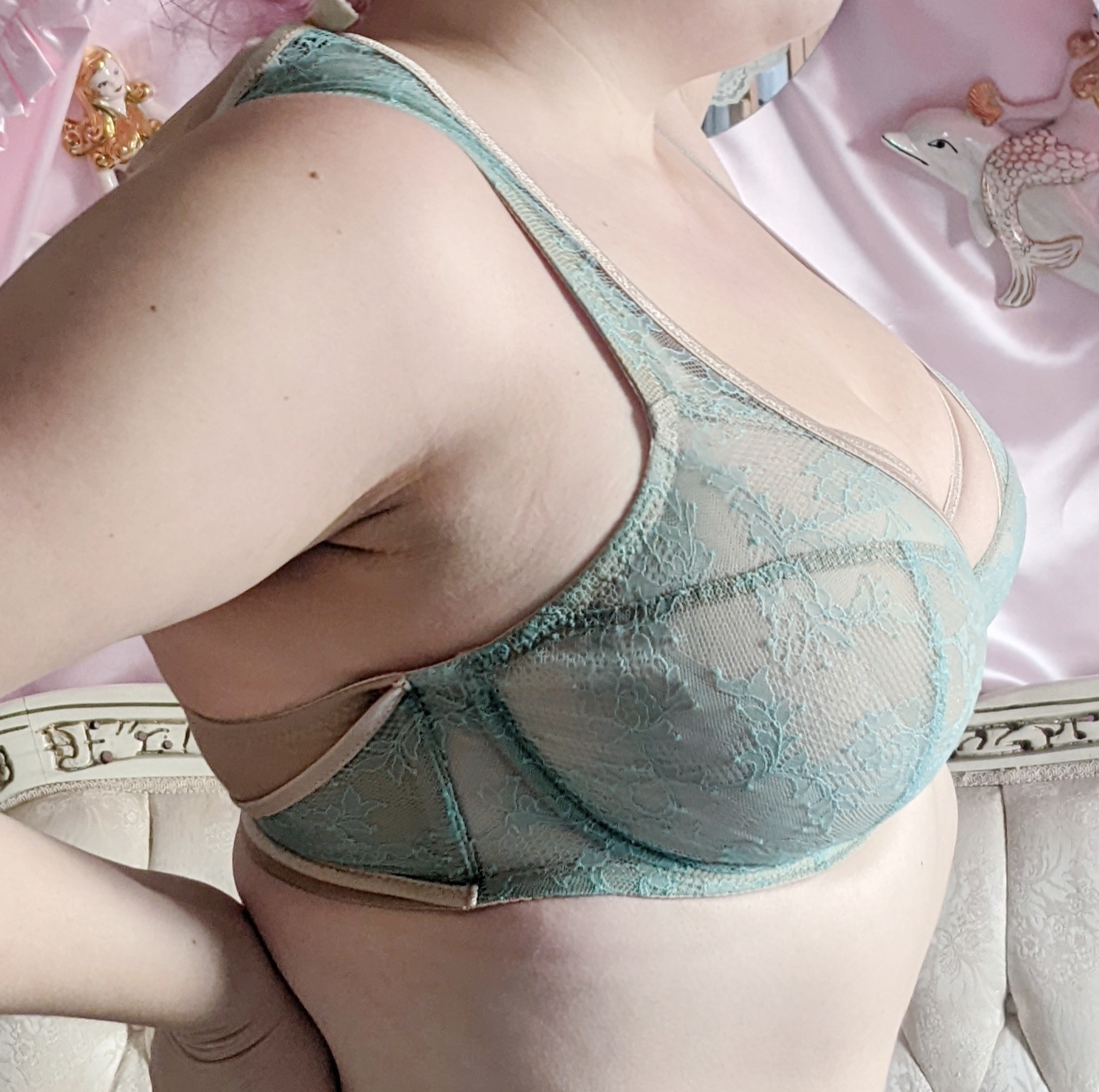 Overall, it's a decent fit on me, but I don't love it. This piece uses very firm materials, and I prefer a bit more stretch and give with my bras. My sensitive skin especially doesn't love a stiff tulle lining for a full day's wear. I also prefer more forward-facing projection from my bras, rather than cups that sit closer to my arms.
That said, I know a ton of full bust bra wearers who would love this type of support. And that support clearly isn't an afterthought or an addition. It's the brand's true raison d'etre, and it's blended beautifully with their aesthetics.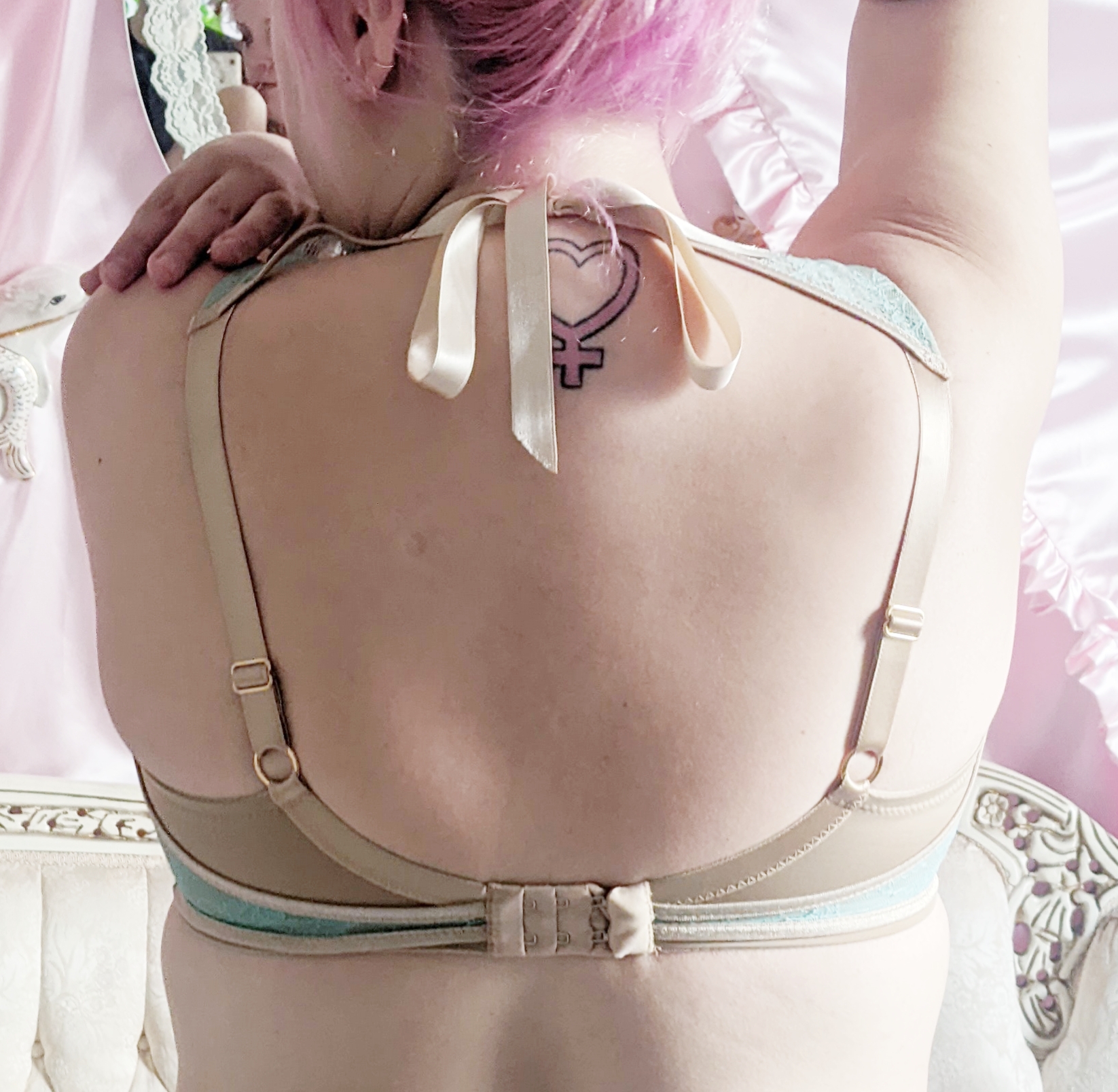 Speaking of aesthetics, this bra is also very nicely made. The stitching is clean and construction feels sturdy. The back band consists of lace overlaying an opaque microfiber fabric, which lends that firmness to the fit.
Otherwise, all the lace panels are backed by a stiff illusion tulle that disappears almost completely on my skin tone. Although the trim is a light nude shade, the rich, shiny quality of the elastic and ribbons makes me think it might be a nice match on multiple skin tones.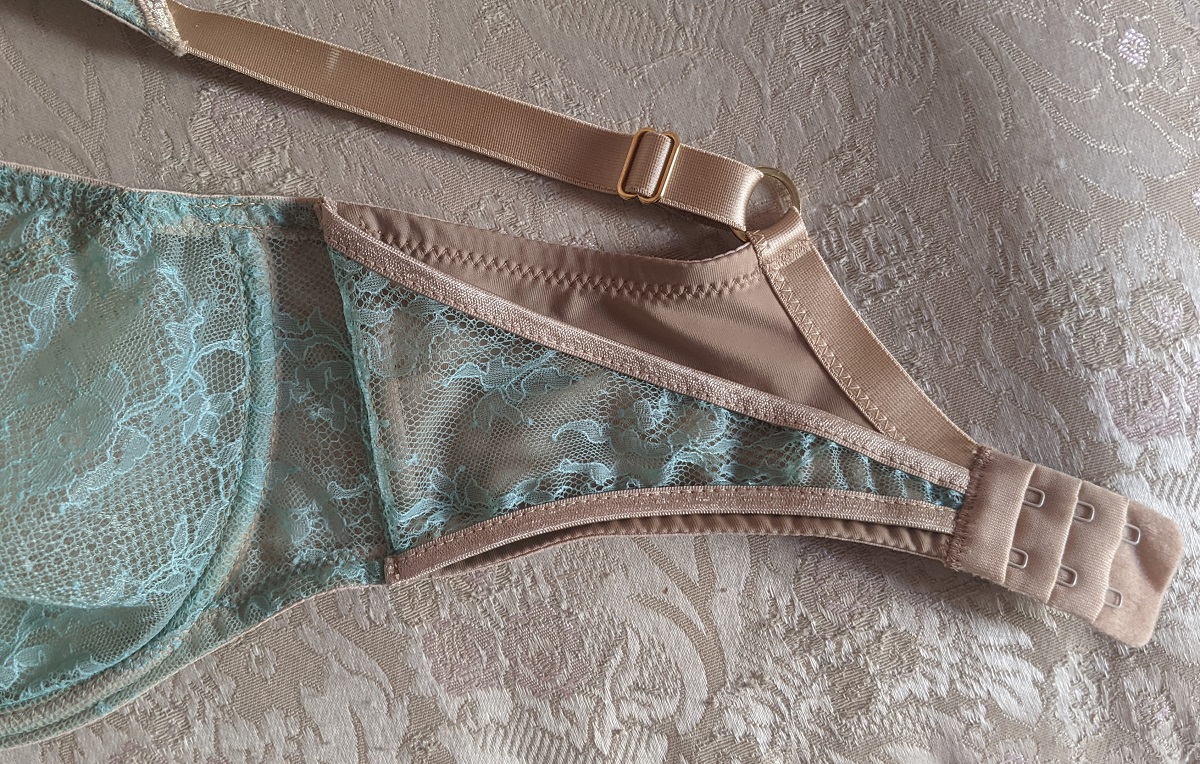 Overall Thoughts
Compared to my usual UK-designed full bust bras, this Avocouture bra is firmer, more rounded, and has a less projected silhouette. The wires are less narrow than the UK brands I love, but firmer than the wider full bust wires I'm used to from French brands.
While it's not the type of bra I prefer to wear these days, this bra feels perfectly engineered for the full bust person. If you love a super supportive, sturdy bra that still looks elegant, I highly recommend trying Avocouture.