Size-Inclusive and Ethical: Molke Original Cotton Bralette Review
Disclosure: This set was purchased by The Lingerie Addict for the purposes of this review. All opinions are my own.

Molke is an ethically-made line of comfortable, wire-free lingerie and activewear, best known for their wide size range. Made in Scotland, their cotton bralettes are designed to fit band sizes 26 through 54, and UK cup sizes A through M (European sizes A-S). That's a huge range!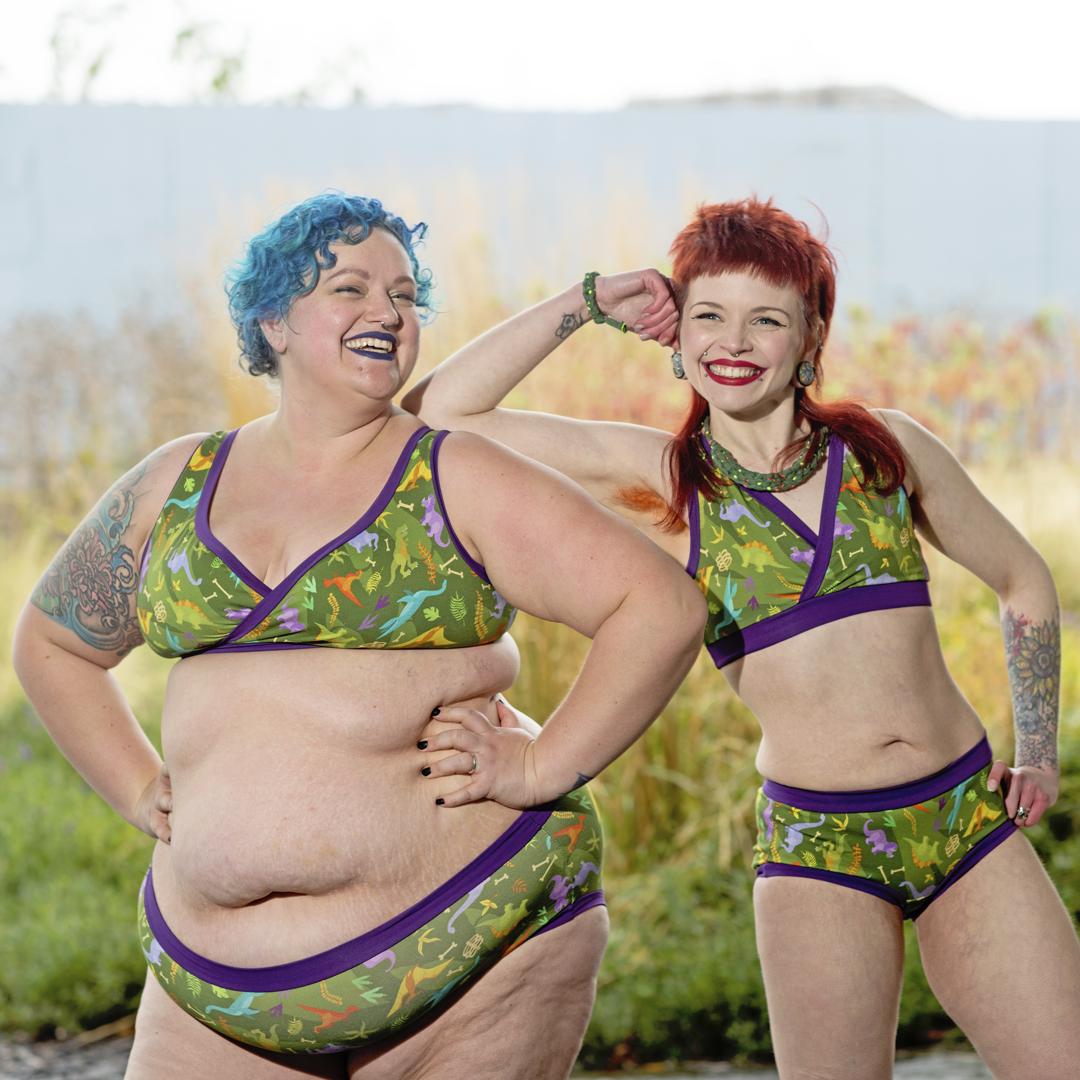 Since the pandemic started, I rarely wear wired bras. You'll usually find me wearing my favorite pullover Cosabella bralette or my comfy Curvy Couture wireless bra on a regular day. But most fuller bust bralettes stop far below a UK M cup, so I was stoked to try this friendly, size-inclusive line.
And the fact that they're accredited Living Wage employers? That's the cherry on top for me.
Molke Quality
The Molke Original Bra is a pullover style bralette with an overlapped front. It's priced at $50 in all sizes - a decent price for an ethically-made bralette. I ordered it in Candyfloss, a combo of pale pink and a deep coral red. The bra came from Scotland to NYC in a little over a week, though the company let me know that shipping has been known to take three or four weeks due to COVID.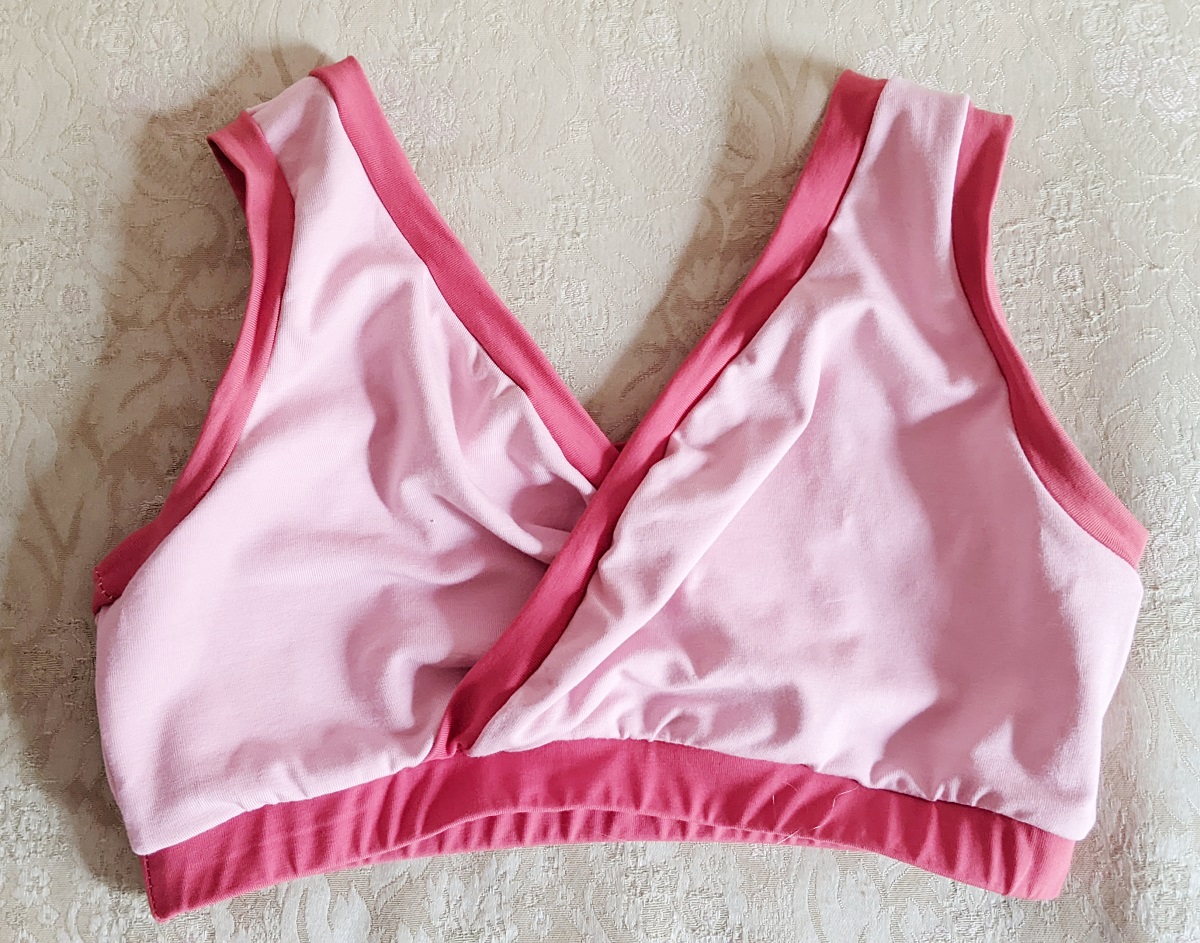 When I opened up my package, I immediately noticed two things. First, the organic cotton/spandex blend jersey knit felt much rougher than I expected. It reminds me of the organic cotton swatches I would test out from suppliers 10 years ago, before organic cotton was as common as it is today. I believe it will soften as it's washed, but it's been a while since I purchased a piece of clothing with such a poor hand. Even my Hanes briefs were softer than this when I purchased them.
The second thing I noticed was the stitching. This bralette is sewn together with a thick overlock stitch in white, instead of a matching thread. I imagine this was to keep costs down. Luckily it's invisible when worn - except for on the side seams, where my torso pulls the fabric just enough to show tiny white stitches between the pink seams.
That overlock stitch is used on the entire bra. It connects the elastic channel and all of the contrast bands to the body of the bra. It feels very sturdy, but it's also quite bulky. The bra is self-lined, but none of the stitching (save for the side seams) is bagged inside the lining. It makes sense why this bra is constructed in this way, but unfortunately, the contrast stitch color makes it look cheap in person.
Sizing and Fit
I typically wear a 32FF in UK sizes. Molke's Original Bra comes in band sizes XS-5X, with five different cup sizes: Stellar, Cosmic, Super, Mega, and Thunder.
I ordered this piece in "M Cosmic" as the size chart suggested. It fits nicely, once it's on. But it's quite a struggle to get there!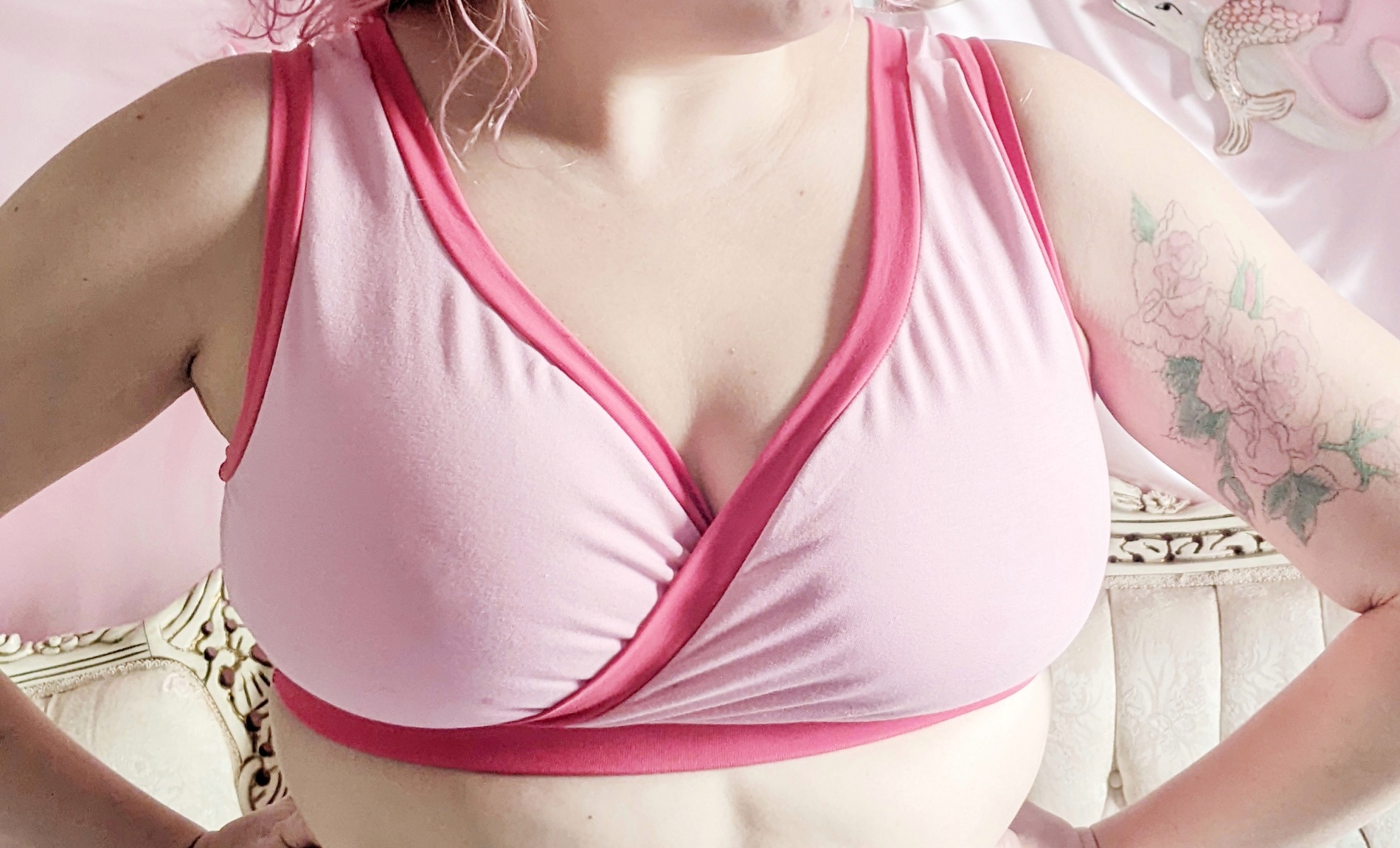 The elastic band is nice and firm, which is great for a supportive bralette. However, this is not so great when you have to get that bralette over your shoulders and bust. I'm quite flexible at the moment, but I almost wish I had gone up to a size L! It was a little painful to get on the first time I tried it, having to squish my shoulders together and severely squish my chest to pull the elastic down. I wonder how people with higher band-to-cup ratios would pull it over their bust at all.
When it's on my body, it fits great. But if you have mobility issues of any kind, or have a high band-to-cup ratio (I'd say anything over eight or nine inches between your bust and ribcage), I would highly recommend sizing up in the band. Or just try their multi-size bra, which features a back closure.
This bra is specially designed for my cup size range, but because it has no shaping or darts in the front, it wrinkles under the cups. When it's on the body, the underlapped front panel rides down under my breast.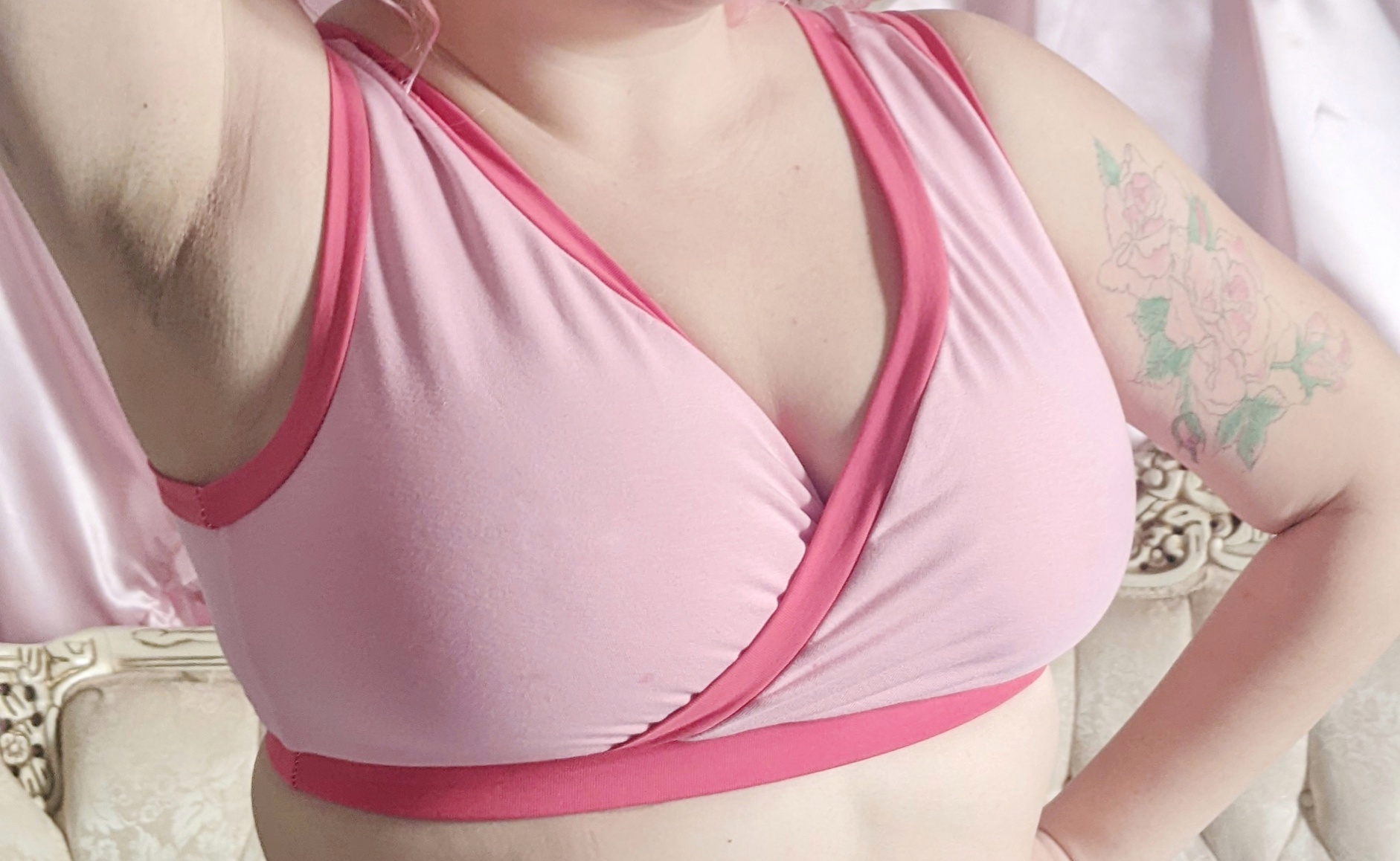 I've had this issue with over crossover tops before. It's not uncomfortable, just looks a little funny. It's kind of the nature of this style. However, I think both of these little fit issues could be solved with some creative patterning.
These two issues aren't major, and you might not mind them. But to me, they are pretty noticeable, especially against the smooth, solid-colored fabric.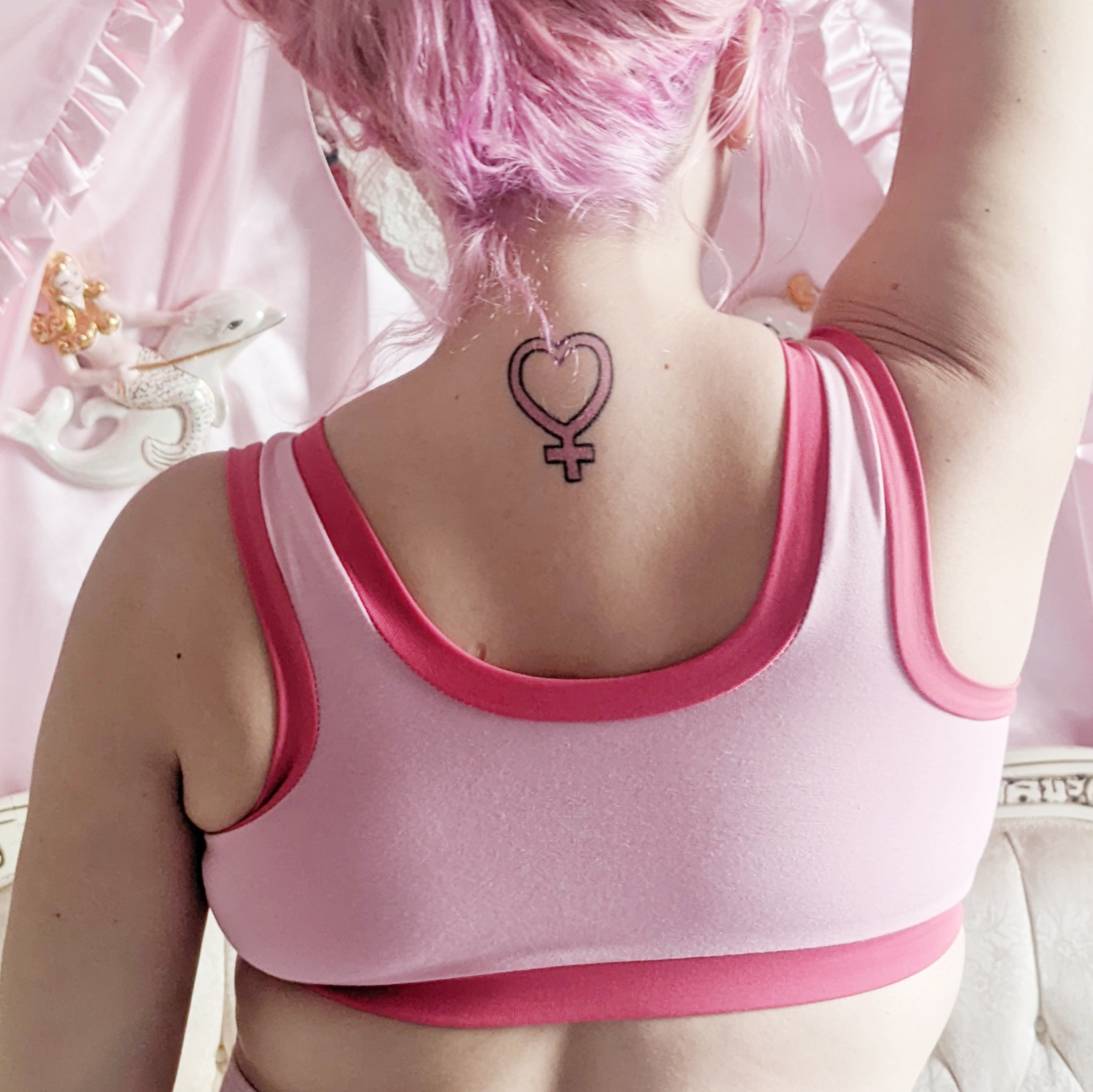 Final Thoughts
Once it's on, this bra is quite comfortable! I think it's a decently-priced option for an ethically-made bralette in a wide size range. If it was easier to put on, I can see myself reaching for it before yoga class or cleaning the house.
But it's so uncomfortable to get on! Plus, the fabric has a rough hand. The fit is just OK. And the construction feels very "home made." While I know it's ethically made, but I just don't feel like I'm wearing a $50 bralette when I wear it.
Molke makes many hard-to-find bralette sizes, like 44+ bands and K+ cups. If you have a cup size larger than G, I can't recommend this bra, simply because I think it would be so difficult to put on. But if you have a smaller cup size and a larger band size, this bralette might be a nice ethical option for you.