Lingerie Review: For Love and Lemons for Victoria's Secret Luella Bra Set in Size XL
Disclosure: This set was purchased for me by The Lingerie Addict. All opinions are my own.
For Love and Lemons is a Los Angeles-based apparel company with a sunny, feminine aesthetic that feels oh-so-SoCal. I've had my eye on the brand for most of their decade-long time in business, but never really took the chance on purchasing anything. Because honestly, For Love and Lemons is the kind of brand that didn't feel made for my body.
Like many youthful brands at this mid-range price point, they always photographed their letter-sized clothing and lingerie on young, extra-petite models until recently. And, to my eye anyway, their styles are pretty clearly designed for smaller bodies.
The company recently added size 1X and 2X, going up to a 49" bust. Despite my measurements fitting into their size XL, I always doubted these pieces would look good on me. (I even used one of their lingerie sets for inspiration on one of my own creations, because I never thought their styles would work for me.)
Then the brand partnered with Victoria's Secret on an exclusive collection, called "FLL for VS." I gotta say, I was super impressed. In particular, their Spring 2021 collection was a stand out group of colorful, ultra-femme lingerie that I couldn't stop fawning over.
It combines the playful sweetness of Japanese lingerie with a fresh and skimpy LA aesthetic. The price points are lower than the brand's in-house lingerie line, as well! But again, I didn't think I would ever be able to wear it.
Until 2021, when they added size XL. This size fits a 40"-42" bust, as well as a large range of bra sizes (38C, 38D, 40A, 40B, and 40C). My bust is 40" and my current size is 32G US, which is a (far removed) sister size of 38D. I knew these bras wouldn't be an "ideal fit" on me, but I was excited to try it out.
The collection seems to be doing great for Victoria's Secret, and most of the group sold out at full price. However, I happily found the Luella Bra in XL and Panty in my usual size L on Poshmark.
Lingerie Quality
The For Love and Lemons Luella set sits at the upper end of Victoria's Secret's regular pricing. VS' wired bras typically cost between $45 and $80 full price, with most sitting around $65. The Luella bra originally retailed for $89, and the panty cost $39.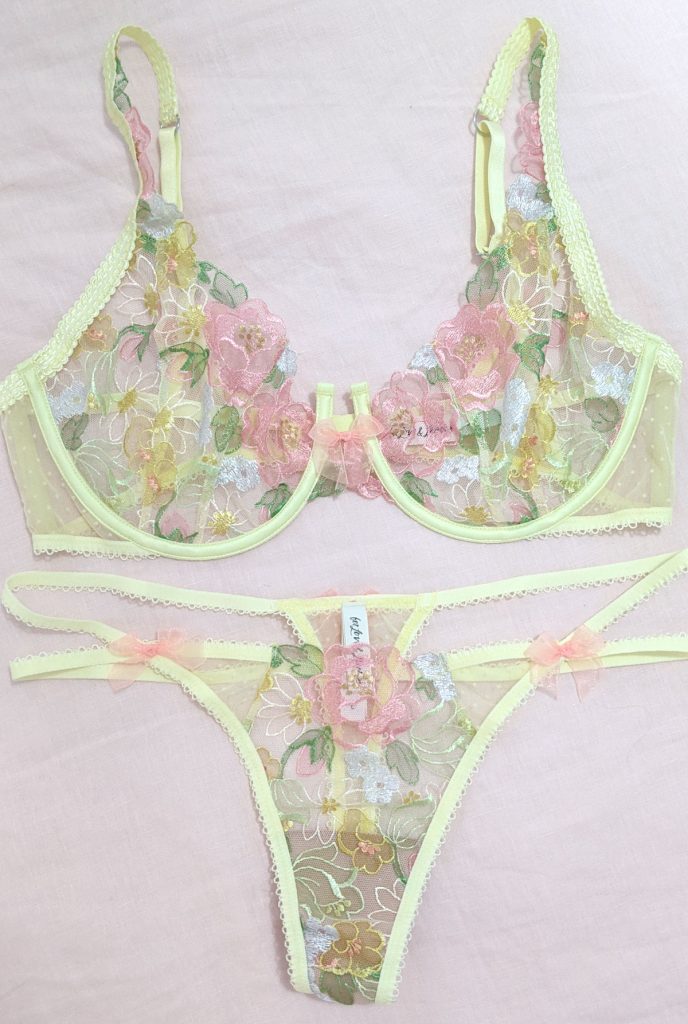 I don't feel like this bra is overpriced per say. However, if I had seen it in-person and out of context, I'd be rather surprised that this bra costs nearly $100. The actual stitching is perfectly adequate, and the fabrics and trims are of normal quality for Victoria's Secret. However, it feels a bit flimsy. I'd imagine the bra retailing closer to $65 or so.
Personally? I probably wouldn't pay full price for this set. In fact, I was totally planning on buying myself the matching Luella garter belt, which is still in stock on For Love and Lemons' website and has the cutest button details! However, after receiving the rest of the set, I just don't think it's worth my $59.
That's just me, though. It's clear Victoria's Secret positions FLL for VS as a higher-end, super-stylish offering, perfect for special occasions. If you absolutely love a FLL for VS style, I think you'll be happy with paying full price.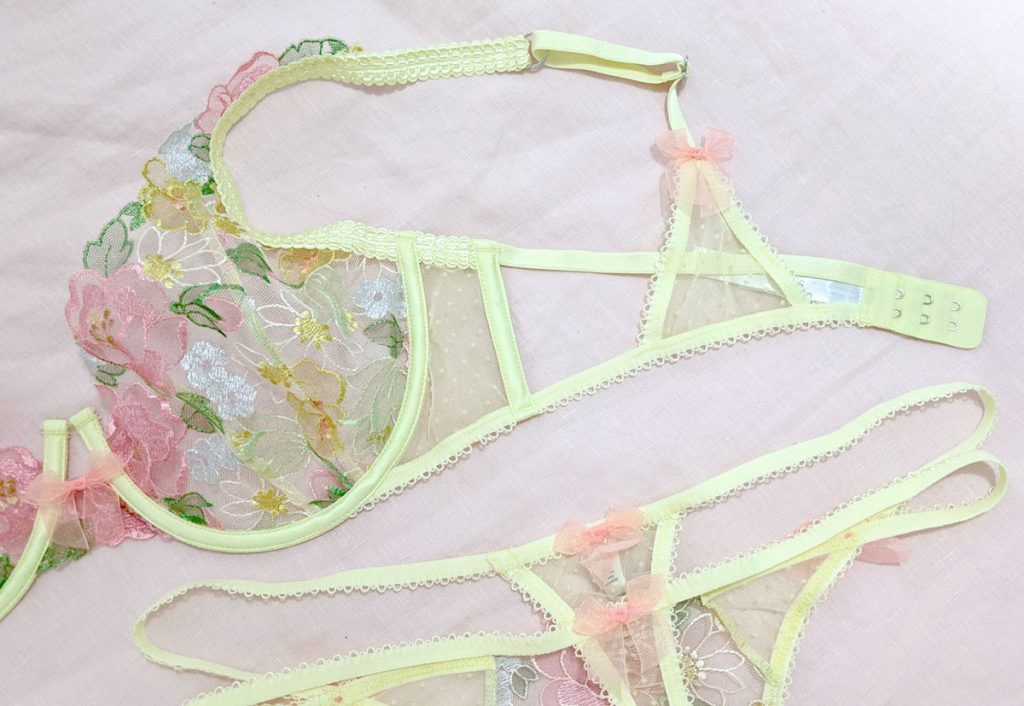 The sunny colors of the Luella bra and thong feel so exuberant and summer-y to me. It's such a joyful lingerie set! Plus, those organza bow details are just over-the-top enough. I love the flocked dots on the tulle side panels.
My favorite part is the embroidered tulle on the cups and knicker front.  That embroidery is actually done on top of solid printed colors, giving a subtle "stained glass" look to the fabric that I didn't notice at first.
Lingerie Fit
Let's get one thing out of the way first. Yes, I'm a full bust lingerie blogger. No, this is not a "full bust" lingerie collection.
That means that this XL bra is exactly the same as their size XS. Just bigger. There is no extra lining for the larger size of this bra, no thicker elastic, no added seams.
I've talked before on the blog about how I have no problem with this, when it comes to novelty lingerie, at least. However, the entire garment was pretty obviously not tested on a size XL human.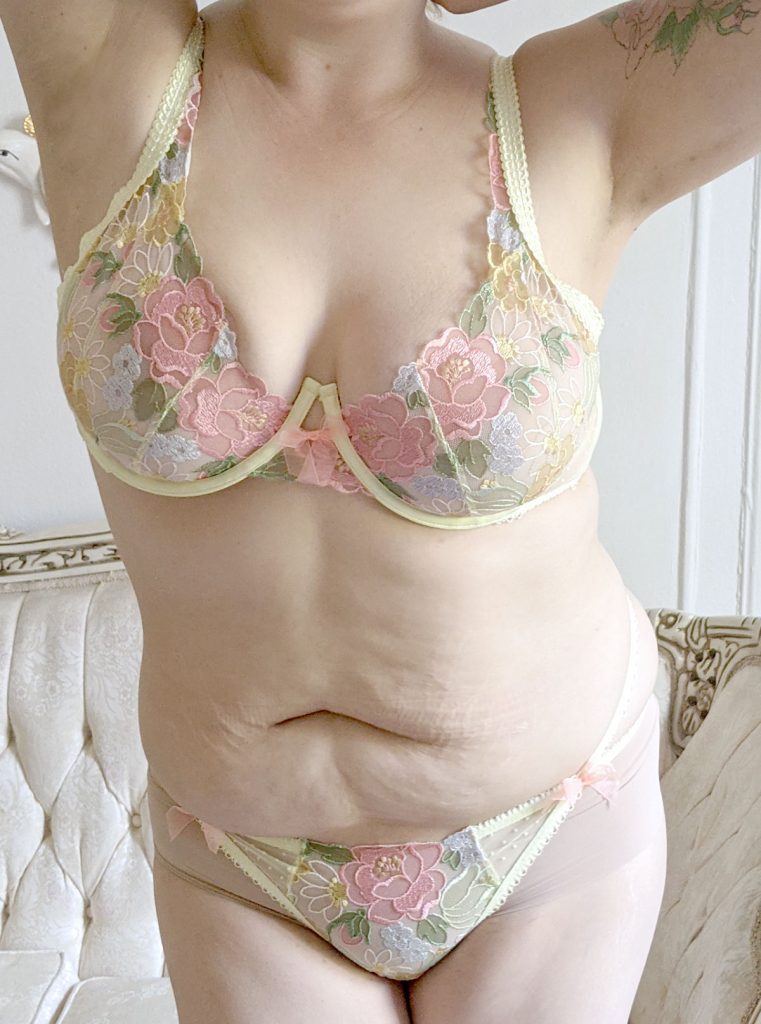 The wires and cups actually fit my fuller cup size quite well - far better than I expected, in fact! But the elastic on the sides of the cup puckers and billows.
At first, I thought this was due to the extra projection of my breasts. However, I don't see this elastic sitting flat on one of the smaller cup sizes it's meant for, either. They would need to fit this bra on a size XL fit model to get right, thanks to the thick elastic on the sides of the cup.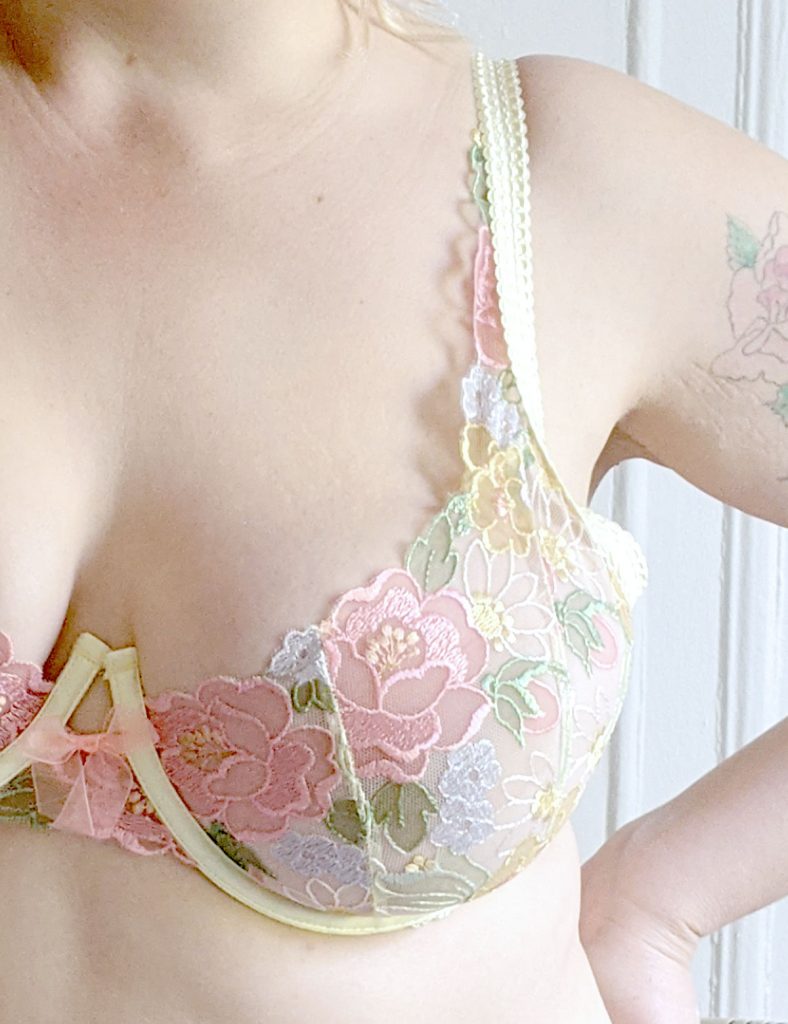 Having said that, I think it is pretty true to size overall. It would be great on the 38 and 40 bands it's meant for. And that ultra stretchy back might work as a 42 band for smaller cup sizes.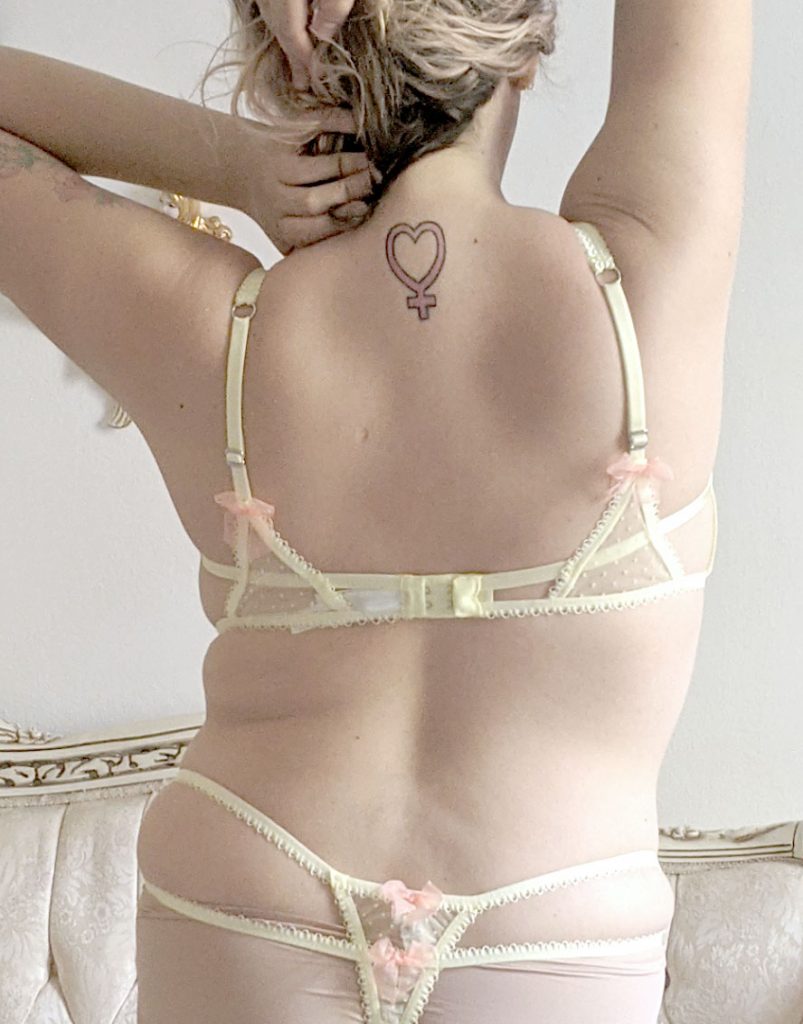 However, the knickers are definitely not. My 40" hips are solidly in the middle of their size L, but this thong is a size too small on me. The two pretty pieces of elastic dig into my hips, creating a less-than-smooth silhouette. An XL would be great. I would recommend sizing up in FLL for VS bottoms, unless you have very firm hips.
Overall Thoughts on For Love and Lemons
FLL for VS is fun and frivolous. If you do take a chance on this line, don't expect it to do much heavy lifting—regardless of your size. But if you love the aesthetic and fit into their size range, a FLL for VS set may be a fun addition to your lingerie drawer.