Lingerie Review: Lovechild Boudoir Sugar Pony Mesh Top and Cage Briefs
Disclosure: This set was purchased for me by The Lingerie Addict to review. All opinions are my own.
Lovechild Boudoir is a line of lingerie and pole wear, all handmade to order in the UK since 2005. Embroidered floral appliques combine with colorful and dynamic strapping, creating garments that appear to be painted on the wearer's body. You've likely seen their designs around the internet. These harnesses and cage bras look stunning in photos!
Despite the continued popularity of strappy lingerie, Lovechild Boudoir manages to make the trend their own, with asymmetrical details and interesting color combinations. Plus, their designs don't use leather or other animal products. This is a vegan brand.
The Lovechild Boudoir online shop opens once per month for orders, then closes as soon as the designer reaches her maximum amount of orders. They don't seem to have a mailing list. I had to follow them on Instagram and keep a close eye on their posts, in order to make my purchase.
The Sugar Pony Mesh Top retails for about $132, and the Cage Briefs retail for about $153. Including shipping from the UK, the total cost for this set was about $315.
As every item on the Lovechild Boudoir site is made to order, customers are asked to allow four to six weeks for shipping. My order shipped in about four and a half weeks. The set arrived a few days later, beautifully wrapped in a nice gift box with a sweet hand-written note.
Material Quality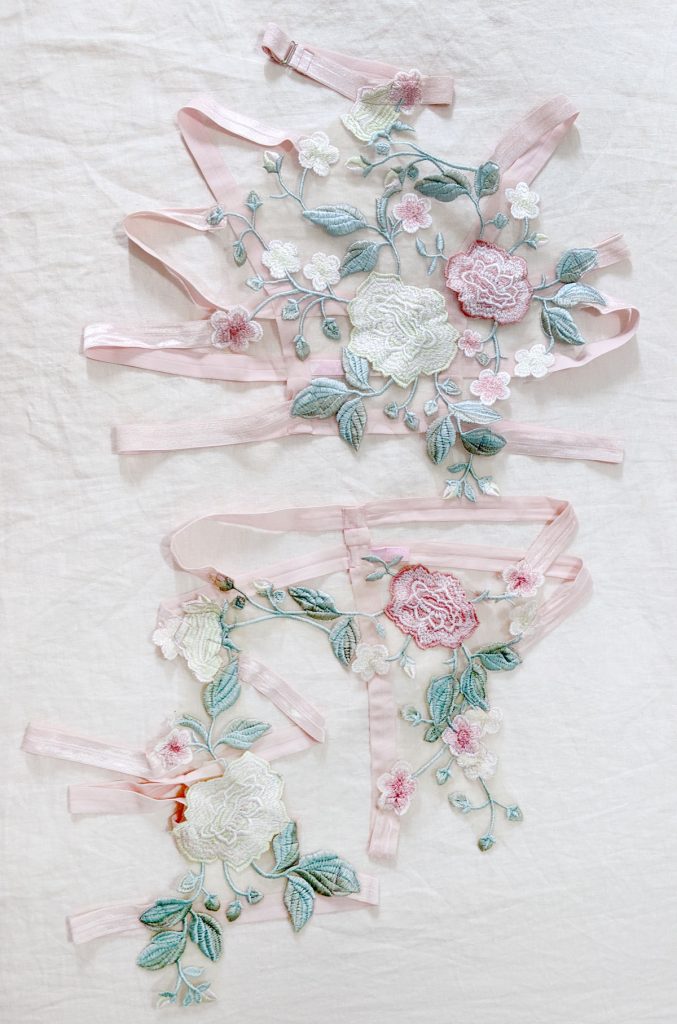 The embroidered mesh is pretty much the quality I expected. This kind of embroidered applique is so popular right now, and very affordable. The mesh could have been clipped more smoothly, but it disappears on my skin, so I don't mind.
Almost all of Lovechild Boudoir's designs use foldover elastic, or FOE for short. This type of elastic has a channel down the center that allows it to be folded and cover the edge of a garment, like the leg hole in a swimsuit. But in the last decade, indie makers started using it in flat applications, thanks to its soft texture and availability in many colors. Most importantly, it's one of the cheapest external elastics you can buy.
Years ago, I was weirded out by flat FOE like this. As a sewist, seeing that line down the center of the elastic bugged me for a long time. It's really just designed to be folded over! But nowadays, it's used flat so often that I barely notice.
When used flat, FOE is very soft and very stretchy. This lends itself nicely to items that need to sit close to the body, but don't have hardware for adjustability. Added adjustable sliders could ruin the look of this garment. Super stretchy elastic makes sense for this piece.
However, FOE also very thin. After trying it on once, the elastic looked visibly stretched out when laid flat. On my second wear, the neck hook—the only part of this set with adjustable hardware—poked a hole through its loop.
But if there is one material I was truly disappointed in, it's the pearl chains. There are no thread loops or hidden metal hooks for them to clip onto. They simply clip onto your elastic or embroidered mesh anywhere you want, which feels (and looks) a bit accidental, or maybe like you DIY'd them yourself. Sometimes, the hooks even pierce the elastic and cause snags.
The chains are also very lightweight, which I suppose keeps them from weighing down the elastic and mesh. Honestly, they feel like dollar store jewelry. After trying them on one time, one of the chains came apart. I don't use them when I wear this set.
Construction Quality
There isn't much sewing on these pieces, but the sewing that is there is perfectly fine. It's quite neat and mostly clipped, although I did find a couple threads that could have been removed before being shipped out to me. The stitching is all done in a light pink, no matter what the embroidery looks like. Luckily it's nearly invisible from far away.
I don't think the sewing is bad. But for $300, I expected sewing that was a bit more thoughtful - especially considering the inexpensive materials.
The ends of the elastic straps are folded under, so the edges look clean. And on spots where the "wrong" side of the elastic would show through the mesh, the elastic is folded backwards. This is a thoughtful detail that keeps everything looking neat and nice when it's worn.
Fit
At the time of ordering, my measurements were 41"-34"-42", so I ordered a UK 16-18 for the top (based on my bust measurement) and a UK 14-16 (based on my waist measurement) for the bottom.
It took a full five minutes to put this on the first time. After a couple practice tries and looking up photo references, I got it down. Now it's (mostly) a piece of cake.
Despite having no adjustability in the straps, these pieces are very flexibly sized due to the stretchy elastic However, I would recommend sizing down. The back elastic of the top is a bit big on me, and the leg straps tend to dangle after a bit of walking. One size down would be fine, but the elastic is so stretchy that even two sizes down would be fine.
And don't worry about the actual embroidery being too small on your body. Based on the nature of pre-made embroidered panels like this, I am assuming they are the same size, no matter what.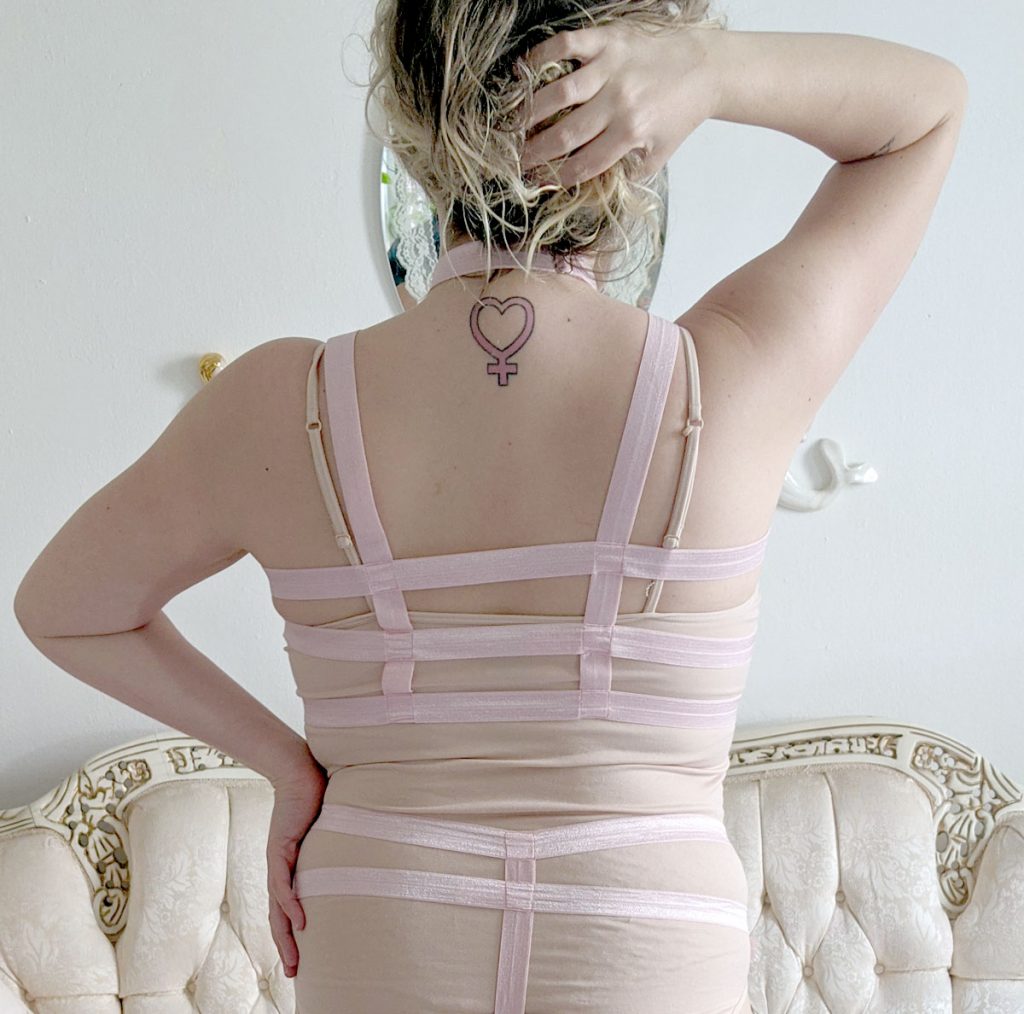 I do want to point out one odd thing: the crotch.
The brief has a thong back. However, it doesn't have any sort of front gusset at all. The elastic simply goes down your butt, then takes a sharp left turn between your legs and attaches to the embroidery on the front.
Simply put, it's uncomfortable.
Thanks to the ultra soft elastic, it's not horrible. But it's super weird. I've never seen something designed like this before.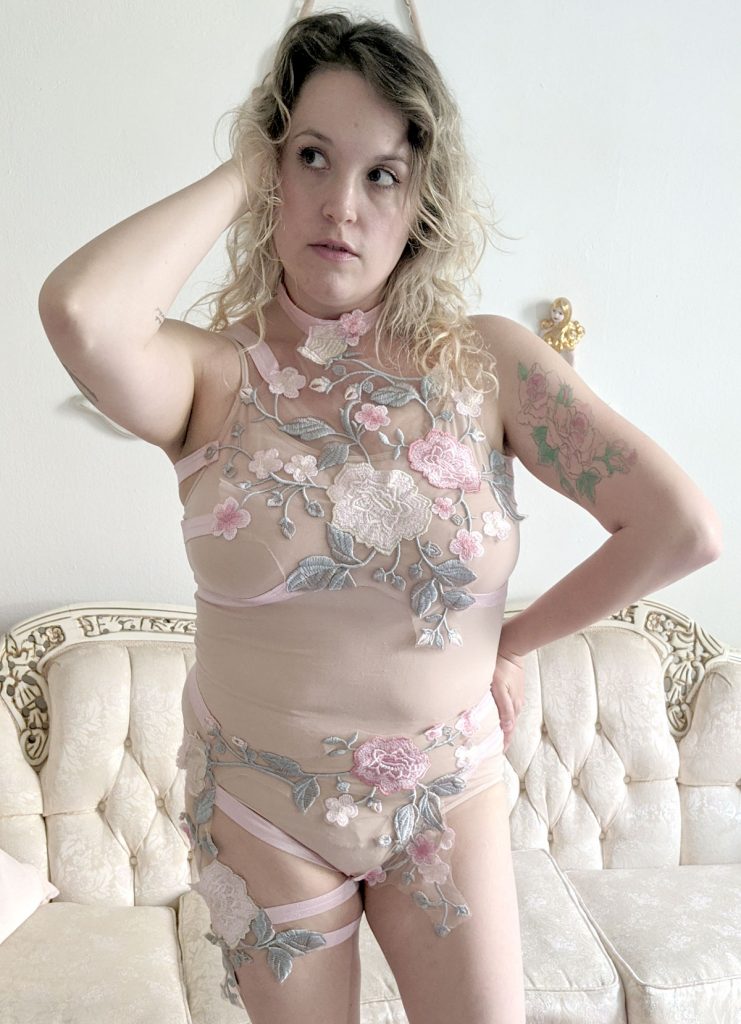 Along with the weird crotch, there are other odd parts of this set. The way the "shoulder straps" sit, the height of the waist, the barely-asymmetrical thigh straps…
My theory is that Lovechild Boudoir's pieces are drafted on a mannequin, then sewn up and put into the world. They certainly work as lingerie pieces, and they look cool. But these aren't lingerie pieces that are made with the realities of the human body in mind.
Styling
If you think I hate this set, you're wrong. I actually kind of love it. Why? Because this piece truly shines when it comes to styling.
It might feel weird. The quality of the materials might be a bit low. And the fit might be a little off. But oh man, it looks good under clothes!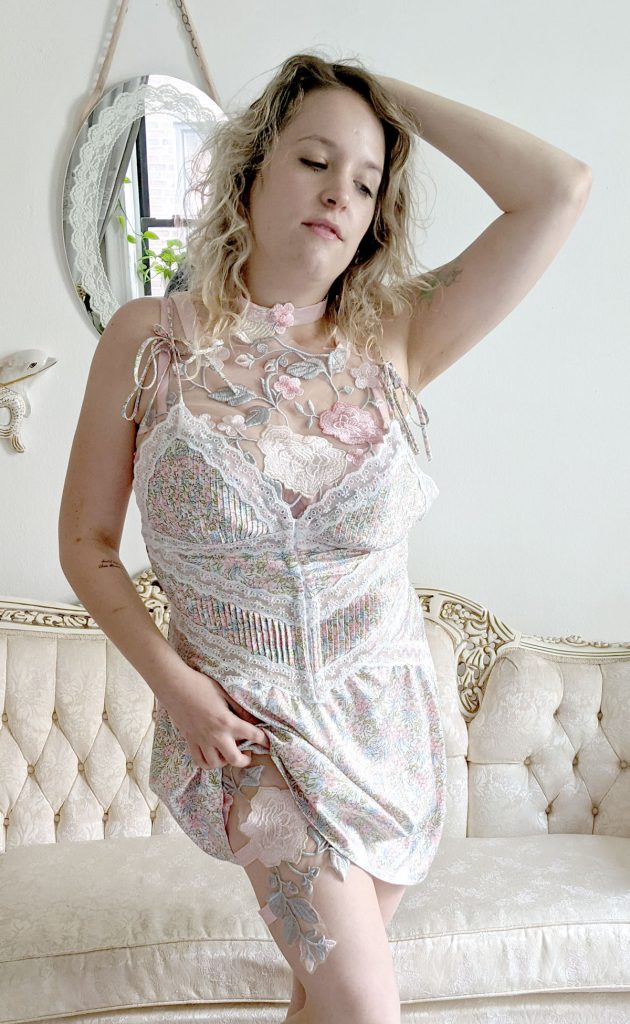 The neck hook fails at least once every time I wear it, BUT I've worn the top every week since I got it. I find myself pairing it with tons of different dresses as an easy accessory, and telling people how much I love it. It adds instant style to an outfit without feeling too over-the-top. And the thigh straps peeking out from below a short skirt? Too cute.
Final Thoughts on Lovechild Boudoir
My final thoughts are…conflicted, to say the least.
I love wearing this set as part of an outfit. The aesthetics are really cool. I think it photographs beautifully.
However, it doesn't feel designed for a real human body. The materials are super inexpensive, and there isn't a lot of sewing involved. If I saw this set in a store, I would expect it to be half the price - even for handmade lingerie.
At the end of the day, this is a good example of "Instagram-ready lingerie." It looks rad, but even for a decorative lingerie set, it's barely functional.
I certainly fell in love with the look of this set, despite all the issues I have with it. It makes for a gorgeous ensemble accessory, and would be perfect for photoshoots. If aesthetic alone is enough to make you love an item, you'll be more than happy with your purchase.