Full Bust Bralette Review: Panache Andorra Non Wired Bra
My search for the perfect DD+ bralette has taken me from Cosabella in Italy, to Curvy Couture in Los Angeles, and now, to the UK, where full bust bra label Panache is located.
And I was so excited to get here. Panache makes my very favorite wired bra, my holy grail of DD+ bras, the Panache Clara. When they released the Wire-Free Andorra a couple years ago, I thought, yes! A cup-sized bralette for fuller busts! The answer to our prayers!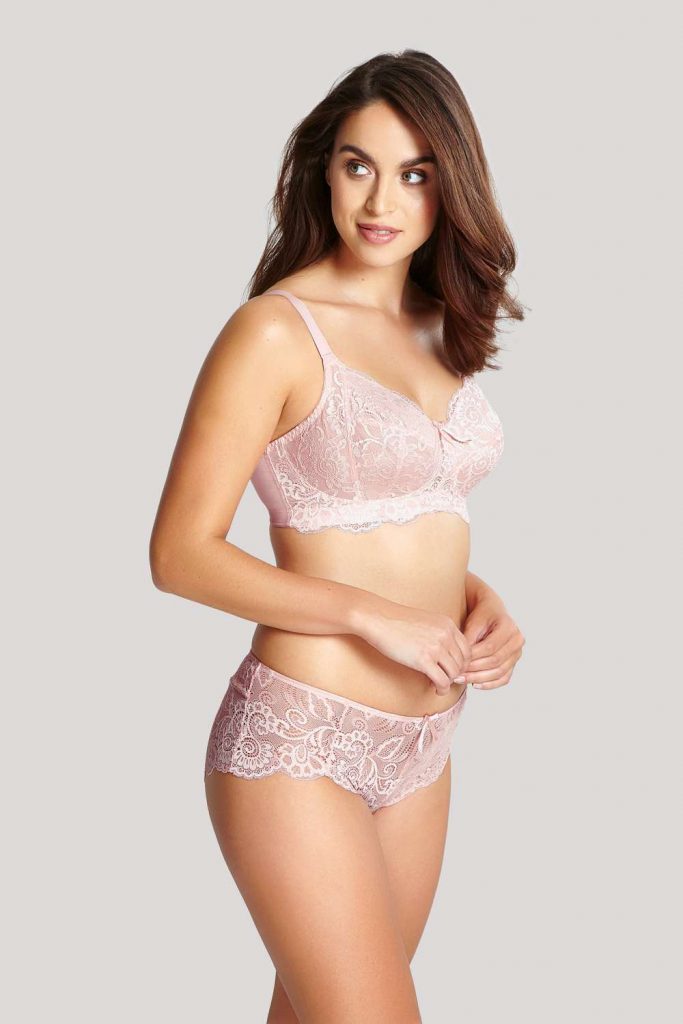 Luckily, I didn't actually have to cross the Atlantic to try it out. The Panache Andorra Non-Wire Bra is available on sites like Bare Necessities in band sizes 28 through 40, and cup sizes DD through J.
You might be thinking, "OK, is this really a bralette? It looks like a regular bra to me." And, well, you're right! It does look like a regular bra. It basically is a regular bra. Just without wires. And what are bralettes if not wireless bras?
There is no official definition of anything in the fashion world. But this bra is wireless, so I'm calling it a bralette. And I'm trying it out.
The Bra
The Panache Wire-Free Andorra is a full-coverage bra with four-part non-stretch lace cups, a power mesh band, U-shaped back, and a high gore. With its traditional cup seams and lace edging, it looks a lot like the Panache Andorra wired bra—just without the wires.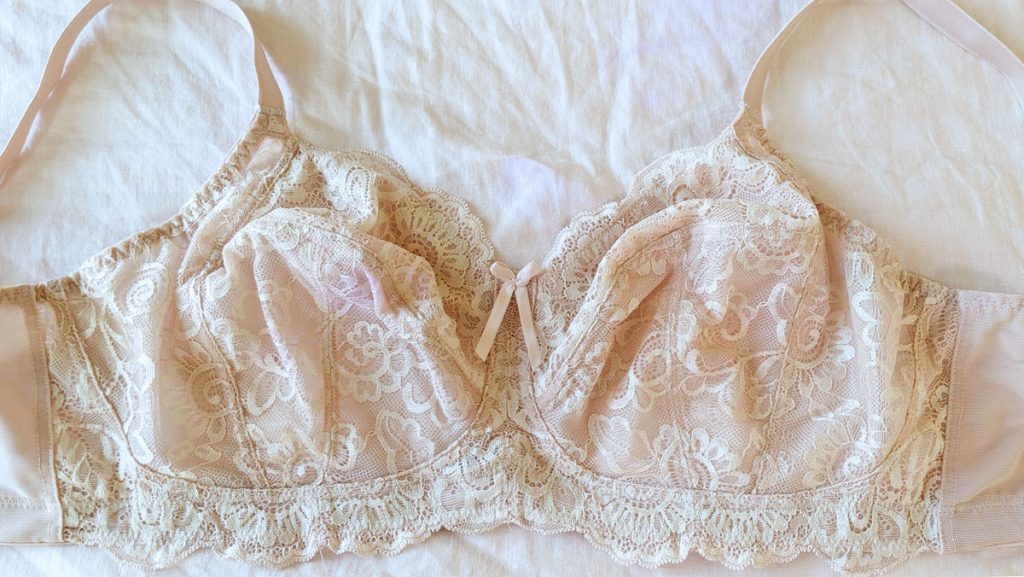 It's currently available in black and a couple of fashion colors. I ordered it in Soft Blush, a dusty, cool-toned pink. The quality and fabrics are what I expect from Panache, so I'm happy with them.
However, the sizing is very off. My usual Panache size is 32FF. Unfortunately, that size didn't work at all. The band was nearly impossible to hook, and my tissue was busting out of the top and sides of the cups. So I returned it for a 34G, one band size and two cup sizes bigger.
Needless to say, this bra runs quite small. If you're interested in trying it out, I would absolutely recommend sizing up at least one band size, and at least one cup size. You might need to go higher than two cup sizes up, especially if you're fuller on top.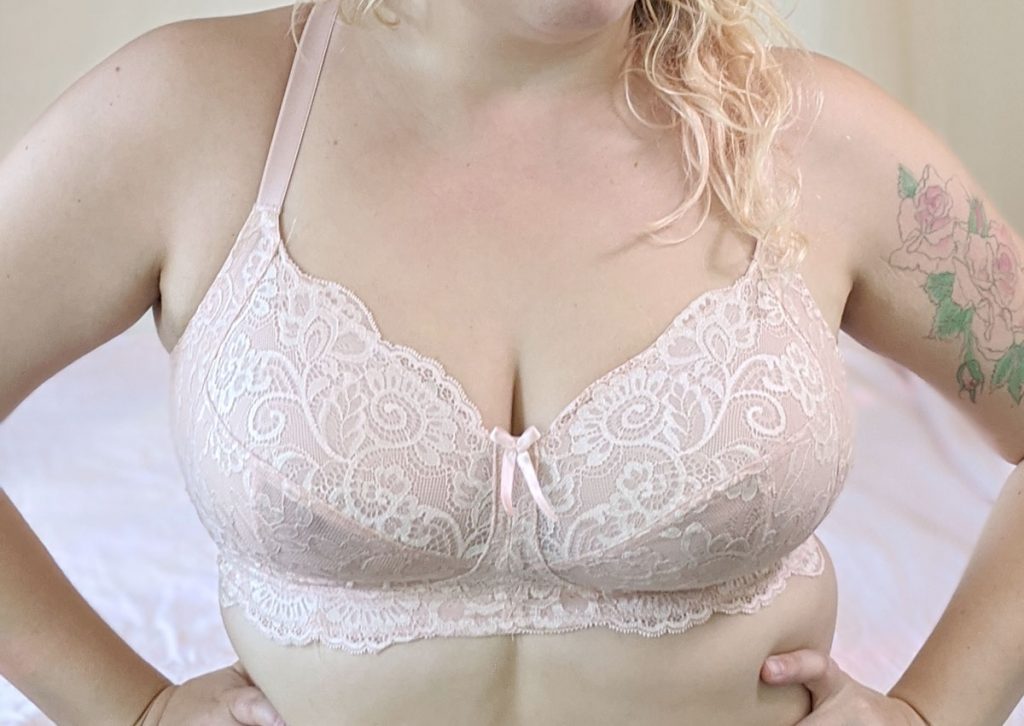 The Fit
Once I got into the right size, I noticed a few unusual things right away. First, the cups are very pointy. That, along with the high gore and wide side panels, immediately reminded me of a pointed 60s wireless bra I own. Very "sweater girl."
And despite having that nice amount of projection, the four part cups give about the same amount of support as softer, less structured bralettes. They're very wide, and there's no inner sling to push everything forward. If you like vintage wireless bullet bras, or maybe even the Triumph Doreen bra, you'd probably like this style.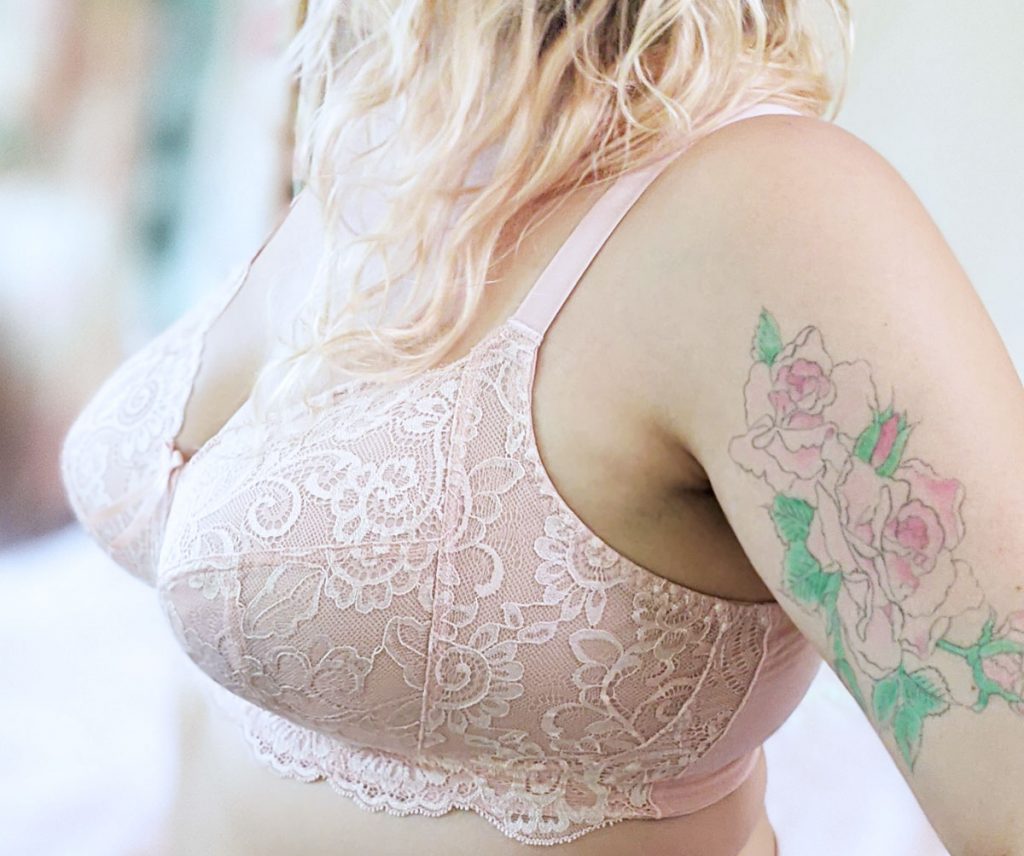 Second, the front of the band doesn't really stretch. The stable tape that is sewn along the bottom of the "cup" is sewn straight onto the elastic. I assume this is to lend stability to the bra, so it serves as a "mock underwire." But without a wire to sit nicely where your breast meets your ribcage, the stable band pushes against your chest and basically does nothing. Unlike with wired bras, I don't think you'd sacrifice any lift by trying a larger band size.
And finally… This bra is actually less comfortable than my favorite wired bras. It really feels like a wired bra that was made without a wire.
The straps don't help much, either. If I tighten them enough to give me a nice bit of lift, my shoulders are uncomfortable. If I loosen the straps to the right tightness for a wired bra, my chest feels uncomfortable.
I could be wrong, but I think this bra is what happens when you apply wired bra technology to a wireless bra concept. Just because you add stability under the cups, use four-part cups, and put regular bra findings on it, doesn't mean you're going to get an effective bralette. It's just going to give you a weird-fitting wireless bra.
Final Thoughts
Honestly, this bralette confuses me. Panache makes my favorite wired bra, and I like the wired Andorra. I don't know how the wireless version was such a big miss for such a reliable full bust brand.
I believe most people buy wireless bras for comfort. If that's you, this bra will probably not give you what you're looking for.
If you are looking for a wireless bra because you have issues with wires popping out frequently or digging into your armpits, this bra is worth a try. After all, it's wireless! You also might like it if you're looking for a projected vintage shape. But if you're looking for a comfortable bralette that gives you a modern shape, I would look elsewhere.