Does Wal-Mart Have Good Lingerie? A Review of Smart and Sexy Bras
Disclosure: These items were purchased by The Lingerie Addict for the purposes of review.
Smart & Sexy is an affordable lingerie brand, offering everyday bras for $15 to $24 in core, plus, and smaller full bust sizes. You can find them at Walmart as well as the Smart & Sexy website, which often has the best price.
I'm not gonna lie. When I go to a budget retailer, I don't expect to see my bra size, so I don't even look. But, as we learned in my last budget bra review, many of these lower-priced bra companies fit their bras to "the +4 fit method."
This method of fitting finds your band size by adding 4 additional inches to your underbust measurement, and calculating your cup size up from there. Using this method, you might find yourself wearing bras that are looser than necessary for support. Many full bust people, including myself, prefer to wear a band size that more closely matches their underbust measurement.
However, if I were to wear my usual 32 band in the budget styles I've tried, they would be far too snug. That means a lot of people in the modern "small band/large cup" size range, including myself, may be able to buy budget store brands. Smart & Sexy is one of those brands.
Ordering
For this review, I ordered two bras. One was a cute "date night" style, the Curvy Lace-Up Bra, and the other an everyday t-shirt bra, the Peek-A-Boo Lightly Lined Bra. These were ordered before I knew they would run snug, so I sister-sized up just one band size to a 34DDD in both.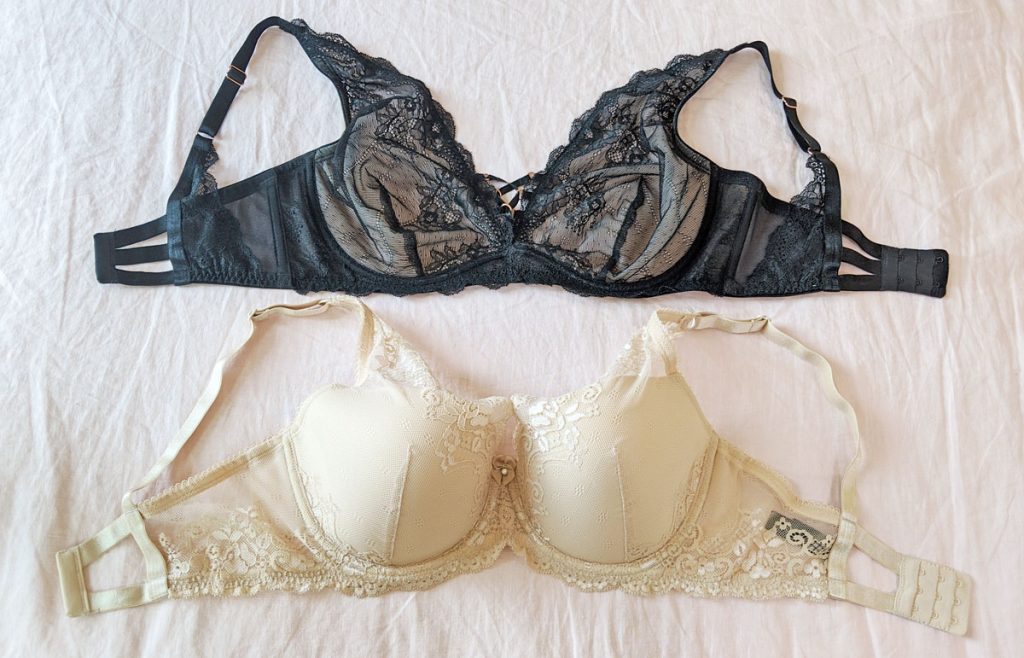 I ordered one bra from Walmart.com, and one from Smart & Sexy's website. The bra from Smart & Sexy's site came two days later, beautifully packaged with a glossy brand postcard including information about the woman-owned company. A nice touch for an inexpensive order!
I'm always impressed (but never very surprised) when a smaller company offers an overall better experience than a larger one. The Walmart.com package came unceremoniously tossed into a plastic mailing bag, as I expected.
Curvy Lace-Up Unlined Underwire Bra
The Curvy Lace-Up Bra is a $16 unlined plus size/full bust bra, available in band sizes 34 through 44 and cup sizes D through DDD.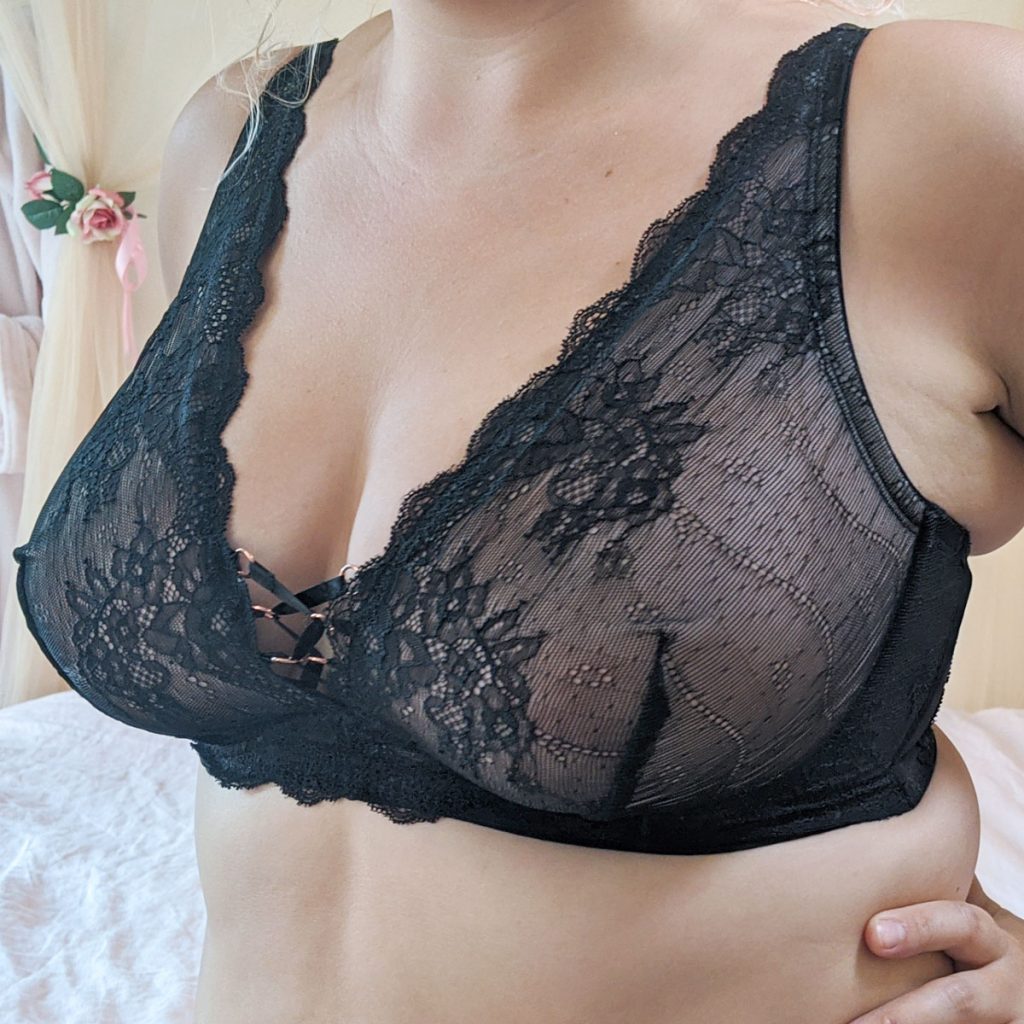 I usually wear a 32F or FF UK, and this 34DDD is very snug. Smart & Sexy seems to runs true-to-size for the +4 method, and I would have been better off with a 36 band.
I think I'd also prefer a larger cup, as well. The wire is fine for its shape, but the cups lack projection. When you combine a lack of projection with the shallow underwire, you get a very horizontal look. I would be OK with this for a core sized bra that wasn't designed specifically for a fuller bust. However, as a bra that's specifically for D+ cup sizes, it's not great.
The cups are lined with extra stretch mesh, giving them an easier fit but not a lot of support. They do have an inner side sling (to help with projection, in theory), but it's very stretchy and unstable.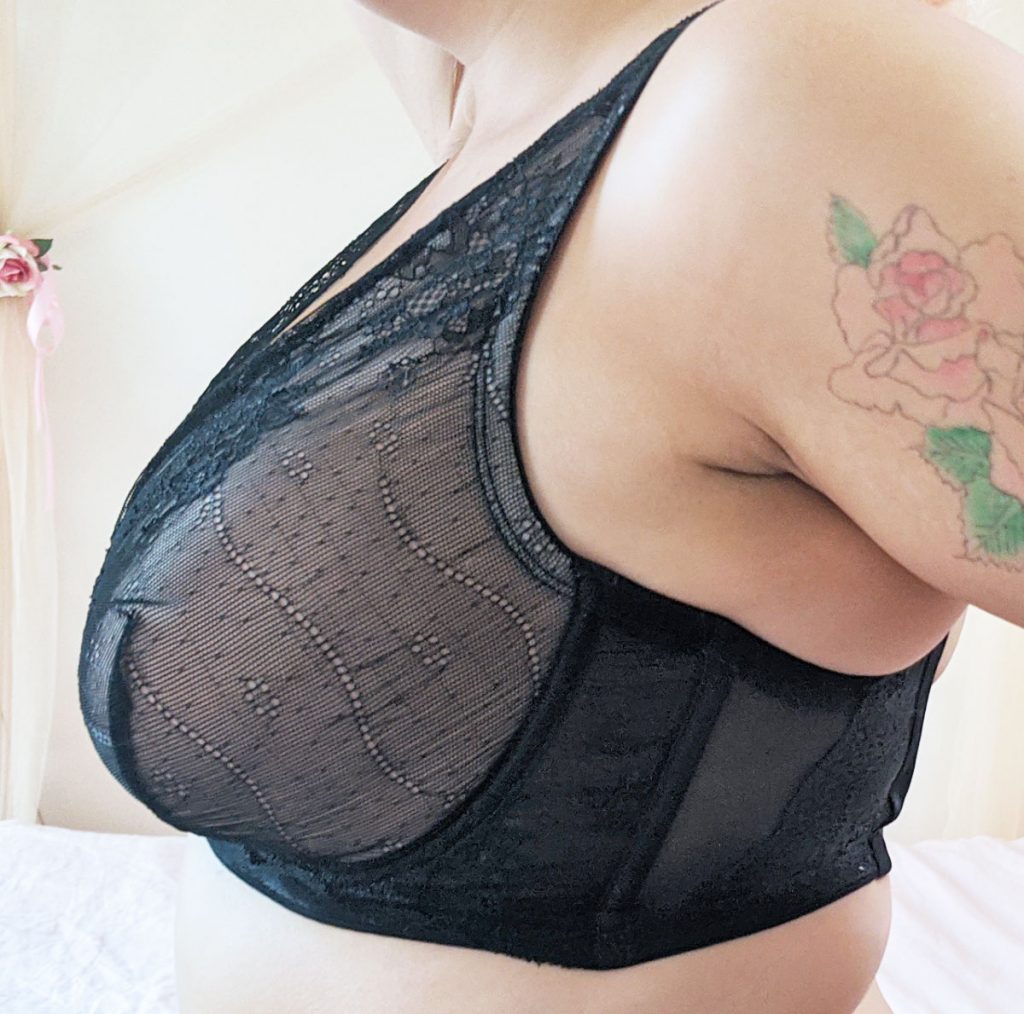 Overall, this bra feels like a fun bra that's more cute than supportive. The boning on the sides is super flimsy and uncomfortable. While I love the idea of this underwire shape, I don't think it works very well in combination with the stretchy mesh. The lacing is a cute detail too. But for me, the lack of side support causes stress on the lacing, which makes it appear uneven and strained.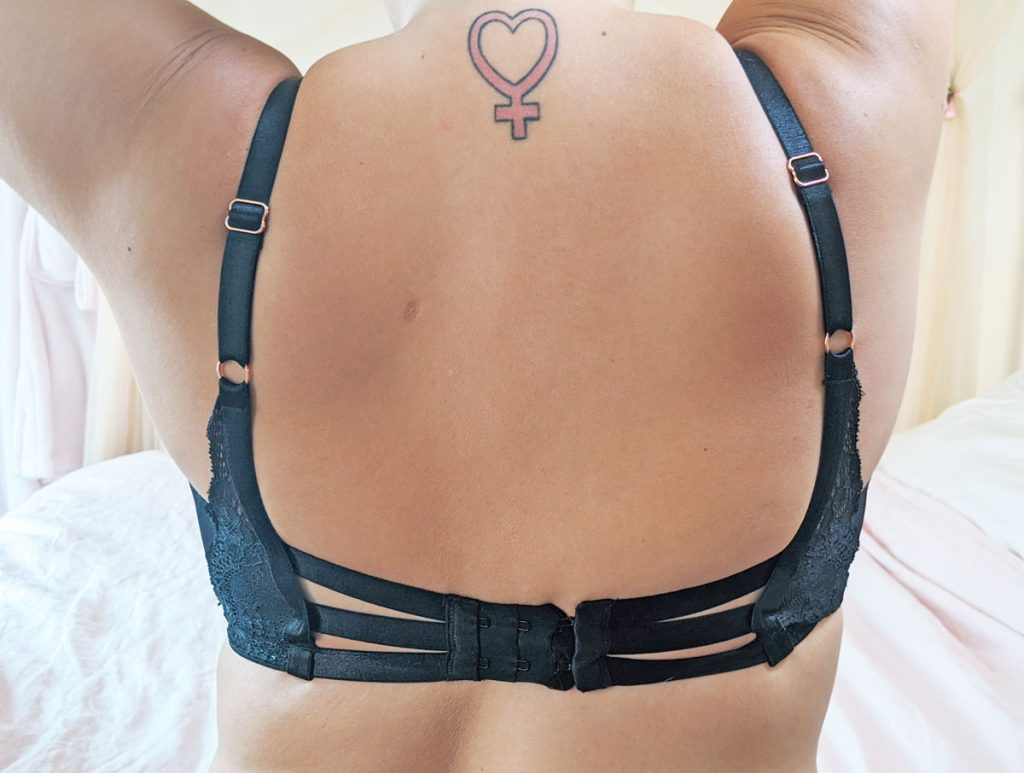 That said it's $16. I think this bra is doing the best it can at this price point. It's a fun and casual date night bra. I'm happy that cute options exist in larger band sizes for $16. However, set your expectations accordingly. The cute details have likely been added at the expense of extra support.
Peek-a-Boo Lightly Lined Bra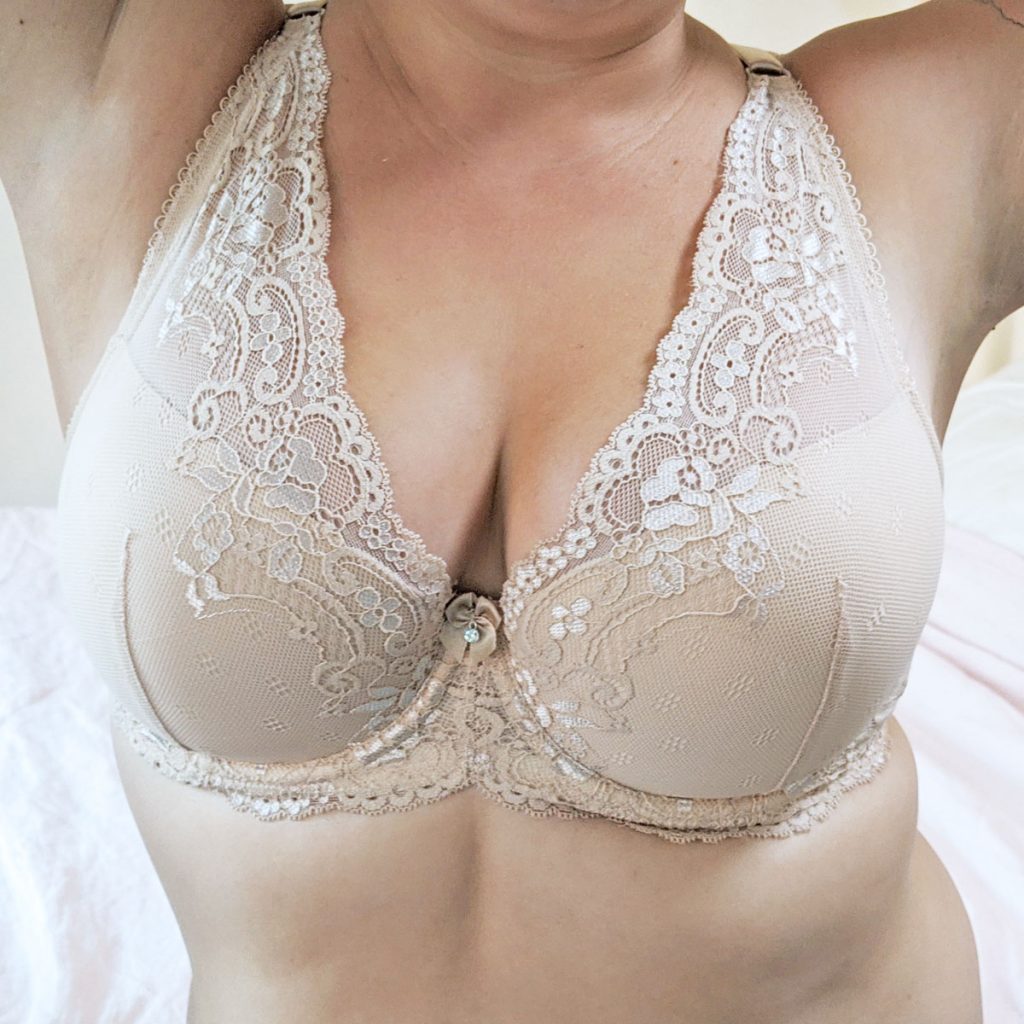 My pick for a t-shirt bra was Smart & Sexy's answer to the Natori Feathers, one of the most popular bras in America. The Feathers' easy fit and iconic shape inspired dozens of lookalikes, always with a few key differences.
The biggest difference between these two is the center gore. The Peek-a-Boo has less of a plunge and more coverage in general, along with a rhinestone-and-bow detail. Smart & Sexy's bra also uses lace instead of mesh for the cup overlay, and features a trendy "gated" back. It's available in sizes 32B-D, 34-36B-DDD, 38D-DDD, and 40D-DDD.
But the biggest difference is price. While the Feathers bra retails for $68, the Peek-a-Boo Bra is only $12.94 on the Walmart website.
At this time, it's mostly sold out. I assumed this was a core style based on the range of colors available, but I don't know whether or not it'll be restocked.
But I hope they do restock it. Because I think this bra is better than the Feathers.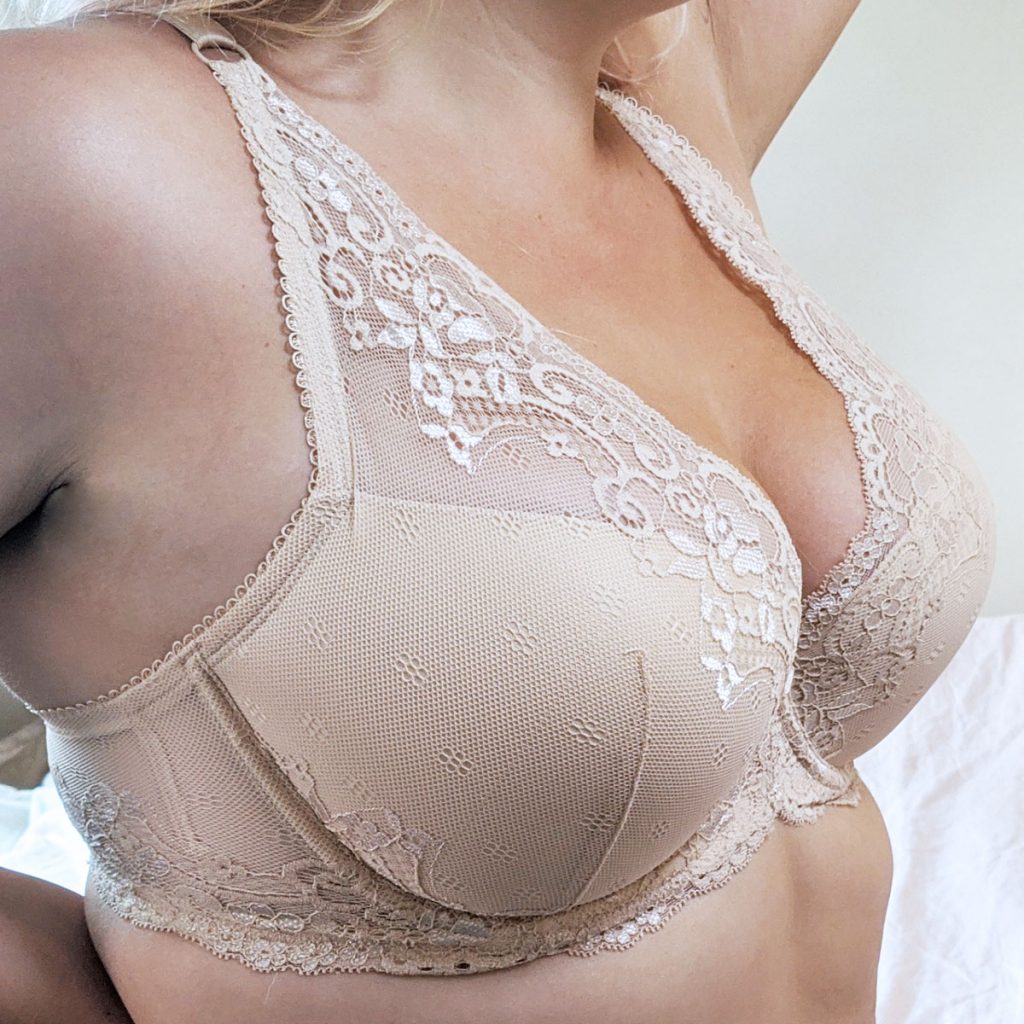 Not only is it cheaper, but the construction and material quality is basically the same. Plus, the cups are not nearly as shallow as the Feathers, which tends to cut in on any set of breasts that are even remotely fuller on top.
The lace is stretchier, so I can see it working for people who are fuller on top than me, as well. The panel doesn't lie quite as flat on me as the Feathers does, but this wouldn't be noticeable under a t-shirt. The support is average for a DDD sized foam cup bra, and the fit is in line with the +4 method.
If you like the look of Natori Feathers, but the fit never quite worked for you or the cost was too high, I strongly recommend trying this bra.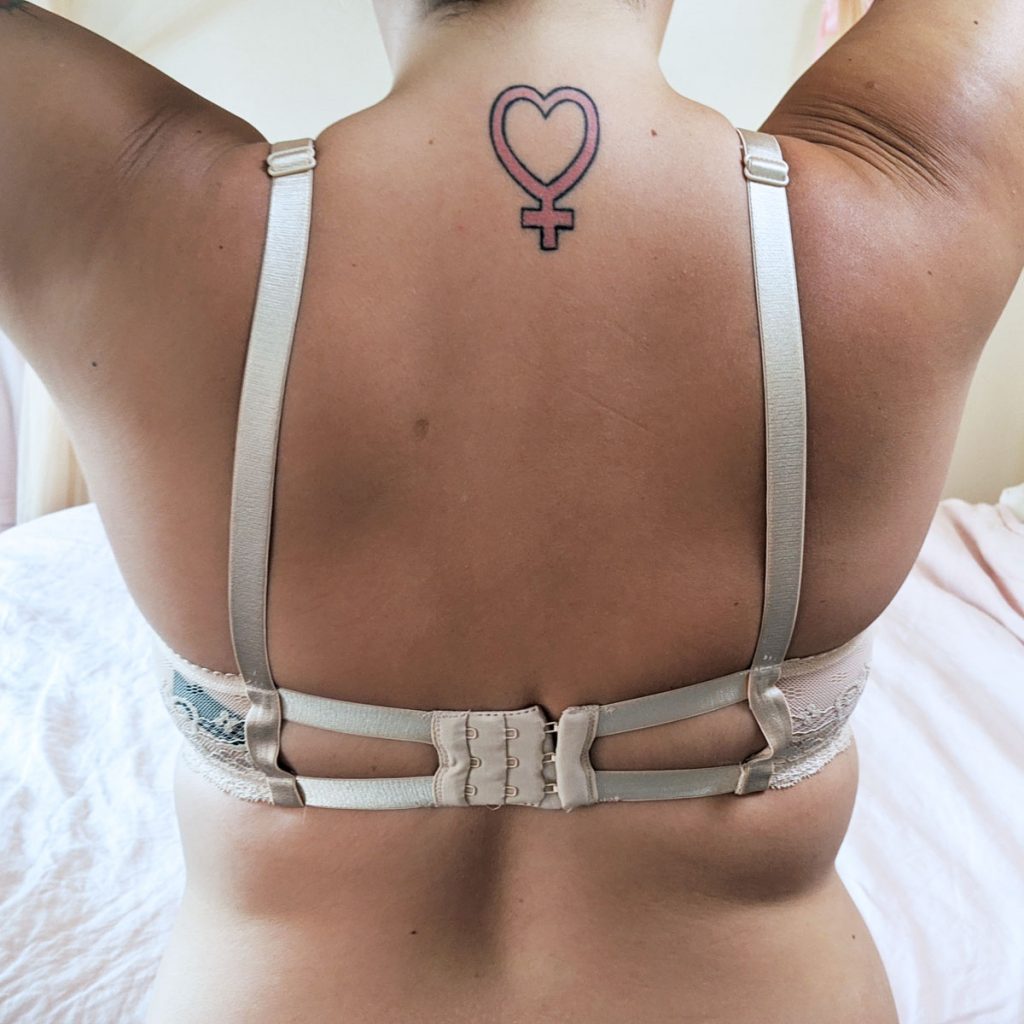 Overall Thoughts on Smart & Sexy Bras
While I had very different experiences with both bras, I wouldn't say the quality is vastly different between them. They're completely different styles, and I think the "date night" bra with the unique wire and lace-up front would require a higher price point to be effective for its size range.
On the other hand, the now-iconic lace-overlay t-shirt bra exceeded my expectations at this price point.
It seems like more basic styles will likely give you more value for your dollar. So if you're looking for a t-shirt bra that's comfortable, fits well, and is very cheap, Smart & Sexy is worth a try.