A Full Bust Bra for Only $7.50? Reviewing Fruit of the Loom's T-Shirt Bra
Fruit of the Loom is a US-based budget underwear line. You're probably most familiar with their multi-pack cotton underwear or maybe their men's shirts, available at stores like Walmart and Kohl's. But did you know they make bras, too?
Okay, maybe you knew this already. I didn't. I usually wear a size UK 32FF/European 32H/US 32DDDDD in cut-and-sew bras, or a UK 32F/European 32G/US 32DDDD in contour foam cup bras. Finding a bra that fits me at a local big box retailer is pretty rare. When I do find them, they tend to be more expensive than the bras available in core sizes. So, honestly, I don't even look anymore.
But I was surprised to find this Fruit of the Loom 2-pack bra set, available up to a DDD cup, for only $14.94 at Walmart.
Yes, two bras for $15. A full bust bra for $7.50? I had to try it.
Quality
The Fruit of the Loom T-Shirt Bra is available in sizes 34-38 A-DDD, 40C-DDD, and 42C-DD. This bra is the very definition of a basic contour t-shirt bra. The materials are soft and smooth. There are no bows, no ribbons, no decorations.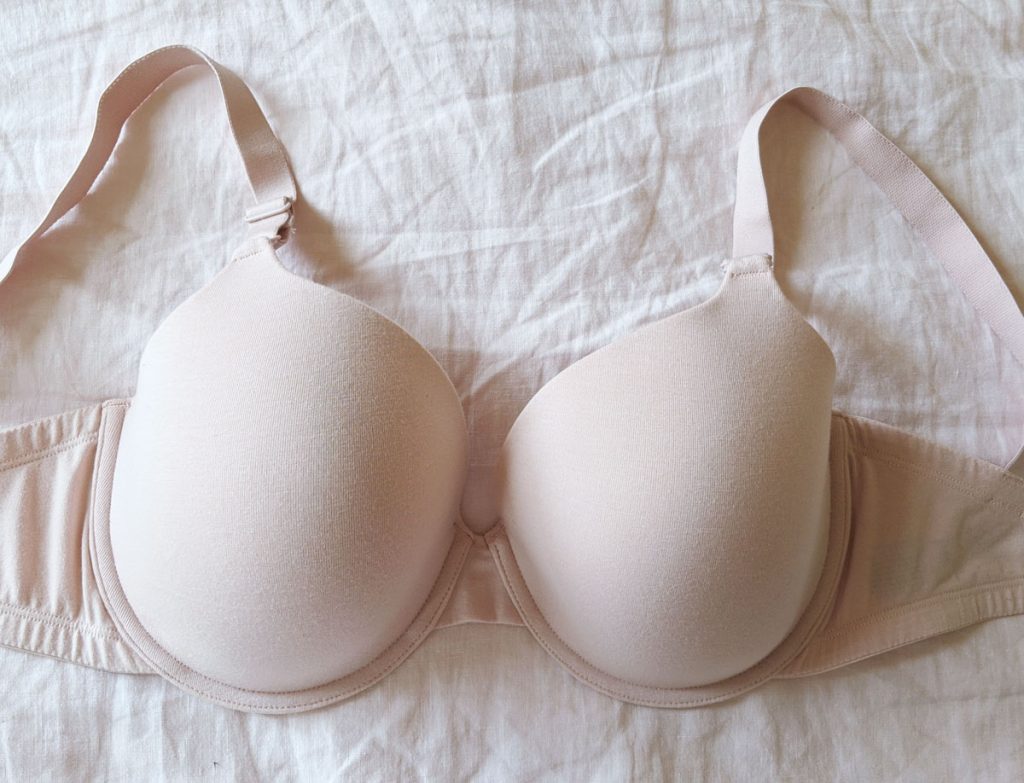 The foam cups are covered in the same jersey knit as the band. All the findings are dyed to match the fabric perfectly. The front gore is underlined with stiff mesh, but the back band is one layer of jersey. The opening has four rows of hook-and-eyes, which gives the bra more longevity as it stretches out. The straps are fully adjustable with sliders in the front, making it easy to fix the fit after you have the bra on.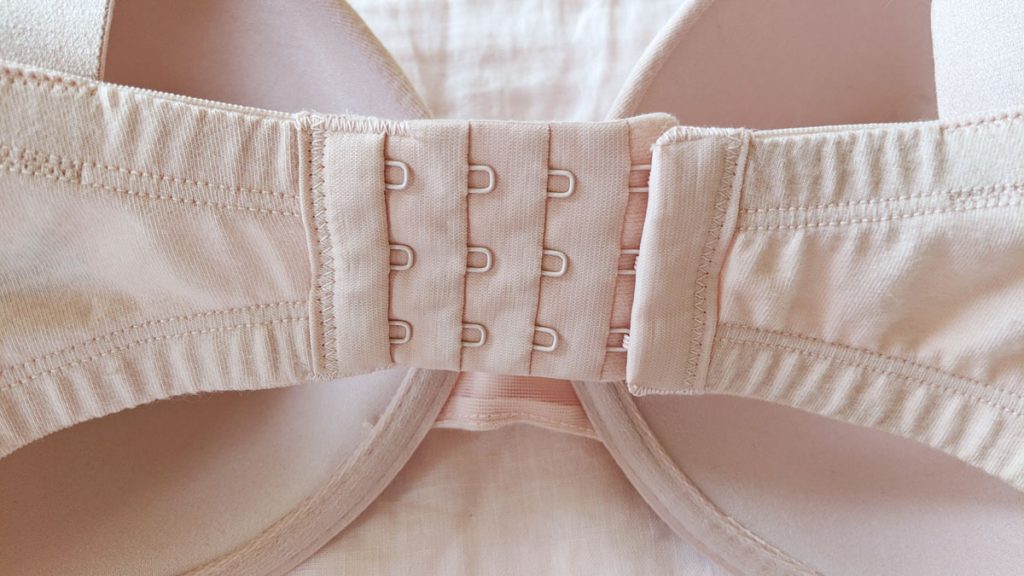 The overall stitching looks fine, but nothing has been extra reinforced. The bar tacks seem like narrow afterthoughts to me. This is a very cheap bra, so that is to be expected. I know most people throw this kind of bra in the washing machine and dryer, but I would absolutely follow the care advice for this bra, which states to hand wash it in cold water and hang it to dry.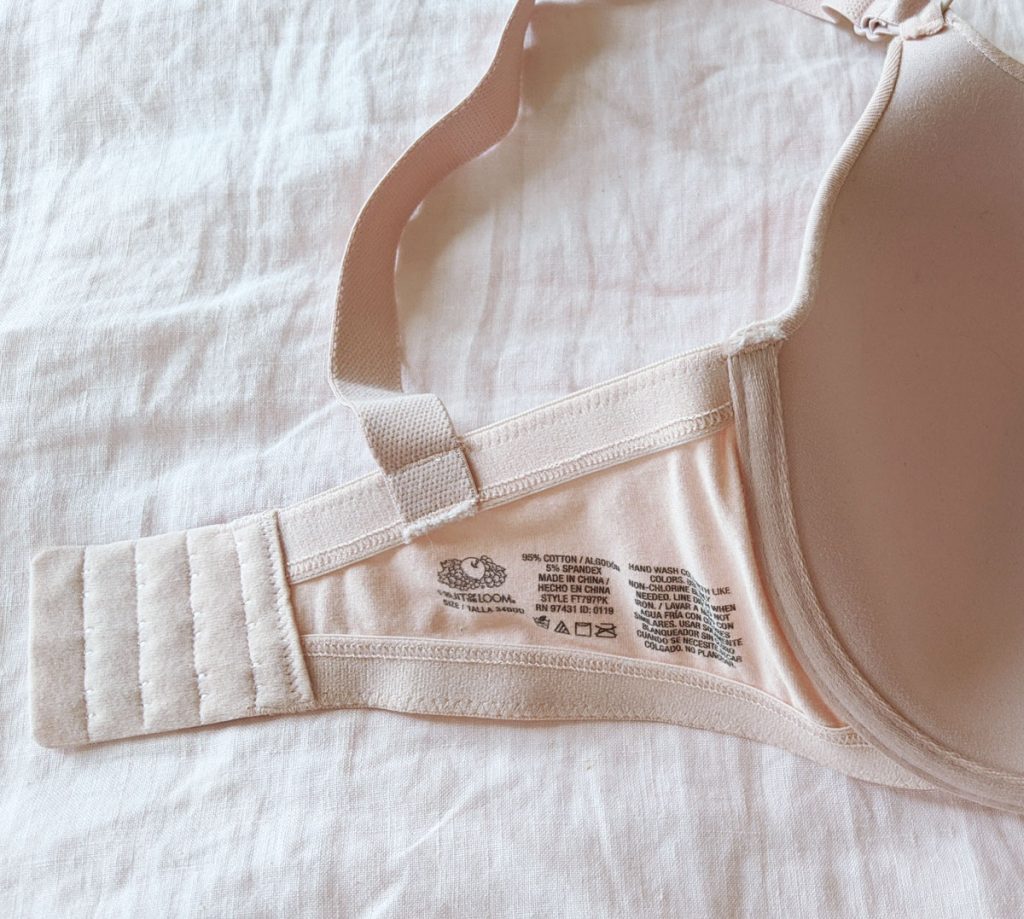 Fit
Since this bra starts at a 34 band, I sister sized up and purchased a size 34DDD. The band is quite snug for a 34 band bra, and it's clear to me that Fruit of the Loom fits bras using the +4 measuring method.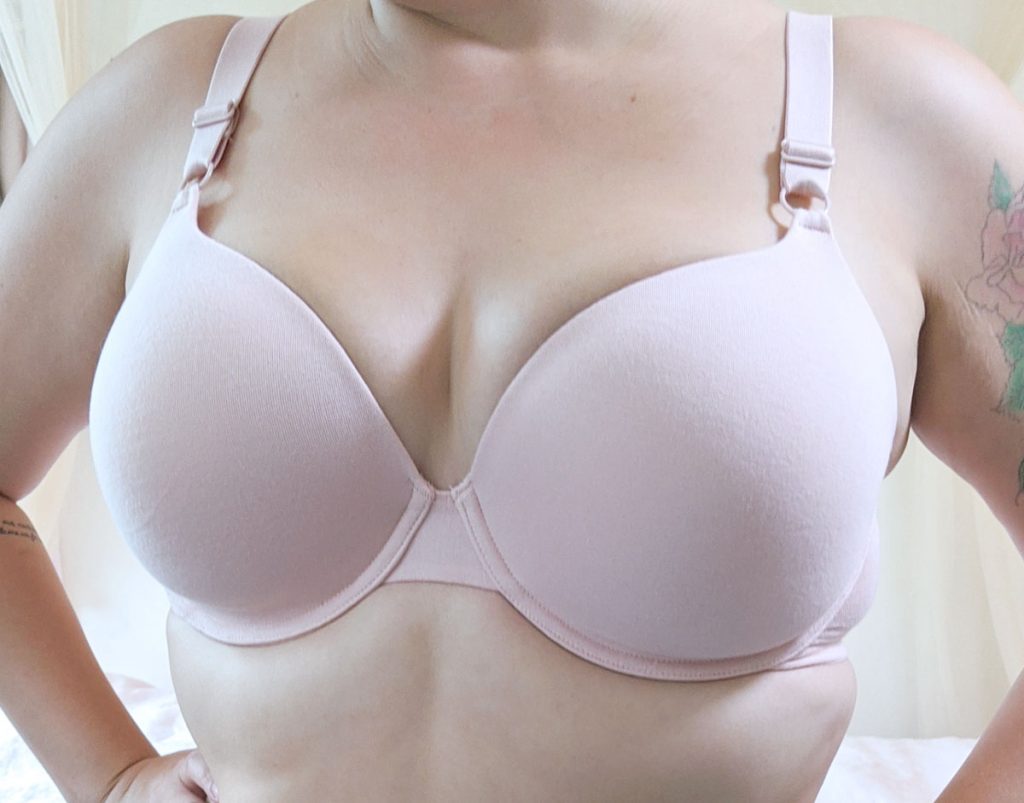 The "+4 method" is a bra fitting method where you measure your underbust, add 4" to it to get your band size, and calculate your bra cup from there, adding 1 cup size for every inch difference. If this bra was made in the size I usually purchase, it would be far too small in the band.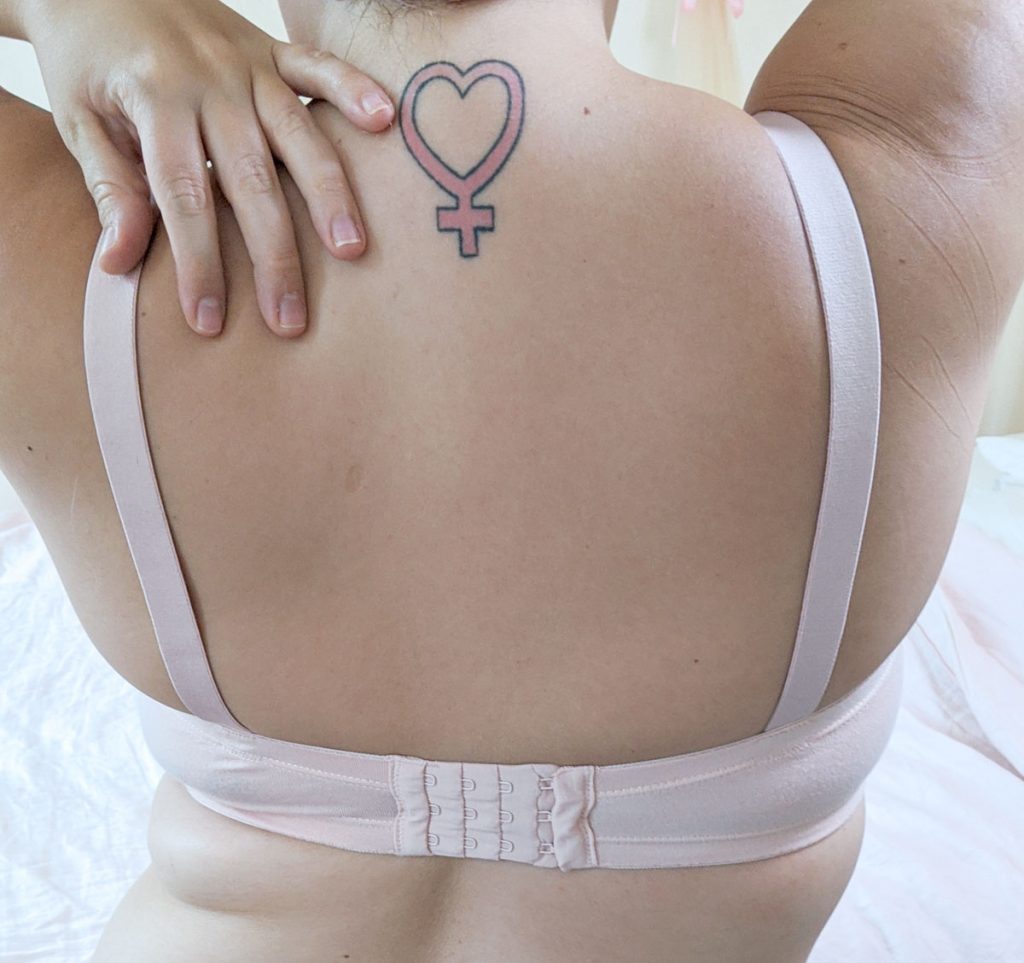 The fit of this bra, combined with my experience wearing other budget brand bras, also tells me something about bra fitting methods. If someone is telling you that the +4 method doesn't work, they don't buy budget bras. All of the budget brand bras I've tried for TLA (reviews coming up!) fit like this. So, if you recently "discovered" that you wear something like a 28D or 30F, but are having a hard time finding affordable bras in those sizes, I would recommend trying your "old" size at a retailer like Walmart. You might be pleasantly surprised.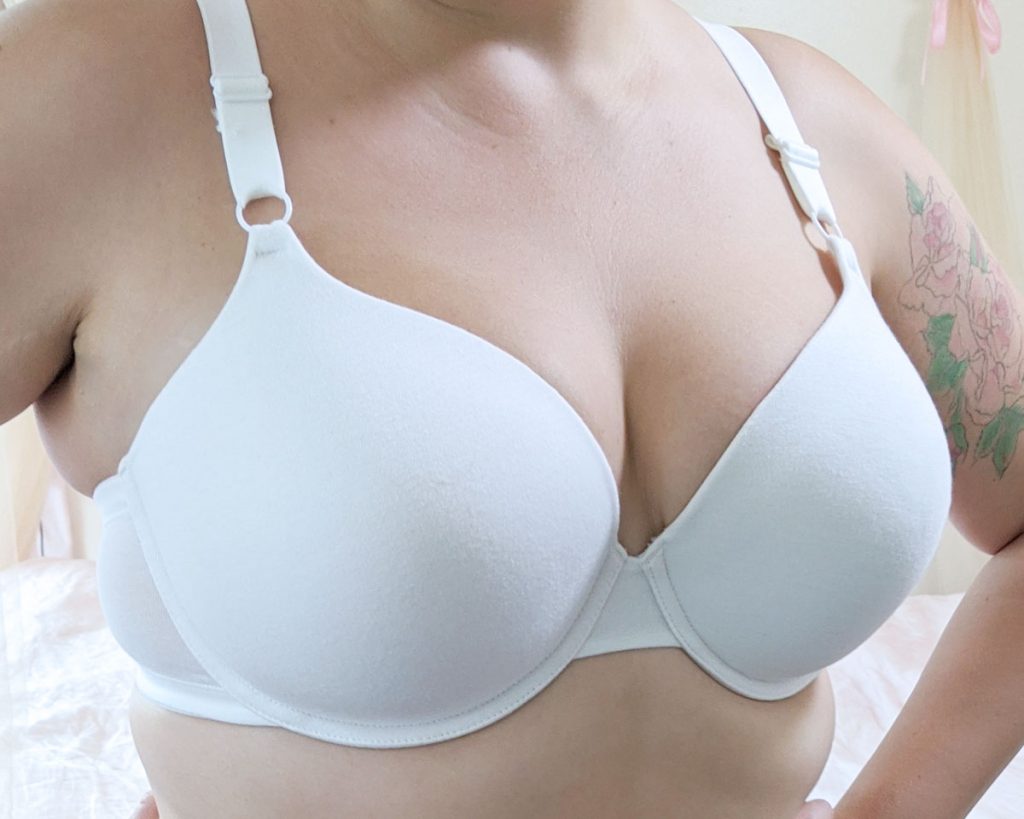 The other big thing that stands out to me — and you may have noticed in the last two photos, if you looked carefully — is that the two bras fit differently. The white bra has more room at the top edge of the cup, whereas the pink bra digs in to my tissue a bit.
Once the straps are adjusted to the right length (which differs for both bras), the bras feel the same. However, the white one definitely fits me better. Even my boyfriend noticed, and he knows nothing about bra fit. I would assume this is because of differences between the fabrics due to dye, but it could also be a quality check issue, or because they've given the factory a large sewing allowance.
Other than these aspects, the bra is incredibly average. The back band isn't reinforced with mesh or lining, but the elastics are stable enough to give support. It doesn't give an incredible amount of support compared to a bra designed specifically for fuller busts, but the foam cups provide a flexible fit, so it works.
It doesn't have lot of projection, so it doesn't look as nice under a t-shirt as a well-engineered full bust bra would. But the wider hook-and-eye panel at the back is a thoughtful touch.
Overall Thoughts on Fruit of the Loom
Coming in at under $10 each, this bra 2-pack is a fantastic value for the price. If you can afford to buy bras at a higher price point, I would recommend doing so for longevity, fit, and overall quality. However, this is a good option for an incredibly cheap, everyday bra in a relatively wide size range. I'd assume a $7.50 bra would feel like it would fall apart after one wear, but this one seems like it could last a few months. So long as it's well cared-for.
Honestly, I think the best thing about this bra is that it fits true to a +4 fit method, so it could give a nice amount of support to a lot of individuals at a low price point. If you have a smaller back band and slightly larger cup size, buying your sister size in a budget brand could make for an easily-accessible, nicely-fitting option.