PVC Lingerie Review: Apatico Heart-Shaped Bullet Bra
Disclosure: These items were purchased by The Lingerie Addict for the purposes of review.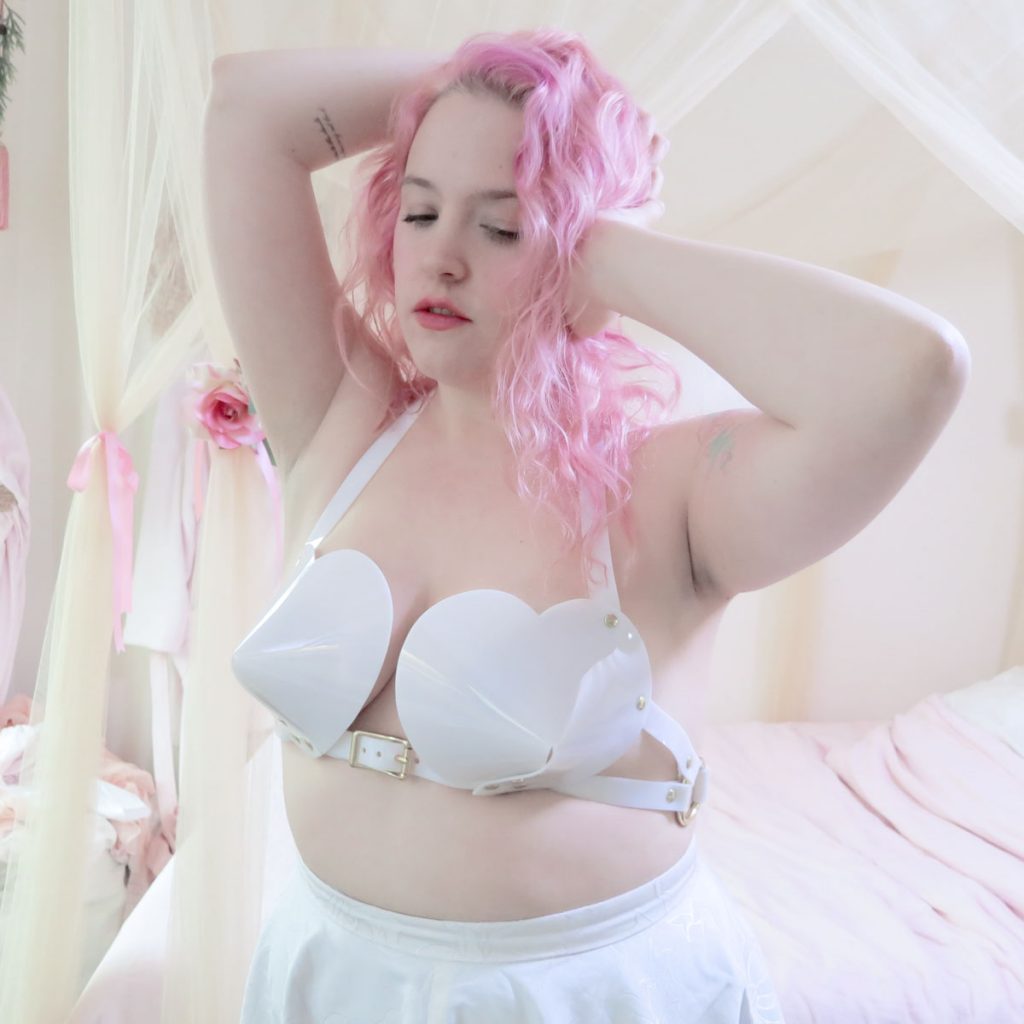 PVC and leather accessories are having a major moment right now across the lingerie industry, from budget-friendly plastic pieces by Playful Promises' accessory brand Regalia, to patent leather accessories from luxury brands as big as Agent Provocateur.
I'm a big fan of the trend, and see it as a fun departure from the super-serious sexiness that many mainstream lingerie brands offer without a hint of playfulness.
Along with high-profile indie brands Creepyyeha and Zana Bayne, I count Apatico as one of the key players in the mainstream leather accessory trend. The Seattle-based brand started out selling gothic-inspired hats and headpieces by designer Megan Bishop, and has fully embraced the slick, shiny qualities of PVC and leather over the last few years: Think devil horn skull harnesses made from oxblood-dyed leather, or clear buckle-backed tiaras shot through with gold glitter for a Themyscira princess.
Apatico's accessories embrace negative space and clean lines, often playing with opacity by layering clear tinted PVC over iridescent materials. Aside from their harnesses and leather headpieces, you might know Apatico as the originator of the zip tie crown. You know, the $30 one Amber Heard wore to the Met Gala in 2018? Yep, that's Apatico's work. Megan is the type of designer whose aesthetic and talent clearly shows through every medium she's worked with.
To me, Apatico's style screams 90s industrial goth night in the best way. My personal style leans more sweet and ostentatious than stompy and streamlined, even when it comes to leather goods, so I was smitten when they released this Heart Shaped Bullet Bra last year.
Plastic and Leather Bullet Bras
I've been intrigued by these simple bullet bras for a few years. The cups are made with a single piece of plastic or leather, cut and "rolled up" like the cone-shaped hats you might have made as a kid. This simple construction creates the perfect canvas for dynamic shapes and fantastical embellishments.
As a person who wears a UK bra size 32FF, I ever thought these bras would work for me. Or if it did, it would be comically large, like personal pan pizzas over my boobs. But when I commented as much on Apatico's Facebook page, I was assured this particular bra would work for my size. I love kitschy romantic lingerie, so how could I resist a bra that literally just puts big hearts over your boobs?
The Apatico Heart Shaped Bullet Bra is available in a wide range of leather, faux leather, and PVC materials. Sizes are X-Small through X-Large, with a custom option for no extra charge. I went with a custom size since my bust is a couple inches bigger than their X-Large right now, and because why wouldn't you take advantage of free custom sizing?
Ordering
Maybe I was a bit traumatized from my last custom lingerie experience, but ordering a custom bra from Apatico might have been my easiest custom ordering experience ever.
I didn't see a spot to enter my measurements at checkout, so I emailed them with my bust, underbust, and neck-to-waist measurements, plus my usual bra size. I also asked if I could get it made with gold hardware, which Apatico's assistant was very excited to approve for me.
As the weeks went on, I kept expecting an email asking for more specific measurements, but the only thing that came was a notification of shipment less than a month later.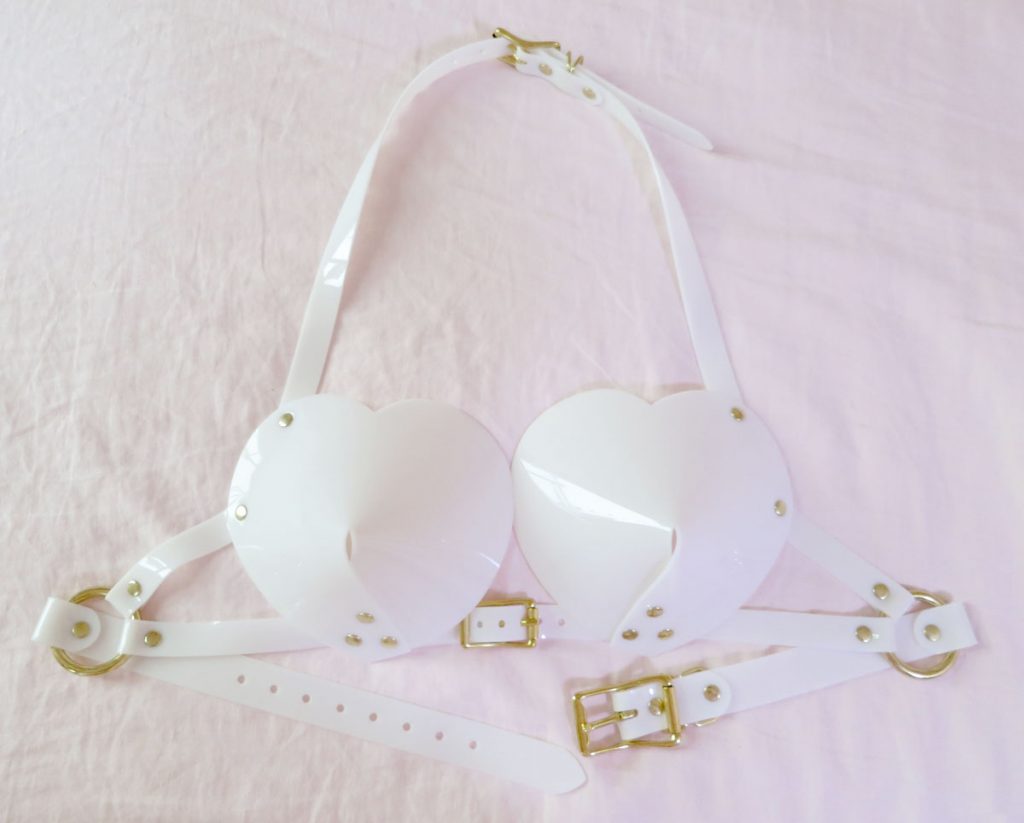 Quality
This bra came wrapped beautifully in its own gift box with a hand-written note, but the bra itself looked anything but hand-crafted. If I saw this bra at a store, I'd assume it was crafted on an assembly line in a high-end factory.
The designer's years of experience and confidence with this unique material show clearly through the precise cutting, hole punching, and perfectly placed grommets. I was considering getting black leather since I'm a much bigger fan of real leather than plastic, but the gold hardware elevates the milky white PVC exquisitely.
The material is very very slightly translucent, so you can see a hint of nipple in certain lights, and the tiny holes at the apex of the heart mean that you could get a glimpse of actual nipple if the wearer has nothing on beneath it. (I'm wearing nipple covers for these photos.) But let's be honest: If you're wearing this ostentatious bullet bra alone, a little nipple is probably not a concern for you.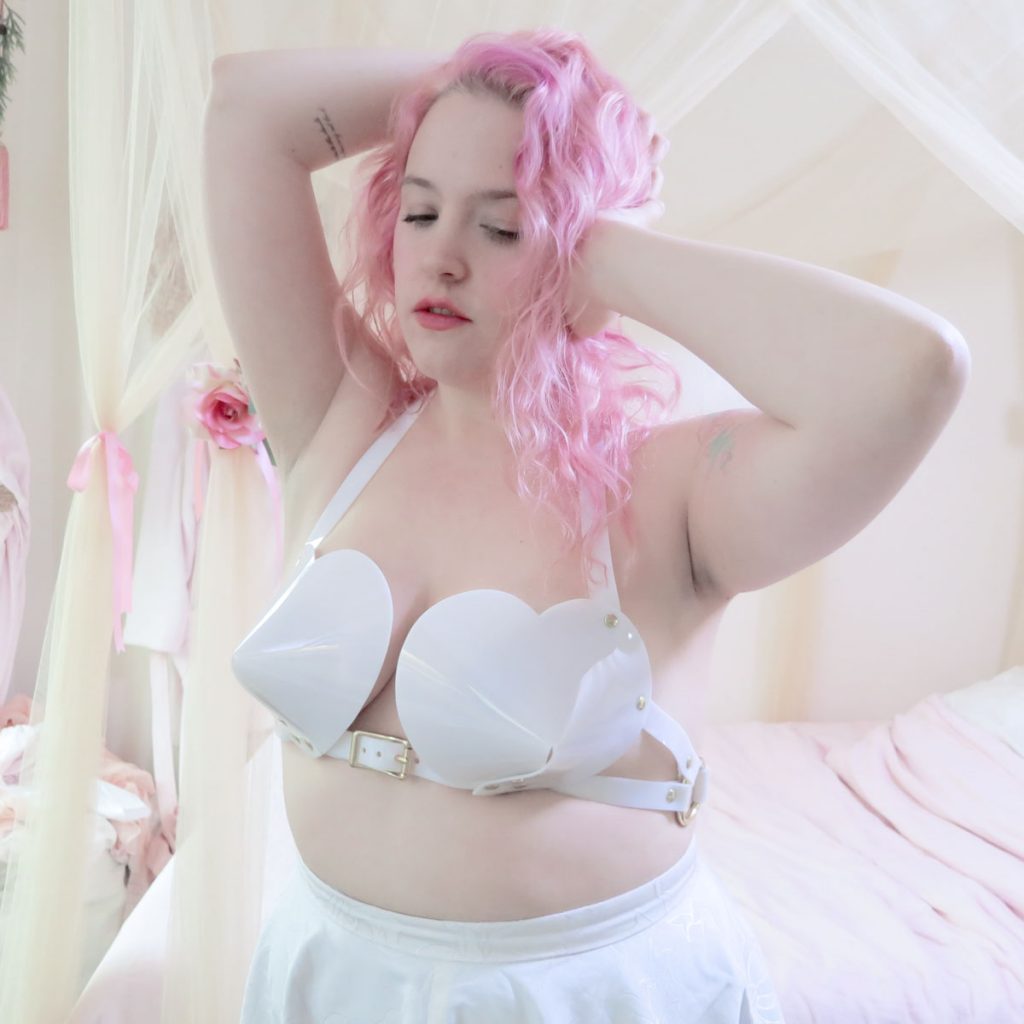 Fit
My expectations for the fit of this "bra" were incredibly low. After all, it's a fun pointy plastic boob cover, not a highly-engineered full bust bra. I expected my tissue to fall out of the sides, while an oversized flattened heart shape strained against my breasts. How could a designer make the right adjustments to this novelty cup, ensuring that it would someone 1000 miles away without a muslin or incredibly specific measurements? Welp, she did.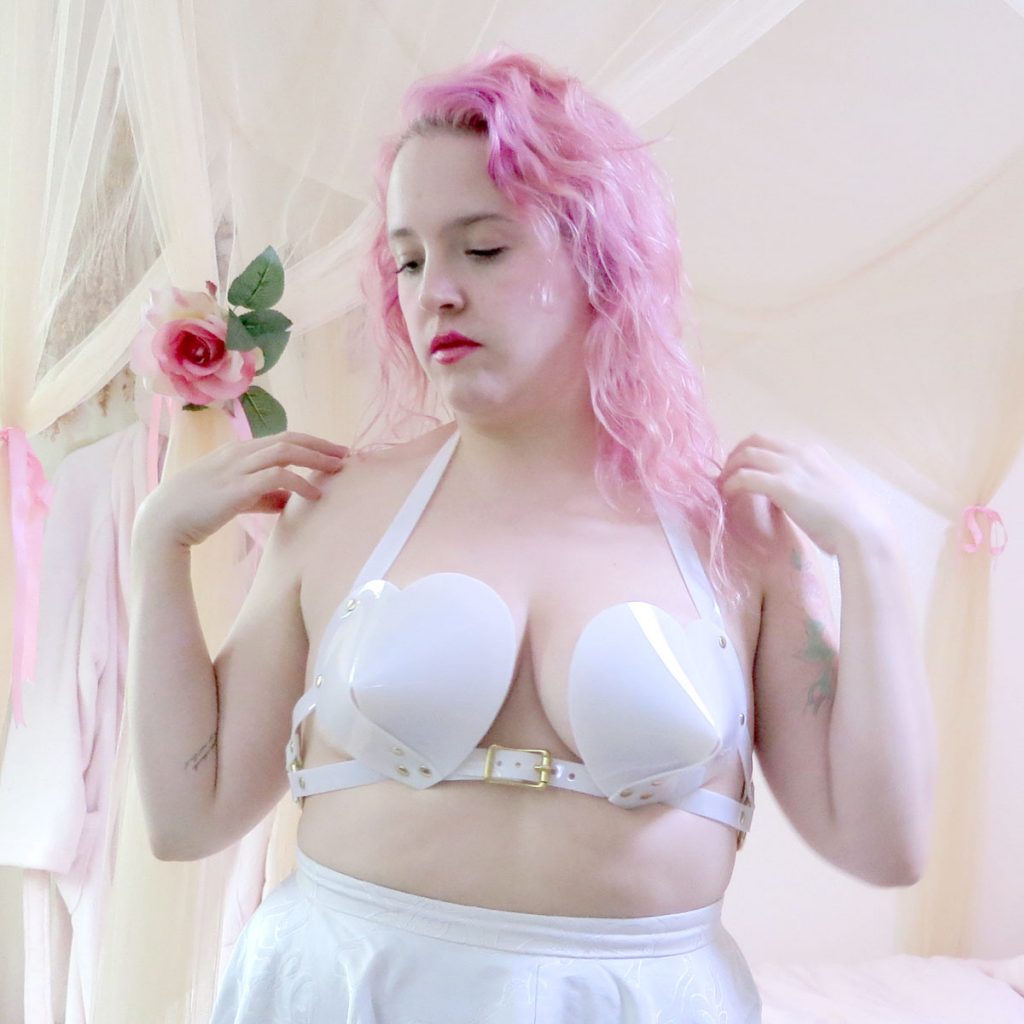 I didn't think I'd be writing this about a plastic bullet bra, but this piece fits so well that it's actually wearable as a regular bra. You could absolutely wear this as a bullet bra beneath a sweater.
Unfortunately, I'm a sensitive baby with a pretty severe metal allergy, so I prefer to wear it on top of clothes as a statement piece. The bottom points of the hearts also extend very slightly past the bottom strap, digging into my soft torso flesh after long periods of wear if I'm not wearing anything beneath it.
I think this cup placement is required to ensure the connection between the cup and the band is even and stable, but it's the only thing I dislike about the piece, and the only thing keeping me from wearing it as a "regular" bra on a daily basis.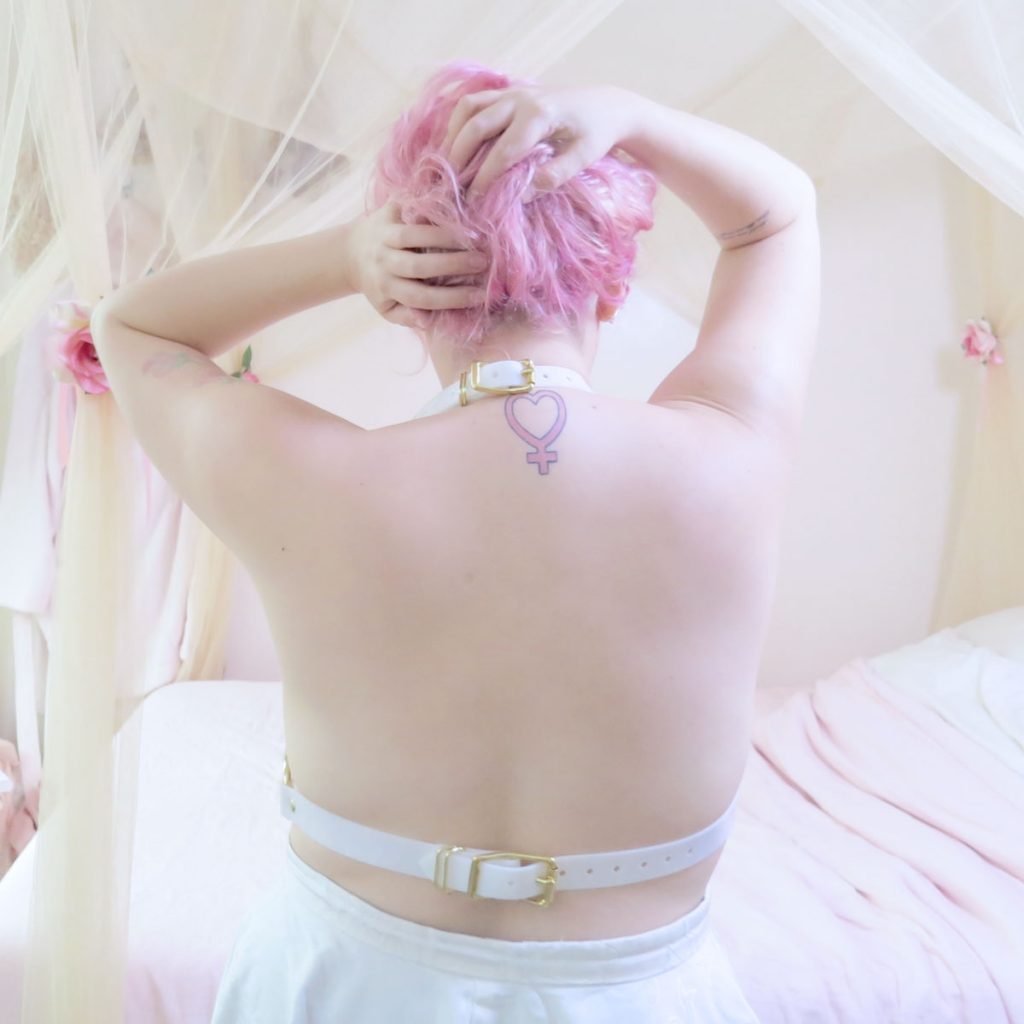 I'm pretty easy to fit, but I think this bra would work for lots of different types of breast tissue. Someone with softer tissue might feel less supported, but just like a real vintage bullet bra, the PVC's stiffness will give everyone the same shape, especially under clothes.
As it turns out, I probably didn't even need to give Apatico my neck-to-waist measurement, because this bra is entirely adjustable. Not just on the back strap, but on the halter and even between the cups.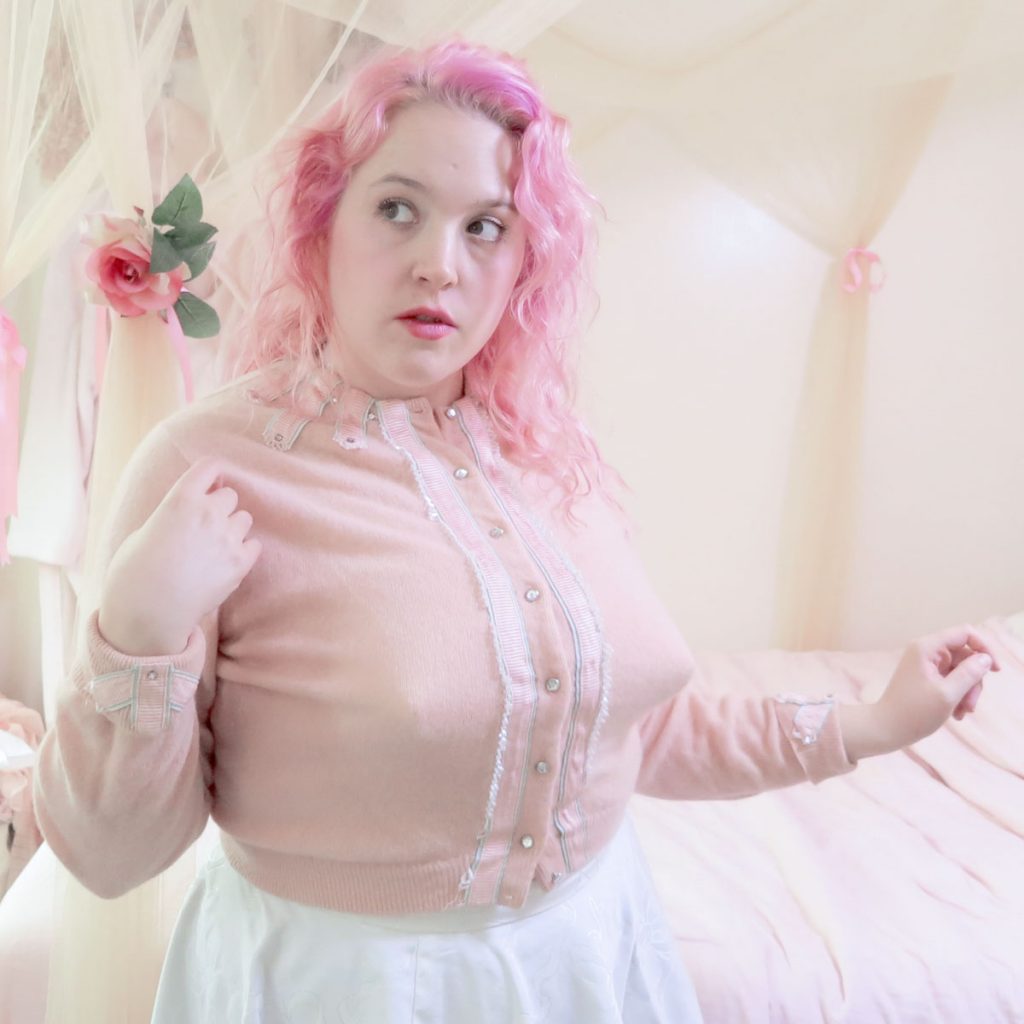 Let me be clear: This bra won't give you a "perfect fit," but come on! It's a plastic cone bra! It lifts me up. It keeps everything in place. And of course, it looks really cute. What more do you need from a piece like this?
Overall Thoughts
Apatico's Heart Shaped Bullet Bra is beautifully made, accurately priced, and gives an impressive fit, especially considering the long-distance custom sizing situation. The designer's material mastery is clear through the fine construction, careful cutting, and perfectly-placed connectors.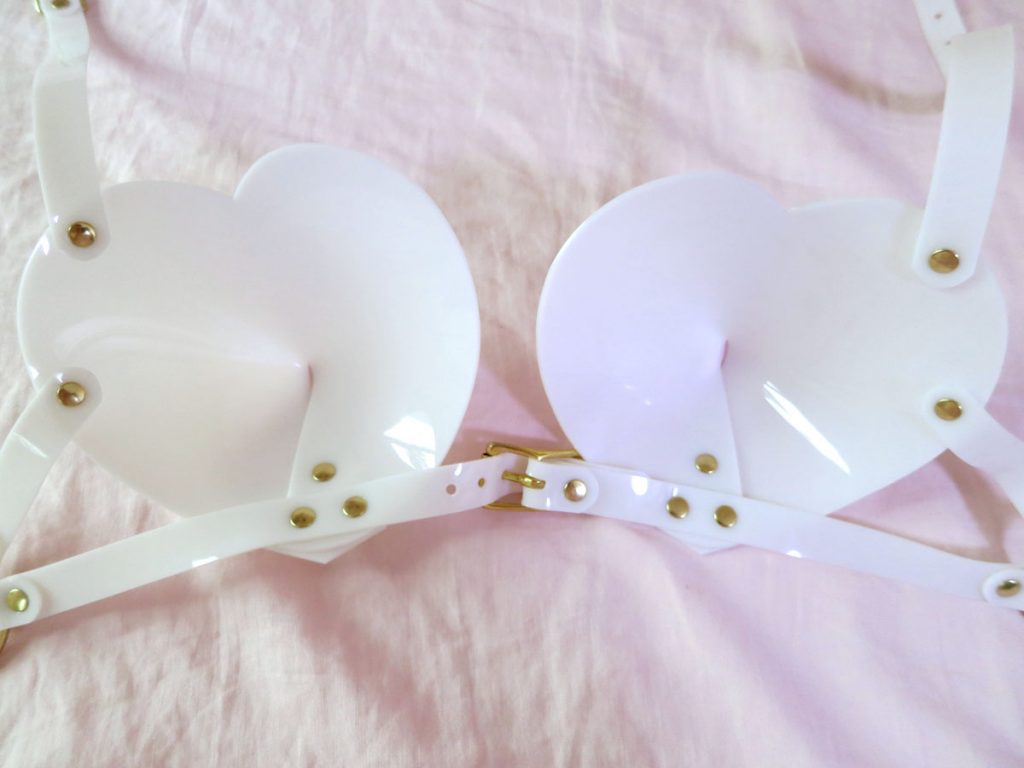 If you're a fan of leather and plastic accessories, it's a fun piece to add to your wardrobe or to use for a photoshoot, and I'd go so far as to say you could wear it under your clothes for an extreme 1950s bullet bra shape.
And if you're a full-busted person like me, I hope this review inspires you to try out this style of bullet bra, heart-shaped or not. It might not be the most supportive, perfectly-fitting bra you own, but not every bra has to be that for you. Some of them can just be fun.