Love French Lingerie? Here's Your VIP Invitation to French Lingerie Loft in NYC!!
Disclosure: This post is sponsored by Lingerie Française.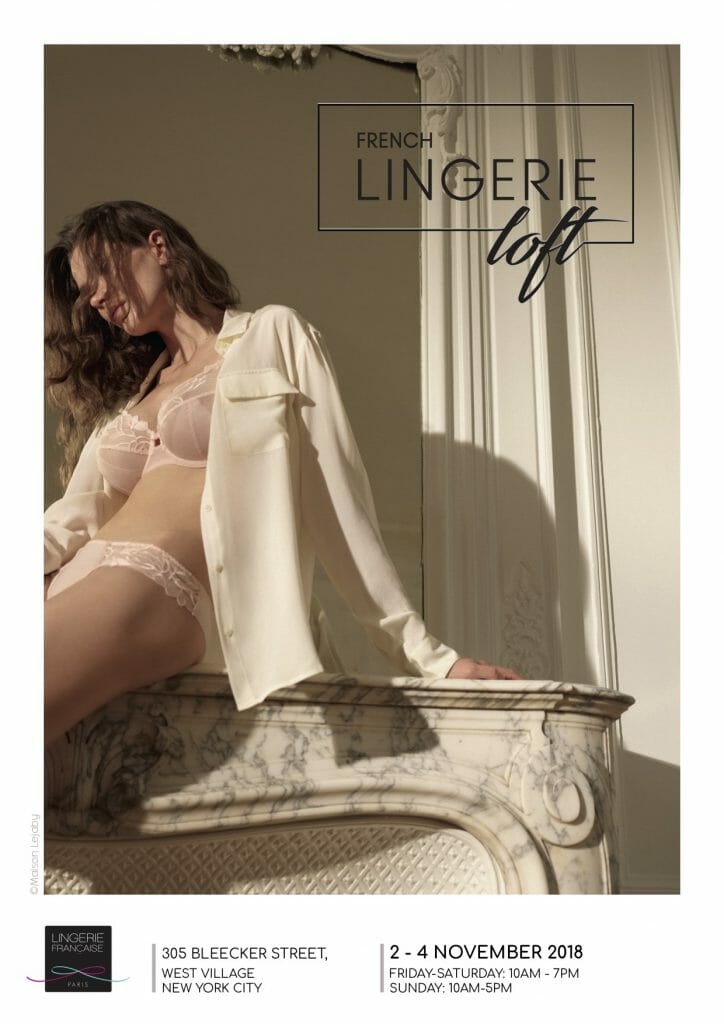 I'm not the kind of person who pays a lot of attention to guides like, "How to Dress Like a French Woman," but if there is one thing I am deeply envious of the French about, it's how seriously they take lingerie. I feel as though here in the US, we're constantly battling to have lingerie recognized as a valid and thrilling part of the fashion industry in its own right, while in France, there are entire organizations dedicated to telling the public how amazing and wonderful lingerie is. And yes, I'm referring to Lingerie Française!
But just in case a trip to Paris isn't in your immediate future, can I offer you the next best thing? I'm so excited to announce a brand new pop-up event happening right here in my new hometown of New York City - French Lingerie Loft!
Taking place on November 2, 3, and 4, this unprecedented and historical event is all about introducing the public to the beauty and delicacy of French lingerie. Think an entire Manhattan loft full of ethereal embroideries, feather-light laces, and plush microfiber knits - all with a goal of helping you appreciate lingerie as much as any lingerie addict!
In addition to a select display of pieces from the 14 participating brands (more on that later!), you'll also have the opportunity to attend a wide variety of workshops, including:
As someone who is practically obsessed with lace and embroidery (but knows far less about either than even the most novice lingerie designer), I'm super-excited about both of those sessions. I'm also looking forward to a refresher on bra shapes by Aubade, and some tips on how to make lace more wearable (or at least help it feel more accessible) by Simone Perele. And the entire event - including all the sessions - is 100% free!
In addition to these "lingerie lifestyle" panels, there will also be nonstop bra fitting sessions sponsored by Empreinte, Chantelle, Simone Perele & Implicite, Aubade, and Lise Charmel. This is a really great opportunity to see what your best size and style is in each brand since, as we all know, there are unique fit variations in each brand.
I feel like there's been a lot of thought put into these programs, and that they're specifically tailored for the newest lingerie lovers among us. This is, in a lot of ways, the kind of lingerie event I'd always hoped to see.
However, there isn't just lingerie at French Lingerie Loft. It's meant to be an immersive experience, an escape, if only for a few hours, into the culture and luxury of several iconic Parisian brands. Think facials from Caudalie, a fragrance workshop by Diptyque, a "Chocolate Atelier" and more!
Oh, but I promised you a full list of the French lingerie brands that will be there, right? Well here are the 14 names you can look forward to see bright and vivid color for all 3 days of French Lingerie Loft. Do you have a favorite?
I have to say, I hope events like this are just the beginning when it comes to having more visibility and more attention paid to lingerie. The world of intimates has completely changed my life, and if even a few people depart French Lingerie Loft with a new respect for and appreciation of intimate apparel, then it will be time well-spent.
I hope to see you there! If you happen to live outside of NYC, make sure you keep up with everything that's happening on social media at the Lingerie Francaise Instagram, Facebook, or Twitter accounts!
If you're in NYC, do you plan on attending French Lingerie Loft? And what would be your ideal lingerie event?
Last Updated on