The Good, The Bad, and The 'Hmmm...' of Savage X Fenty, Rihanna's New Lingerie Line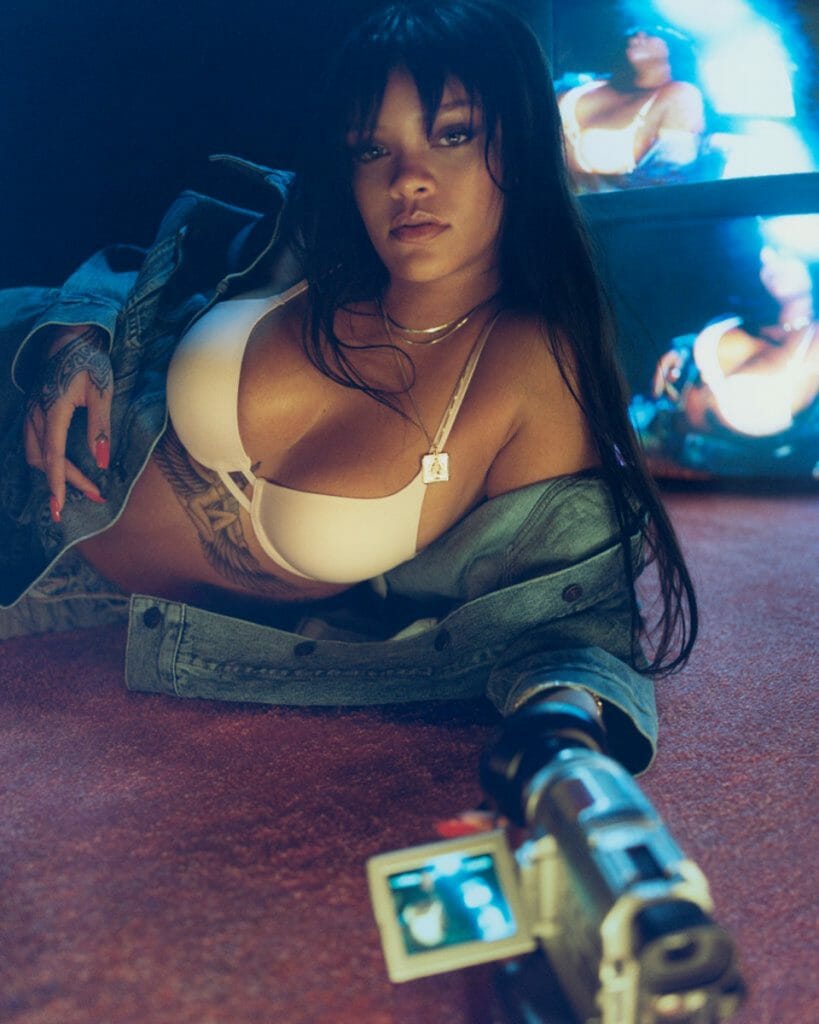 Rihanna's first lingerie collection under her debut intimates label Savage X Fenty dropped two days ago, and it's all anyone's been able to talk about. The line brought forth a range of emotions, but it's also illustrated some of the problems with having so few fashion writers dedicated to intimate apparel (The Lingerie Addict is a blog, not a newspaper, and I would never call myself a journalist).
I've been waiting/hoping another media outlet might write a comprehensive review of this collection, if for no other reason than that I believe it's important to have multiple perspectives on the launch, but that hasn't happened yet...so here we go.
First things first, since we've gotten a LOT of new readers lately: if this is your first or second time visiting The Lingerie Addict, you need to know we don't talk about lingerie in the way most other places do. We offer a more critical perspective on intimate apparel, one that examines the intersection of lingerie and society and also addresses the more hidden parts of the industry like manufacturing and design.
Being critical of a company doesn't mean we "hate" a brand. Nor does saying something positive mean we love everything about them. Instead, we try to give our readers information similar in range and quality to what the fashion and beauty industries have...only focusing on lingerie. With that said: welcome, I'm glad you're here!
The Debut
Savage X Fenty launched at the stroke of midnight, Cinderella-style, on May 11th. Like a lot of people, I stayed up late to be one of the first to access the site, only to discover there was a line.
I'm guessing this queue was put in place to prevent the site from overloading and crashing, but there were still some issues, likely due to all that traffic. For example, even after accessing Savage X Fenty, I was booted out and forced to re-queue again. In addition, several people reported losing access to their shopping cart and needing to start over again during the checkout process.
Once I was able to click around, I did notice a few missing pieces. Notably, there were no DDD sizes available (despite being in the pre-launch dropdown menu), and there was no size chart at all for non-bra sized items. That means no size chart to guide purchasing panties, robes, babydolls or anything else that wasn't a bra.
Considering how the entire line is a total question mark in terms of sizing (and also considering the concerns plus-sized customers have regarding fit), this seems like a major misstep. I wonder if it was simply left out in all the prep work happening for launch or if there perhaps was some other reason...like size inconsistencies between products that would have made a size chart useless anyway. There also isn't a search bar on the site or a way to access items of a similar size grouping, like plus.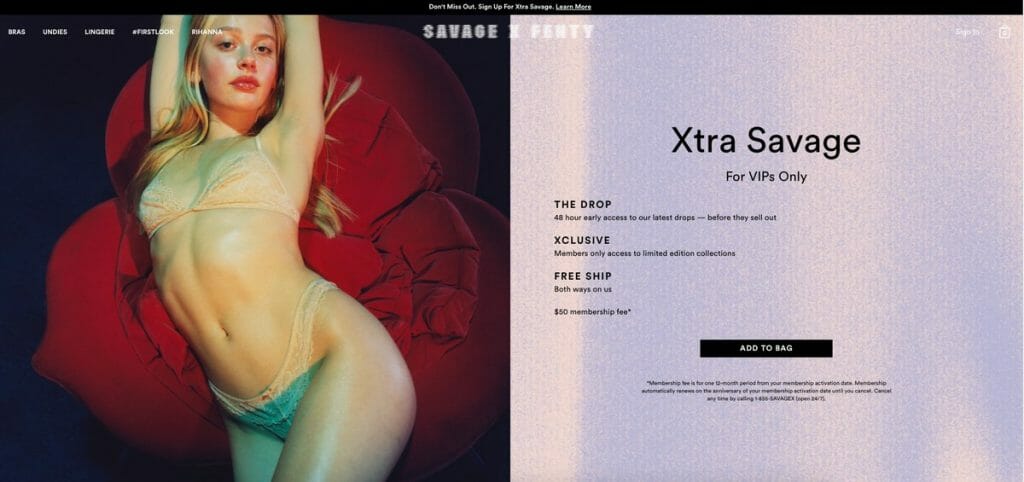 I didn't buy anything, so I can't speak to the checkout process, but I did take a look at the membership program. As Vogue said, becoming a VIP or "Xtra Savage" member is $50/year and includes free shipping, early access to new products, as well as membership-only exclusives (as an aside, this program is only available in the United States).
To me, the VIP program sounds like a good value. I think rewarding your members with early access or exclusives when, at least for now, items are likely to sell out is a smart incentive. I also think free shipping both ways is something that will quickly pay for itself (it also removes a potential barrier to purchasing for the brand). Please note: there are no cancellations or refunds after you decide to join the membership program.

On a more positive note, we're not seeing differential pricing between plus and misses size items, which is a big deal, and is something plus size customers have been demanding for a long time. Also the size and race diversity on the site is definitely noteworthy, especially since so many lingerie brands fail to show their products on a range of bodies.
The Response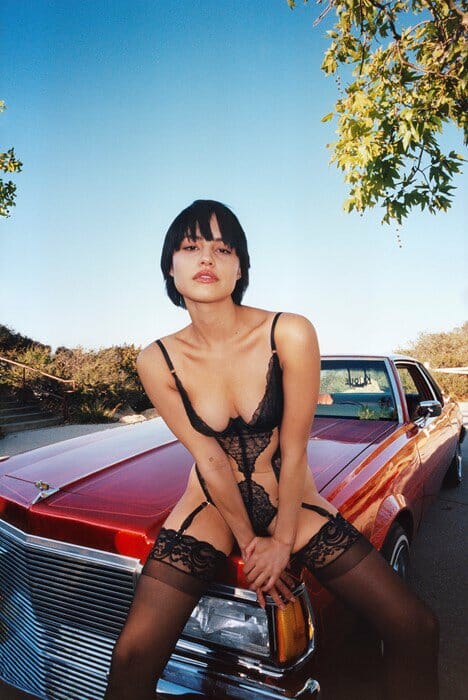 Of course, there was tons of chatter around the line, and, due to Rihanna's reach and presence, a lot of excitement and anticipation as well. People wanted something that would blow them away. Yet despite all the positive press, there was a lot of disappointment on social media from people who felt the line should have been more provocative and edgy.
Tweets like the ones below - where Rihanna's products were compared to those from more expensive companies - were typical. I want to take a moment to address this because it touches on several important things regarding reasonable expectations and what you can get for a <$100 price point.
To be clear, this isn't about people not liking the line. Folks like what they like, and that's neither here nor there. However, expecting a $600 aesthetic on a $60 garment is not fair or rational. And you don't have to like the line to understand that.
As we discussed in this piece on shopping for cheap bras, a company can choose two of the following three: a low price, an extended size range, or beautiful design. Rihanna chose those the first two with a size range that was unusually expansive for a debut collection (we also discussed why comparing Savage X Fenty to your favorite legacy brands is premature), and where every item, although not under $100 as Vogue said, is around that price point.
The final price of a garment has an effect on what can be designed. If that final price is $600, there's a lot more room for creativity and uniqueness than if that final price is $60.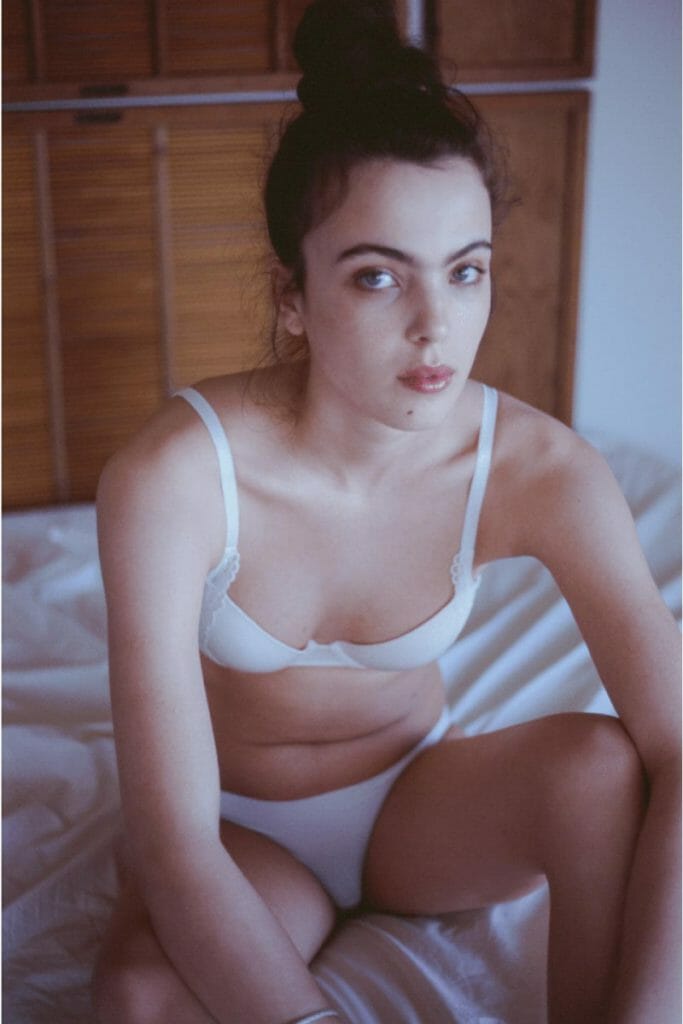 Furthermore, the fact that Rihanna focused extensively on core staple like bras in shades of nude means this collection is less about expensive, special-occasion pieces and more about the basics, i.e. the items that people will come to you for again and again. It's not glamorous, but basics are the bread-and-butter of the lingerie industry.
People may only buy a fancy, floor-sweeping gown once in their life, but they'll buy a nude t-shirt bra or a basic black bra more often. And when people find their fave, they'll keep coming back for it. If Rihanna's goal is longevity, than having staple items people can replenish is part of that.
Truthfully, considering how vocal people are anyway about lingerie prices, I think she made the right move. Had Rihanna debuted a more editorially-driven, directional collection with price points around the $250 or $500 mark or higher, I'm sure the conversation would instead be that was she wasn't listening to her fans and it was too expensive. It's a Catch-22.
The Collection
However, even people who didn't expect $600 quality at a $60 price point were still disappointed. Many people felt the line should have gone further. Others felt the aesthetics of the garments were closer to Yandy than Victoria's Secret.
As someone who looks at lingerie for a living, was the collection the most impressive thing I've ever seen? No. Much of it wasn't memorable, to be honest, and if the line was anyone else's, I likely wouldn't have paid attention to it. But do I think that's necessarily a negative? Not really. Most people's tastes aren't creative or avant-garde. In terms of what the majority people will actually wear and buy, it's going to be the normal-looking, almost boring stuff.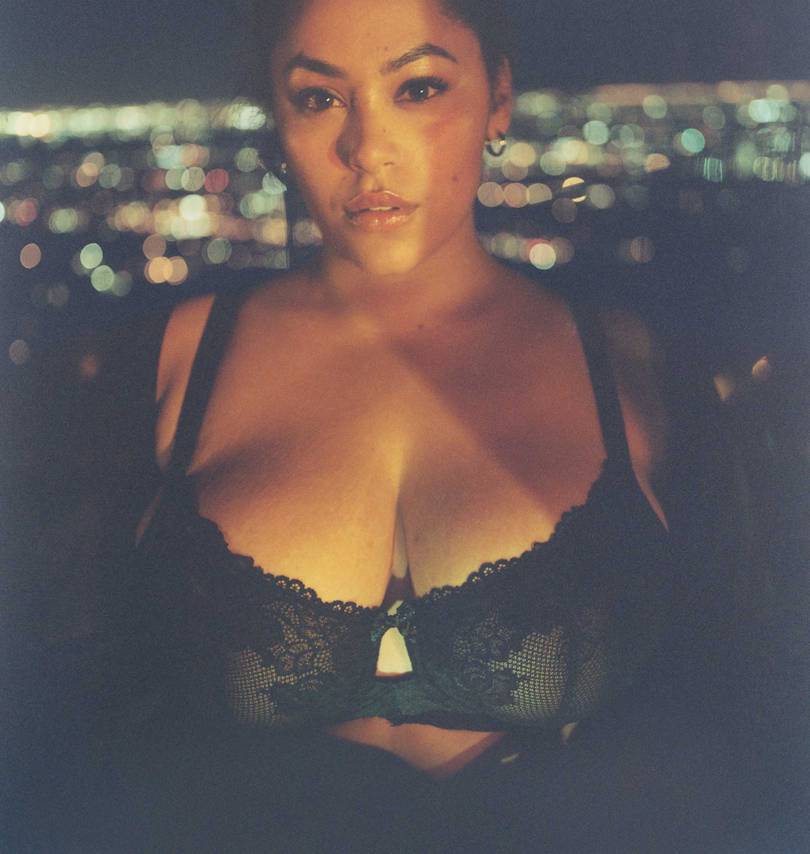 But also keep in mind it takes a few seasons for a brand to figure out what will sell and what their customers want to see more of. No one has it all sorted out with the first collection. To use an example of a recently successful celebrity intimates line, the first couple of seasons of Dita Von Teese Lingerie were lackluster (and we said so). It wasn't until the release of the Madame X collection that things turned around. Most people don't even remember those earlier pieces now.
In an era of fast fashion and instant gratification, I think it's sometimes easy to forget that designing and creating a new brand still requires a learning curve (and that designing for yourself isn't the same as designing for thousands of people). You have to get know your customer, especially when, as in Rihanna's case, those customers are located all over the world. I wouldn't expect Rihanna, as exceptional as she is, to be exempt from these norms. Even now-famous staples from other brands (the Panache Envy, the Freya Deco, the Victoria's Secret pushup) were once untested and brand new.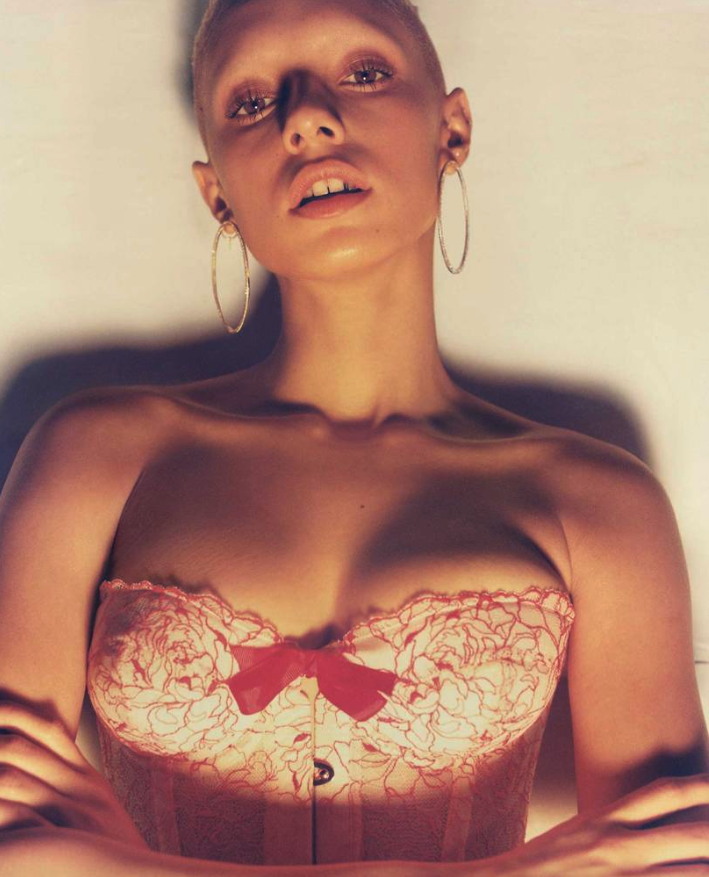 Another thing to consider is that, for many of her customers, this might have been their first introduction to styles they hadn't seen or been able to access before. It may also have been their first experience having a one-stop shop for all their pieces - from the basics to the boudoir.
I think it's easy, especially if you're more familiar with lingerie, to forget that there are people still new to intimates. What seems boring and typical for someone who's well-acquainted with lingerie might be new and exciting for someone who never even considered the possibility of lingerie before Rihanna.
That said, I would be remiss if I didn't bring up certain similarities between this debut collection and pieces I've seen in other places. Part of why I think the collection came across as unimaginative is because many of the pieces felt "inspired by" items we've seen from other places.
I've put together a few collages of the connections I was making as I viewed the collection both online and in the pop-up store. Other brands I thought of that aren't pictured are Frederick's of Hollywood, Carol Maloney, Playful Promises, and L'Agent by Agent Provocateur.
There was a sense of déjà vu throughout the collection, and it's hard to feel the thrill of novelty if everything you're looking at seems vaguely familiar. There was also some disjointedness across the range, which is perhaps to be expected for a 90-item collection. Yet I think some of that is attributable to not having a clear, overarching, and easily-recognizable aesthetic. But again, these are common issues with new lingerie brands.
Savage X Fenty Recommendations and Collection Review
Because I live in NYC now, I was able to visit the pop-up (yay!) and see about half the collection in-person (not every item is out yet). You can see some detail shots in this Twitter thread.
As I said in our most recent piece regarding the collection, much of the success of the line will come down to fit and quality. Unfortunately, there are some pieces where the quality doesn't quite align with the price point. When thinking about what I'd be willing to recommend to a friend or reader or someone who just wants to try Savage X Fenty, these are the items and collections I was most excited about: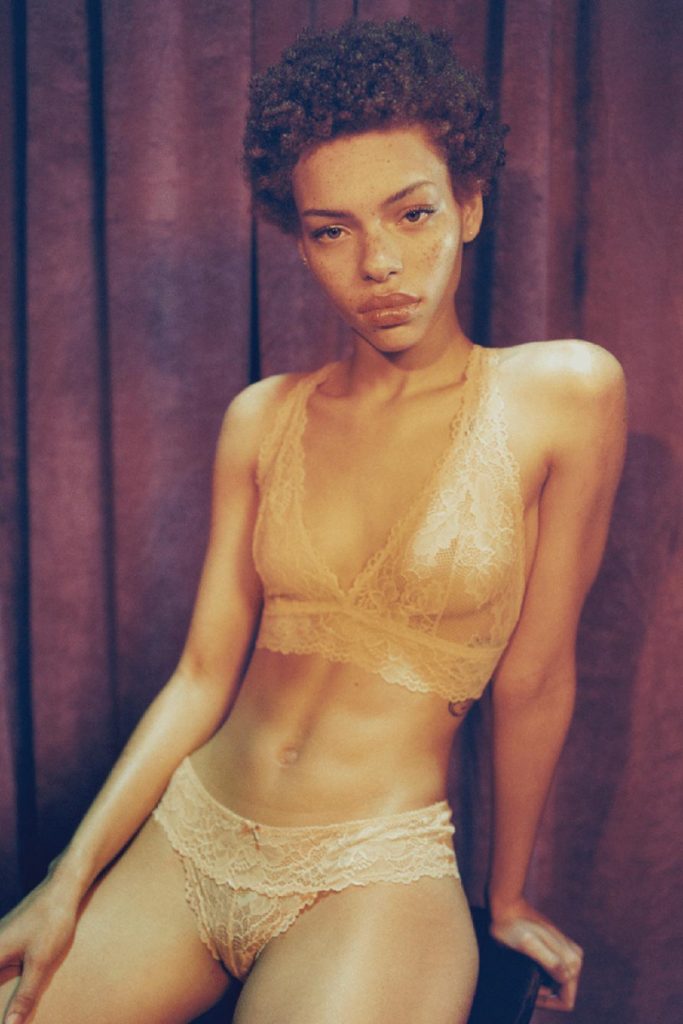 The floral lace collection, which included the bodysuit shown below as well this bodysuit and this catsuit, were among the most underwhelming. I love a good catsuit and I adore lace, but the vibe I got from the materials and construction was more like a bodystocking. And there's nothing wrong with a bodystocking, but they probably shouldn't cost more than $100...especially when the lace feels like something you could poke through with a fingernail.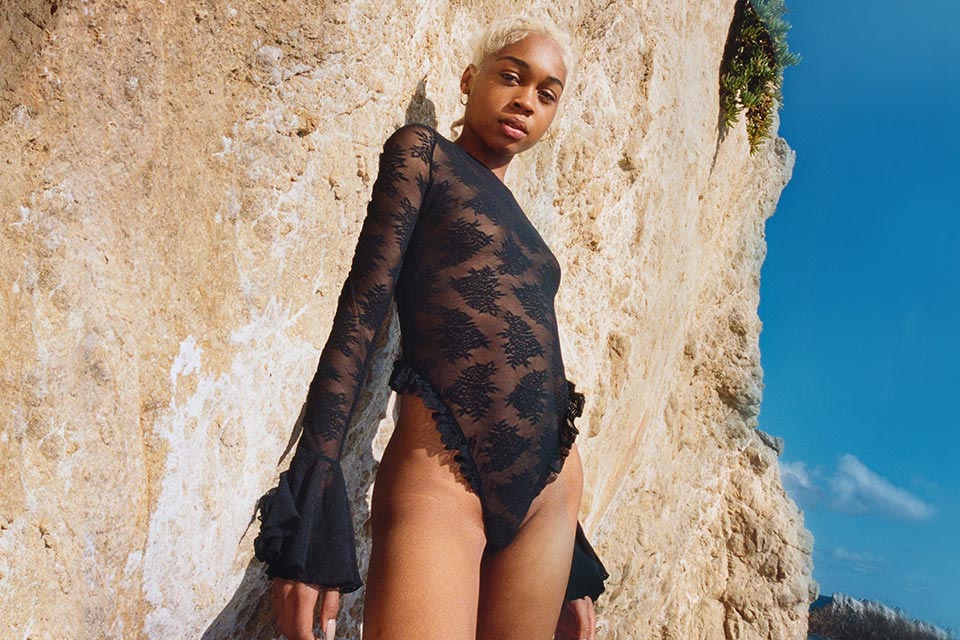 I was also disappointed by the look and feel of the Flock Dot pieces. Without knowing the context that it was lingerie by Rihanna, I would have expected a much lower price point...about half of what it's selling for right now.
Finally, the other significantly disappointing range was the Marabou one. I can appreciate the aesthetics of the classic, marabou feather look, but the materials were underwhelming. Once again, I found myself thinking these items would cost $30 or $40 less if anyone else's name was on the label.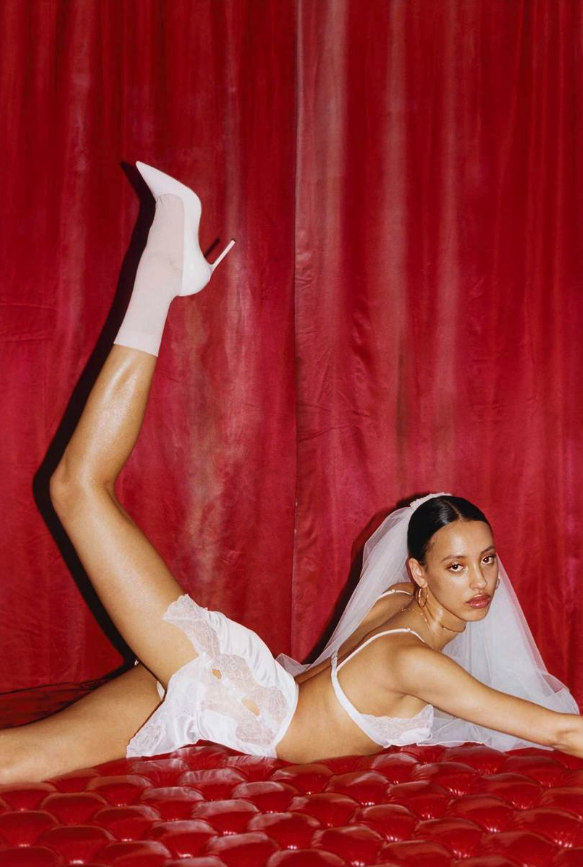 I feel more on the fence about items like the mesh and lace bra, cami and short set and maxi slip. Are they exceptional for the price point? No. Could they be fun to wear anyway? Yes. I feel similarly ambivalent about this lace teddy. It absolutely feels priced too high for what it is, but was not quite as disappointing as the bodystocking referenced above (think Oh La La Cheri quality...which is perfectly acceptable, but not worth $69).
Finally, as far as the knickers go, unless you see something you absolutely have to have, feel free to skip them all. I think you can find a better value for the price from a lot of other places.
Of course, my recommendations don't mean you shouldn't buy what you like! Goodness knows I've overspent on pieces I've fallen in love with even "knowing better" (an Agent Provocateur lace caftan comes to mind). But I try to approach these articles with what I would want to know if I were in your position. Because it's one thing to buy something if you know to lower your expectations. It's a completely different thing to expect a lot and then be disappointed. And, it goes without saying that we'll know even more regarding fit and quality as reviews start coming in.
The Future of Savage X Fenty and Final Thoughts
Rihanna released an entire lingerie department's worth of product all at once and, according to things I've heard, plans on having new releases every month. That is a LOT of lingerie, and I wonder how sustainable that pace will be - on both the production side and the consumer side - after the first few months.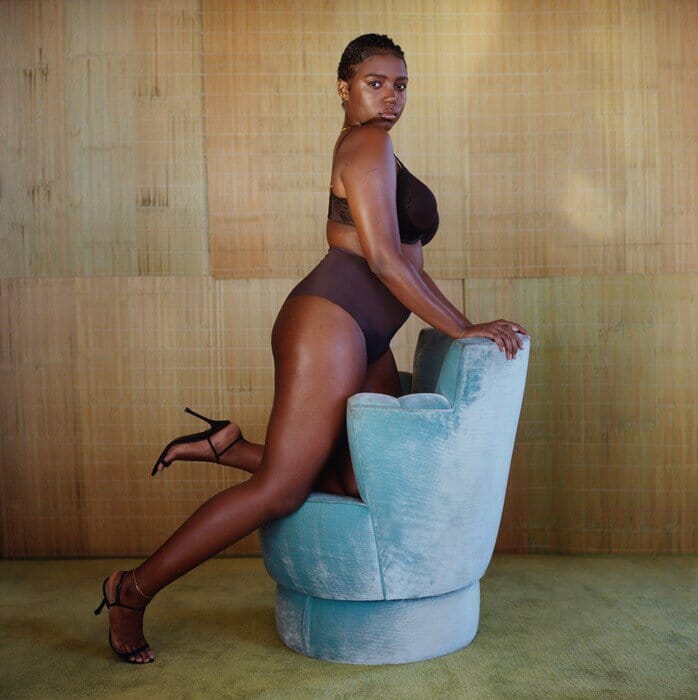 People also have high expectations regarding the diversity of the line, with several people mentioning they're hoping for greater trans and disabled visibility, in addition to an expanded size size and more models at the larger end of the plus size spectrum.
I'm wondering if we'll see more avant-garde and striking designs, especially as Savage X Fenty learns more about their customers (and as we enter the holiday shopping season). I'm sure TechStyle's data people are hard at work distilling all this commentary and discussion into potentially actionable items for the company. The real numbers - for both sales and returns - will say a lot too.
However, Rihanna's lingerie collection not only showed that people can feel excited about lingerie, it also revealed some of the very real limitations around making a lingerie line - limitations that are often shrugged off as "laziness" or "not caring" when discussing other lingerie brands.
Rihanna's less-than-universally-positive debut also shines a light on some of the concerns that befall every new brand. How do you make as many of your customers as possible happy? How do you deliver on your brand promise? How do you make exactly the right mix of products?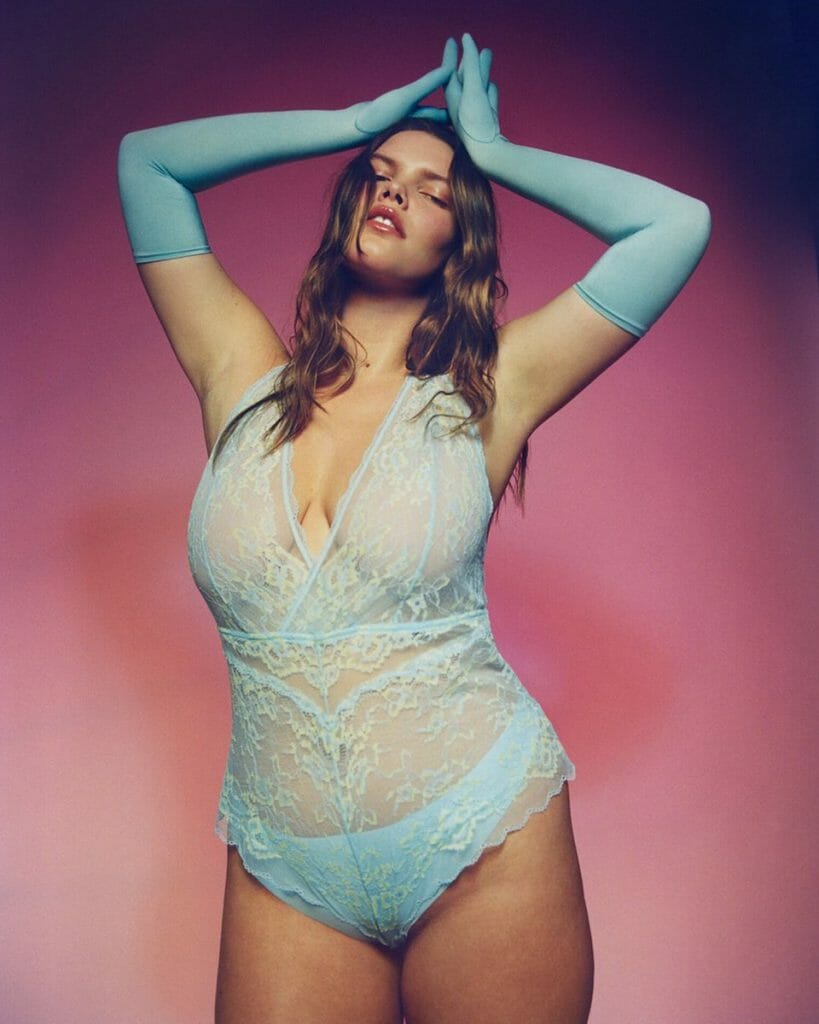 The fact that Rihanna is such a high-profile celebrity and a fashion icon in her own right makes answering those questions even more difficult. How do you distill Rihanna's style and aesthetic into a mass market lingerie line that will make critics happy but also (because this is a business) make money? I'm sure TechStyle pinned a lot of hopes on this collaboration, but you can never entirely predict how people will respond.
I've been sitting here processing my thoughts on Savage X Fenty, and the truth is I don't have strong feelings about the label yet. I'm excited to see so many people talking about lingerie. I'm excited people of color have another source for nude bras in their skintone. But that's not the same as feeling excitement for the brand itself. However, I do believe Savage X Fenty is one to watch. Maybe not a brand to drain your bank account over. But certainly one to check in with later.
After all, no icon starts out that way.