What I Want to See from Plus Size Lingerie in 2017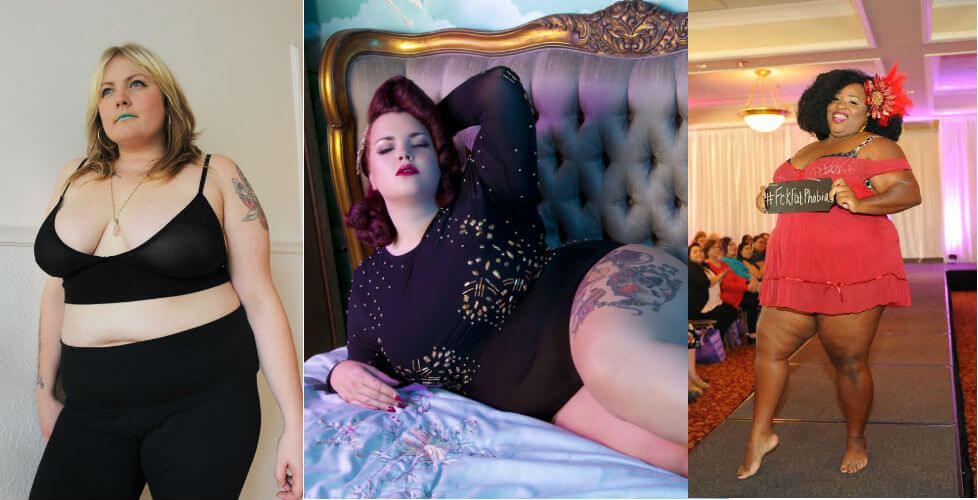 2016 has come to a close and over the past year, the plus size lingerie industry has seen some positive changes I would love to see continue through 2017 as well as some not-so-great moments I want to leave in 2016. Over the past year, I think about not only what innovations and styles were made for plus size lingerie, but also how were those products sold to consumers.
As a plus size woman who shops for lingerie, I am thrilled with the increase in fashion-forward and functional plus size lingerie  available in 2016. From size availability (like the addition of Curve to strong lingerie brand Playful Promises to the prevalence of plus size bralettes), 2016 was not a bad year at all.
2016 also brought plus size lingerie to the runways of NYFW for Addition Elle and to the billboards of Times Square in the form of Gabby Sidibe's lingerie clad body for Lane Bryant. In addition, Buzzfeed and Curvy Couture Intimates came together to create a size-inclusive version of the Victoria's Secret Fashion Show.
As an advocate for size acceptance, I do have an issue with how brands use lingerie to sell a certain message about the value of certain bodies over others under the guise of "body positivity."
Quickly, here's what I don't want to see anymore in regards to plus size lingerie in 2017. I don't want to see body positivity for men as joke (looking at you Aerie). I don't want to see any more campaigns like #IAmAllWoman or Lane Bryant's #PlusIsEqual where only size 16 and under models are used to tell the story that all bodies are beautiful. Bodies above a a size 16 are people, and people over a size 16 wear lingerie. If brands want to say they're body positive, we need to see lingerie shown on all bodies.  
With that out of the way, here's what I do want to see from the plus size lingerie industry in 2017.
More Inclusive Representation for Sizes 20+
I want to see plus size lingerie on runways shown on bodies above a size 14 especially when sizing is available up to a 28. Plus size lingerie boutique, Curvy Girl Lingerie, hosted the Unapologetically Beautiful fashion show in September 2016 featuring models wearing sizes 12-28. I understand there's a major difference in scale, but if smaller brands can and will show size diversity, why can't we expect the same from larger brands?
Through the use of plus size lingerie in the media, I see a narrative focused on the desirability of one's body. This furthers this myth that lingerie is only for certain body types, shapes and sizes. And while there are certainly practical reasons why brands expanding to plus sizes stop at size 20, the stigmatization of visibly plus bodies isn't helping push to them to expand more.
For 2017, I would love to see more inclusive representation, especially for people above sizes 20, not only in fashion shows but also in lingerie lookbooks, ad campaigns and, most importantly, in product images so people  of all sizes can see how an item will fit them.
More Lines Expanding To Plus Sizes
Lingerie has been slower than ready-to-wear fashion in terms of brands expanding their size ranges, but in 2016 alone, I reviewed three different brands that began offering plus size lingerie. One of those brands, Playful Promises, was named TLA's Best Overall Lingerie Brand of 2016.
Of course, while it's still common to click on a lingerie photo and not see any options above a US 8, change is happening, and I'm hoping for more in 2017. The plus size community represents 67% of the women in the US so there's no doubt that the demand for more lingerie options is there.
In 2017, I would love to see more brick and mortar stores where you can shop for plus size lingerie as well as more online indie brands and retailers expanding their size range.
More Brands Offering Custom Sizing
Indie brand Toru & Naoko earned TLA's title of Best Plus Fashion for 2016 based on the fact that these fashion-forward designs can be customized to fit any size (beyond the XXL they already offer) for a nominal fee.
Scaling designs from core sizes to plus size in lingerie is challenging but offering custom sizes is a good way for brands to not only serve their plus size customers but to test out the market and demand for expanding their retail line.
Another indie lingerie brand, Origami Customs, gives you the option to have your piece constructed made-to-measure or select a size from XXS-5XL. I find made-to-measure lingerie to be another great way to make lingerie accessible to more people.
In 2016, Impish Lee entered the custom lingerie market with an easy-to-use app to design your own lingerie. However, Impish Lee only offers bra sizes through 40J leaving out quite a bit of the plus size lingerie market. A band size of 40 roughly translates to dress size of 1X or 2X which is really just the lower end of plus rather than a wide range.
In 2017, I would love to see more brands offer either custom sizing for larger sizes or see made-to-measure brands become more size inclusive.
More Plus Size Bralettes, Please!
In 2016, plus size bralettes were a game changer. When I first saw bralettes in core sizes, I thought this was one item that retailers would never make in my size. Design-wise, adapting this style to be supportive for larger busts seemed like challenge. Aesthetically, there's still a stigma against larger breasts appearing to be anything less than perky.
As soon as plus size lingerie brands started making them, I tried quite a few plus size bralettes. Like a lot of other plus size women, I'm totally hooked! Because shopping for bras when you're over a band size 40 is often limited to$50+ bras and very little style variation, bralettes made plus size lingerie more accessible. Thanks to brands like Lovesick, plus size bralettes can retail for under $20 with a size range up to 5X.
Let's keep lingerie accessibility and more bralettes coming in 2017!
Looking Ahead in Plus Size Lingerie

2017 has just begun, but I have high hopes for changes within the plus size lingerie industry. Plus size lingerie is still very much an afterthought (or not a thought at all) for most designers and retailers, but the need is there. Not only do plus size women want lingerie for style purposes but for the very practical needs of comfort and support.
In order to see more of these changes in 2017, retailers need to pay attention to the plus size community. They need to examine why they haven't been serving us. Is it a challenge related to scaling designs or are they uncomfortable by the idea of a fat body in lingerie? Fatphobia is still linked to a lot of what we see (and what we don't see) in the plus size fashion and lingerie industries.
The industry can do better. If they want to try, all they have to do is ask us what we want and listen when we tell them. Bigger companies need to take a page from indie designers when it comes to accessibility and including plus sizes. Plus size women are becoming less invisible in the lingerie industry, but we still have a long ways to go before we have equal footing with our straight size counterparts.
What do you want to see from the plus size lingerie industry in 2017?  How do you feel the plus size lingerie can do better to tackle fatphobia?