Review: Impish Lee Custom Lingerie, Part 1
Disclosure: I received this lingerie from Impish Lee for review purposes free of charge. All opinions are my own.
Custom lingerie is a bit of a contentious topic for me. I can see the appeal of being given a voice in the design in your lingerie and the excitement of owning something potentially unique. My perspective is dramatically different than that of the average lingerie buyer; as a designer who's often offered customisable products, it represents additional pitfalls and challenges for both the brand and the customer.  The more choices a brand offers, the more financial risk it undertakes. Customers aren't always able to visualise custom products, which can lead to buyer's remorse. Essentially, when you offer too many options, you increase the chance for things to go wrong.
When lingerie brand Impish Lee reached out to me about reviewing their products, I must admit that I was intrigued.  I'd followed the brand's successfully funded Kickstarter campaign and had some familiarity with their business model. Impish Lee offers an unprecedented amount of customisation options for their designs through an easy-to-use app that lets customers 'design' lingerie from a selection of basic silhouettes and a range of fabrics. Customers are able to choose from 50+ outer fabric choices, 2 trim colours and 4 liner colours. According to the brand, there are over 27 trillion unique design possibilities. The size range is deeply impressive for an independent brand with bra sizes covering 28A-40J and separates available in US 0-24. Garment shapes include a range of bralets, wired bras, knickers and lounge pieces.
There is a lot to be said about the Impish Lee experience, so this review will be split into two articles. This piece will be solely examining the products received with the second article looking at the brand experience and certain facets of the customisation business model.
When I was first contacted by the brand, I was given a generous gift certificate of $350 to choose a selection of garments from their range. This proved to be sufficient for both a lingerie and lounge set. I opted for a sweetheart bralet ($118), high-waisted knicker ($78), tap shorts ($68) and a tank top ($78). When faced with the full range of over 60 fabric options, I felt quite overwhelmed. I can imagine for many people it's quite a lot of fun being able to play with concocting new lingerie outfits with this app. Unfortunately, I suspect my design background exacerbated my choice paralysis here. I opted to choose one of Impish Lee's premade 'inspiration' color palettes, with a few minor tweaks, to include a burnout velvet fabric that caught my eye.  I ordered my usual size of a US 6 in the soft pieces (although the brand's size chart listed relatively generous measurements) and a 30D.  My order took just over a month to ship with an additional couple of weeks to ship from the US to the UK.  In my experience, this is about average for made-to-order lingerie.  According to the website, orders take 3-4 weeks to ship.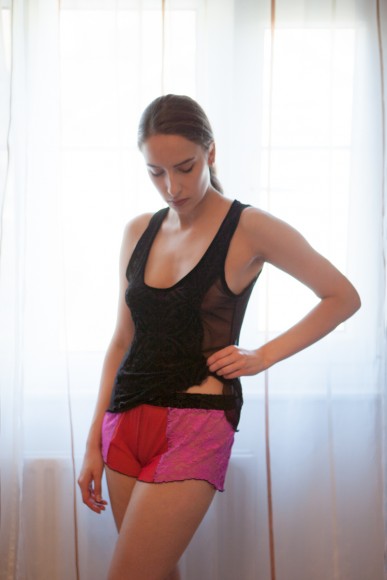 Unfortunately, my first impressions of the lingerie were not completely positive. Although Impish Lee goes above and beyond to represent their fabric options (with swatches and videos available on their website), it is impossible for this to be completely accurate. I found that there was somewhat of a disparity between what I thought I'd be receiving according to the illustrations and what the finished garments actually looked like. The colours were a little more garish and bright than they had appeared on my computer monitor. The fabrics themselves felt quite cheap: the mesh wasn't particularly good quality and the lace was already sprouting loose elastane threads before it had been worn or washed. The velvet, linings and trims were, however, of sound quality, though were overshadowed by the state of the outer fabrics. The components on the bra are gold-toned metal giving a luxe and sturdy effect.
All of these pieces offered a good and comfortable fit. The bra is surprisingly supportive, giving a nice lift with a comfortably firm band. The knickers and shorts fit well with soft elastics that don't cut in. The tank top is also a good fit with a loose and comfortable drape.
Unfortunately, the fit positives are strongly overshadowed by the quality of the garment construction. The stitching and quality control for these pieces is deeply problematic. All of these pieces are sewn entirely with black thread. I'm not going to criticise the use of black thread (because despite individual aesthetic preferences, I assume that lack of thread changes and colour matching is integral to Impish Lee's adherence to a particular price point) but the contrast against the fabrics makes it painfully obvious where sewing quality isn't up to scratch.
The construction of these pieces relies strongly on overlock and babylock finishes (a relatively cheap type of stitch that gives a finished edge to fabric through overlapping woolly threads).  All seams are overlocked whilst raw edges are babylocked. Unfortunately, an incorrect tension has been used for both of these stitch types. This means that certain seams (such as the overbust of the bralet) are pulling apart with visible black threads at the centre: a deeply unattractive level of finishing. The poor tension on the babylock hems means that the fabric edges aren't entirely covered: the threads have begun to pull apart with the visibly raw fabric showing underneath.
The lack of quality control is further emphasised by the fact that I received my bralet with an actual hole in the centre back. It seems that the wing wasn't cleanly inserted into the hook and eye tape: although the hole was small to start with, it became very evident and stretched when put under tension on the body.  This sort of flaw is simply unacceptable for any piece of commercial lingerie. Although I suspect the brand would have happily replaced the piece had I contacted them, it is disappointing to see it sent out in the first place, particularly due to the quality flaws in the other pieces received.
However, before I had a chance to publicly review these pieces, Impish Lee contacted me offering to send me new pieces. I am unsure whether this is because they were aware of the quality of the product that had been sent, or if the brand had simply undergone major changes in their structure. This time I decided to select different silhouettes: a longline balconette wired bra ($148) and a pencil skirt ($78). Rather than risking colour, I once again tweaked an existing colour palette of plain black. I didn't want to risk lace, so instead chose different types of stretch mesh.  I deliberately opted for a wired bra this time as this type of garment represents one of the greatest challenges in fit for any independent designer.  This is particularly significant as Impish Lee offers one of the most extensive size ranges that I've ever seen for a small brand.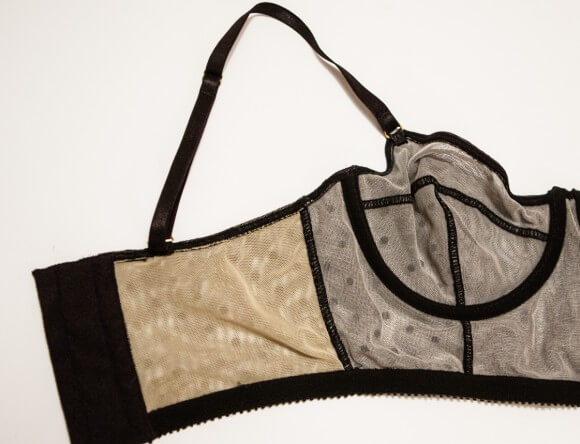 I am glad that I chose all black mesh fabrics for these pieces as the garments feel of a much higher quality and look far more sophisticated. The bra is very solidly constructed: literally so, with heavy overlocked seams and quite bulky hems. Although I'm not personally a fan of such heavy-weight construction, the bra feels solid and functional, with accurate stitching throughout. The skirt is likewise well constructed with an excellent level of finish and well-tensioned hems and seams. It was relieving to see how much the brand had improved their stitch quality.
The fit in these pieces isn't quite as exceptional as my first order with Impish Lee. Unlike my initial garments, I chose to follow the sizing chart a little more closely for this order. My natural body has a 25" waist and 36" hips so I thought I would be safe ordering the brand's size 4 (recommended for a 26" waist and 37" hips). Unfortunately, it seems that I should have sized up as before as the skirt is extremely tight. I can get it on and it doesn't look bad, but it is a little too uncomfortably snug.  The bra fares much better, offering a good overall fit. The wires work well with my shape and the centre gore tacks to my sternum. The band is comfortably firm. Unfortunately, the longline shape of this bra doesn't work well for everyday wear. It's relatively unstructured with no boning or additional support around the seams. This means that the bra has a tendency to ride up and bunch up around the underbust.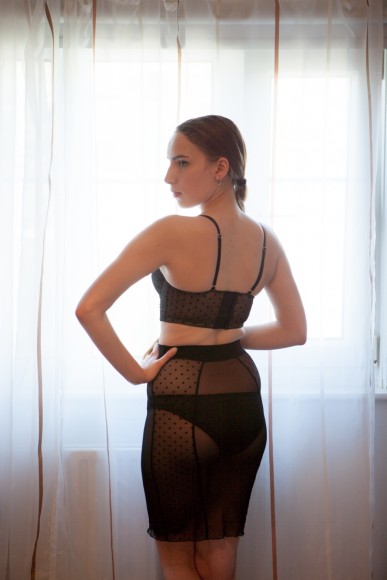 Overall, my experience with Impish Lee has been a mixed bag.  The first products that I received from the brand make me a little nervous about recommending their products, even with the vast improvements seen in the second set. I honestly find it a little mind blowing to see an independent lingerie brand offering such a huge amount of choice in customisation and sizing: although on the surface this may seem like a good thing, it leaves me a little concerned about the brand's long term viability.  Holding this many varieties of fabric alone is enough to put a huge financial risk on any independent brand.
It has been refreshing to see them actively improving on areas such as stitching and quality control (which, I hasten to disclose, is not something that I had any communication with the brand over). It's also wonderful to see an independent brand approach the issue of sizing relatively inclusively as this represents vast challenges at such a scale.  There is definitely a lot of potential at the core of this brand, but I believe they still have a way to go before they completely fulfill this. In the second part of this review, I hope to cover my experiences of using Impish Lee's customisation software, as well as examining the customisation business model in detail.
Readers: Would you like to order customised lingerie? Have you ever tried Impish Lee's designs? If so, what did you think?

Save