Indie Canadian Review: Ellesmere Lingerie
Disclosure: the pieces in this article were sent to me free of charge for review purposes. All opinions are my own.
Ellesmere Lingerie is a Montreal-based brand launched this past February by indie designer, Julia Rechel. Julia's sophisticated, elegant designs are inspired by the aesthetics of the Northern Lights, her background in sculpture, and a desire to focus on the natural forms of the body.
The first thing I noticed about Ellesmere Lingerie is that their models look like people I'd be friends with - non-professional models with body mods and alternative style. Their piercings, tattoos, and scars are displayed proudly, and they make Ellesmere's lookbook intriguing in contrast to the photoshopped normativity characteristic of so much mainstream lingerie marketing.
The garments themselves are equally compelling, and the Santa Sofia bralette and high waist knickers that I received are incredibly beautiful. Ellesmere's launch collection featured this set in three colorways as well as a demi bra and bikini in a similar style. Since the opening of their online shop, Ellesmere has expanded their aesthetic with a few more pieces, including a soft, sheer, front-clasp racerback that I've been desperately coveting since it went up.
My size L bralette and knickers are black, though the same pieces are also available in lovely ginger and rose colors. Ellesmere offers sizes XS-XL for their Santa Sofia collection, but the more recent Sofia racerback and Midnight demi are only available in S-L with their associated bottoms in S-XL.
Ellesmere is also relatively expensive with this bralette selling for $109 CAD ($83.65 USD) and the knickers for $48 CAD ($36.84 USD). Affordability is an issue, but shopping with indie brands always carries a higher price point: ethically-manufactured lingerie costs more and Ellesmere's pieces are hand-sewn by the designer.
The Santa Sofia bralette is comfortable, beautiful, and sexy, with flexible, partially lined lace cups for more support, sheer nylon bands, and a keyhole central gore joined with gold sliders. It's become a regular part of my wardrobe, and has survived admirably being worn at least twice a week over the past two months.
As part of a summer work outfit, I found it pretty much unnoticeable as far as comfort is concerned. The lightness of the nylon and lace means that it's not a pain to wear on a hot day and it looks great under even a very thin shirt. The structure of the cups avoids a problem that I've found with many of the bralettes I've tried, where seams over the nipple area protrude enough to be frustratingly visible through thin fabric.
Aesthetically, I'm very much in love with this bra. I'm always going to be enthusiastic about black lace and an open gore, and the sides and back complement the sheer nylon back of the matching knickers. I also accidentally discovered a surprising benefit to an open central gore when I was playing with a friend's pet rat in a low-cut shirt. It turns out that this particular keyhole is the perfect shape for an adorable rat to excitedly poke its head through while you're cuddling it, so take that as an additional recommendation.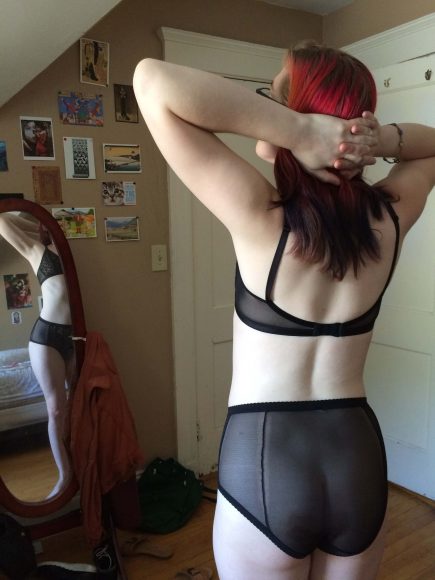 The knickers are equally thrilling, though probably not as ideal for interacting with any clawed animals, since the front is sheer black lace without any backing fabric. It's deeply sexy, but also relatively fragile. While these knickers are also quite comfy, I'm more worried that they'll tear when I wear them out in the world because of that broad expanse of delicate lace. Both of these pieces are definitely hand wash only, or at the very least require a lingerie bag and the gentlest of cold cycles to keep them functional.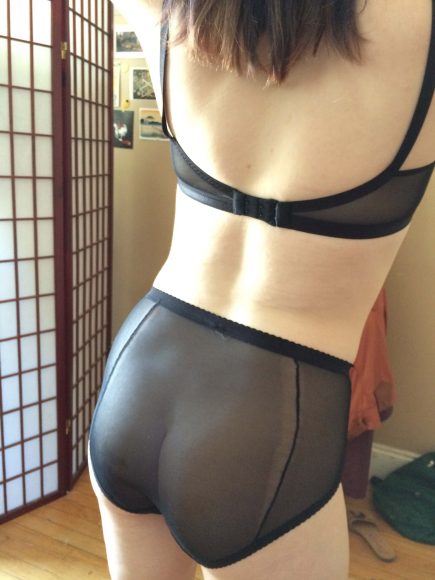 The Santa Sofia knickers are really, really hot. They're stylish, and well-constructed, and modern, and a number of other descriptors of that sort, but they're definitely hot. I very much appreciate the contrast between the the high-waisted cut, which provides extra coverage, and the completely sheer fabrics that fail to cover much of anything. The combination of lace and nylon looks and feels amazing and the fit on me was just loose enough to show off my butt while not being at all constrictive. While they certainly aren't exclusively bedroom lingerie, they're very well-suited to that particular role.
Altogether, I'm thrilled with this part of Ellesmere's initial collection. I hope that I'll get to see them grow and put out even more wonderful pieces.
Save