Review: Sock It To Me
Disclosure: These items were sent to me free of charge for review purposes. All opinions are my own.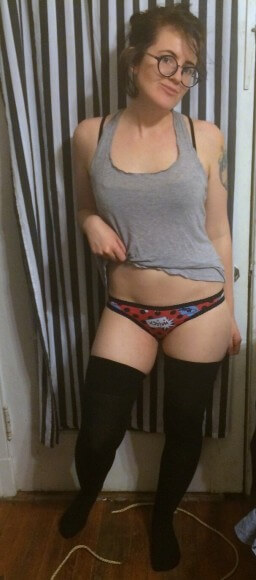 Sock It To Me is a brand based in Portland, Oregon. I recognized them from their days in the sock-only trade: I was, and am, a big consumer of novelty socks. Their designs are quirky, often inspired by popular culture, and the quality of their products tends to be pretty high (the store's founder, Carrie Atkinson, says that she was really taken with the way Korean companies make socks, and wanted to make their ultra-plush style available to an American audience). Sock It To Me is also not afraid of humor or experimentation.
I was pleased when I heard they'd branched out into underwear. I was curious to see what kinds of designs they'd lead with, given that their socks feature images like famous paintings,  alien abduction scenes, and bionic joints. They asked what I'd like to see, and I said that given the audience I'd write for, I'd like to see a sample of both their men's and women's designs. They sent me a few of each to try.
Right now Sock It To Me offers two styles: high cut boxers, and low cut bikini briefs. The women's sizes go up to 18; the men's up to a 40" waist. This will leave some larger customers out of the loop, but it's a decent spread for a company that's just starting to get into selling underwear. I've certainly seen narrower ranges.
The prices are a little higher than what I'd normally expect to pay for pairs of cotton underpants from a mainstream store ($10 for bikini briefs, $20 for boxers) but it's a perfectly sensible price for novelty designs from an indie company. The designs they are using, by the way, are parallels to some of their more popular sock styles. The ones sent to me were a space/planets print, a bacon print, and a sort of comics-inspired print featuring the word WHACK in a speech bubble. The designs are fun and well-executed, if a little memetic ("Space! Bacon! Pow!")
The boxers and panties alike were comfortable cotton blends. There were a few nice details: a branded waistband on the boxers, and a little bit of lace trim on the bikini briefs. And I really found this underwear to be versatile, comfy and cute. And they held up in the wash, too, not shrinking or fading. Frankly, since getting them I've found myself wearing them a lot: both the bikini briefs and the boxers are good fits. I recommend the boxers under looser pants. The briefs are fairly low-cut, which I like.
I suppose my one hesitation is that given how amazing and original a lot of the sock designs were, I was expecting to be wowed by Sock It To Me's underwear prints. I suppose I thought they would come up with new prints that are especially suited to lingerie in the way that some of their sock designs reference the foot, or that they'd use some of their more creative prints since I've already seen space and bacon and comic-print underpants available elsewhere. Still, it's a tentative step out into the world, so maybe there are bolder moves to come.
Overall, I feel as though Sock It To Me, a company that makes great and quirky socks, is making good quirky coordinating underwear. I'd certainly keep an eye on their line, especially if they keep branching out in their designs. I'm looking forward to buying briefs in a print that features wild animals in sweaters, or whatever else Sock It To Me brings our way.