Lingerie of the Week: Target Gilligan & O'Malley Lightly Lined Demi Bra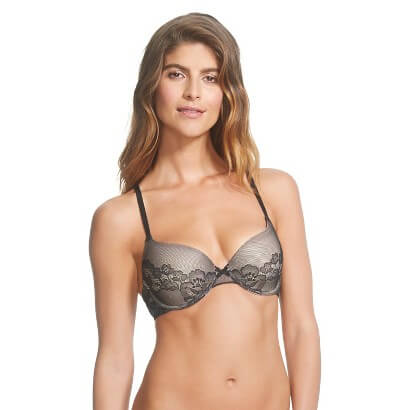 There's perhaps no topic more fraught around these parts than the subject of cheap lingerie. In 2015, we devoted a lot of digital ink to discussing why lingerie costs what it does. Karolina broke down the prices for the individual components of her best-selling bra. Quinne discussed how much lingerie designers really make, destroying the notion that everyone in the intimate apparel industry is sitting on piles of money. Rose linked the price of cheap bras to larger, structural issues in the current economic system. So it may surprise you to see that I'm featuring a $15.00 bra from Target on TLA this week.
One thing I've noticed is that conversations about ethical consumption are often rooted in certain assumptions. For example, "Give up those daily lattes!" is popular advice. But the honest truth, the stone-cold economic reality for millions of bra-wearing folks, is that a $50 bra or $75 bra or $120 bra will never be in the budget. It's not a case of cutting out frivolous expenses or foregoing some other minor indulgence.
If you're making minimum wage, a $100 bra just isn't an option. If you're working long hours (and especially if you're subject to the whims of public transit), endless trips to the post office for returning and exchanging bras just isn't an option. If you live in a smallish city or town or a rural area, driving 5 hours to the nearest lingerie boutique just isn't an option. I know that sometimes I forget certain things I take for granted (like having access to a credit card to place online orders, having a secure address to receive orders, and being able to get the post office to return orders), but these things are insurmountable obstacles for many people.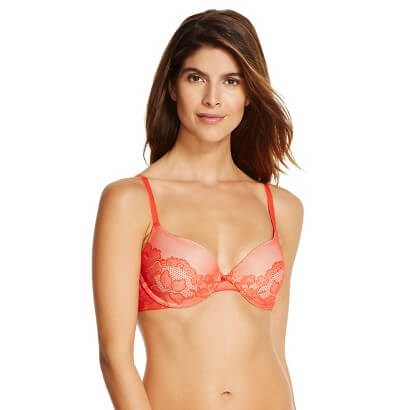 That said, one thing lots of folks have access to is a nearby Target. And if you're already there picking up milk and cereal, then it's only a few steps further to check out the lingerie section too. I purchased Target's Gilligan & O'Malley Demi Bra a couple of weeks ago once I realized I didn't pack nearly enough bras for my move. They happened to be walking distance, and I happened to need a few other things while I was there. Though I didn't have any expectations whatsoever regarding this bra, I'm pleased to report it's actually quite comfortable and a good fit (keeping in mind, as always, that I personally prefer a looser band). More to the point, it's an accessible option in multiple meanings of the word, and that's important too.
In addition to pink, aqua, and almond, the Gilligan & O'Malley Demi also comes in red and leopard colorways. Sizing starts at 32A and goes to 38DD/40D. There doesn't appear to be a matching knicker as-such, but Target often has inexpensive panties in a wide range of colors as well. The online care instructions recommend machine washing and tumble drying, but as this is a cheap bra, I'd go with handwashing if you want longevity; one reviewer reported wires popping out in the dryer after the first wear.
Do you have anything to share about accessible lingerie options? And have you ever purchased a bra from Target?
Last Updated on