Review: KS Paris 'Asatsuyu' Triangle Bra and Pearl Thong
Disclosure: I received these items free of charge for review purposes. All opinions are my own.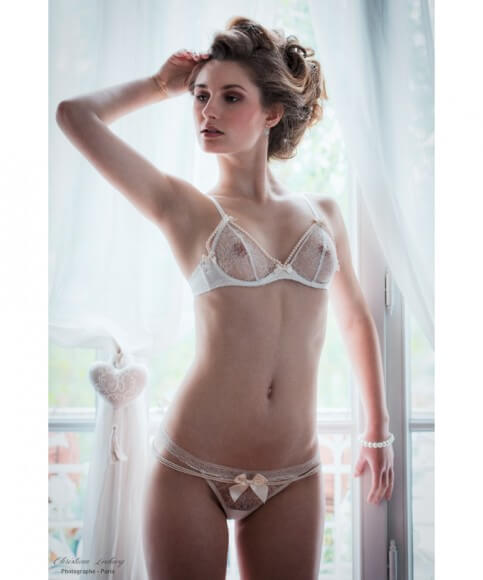 KS Paris (short for Kimy's Sweeties) is a relatively young French brand inspired by elements of Japanese culture, specialising in deliciously frivolous boudoir lingerie with lashings of Chantilly lace and flirty detailing. Their lacy underthings made an appearance in TLA's SS14 trend report from the Mode City trade show. They're decadent in all the best ways; when I was given the opportunity to review their offerings, you can imagine my difficulty in choosing a set! Eventually I chose the 'Asatsuyu' triangle bra and matching thong with pearls. The bra is available in sizes FR 85C-D, 90B-D and 95 B-C and retails for 125 euros. The thong is available in sizes XS-L and retails for 187 euros.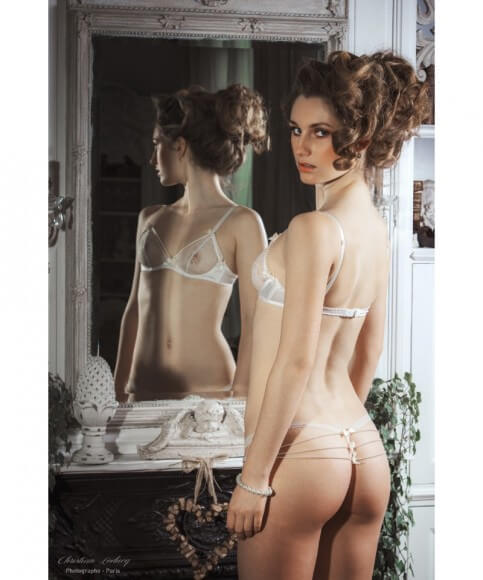 The 'Asatsuyu' collection features delicate French Chantilly lace, silk satin and glass pearls; all of which are of excellent quality. The lace is from my favourite Leavers lace manufacturer, Solstiss, and has an exquisitely soft feel. I had worried in particular that the pearls might be of the cheap and obviously plastic variety (as these are the kinds of details you just cannot see in photos), but they are Swarovski glass and carry a reassuring weight to them. Succinctly, all of these fabrics look and feel expensive.
The bra uses Chantilly lace for the cups and a stretch silk for the cradle and wing. The pearl embellishment is fixed in place with satin bows covering the stitch detail. The knickers have a front panel of Chantilly lace, waistband of soft stretch lace and a thong back of very soft elastic with bow detail. The pearl embellishment on the knickers can be detached at the front with lobster clasps, perhaps to make it a bit easier to detangle the strands.
The KS Paris website appears to lack a sizing chart so I was initially somewhat confused by the sizes, especially trying to convert from UK to EU sizing. I asked the brand to send me the sizes they thought would suit best (I normally wear a UK 30D/32C bra and a UK 10-12 bottom). I was sent the Asatsuyu bra in a 34B and the knicker in a size Large. Although I'm used to French lingerie brands usually coming up a little small in their sizing, this isn't the case with these pieces. The bra band I'd say fits true to normal 34B sizing, meaning that it's much too big for me and rides up at the back. The cups come up a tiny bit small; although I can get away with wearing this bra with minimal spillage, if you have particularly full breasts then I would recommend sizing up. It's definitely more of a boudoir style than something for everyday wear, so I wouldn't be looking for something perfectly supportive in this anyway.
The size Large thong I would estimate to be equivalent to roughly a UK 14. I found the waistband was quite loose on me and that it would start to slip down with prolonged wear. However, I suspect the main reason for this is the flawed design. The waistband of the knickers is a very soft and extremely stretchy lace, with an equally stretchy soft elastic making up the thong back. The strings of pearl embellishment, whilst looking amazing in photos, is actually very heavy. As a consequence the soft elastication really isn't enough to hold everything up on the body; it doesn't take much movement for the whole thing to start sliding down your hips (and it was pretty difficult to get them to stay in place just for photos!). I suspect these issues wouldn't be as bad if I'd sized down but they'd still be far from perfect.
Even with the fit issues, it's undeniable that the design and fabrics are utterly exquisite. That's part of the reason of what makes it such a shame that this attention to detail hasn't been carried through to the garment construction and finishing. The stitching is routinely messy and inaccurate. The hooks and eyes have been stitched on at a slightly wonky angle, the shoulder strap bar tack stitch is offset and the thread colour slightly mismatched.
Labels have been stitched in with minimal consideration for placement; the stitching is just messy on the bra, whilst on the thong I was shocked to see they'd just been looped around the waistband and finished with an unfinished overlock stitch, evidently designed to be cut off when worn. Although these label issues aren't strictly 'faults,' they do detract from the luxury experience. I also found it interesting to note on the labels that although they state the products are designed in France, there is no information on where they've been manufactured.
It's small elements like these that can really set apart a piece of lingerie, and it's disappointing to see that they've been skipped over so much. KS Paris is still a relatively young brand, so I hope to see them improve on these issues in future collections; there's a huge amount of potential for this brand in its designs, branding and beautiful materials.
Readers: Have you encountered KS Paris before? What do you think of their designs?