Review: Miss Crofton Lingerie
Disclosure: I received this set free of charge. All opinions are my own.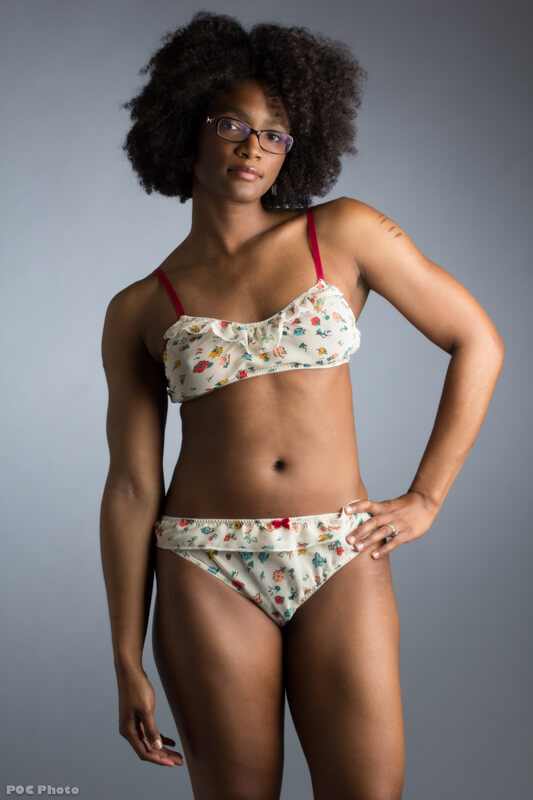 Today's review, much like the actual lingerie, is short and sweet. If you only have a second to read this before you need to move on, let me just say I am very happy with this bra and panty set from Miss Crofton. In fact, I liked it much more than I thought I would. Let's start by talking about the comfort level, which, as you know, is pretty important to me when it comes to my undergarments. This set, contrary to any dissenting suspicions or expectations, was incredibly comfortable. I'd even venture to say it was deceptively comfortable. I put it on and promptly forgot about it, which is the pinnacle of lingerie for me and very rarely achieved. And though I usually avoid both ruffles and floral prints, I found both of those qualities to be endearing when coming from Miss Crofton. I didn't choose this set (the designer picked it for me), however, I'm quite pleased with her selection.
Miss Crofton's strength as a brand is in the use of gorgeous textiles. Their fabrics are, in a word, delightful. This is a label that plays with color, texture and print in equal measure, preferring to use simple silhouettes that really let the materials shine. I personally wish I had a camisole or chemise made out of the fabric above; it'd be perfect for laying around the house in. I also enjoyed details like the velvet ribbon bow on the panty and its color-coordinated deep scarlet gusset. This is a fun, vintage-inspired lingerie set that doesn't tip into the realm of pinup. It retains a sense of whimsy.
A couple of other construction notes: as you can see, this is not a structured bralette. You're not going to get a lot of support from this design and that's okay. Support is not really the name of the game for this material or style. I honestly found it to be more supportive than I expected (keeping in mind that my bust is more or less self-supporting). The elastic trim around the top, bottom, and sides helped with keeping everything in place. The back uses a rather interesting closure (a loop of elastic slipped into a hooked fastener... I don't know the name of it), and though it appeared flimsy, it stayed in place all day and through repeated wears. Aside from the elastic trim, the material itself was non-stretch (so there's some "bagginess" in the cut) which was a bit of a surprise for me though not a problem.
All in all, I'd call this set a win. I've been a fan of Miss Crofton for awhile, and based on my experience here, I would definitely buy from the label. I love the idea of owning unique prints and patterns I won't see elsewhere, and the brand's aesthetic seems just as suitable for daily wear as it does for lounging.
What do you think of Miss Crofton Lingerie? Would you buy anything from this company?