Lingerie of the Week: What Katie Did Gwendoline Merry Widow
Disclosure: This blog post contains affiliate links.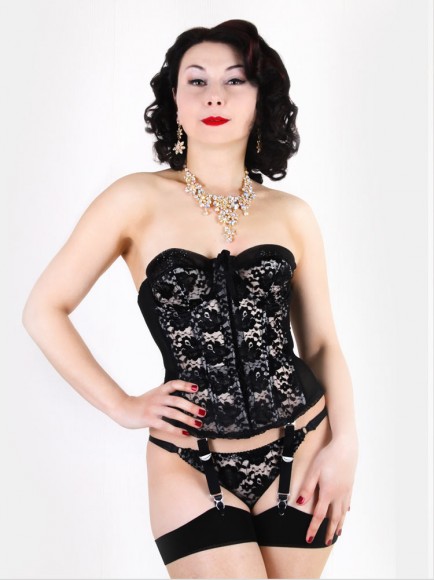 Earlier this year, What Katie Did gave TLA readers a special, exclusive sneak preview of their upcoming Merry Widow designs. In case you haven't read that article, Katie, the proprietress of What Katie Did, purchased a vintage Warner's Merrywidow from me and had her factory in India replicate it with updated materials.
Among other things, What Katie Did updated this classic garment with front hook-and-eye closures and an elastic waist tape (which is much more comfortable for modern women and lingerie lovers than the vintage, inelastic waist tape!). The white version of the merry widow debuted back in April, but I've been holding out for the black lace 'Gwendoline' version, which is finally available now.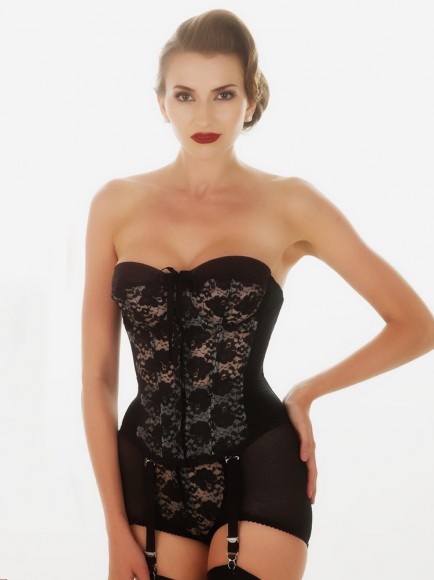 I feel like anyone who knows me won't be surprised by the fact that I prefer the black lace. I mean, the white mesh is all right. I certainly wouldn't say no if it turned up in my lingerie drawer, but the thing that makes my heart beat a little faster is the black lace. There's just something so seductive about it. It feels almost scandalous, naughty even, but in a very black-and-white-television-crime-drama kind of way (am I making any sense at all?). I also like the choice of panty. You can go with a skimpier, string style Brazilian bikini (not based on a vintage silhouette, but still awesome) or the retro full brief with garters and a shaping panel (shown just above). I honestly can't decide which I like more.
The Merry Widow comes in sizes 32B through 38D. The bikini panty is available in US sizes 4-12 while the brief panty ranges in size from US 6-14. There's also a coordinating cone bra if that's more your style (though bullet bras don't work very well with my bustline). The Merry Widow retails for $150. The bikini panty is $45.50. And the brief panty is $89.50. I don't know if these are seasonal or continuity pieces, but I'd err on the side of assuming they're seasonal, which means they would eventually sell out.
What do you think of What Katie Did's revived merrywidow? Does it have a place in your lingerie wardrobe?