5 Vintage-Inspired Girdles Perfect for Everyday Wear
Disclosure: This post contains affiliate links.
Today's guest post is written by Elinor of The Nylon Swish, one of my favorite new reads for vintage and retro lingerie. Many of you know that I used to be a stockings blogger, and though I don't wear girdles and garter belts as often as I used to, I can still understand their intimate appeal. However, I also know girdles can be kind of intimidating, especially if you're new to them. That's why I'm so glad Elinor is sharing five of her favorites for everyday wear! You can also find Elinor on Facebook, Twitter, Tumblr, and Instagram.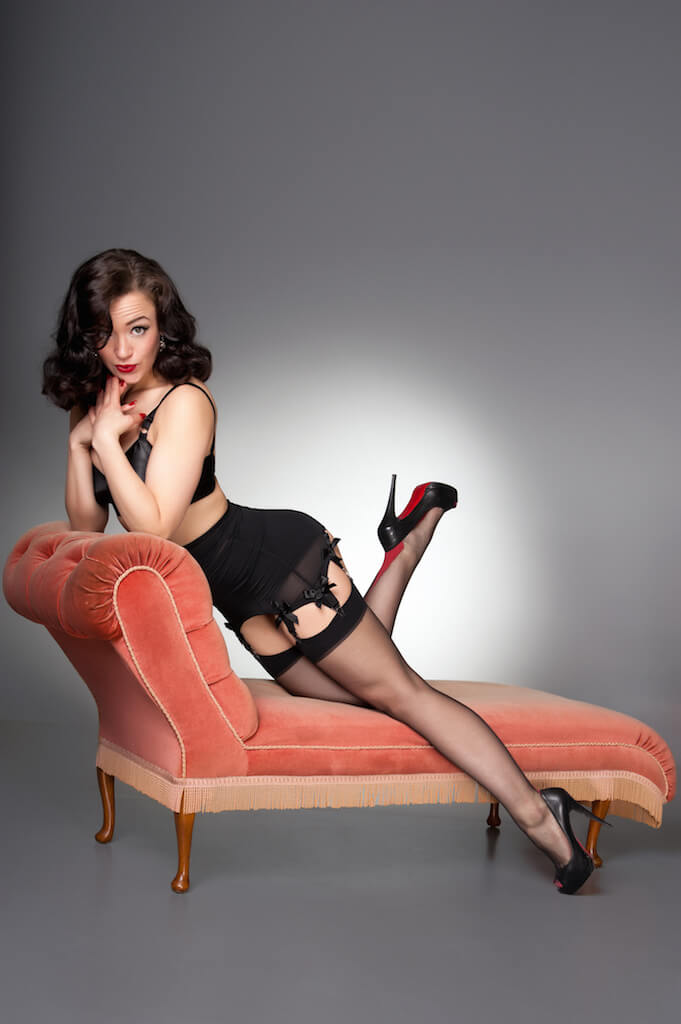 I am a daily stockings wearer. Sometimes I wear nylons. Sometimes I wear stretch stockings. But I always cover my legs when wearing a skirt or a dress. This means that when I'm at work, with friends, shopping, or doing any other activity that doesn't require sports attire and sneakers, I need some form of suspension to keep them up.
Although I am very much a fan of strong, well-engineered foundations, it sometimes isn't practical to wear these types of garments every day. I therefore have a select few 'light' open bottom girdles that I wear when I know I will be on my feet a lot that day. These girdles vary in design and colour, but they have two things in common - they are all extremely comfortable and they are very easy to put on. As much as I would love to wear my Rago corselette every day, I have a bad habit of hitting the snooze button on my alarm clock far too many times, which means that I never have enough time to shimmy into such a tight garment. However, putting on these looser girdles and then attaching my stockings can be done in a couple of minutes.
When my mother discovered that I was wearing open bottom girdles, she creased her nose up in disgust; "My mother used to wear those things," she sneered. "Why on earth would you wear those when you could be wearing a pretty suspender belt or just tights instead?" At first I was taken aback by her reaction, but when I thought about the era in which she had grown up, it made a lot of sense.
My mother was born in the 60s and grew into a young woman in the 70s, by which time the mini skirt had been invented and tights were subsequently created to accommodate the evolving fashion. Stockings were no longer a daily requirement. Girdles and other similar pieces of shapewear were not relevant to her generation; they were garments that my mother would have seen her own mother and grandmother slip into in their dressing rooms or hanging on the washing line, but would never have worn herself. For her, they would have been outdated, unfashionable, and excessively restrictive garments of the past... especially when the mood of the time was all about liberation, and the feminist movement was prevalent.
However, times have changed and there is much less stigma attached to girdles, garter belts, and stockings. In my opinion, there are many benefits to wearing a girdle; they come in many lengths, structures, colours, and styles and can be selected according to the accompanying outerwear. Luckily, with the revival of the 'pin-up' inspired look, girdles have become more glamourous, and designers such as Kiss Me Deadly have revamped the girdle by creating them in fun colours and patterns much more in-step with today's market. This piece of shapewear works with most any figure since it's effectively a large band of material that covers and pulls in the hips, bum and tummy (as supposed to other garments such as the suspender belt). These 'light' girdles don't usually have any zips or lacing or hook and eye sections; you simply slip them on, attach your stockings and you are ready to go!
Below are my top five girdles that I would recommend for daily wear. Have you tried a girdle before? What's your favorite style?