Highlights from Lingerie Fashion Week A/W 2014: Layneau Collection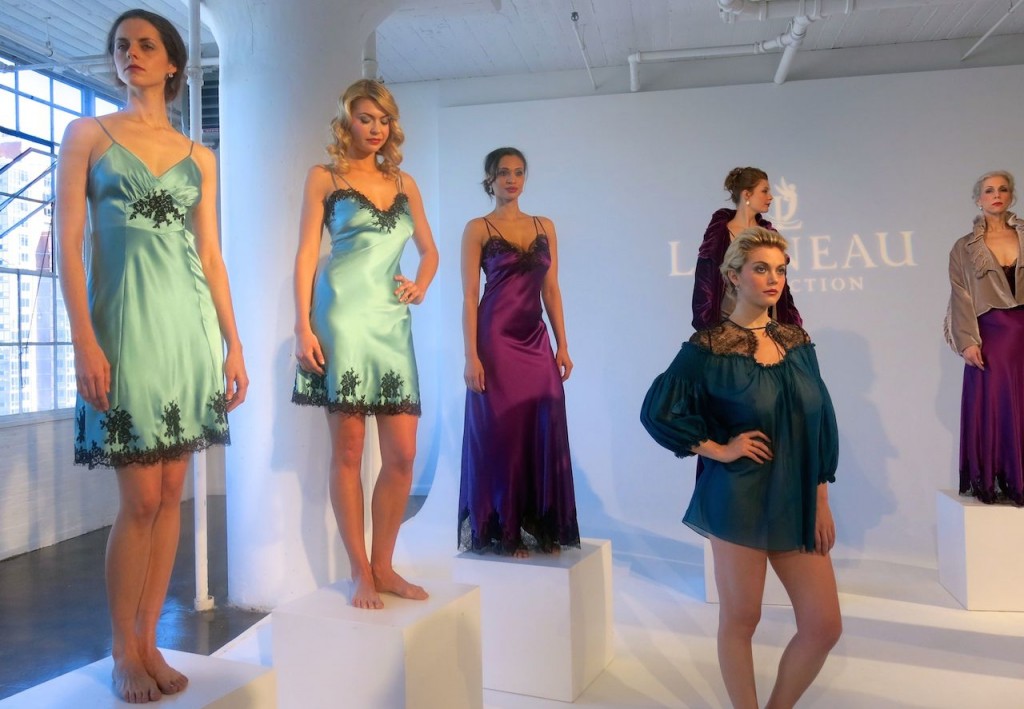 Yes, I am finally getting around to writing about this season's Lingerie Fashion Week and Lingerie Market. I apologize for the delay, but I've been spending the last couple of weeks not only going through the thousands of photos we shot (omg… so much gorgeousness), but also really sitting and thinking about and processing trends for next season. One of the things I've realized in the last year is that I'm a bit of a slow writer, and I think that quality or aspect of my writing has gotten even more aggravated lately because I really feel like I've turned a corner in terms of how I understand the industry and design and how present trends relate to past trends and so forth and so on. It's really exciting, personally, to me, because it means I'm still growing and learning and discovering new things about this niche I love. And I hope that's reflected in this year's market report.
I also wanted my photos to make you feel like you were there with me. A huge part of market is the seeing and touching and inspecting of the garments. In fact, you could probably argue that it's the entire point. And I wanted my fellow lingerie addicts to have the sense that they were getting an up-close look at everything right alongside. On the plus side, it means we have a lot of photos. On the downside, it means we have a lot of photos. But again, I hope they offer some nuance and detail you may not have otherwise had access to. This is my first time trying this kind of approach to market, so please do let me know how it's coming across to you. I welcome your feedback! And so, without any further ado, here's my first post from Lingerie Fashion Week.
Unlike last season, we're not doing a comprehensive review of Lingerie Fashion Week this year. Sweets of Sweet Nothings wrote an excellent post about the event which really hit upon some of my key issues with the current season. While I am glad I was able to attend and lend support to Lingerie Fashion Week's third season, I would rather focus my articles on those brands I felt were standouts as opposed to lingering on some of the organizational issues Lingerie Fashion Week faced this year. And without a shadow of a doubt, Layneau was the highlight of this season's LingerieFW to me.
Lingerie is the sort of thing that you really need to see in person, and I believe that's especially true for luxury brands. Luxury, true luxury, has certain details that just aren't visible from a photograph. And after viewing Layneau Collection twice (both at LingerieFW and last week over coffee), I have to say that this collection is impeccably sewn. Now I'm no seamstress, but I can absolutely recognize the marks of a beautifully finished collection and Layneau is one. I'm talking lush, almost pillowy silks, some amazing laces, and construction details that blew my mind. It's honestly hard for me to explain because I don't have the sewing vocabulary to put what I saw into words. And that's frustrating because it's a technical limitation to adequately discussing this line. That sort of language is irrelevant for most brands, but I wish I had access to it for this one.
I was most impressed by Layneau's silk velvet bedjacket and velvet dressing gown. They are far and away the signature pieces of the Layneau brand. The bedjacket is lined in plush silk; you could literally turn it inside out. And all that amazing ruching (like everything else in this collection) is done by hand. It's so thoughtfully constructed, there's special seaming in the elbow area to accomodate the bend of the joint without adding ridges, discomfort, or bulk. I mean, you can't even see that from the photos here, but when you're inspecting these pieces up close, all those little details come to light. I've started to loathe the word "couture" because it's tossed around so flippantly, but I do think it applies here. And the laces… we're talking lace that costs hundreds of dollars per yard used with wild abandon on these garments. This is the essence of indulgence and of luxury.
On the slightly less positive side, I don't feel that Layneau is quite a cohesive collection yet. I see several sparks of brilliance, but they don't all come together perfectly. The look is still a bit disjointed. I'm optimistic though, that this will work itself out in future collections as this sort of thing is honestly a common issue with new brands.
What do you think of this peek at Layneau collection? For another perspective, take a look at Sweet Nothing's review of the presentation here.
All photos copyright of The Lingerie Addict.