Dark And Edgy: 4 Lingerie Brands For Your Inner Dominatrix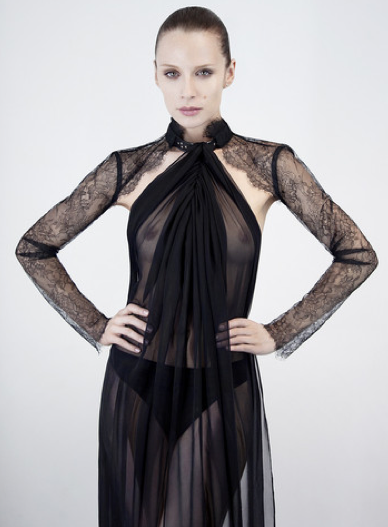 We are fresh off of a week-long celebration of lingerie here in New York City after Lingerie Fashion Week, The Curve Expo show and The Lingerie Collective show culminated in a six-day fete full of champagne, entertainment, and of course, gorgeous lingerie. There's nothing like an injection of beauty during this otherwise drab time of the year with Valentine's Day long gone and spring still weeks away. But leave it to the talented designers of some of the top lingerie brands around to lift our spirits with their enticing new collections for Fall/Winter 2014.
When I first started studying lingerie in the late 90s (wow, did I just date myself?) the market was awash with beautiful feminine labels that I took inspiration from and aspired to emulate. Lace, satin, and crisp cottons were fabric staples, much as they are now, evoking classic glamour, girlish charm, and flirty playfulness. While these pretty pieces never failed to inspire me, I had noticed a lack of darker, more edgy lingerie that was of better or high-end quality. As a young fashion student I dreamed of seeing leather, hardware, and fishnet integrated into the mainstream in a classy and upscale way. Now almost 15 years later I'm happy to report a growing market of these luxury labels designed with the strong, dominant, sexually liberated woman in mind.
Don't get me wrong, I am still completely in love with classic lingerie design: the elegance of a delicate Chantilly lace against the skin, the sumptuousness of fine satin accentuating a woman's curves or the hint of skin peeking through a strategically placed keyhole. But there is something satisfying about seeing these harder, edgy, luxurious pieces brought to light. They are, in a way, the antithesis of traditional lingerie itself as they can help to awaken the many complex desires, fascinations, and deviancies that reside within a woman's elemental nature. These designers help fulfill fantasies and lend a powerful voice to those who need it, and I'm delighted to see more of these brands emerge in the industry throughout the past few years.
While I have read about some of these new labels before, this is the first time I have actually had the pleasure of viewing them in person, studying their quality and in some cases chatting with their designers. Here are four of those labels leading the alternative lingerie revolution.
Darkest Star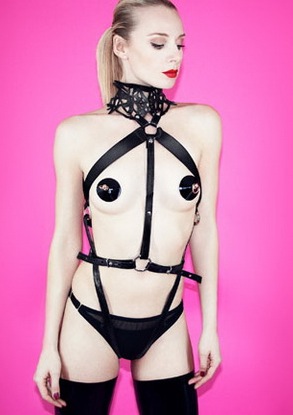 As I peruse the racks of Darkest Star's products the only word that comes to mind is "bondage." Darkest Star has made an art form out of the practice with an array of multi-faceted designs that can easily convert from fashion accessory to bedroom restraints.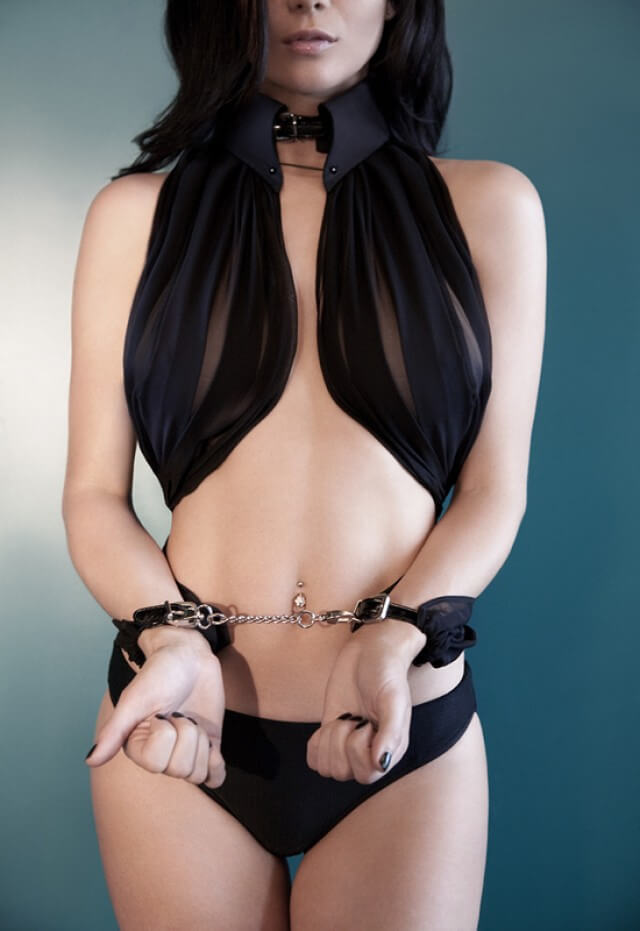 Designed to be worn alone or layered over lingerie, each of the leather harnesses offered are fashioned with metal rings, adjusters and clasps. Attached collars and/or cuffs add design detail, while long detachable sheer silk panels at the collar cascade down the body. These panels are meant to then be twisted, wrapped, or tucked around the body as the wearer sees fit, and may be attached to the cuffs or thread through any of the numerous metal rings. These multi-functional pieces are easily transformed from an edgy layering fashion accessory by day into a sensual instrument of restraint by night, making them as unique and personalized as the women who wear them.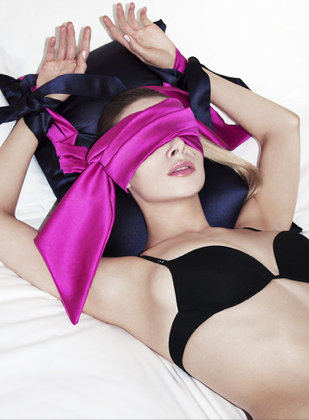 Another highlight of Darkest Star is their Pleasure Pillow. This satin pillow is pretty enough to pass as fashionable bedding — but don't be fooled! The metal rings, hidden slits and sturdy foam base easily transform this item of home décor into a platform of kinky foreplay complete with blindfold and restraints.
Something Wicked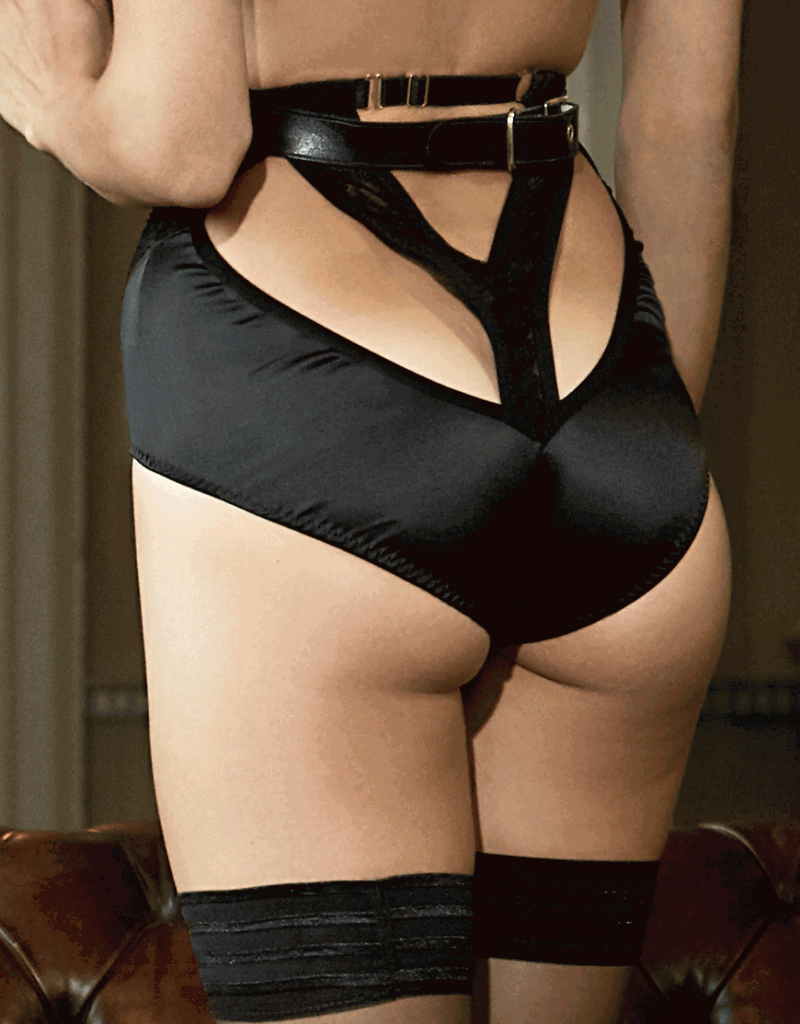 I've reported on UK Lingerie Award winner Something Wicked before, and am pleased to see them continuing on with their racy assortment of innovative silhouettes and accessories. Like Darkest Star, Something Wicked utilizes a lot of leather and hardware in their designs, taking the luxurious, sensual fabrics to a whole new level of seduction and dominance.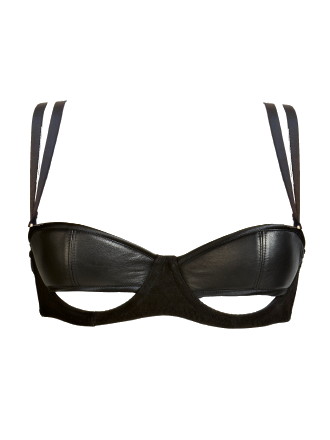 This predominantly dark label from the same designer that brought us Obey My Demand shocks and excites with unexpected details and overt sexiness. The Debut Leather collection consists of some surprising pieces, which incorporate silk chiffon, supple suede, and soft mesh into bold silhouettes. Prominent cutouts and keyholes are brazenly placed with intent to entice and tease, and I'm happy to report that additional silhouettes are being added in upcoming seasons.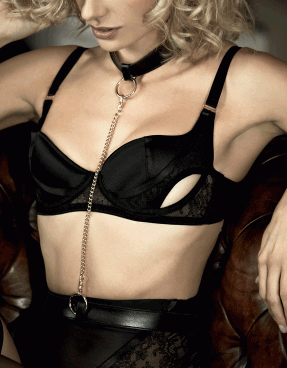 The Debut lace collection also has some surprises for us with unexpected peepholes, gold hardware, and the juxtaposition of hard and soft. Their assortment of accessories offers playful accoutrements for the bedroom including whips, handcuffs, harnesses, and blindfolds.
Sophireaptress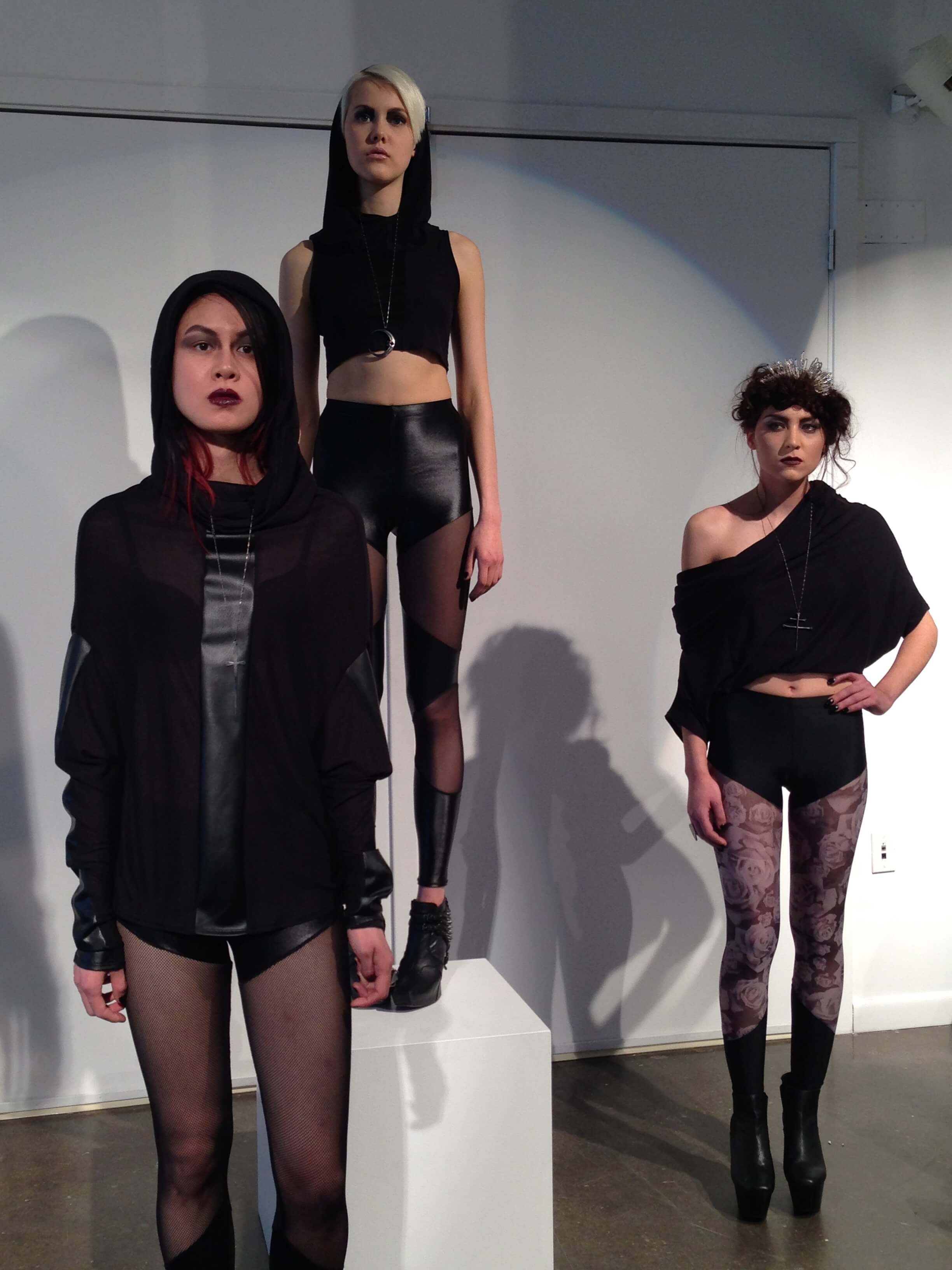 This year-old brand from Philadelphia debuted at Lingerie Fashion Week this season, stirring up the industry and injecting a little dark magic into the event. The loungewear company specializes in rich textures, sweeping drapes, and shadowy elements, captivating the eye and eliciting a double or triple take.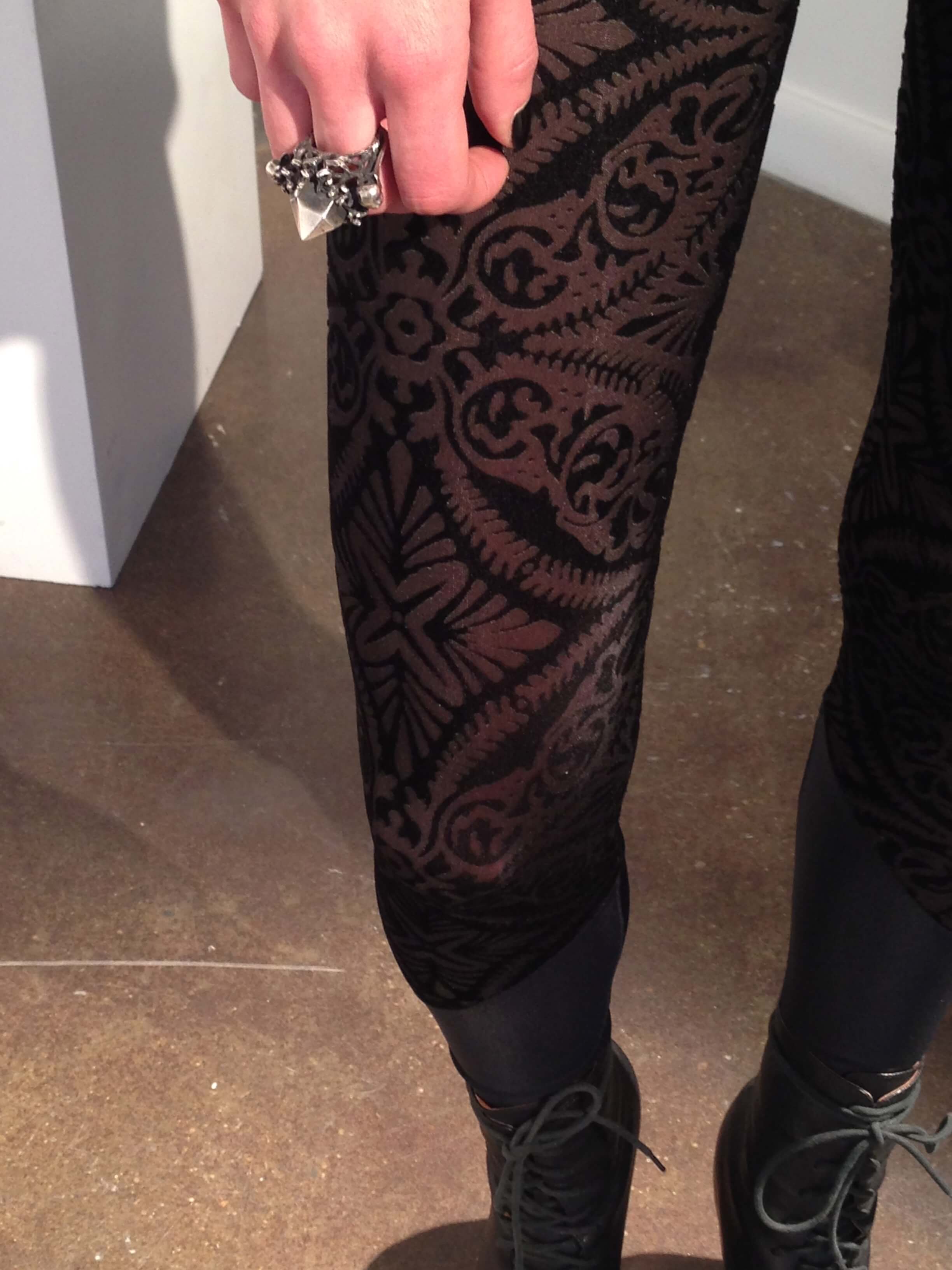 The bewitching collection of leggings, tops, and shorts is set in a palette of black, grey, and hints of metallic while the fabrics practically beg to be touched. Leggings are paired with voluminous crop tops and mystify in lightweight hosiery-like fabrics that play off of the contrast between transparency and opacity. Velvet scrollwork, fabric blocking, and photo printing are just some of the optic effects you'll find in this collection.
While these fashion-forward leggings prove to rouse our excitement, the tops in the collection elicit a more lounge-like feel. Softly draped jersey flows around the body and offers the opportunity to retreat with details such as oversized draped hoods, extra-long sleeves, and billowing bodices. These roomy details are perfect for cozying up, sheathed in a blanket of mystery.
FYI By Dani Read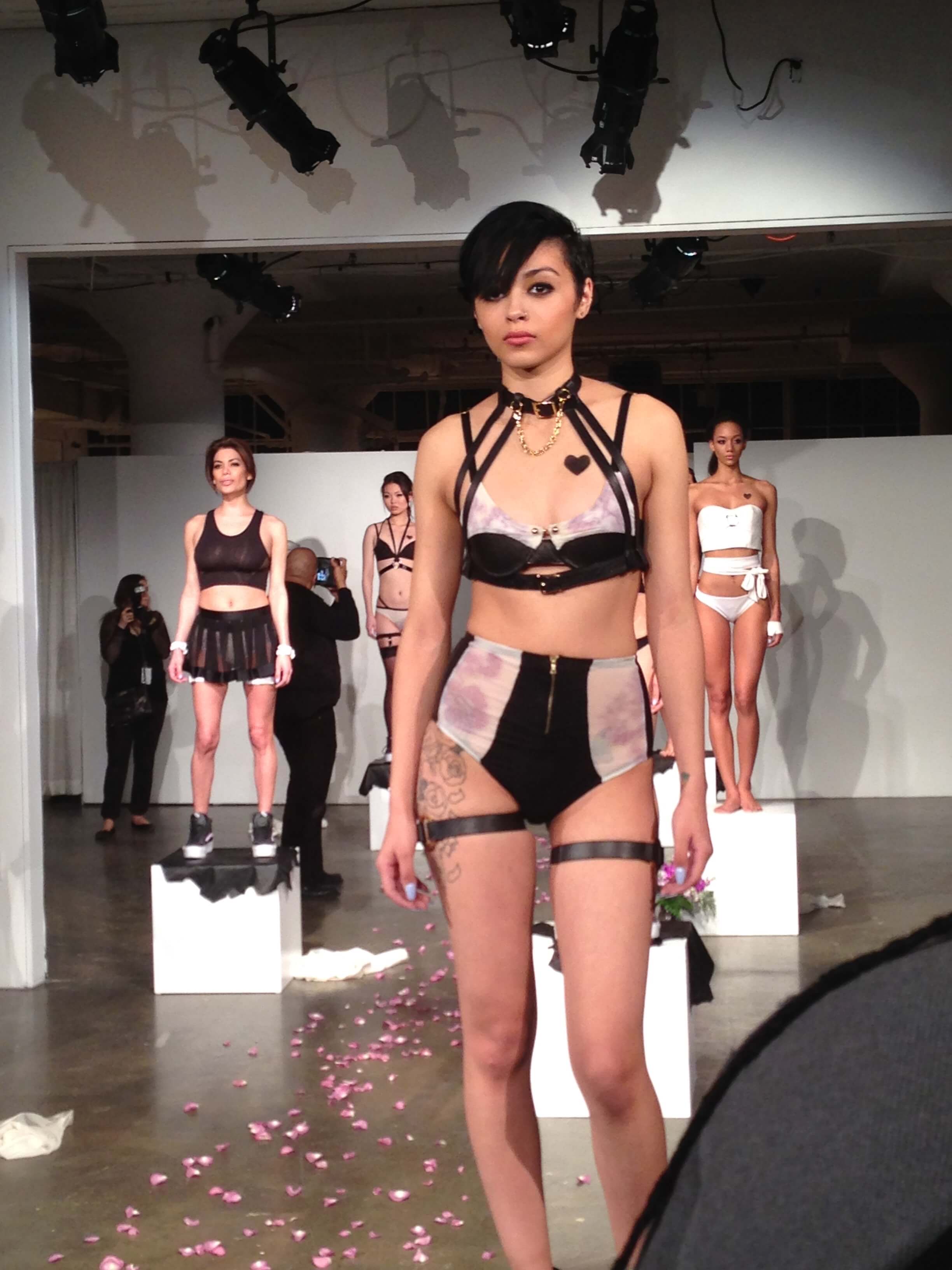 Dani Read has been pushing the lingerie envelope for a few years now, ever since she came on the scene in 2011 with studded bra straps, metallic pistol prints, and leather bondage gloves. Even her catchphrase "Women Are Weapons" hints at the bold and audacious design aesthetic you can expect from her ever-growing collections.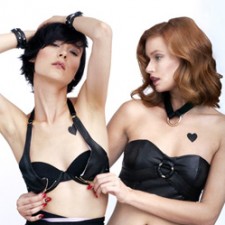 For Fall 2014 the brazen sensibility continues with more leather, mesh, straps, and chains. A bevvy of unique beauties modeled new silhouettes and design details in neutral palettes, complete with a tattooed heart on each chest. The looks were fresh and exciting with new injections, such as zippers and allover prints, that we have not seen from this label before.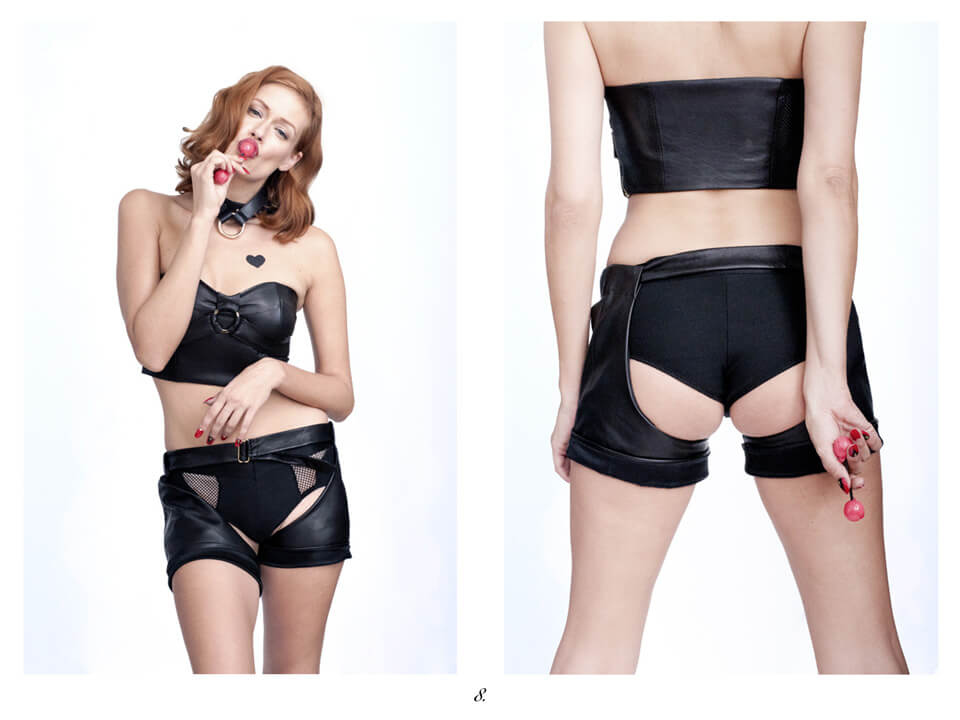 It seems many of these pieces are multi-functional as well, and can be used in a variety of imaginative ways. During the presentation, the designer herself came out to adjust rope ties on the model's wrists, illustrating how they can be used as both fashion and function. I was also amazed at the zippered halter bra, which can also be dismantled and serve as a strapless bra, as well as the layered leather shorts (reminiscent of the leather chaps that horseback riders wear) and a mesh tennis skirt with satin trimming. All of these pieces elicit that dark, naughty feel, but with a fun and functional edge to keep you wanting more.
Do you feel the BDSM trend is here to stay? Which other brands do you feel nail the look?