Myleene Klass for Littlewoods Lingerie Review
Disclosure: This lingerie set was purchased for the purpose of review.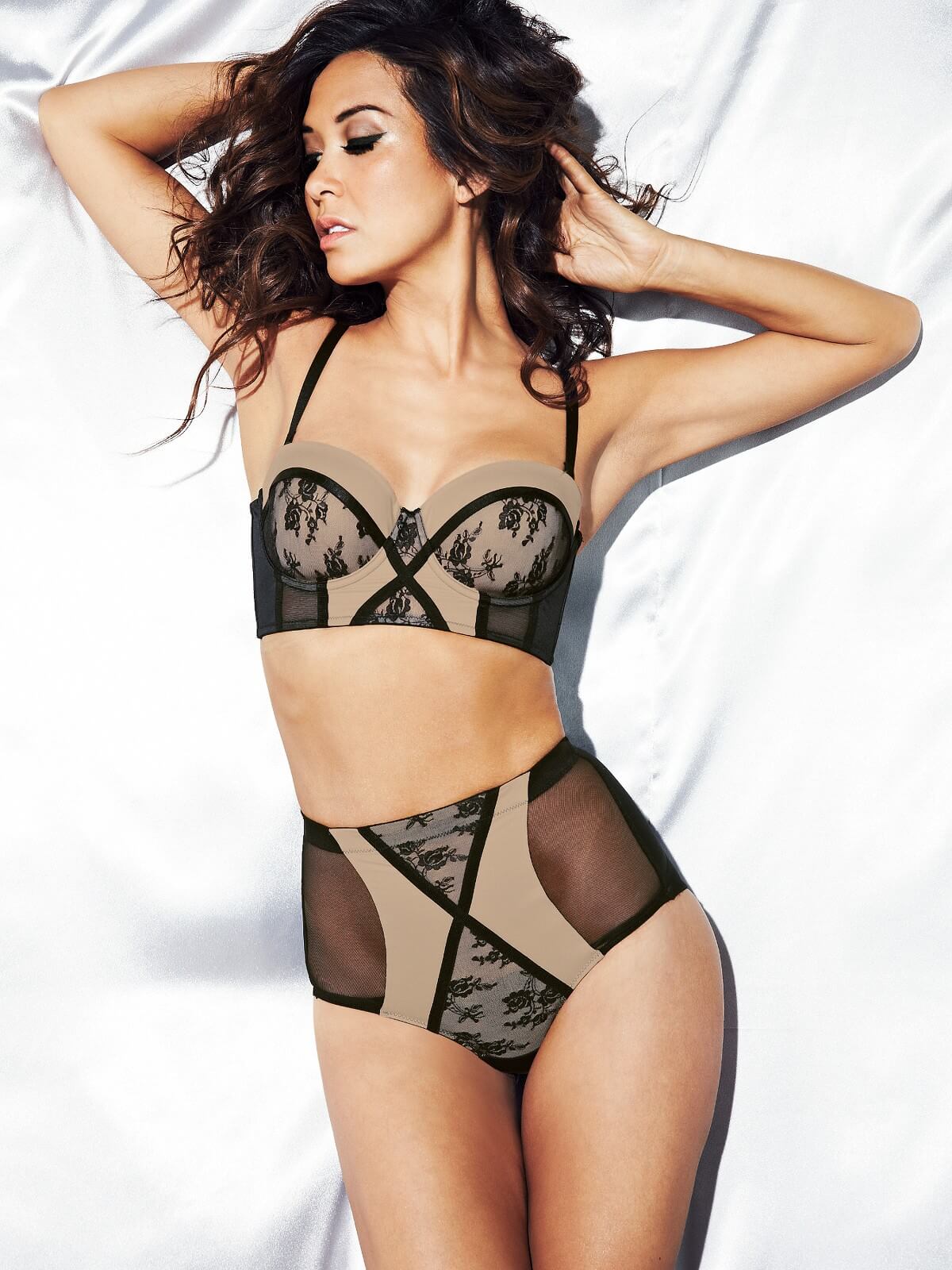 Photo from Littlewoods
Despite the fact that I live in the UK, I'm not all that familiar with non-indie British brands. I don't hold anything against them in the slightest, I just take a particular interest in the independent side of the industry where unusual designs are more of a focus. Nevertheless, when I received the suggestion to review some of Myleene Klass for Littlewoods lingerie, I was intrigued. I've never paid much notice to celebrity-designed lines in the past, so I was interested to see how this one would measure up!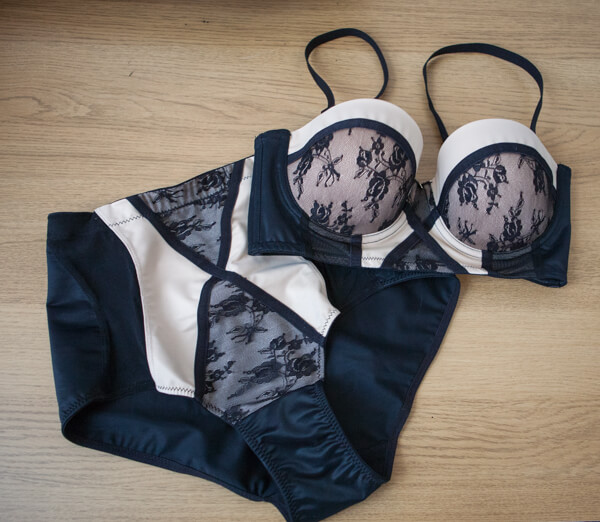 I chose to review the lace and mesh longline bra and matching control brief in sizes 32C and UK 12. Although now largely sold out, the bra was available in sizes 32B to 40E and the brief in sizes 8-20. They retailed for £25 and £22 respectively (the bra can now be found on sale for £15).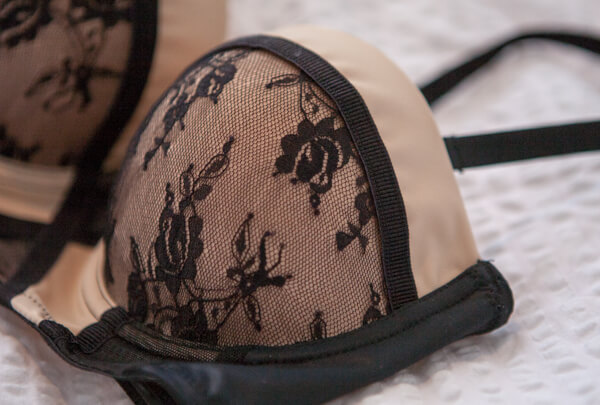 When the lingerie set arrived, I must admit that my first impressions were pretty favourable --- the set is well made and sturdy. Both bra and knickers feature a range of cream and black panelled fabrics with a mix of opaque and sheer fabrics. The lace is pretty and delicate, whilst the graphic elastic panel detail gives the set a bold and directional edge. There are gold components on the strap and the centre-front features a delicate gold heart embossed charm. The bra is a longline style, with wire and molded cups and additional support boning in the wing seams to prevent the bra from rolling down. The elastic also contains silicone grips for when the bra is worn without straps.The bra is mostly rigid, with only very small panels in the centre back consisting of stretch mesh. Straps are removable, and the bra comes with additional 'invisible' straps. The briefs are composed mostly of firm control fabric, with few small decorative panels of mesh. There is also a very wide concealed elastic waistband.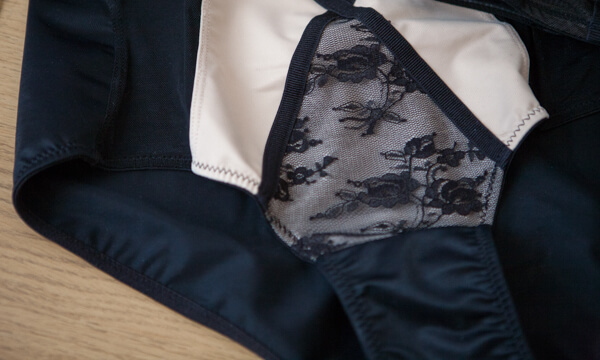 I was very impressed with the bra's fit. The underband comes up quite tight, so the bra works well for me despite my normally requiring a band size down. It even worked well as a strapless fit, with the silicone grips and longline shape keeping the bra comfortably in place, even during my rigorous testing of running up and down the stairs and over-enthusiastic star jumps! The wires were a good size for my breasts and encased them entirely, tacking well at the centre front. The fit of the molded cups was also good, despite this being a shape that doesn't normally suit me! My only minor gripe is that I had to wear the straps at their maximum extension --- something I found slightly disconcerting given that I'm only slightly above average height.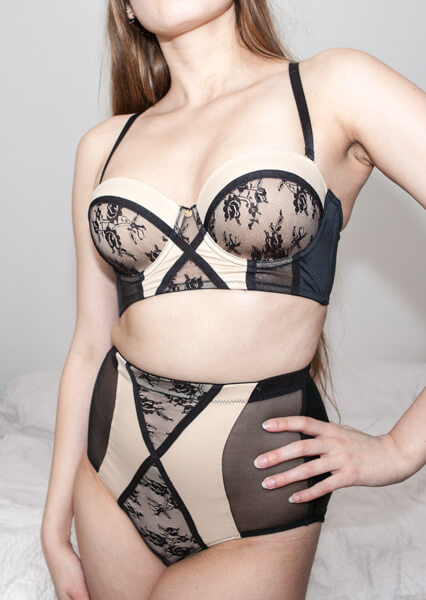 Unfortunately, for all the bra's positives, the set is let down rather dramatically by the knickers. I ordered a size 12 (my usual knicker size) but was a little worried about how they would fit. My waist is fairly small and would fit a size 8 according to the website's sizing chart, so I assumed that they'd fit on my hips and bottom but would be baggy along the waist. To my surprise, I had the opposite problem. The knickers were a good and comfortable fit along my hips and bum, with no cutting in and a fairly smooth line (smooth though, not seamless – they are control knickers but I wouldn't wear these under something skintight). It was the thick elastic waistband that caused problems though – it is uncomfortably tight on my body, cutting in and causing an extremely unflattering silhouette. Given that these are supposed to be control knickers, I didn't expect them to create 'rolls' of body fat that didn't even exist before! What is most disconcerting is just how inaccurate this sizing is – I know my waist size is nowhere near a commercial size 12, so for it to be too small is a pretty big fault. It's such a shame as they're very pretty knickers, and it's literally only the waistband that causes this problem. They might work for you if you go up a size or two, but I know that if I tried a size 14 then they would be baggy around my bum – which is never a flattering look!
Overall this experience has left me with a fairly mixed view of Myleene Klass lingerie --- I'm impressed with the quality and design, given the brand's low price point, but the poor fit of the knickers has left me feeling let down.  It's a shame that such a minor mistake of cutting one piece of elastic too short can affect a garment's fit so much!
Readers: have you tried Myleene Klass lingerie before? What were your thoughts?