Full Busted Plus Size Lingerie Review: The Elomi Izzy Hummingbird Print Bandless Bra
Elomi used to be a brand that was all about subdued basics, but over the last few years they've aggressively released beautiful and trendy options that have absolutely reversed my opinion of the line. I wouldn't even have considered buying an Elomi bra several years ago and now my lingerie drawer is full of them! I spend lots of time writing about options that are either plus size or full bust friendly, both Elomi nicely ticks both boxes.
I'll admit that part of my fascination with this Izzy set was that it almost looked like it was made out of spun sugar — who can turn down lingerie that looks good enough to eat? It also represents a younger look for the Elomi line; while other fashion-forward options have worked for a range of ages, this set looks like something that Cleo might produce. I think it's great to see Elomi branching out and offering options that will instantly appeal to younger customers. That said, I'm going to be 29 this month and I find this set sweet and age appropriate, so it's not only the territory of teenagers.
The Elomi bandless styles have always been popular, but I'd never gotten around to trying them. The bandless style is built specifically to be extra comfortable for plus size women — the bandless style eliminates squish around the stomach as well as the band flipping that can happen with wider bra bands. This is a problem that women who are in between size ranges have as well, so I'm glad to see Elomi offering a bra that solves this issue. I'd always had some preconceived notions that bandless bras didn't offer the same support as other cuts, but I'm absolutely thrilled with the way this Izzy bra looks and feels.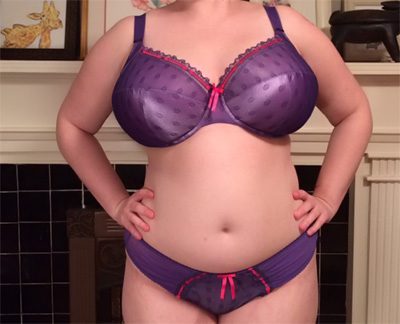 I ordered my regular Elomi size of 34HH for the bra, which fits perfectly. I associate Elomi bras with extremely soft fabrics, but the Izzy fabric is stiffer and shinier than some of their other offerings. This gives it a nice sheen I didn't expect. I can see this working perfectly as a more offbeat holiday set along with the babydoll version that Elomi is offering. The lavender polka dot pattern is subtle but still front and center, and the ruffles add interest without making the whole thing feel truly saccharine. There's a fine line between girly and gross, and this set definitely falls on the right side of it. The ruffles are purely decorative and don't add to the shape at all, which is nice if you have full on top breasts and have trouble with ruffles and lace cutting into your breast tissue. I ordered the panties in my regular size L, and they fit perfectly. I love that they don't dig into my stomach and still work with my narrow hips. The whole set fits into my favorite category of lingerie: the kind you can wear every day but still feel like you're wearing fancy lingerie.
I ordered this as part of The Sophisticated Pair's pre-order program and actually ordered the babydoll to go along with it. Elomi was already out of the babydoll for pre-order, which I suspect means that this bra and the babydoll may be popular offerings. If you want to pick it up, I'd do it sooner rather than later. As for me, I plan on stalking the internet to get my hands on my beloved babydoll version of this.
I'm incredibly impressed with this set as a whole and will definitely be trying out future bandless options from Elomi. I love that they are building their options thoughtfully, rather than just cranking out new patterns in a shape that still needs work like some other brands. If you're still looking for a holiday appropriate lingerie set, I think this would be a great choice for anyone in the Elomi size range!
The Izzy Bandless bra is available in band sizes 34 through 44 and UK cup sizes E through JJ. Brief is available in sizes medium through 4x.