Introducing Evollove
Disclosure: This post contains affiliate links.
I've been excited to cover Evollove for quite some time. I first discovered the brand when passing through Journelle a while back. The D-G tag was tantalizing and caught my eye first. Hmm…
I'm always on the lookout for something beautiful in my size, and this number was in a gorgeous shade of blue. Before I spent any money I didn't need to at the time, I found my way out of the store. Evollove wasn't through with me yet, though! Anytime I'd walk by, or in, Journelle, it would beg me to come pay it some attention. By the next time, it had a friend. I wasn't going to be able to resist for long. I avoided this beautiful bra one more time as I shopped with a friend for a bachelorette gift. Third time must be a charm as that's when I finally gave in to the temptation…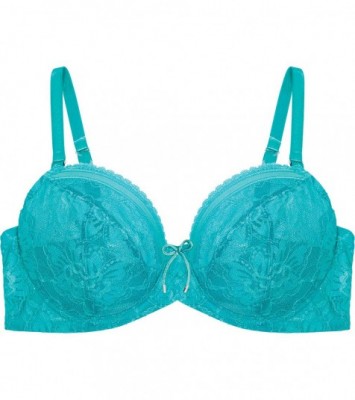 I had a taken a friend in for a spring spruce up and while waiting for her, one of the lovely staff suggested I try one on. "They fit really well" was all I needed to hear from her! I mean, it couldn't hurt. It was for research purposes, of course! I selected a simple, lined black lace balconette called Beauty Blaze in my usual 32G and realized instantly I was in trouble. The cup provided full coverage. Enough that I wouldn't have any spillage if I ran for a train or bent over to pick something up, but not so much that it would show in a scoop neck tee. The band fit snugly, but without being too constricting. However, I was mostly impressed with the lift! My friend and the delightful assistant in the store raved about the fit as well.
Well, now I was all attached. I needed this bra. So, how much damage was this going to do to my bank account? Much to my surprise and excitement, this bra was at an amazing price point as well. For the amazing fit and fashion, I couldn't believe the value. This style retailed at $55. For that price, I could get two. I was hooked!
After doing a bit more research on the brand, I discovered that Evollove is a Bendon brand. Like other Bendon brands (e.g. Elle Macpherson, Pleasure State, Stella McCartney), Evollove has a true focus on fashion. The full collection includes eye catching colors and lively patterns. However, compared to other Bendon brands, I found this to be truer to size. I know from my experience (and from that of other ladies) with other brands like Elle Macpherson, I have to go up a band size, but I found my usual 32 to fit just right as I mentioned before. Snug, but not too tight.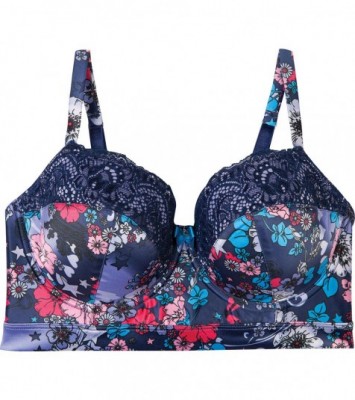 While I love this style, it isn't practical to wear under just anything, especially for work, but on the weekend, game on! The lace lies flat so it isn't bumpy. It also has a cute little string bow in the front. This style comes in other colors, like a vivid teal and a racy red.
Since this time, I've experimented with two other Evollove styles, the Alanya plunge and the Hearts Afire foam cup balconette. I've decided that I just can't wear a plunge. Even in the best fitting, well-crafted brands, that style just isn't conducive to my shape due to the minimal coverage in the area where I need it. At the start of the day, everything was in place and the bra created a beautiful shape. However, by day's end, with lots of movement, everything didn't quite stay in place and I found myself doing a lot of covert adjusting. My advice: if you can wear plunges, go for it! The balconette, on the other hand, nailed it! While the foam cup provided more structure than the lined balconette, it did so without adding extra bulk.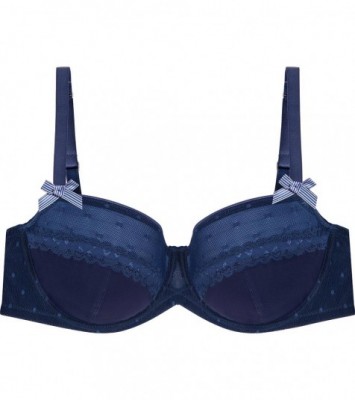 Overall, Evollove is a great choice for full cups and is now one of my absolute favorites. In addition to the above, there are numerous other styles, colors, and silhouettes, including matching panties. Evollove is sold at boutiques around the world and online retailers such as Asos and Bare Necessities.
Has anyone else had success with this brand? Please share your experience and your favorite styles.