What Happens After Writing a Negative Review?: A Follow-up to My Adore Me Lingerie Post (Updated!)
Edit: This article has been updated. You can view the updated segment at the bottom.
A few weeks ago, I published a review of Adore Me Lingerie. If you haven't read that piece, the takeaway was that I more or less found their lingerie unremarkable. It wasn't really good. It wasn't really bad. It was just was. However what bothered me most about Adore Me was not the garments they sold, but rather their practice of relabeling and then claiming their items were original design.
Today, I ran across an article published by Michael Carney of Pando Daily in which he reports on Adore Me's latest round of investment funding, which garnered the company $8.5 million. In that article, Adore Me again alludes to designing and manufacturing in-house as you can see from the screenshot below: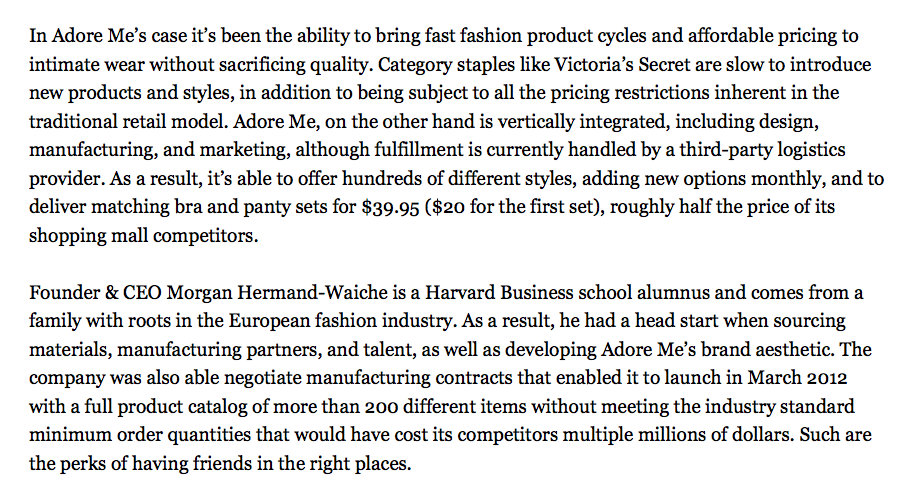 Now relabeling is very common in the lingerie industry, and I don't expect casual lingerie shoppers or tech industry reporters to understand all the nuances of undergarments. So, after reading the PandoDaily article, I tweeted out at Michael to mention that many of their products are designed by other companies, and to refer him to my review from 2 and a half weeks ago (you'll want to read this two tweets in reverse order, from bottom to top).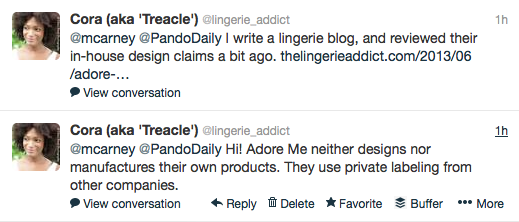 Michael was gracious enough to reply, and this was his first tweet. As I said, I have no issues with him; I don't expect people who's livelihood is something other than lingerie to know about these things.

However, I am concerned about AdoreMe's sticking to this claim. I am on their site right now, and I plan to revisit this later in a more comprehensive follow-up post about Adore Me's products, but I will say this exchange was not what motivated me to write this post.
I thanked Michael for replying, told him that I believed Adore Me was taking advantage of consumer's lack of knowledge (which I found to be more distressing than any relabeling), and indicated my intentions to spend some extra time focusing on Adore Me's suppliers at the next round of lingerie tradeshows. I also, just generally, plan to spend some time talking about the practice relabeling on the blog later this year as I think it's an issue more customers should be made aware of. You can view our Twitter conversation here.
So this is where the conversation should end, right? But it doesn't. And it doesn't because of this next tweet: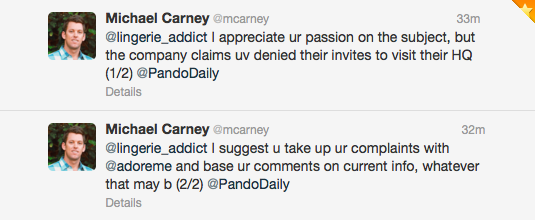 What's the problem here?
I've never actually denied an invite to visit Adore Me's HQ. That's a complete fabrication.
If this tweet is accurate, I am extremely bothered that Adore Me would misrepresent what I said to a journalist because it not only misrepresents me, it misrepresents that review, and it misrepresents what this site is about. Because by devaluing this site and the reviews on this site, Adore Me makes it easier to share whatever story they've come up with, up to and including one that's misleading. And I'm sharing this entire exchange because I think it's important to see what else can happen when a blogger writes a review.
Yes, Adore Me has invited me to visit their company HQ in NYC. They suggested CurveNY as a good time to meet, and I agreed (I live in Seattle for folks wondering why I couldn't just hop over there any old time). They also told me that, were I willing to write a new review or post an update my current review, they would be willing to send me "exclusive photos, quotes, or examples." (I'll have our full e-mail conversation posted below for those interested in reading it.)
I responded by saying that I would be more than happy to meet with them while I'm in NYC for Curve, but also made it clear that I cannot guarantee a follow-up review or even an update to my current review as "our review policies are in place for the benefit of our readers." Most of you don't know this (because you really have no reason to), but we have a strict review policy on The Lingerie Addict. Companies can't buy reviews from us, we don't promise positive reviews, and we don't let companies pre-approve reviews. Our reviews are strictly editorial content, and every company is made aware of this policy before we accept product for review. If we like what you're doing, we'll say so. And if we don't like it, we'll say that too. Because to me, that's what a review is.
I stand by my review from 3 weeks ago. I did not post it lightly. And I made no claims which were not fully supported within that article. I wrote that review because of posts like the one on PandoDaily today. I wrote that review because I remember how little I knew when I first became interested in lingerie. I wrote that review because there's so much happening behind the scenes that we, as customers, never really get to see.
In the interests of transparency and disclosure (and just so that everyone can know what was actually said), I've posted their response along with my response to their response at the bottom in this blog post. I will update this post if anything else happens with either the PandoDaily article or AdoreMe. I'd also like to write an article fully addressing AdoreMe's 75% claim later on this year, so if you recognize products on their site from other manufacturers, please do share the link and who they're made by in the comments.
Edit: Michael Carney has responded to me and indicated that the problem was with his tweet and not with Adore Me's e-mail. I still believe the phrase I've "yet to take them up on an invite" is an inaccurate characterization (as mentioned before, I live in Seattle and we've made plans to meet when next I'm in NYC), but it's quite not the same as saying I've declined to visit outright. I've posted a screenshot of our exchange below, and am glad this issue has been resolved.