Lingerie Review: Freya 'Arabella' Bra
Disclosure: This post contains affiliate links. 
The bra in this review was purchased with my own money. All opinions are my own. Neither Freya nor HerRoom asked for or contributed to this review.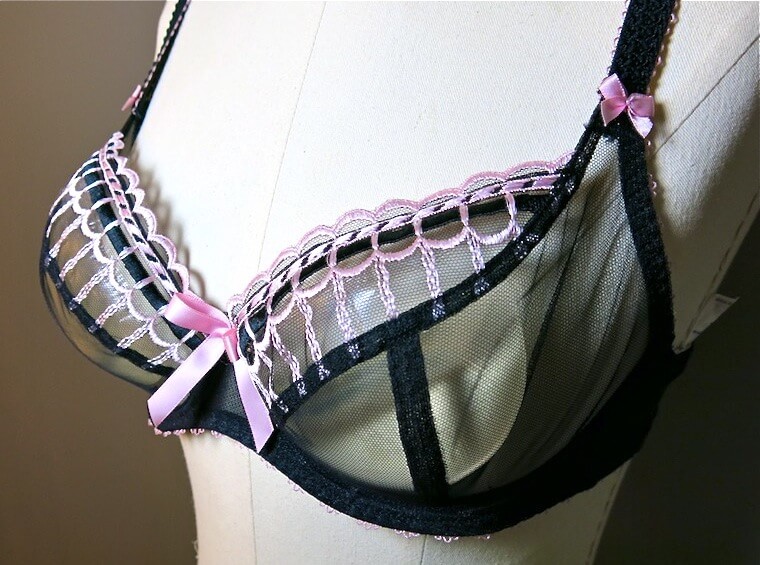 Little known fact: sometimes us small-busted women are jealous of the bras available to our full-busted friends. That was definitely the case for me me when it came to the Freya Arabella bra. As a full bust specialist, Freya doesn't do much for smaller cups, and they were one of the names I always wanted to try when I was a B cup. So when my bust grew a little bigger (not much, just a C cup), they were one of the brands on my list to wear. You've probably heard me mention how much I love black mesh as a lingerie material on the blog before, and cut-and-sewn bras are my latest obsession, so there were lots of good reasons for me to add the Arabella to my lingerie drawer.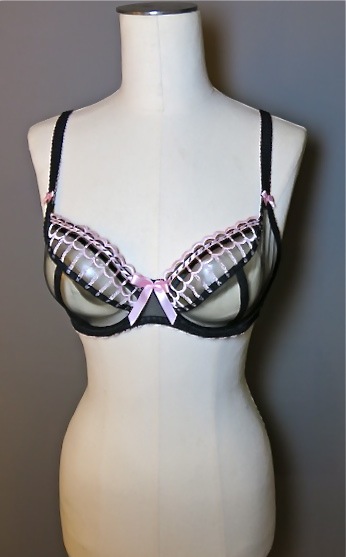 Freya's Arabella is one of their most popular styles, and most everyone who sells Freya sells this bra. This classic look is a perennial favorite of full-busted women who need support and shaping, but still want access to the kind of sheer and delicate lingerie that's frequently available for smaller-busted women. The Freya Arabella is available in sizes 32C thru 36J, 30 & 38 D thru J, and 28 DD thru G. The bra comes with two styles of matching knickers --- thong and brief, as well as a coordinating suspender belt. On average, this bra retails for around $60. I purchased mine from HerRoom in a size 34C and had no issues with the transaction.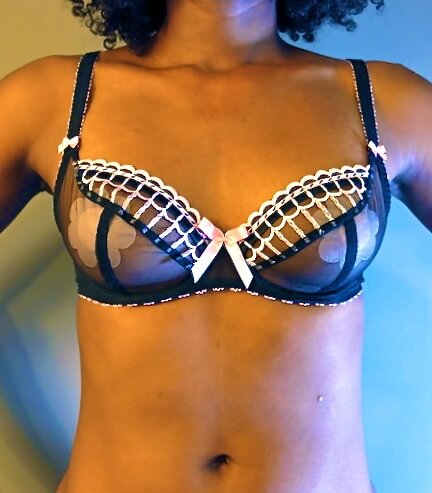 The first thing I noticed about the Freya Arabella is that the mesh it uses is both sturdy and soft. Sometimes mesh can be a bit stiff and scratchy, other times, it can be too thin and flimsy. But this seems to be a nice balance between either extreme. It's a three-part cup, and the mesh is single-layered (though GG and above cups are lined for extra support). There are no side slings in this bra (at least in the smaller sizes), and the cups aren't very stretchy... though the band has a lot of stretch and give. The hook-and-eye closure in the back has three columns and two rows (this number also increases with cup size), and though it's marketed as a plunge style, this high gore makes this bra more akin to a balconette or full coverage bra. All the construction seems very high quality, which is what I would expect from the Wacoal Company/Eveden Group (which makes the Freya brand).
As far as fit, I found the Arabella to be very comfortable. If you've been reading TLA for awhile, you know that I hate being aware of my undergarments. I like to put my lingerie on and forget I'm wearing it, so, for me, the true test of any bra, panty, or other item is "Do I constantly notice when I'm wearing this?" And I can definitely say that I don't. I found this bra to be incredibly comfortable, and it didn't become any less comfortable with repeated all-day wear. The mesh feels very light on, and I got a good shape without any bulk or padding (which is really important in the summer). Some review on other websites say this bra gives a "pointy" silhouette, but I didn't have that issue. It also holds up to handwashing well, though I would not recommend putting this bra in the washing machine or dryer. The mesh is too delicate and you could legitimately wreck it.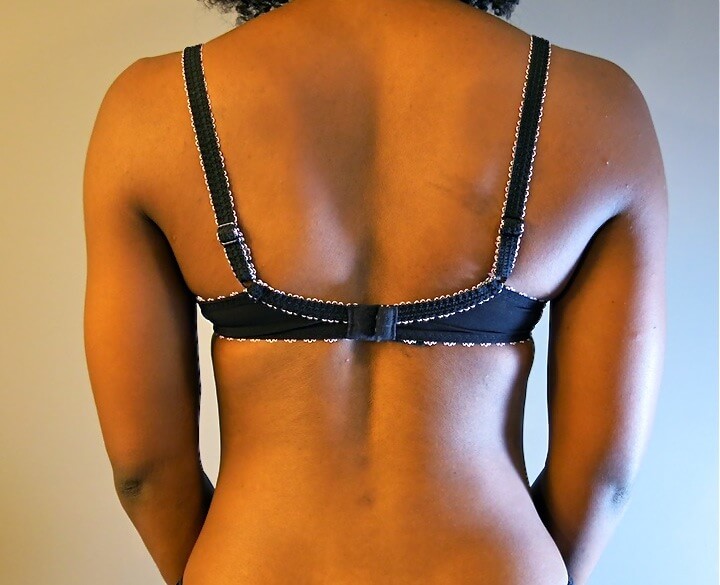 On the downside, though the Arabella was incredibly comfortable, the cups are sized a little big. I have firm breast tissue and self-supporting breasts. If my breasts were a little softer or shallower, this bra would be a much poorer fit. I also thought the band was unexpectedly generous, but since I don't like very tight bands, that works for me. Overall though, these are minor quibbles, and I'd say this bra is definitely worth the money.
Have you tried Freya's Arabella before? Or any Freya bra at all? What did you think of the fit?