Lingerie Review: Frederick's of Hollywood "Nudes" Heart Throb Bra in Espresso
Disclosure: Frederick's of Hollywood sent me this bra free of charge for review purposes. All opinions are my own.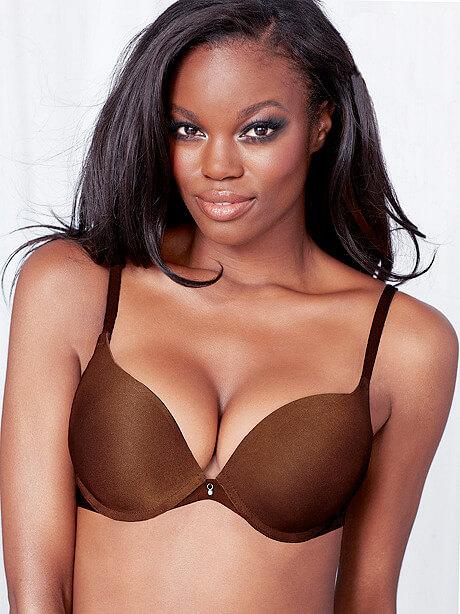 A few months ago Frederick's announced they were going to start carrying nude bras in multiple shades. As a blog that's touched on the nude issue a few times, they reached out to me to see if I'd be interested in reviewing their deepest shade, Espresso, in a size 34C. The bra has a pretty straightforward construction; it's nothing fancy. The fabric is microfiber, and the style is a plunge push-up t-shirt bra. Compared to a lot of bra brands, this piece is very inexpensive at only $29.50, and it's available in sizes 32A thru 38D. The straps are convertible, and the bra has a 3 column/2 row hook-and-eye closure. I wouldn't call this an exceptional bra, but it is exactly the kind of bra, both in shape and style, that I'd expect from Frederick's, especially at this price point.
First, let's talk about fit. I don't wear a lot of pushups in my day-to-day life, and this bra has a ton of padding. I mean, a lot. It works by basically creating a capsule or a shelf around your boobs to lift them up and push them in. As you can see from the photo above, it's not a subtle effect. While I don't get cleavage, I'd say this bra looked like it added about two cupsizes to my chest (C to DD), and when my husband hugged me while I was testing this out, he found all the extra padding to be very disconcerting. For me, all that cushion is kind of bulky and awkward. I prefer a more graduated pushup and a more true-to-life silhouette, but I also acknowledge that I'm probably not Frederick's target customer. In addition, I also worry that this much padding would be really uncomfortable in the summer because it would just hold in heat and sweat. Finally, with this much unremovable padding, if the foam gets warped or crushed or distorted at all, this bra is done.
But most of that's personal preference, so let's talk about some more objective criteria. My biggest concern with this bra is that the center gore doesn't tack. At all. It didn't matter how much I swooped, scooped, and adjusted; I still had about a half-inch to 3/4-inch of empty space between the gore and my body. That's especially unusual for me, since my gores almost always tack. When the gore doesn't tack, you get a lot more vertical bounce, and my breasts just kind of shift and move and refuse to stay put, so that's not really comfortable for me because I wind up adjusting my bra throughout the day. I also found the underwires to feel a little bit... pinchy. I could still wear this bra, and it looked okay, but these issues mean it wouldn't be the first thing I reached for my in lingerie drawer.
So that's fit. Let's talk about the other thing, that is, how shade of nude looks against my skin. Like many women of color, I have a hard time finding nude bras in darker skintones (and there is a distressing number of lingerie professionals who believe "beige works for everybody"). I'm glad that Frederick's is offering an affordable darker-toned option. I do wish there were more than four shades available, and I also wish there were more styles available in the skintone shades than a pushup (and, in particular, this dramatic of a push-up). It would be wonderful if offering 10 or 12 shades of "nude" was just a thing everyone did, and I don't think this bra would work very well for skintones much darker than mine. I also found the bra to have a kind of bronze-y/metallic tone, which is neither here nor there, it's just a quality I didn't notice until I saw the bra in person.
I'd say if you like Frederick's, then you'll like this bra. If you like super duper extreme padded pushups, then you'll like this bra. If you're looking for a nude bra on a budget, then you'll like this bra. And if you like that other big name lingerie retailer, then you'll like this bra. But if you prefer a more natural profile and if you're not a fan of pushups and if you're looking for a nude bra in a deeper shade of brown, then you won't. This bra isn't for me (my boobs just don't feel like my boobs when I'm wearing it), but it is a good buy for the money.
Have you tried Frederick's bras before? What did you think of them?