How to Avoid the Infamous Boob Dial: JoeyBra to the Rescue!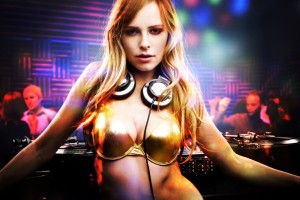 It's summertime in New York City. The air is thick, and so are the layers of sweat dripping down our backs as we roast in underground subway ovens.
This city is famous for its friction. Walking down the street, it's hard to not snag my handbag clasp on a passerby's coffee cup, or to avoid a stranger's sticky hair brushing me on the train, and all this pressing and proximity has trained us well to hold our postures and purses extra securely against the onslaught.
But all this friction can also be fun! Who knows what a chance encounter may bring? New York, especially in the summer, dances and seethes and feels like a sometimes happy dream.
For me, the physical discomforts of summer can have outsized effects on my mood. The sweaty labor of carrying a heavy load and the clinginess of a sticky purse strap can make me curse life and give up on whatever my adventure was to be. A handbag is sort of the best and worst thing about being a girl: cute accessory, allows us to live the turtle/camel lives we like, handy for phones and five lipsticks, BUT also just another thing to weigh us down and keep us watchful on a night out.
I've gone out without a purse a few times (usually with my special fanny pack as a substitute) --- and it's SO FREEING. So THIS is what it's like to be a man, I thought.
First order of business: isolate the essentials. ID, cash, credit card, phone, key, maaaaaybe lip gloss. Second order of business: figure out where to stash them on my person. If my fanny pack is too big a fashion downer for the night, I've been known to secret all of these items in my bra. The effect is not gorgeous, but if it's a sturdy enough bra, it can smooth the jagged edges and, in a dark enough room, give the impression that a regular human woman's torso is contained in it. The downside, of course, comes when removing the bra and discovering all different sized rectangle and key impressions on my skin... and, wait, did I accidentally boob dial my ex????
LUCKILY, JoeyBra has come to our rescue, ladies. This newly launched bra is designed with pockets at the wings (sides), just right for an evening's essentials. It's just such a great concept I can't believe it hasn't existed for years.
The JoeyBra website describes, "The first sexy & comfortable pocket bra. JoeyBra gives you the freedom to go anywhere, do anything, and carry anything without lugging a purse. Discreetly holds a cellphone, ID, and key on the side of your bra with easy access. Never again will you have to reach down the front of your dress looking for the key that slipped out of place. Our product places all pockets within easy, yet appropriate reach."
I received two samples for review, one in Black and one in Snow Leopard. They were fairly basic in construction with underwire, padding, and mesh wings. I'm a standard size and found the fit to be fine and comfortable, and the appearance under a tee was smooth and well proportioned. My cash, cards, and keys fit easily in the side pockets, and my iphone fit securely (but visibly --- sadly, a bra can't actually perform miracles on big phones). For the great price of e $29.99, I was not expecting design complexity or an unusually elevated choice of fabric --- nor are these things I would need in a bra that would probably get a cocktail spilled on it anyway.
JoeyBra is clearly marketed toward younger women who want to go out and have unencumbered fun (the product was "inspired by [University of Washington's] vibrant Greek system"), and I think it's a perfect solution for these women: very affordable, with the molded silhouette popular in nighttime dressing, and available in innocuous black as well as a playful leopard print.
As a lingerie designer, and lingerie (and nighttime) enthusiast, I am looking forward to JoeyBra expanding their offerings. It seems a smart move on their part to launch with a simple product, and I would love to see a broader fashion (and accompanying price) range, as well as varied silhouette options, expanded sizes (currently 32A-38D), and undies.
After my experience with JoeyBra, I started looking around for other pocketed underwear solutions and came up with a few to share.
While JoeyBra is a perfect product for young women out on the town, I also wanted to find something that would address the storage issue in a more utilitarian and foolproof way. I found the aptly but unsexily named Clever Travel Companion Underwear.
The focus is more on security when traveling than on hands-free nightclub dancing, so the underwear is large enough to carry a passport and has two hip pockets with zippers.
The Lonely Planet writes about the Clever Travel companion's underwear:
"There's no safer place to keep a credit card, cash and important documents than down under, but it's so much easier with these nifty pants and their zip-secure pockets. And it's a saviour from the waist-widening evils of travel belts and fanny packs, meaning the essentials are kept secure while the wearer stays svelte."
A third product is Irely's pocketed undies. These pockets are not marketed as a means to securely transport goods, but are charmingly tied to the idea of secrecy:  "As the only underwear that provides a hidden pocket with sweet messages tucked inside, we have also designed the pieces with clean lines, simple elegance and excellence in the details. Because classic never goes out of style and every woman has a secret side."
I would not try to tuck an iPad in the lace waistband of my Irely hipster and go clubbing, but I have always loved this brand and the sweetness of having a pocket to tuck secret little things into.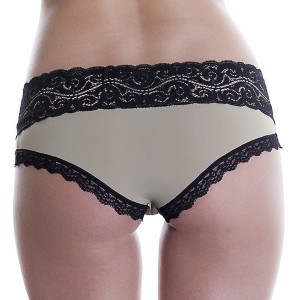 Share some of your carrying-things tips and thoughts! If anyone else has tried the JoeyBra, Clever Travel Companion Underwear, or Irely undies, please let us know what you thought!