Reviews: Freya Deco and Poison lingerie
Disclosure: The lingerie in this review was provided by Freya and Poison. All opinions are my own.
This month I'm reviewing bras with a big focus on their fit, from Freya and Poison lingerie.
Freya
Freya is a UK brand that produces fun and fashionable lingerie with a focus on exceptional fit. Their size range is extremely diverse, ranging from a B to a K cup. The 'Deco' range is a relatively new addition and focuses on seamless molded cup bras, currently available on the Freya website in 'nude' and black.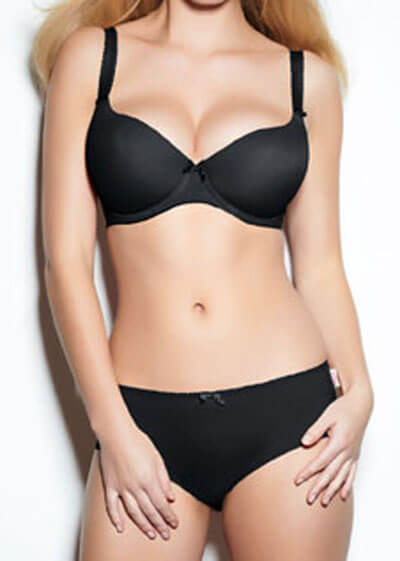 The Deco half cup bra and brief
I was sent the black 'Deco' molded half cup bra in a 30D and the 'Deco' short. The bra has seamless cups and features subtle internal contouring for a slight push-up effect. Both garments use the same soft stretch fabric. The bra comes in sizes 28-30 D-F and 32-38 B-F. The short comes in sizes XS-XL.
I've never been the best of friends with molded cup bras – I've always found their shape to be badly fitting, often finding the cups gapping at the neck edge because my breasts weren't full enough to fit them. So when Freya offered me the chance to review the new Deco bra I was intrigued – I'd had several good experiences with Freya bras in the past (with them being one of the few commercially available brands that manufactured my size) and wondered whether their take on the molded cup bra could be any different.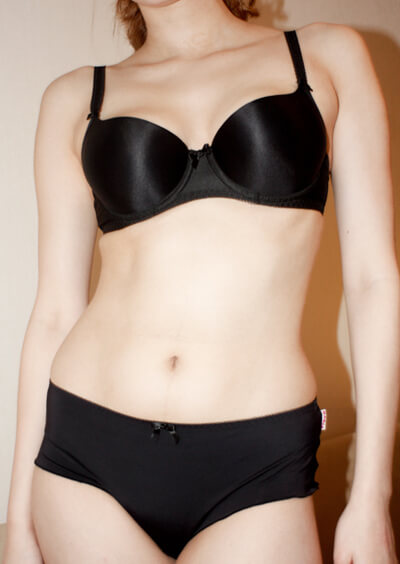 I'm pleased to report that the fit of the Deco bra is excellent – the band is comfortably tight, the wires sit flat against my chest, and the cups fully encase my breasts. The push-up effect is pleasantly subtle, giving an extra bit of 'oomph' without being too obvious and an attractively rounded shape. My only problem is that, at certain times of the month, my breasts don't fill out the cups fully, leaving a small gap at the neck edge. However, this is barely noticeable under most clothes and still keeps a relatively seamless appearance.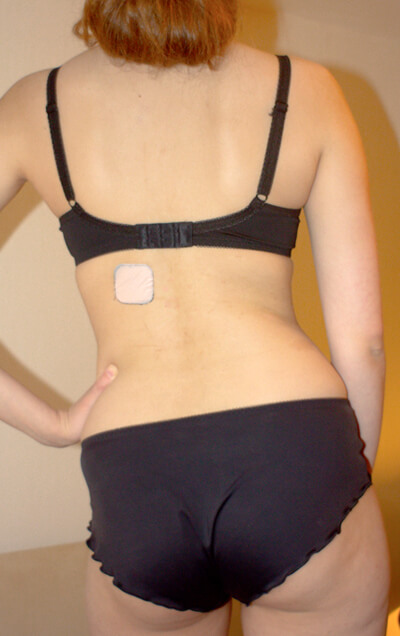 The shorts are also incredibly comfortable, with very soft fabric and good coverage. Both the bra and shorts held up very well to multiple hand washes and still look new. I'm happy to say they've both found their way into my everyday lingerie rotation, a rare occurrence indeed!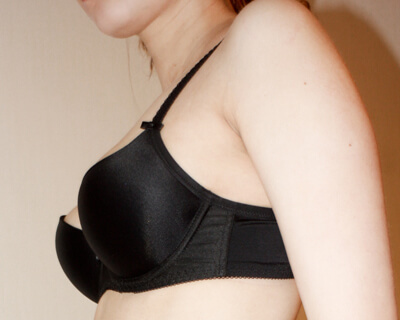 The black molded half cup bra is available here for £30 and the shorts here for £10. You can visit the Freya Deco365 website here for more information about fit and to find out more about the collection.
Poison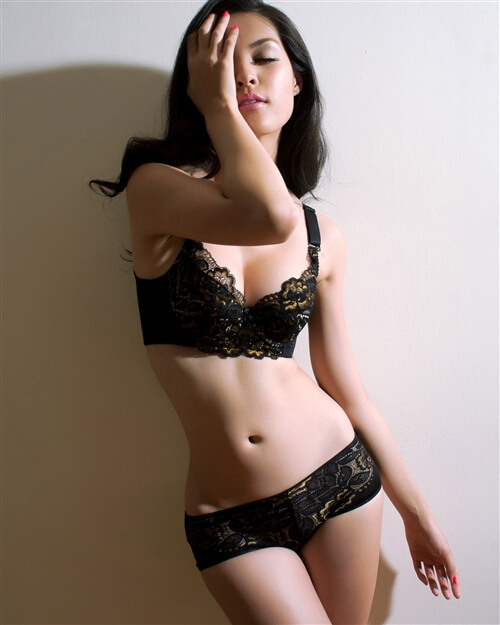 'Reveler les secrets' set
Poison are a San Francisco based lingerie brand whose 'Poise' bras are incredibly different from anything else I've seen on the market; the unusual construction techniques claim to give posture-enhancement, give a push-up effect without the padding, and to contour and smooth away back fat.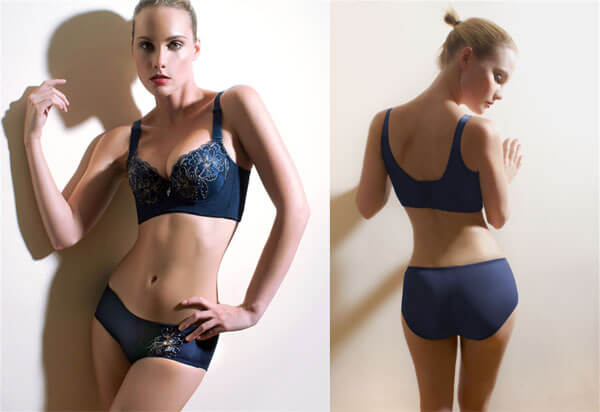 'Profond' set
Poison sent me the 'Révéler les secrets' bra in a 32C (featuring a black and gold stretch lace) and the 'Profond' bra in a 32D (featuring a navy floral embroidery) as well as a set of black bra inserts and a bra extender. For reference, I normally wear a 30D in bras but was informed that, as the 'Poise' bras have a snug fit, the 32 band should still fit. 'Reveler les secrets' is available in sizes 30B-38E and retails at $139 and 'Profond' is available in sizes 30B-40F and retails at $135.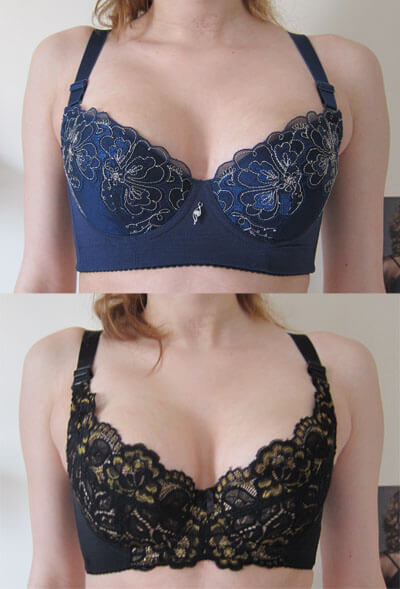 Front views of the 'Profond' and 'Reveler les secrets' bras
My first impression of the bras was that they are actually very well made – the construction is impressively strong and durable. Each of the bras features a very wide underband elastic, double boning on the side seams, and double layers of powernet in the wings. The cups feature a 'sling' where additional bra inserts and padding can be worn. Whilst the cups are not padded in the traditional sense, the cups are cotton lined with a fairly substantial-weight fabric. Both bras held up fairly well to hand washing, though I found the lace on the 'Reveler les secrets' bra began losing elastic threads after a couple of washes. The bra inserts are also very intriguing – they smell very strongly of rose (though pleasantly so!) and contain peculiar 'massaging' beads. They seem a little harsh when you feel the inserts by themselves, but when worn in the bra itself they are unnoticeable.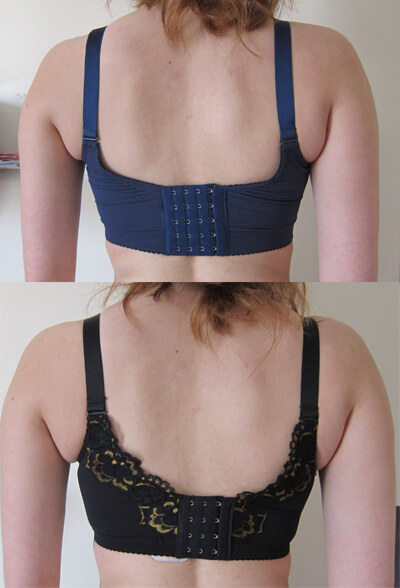 Back views of the 'Profond' and 'Reveler les secrets' bras
Initially, the fit of the 'Poise' bras confused me. The wide underband is actually very comfortable and supportive, as well as looking good on the back. It is, however,quite tight – which was especially surprising as I usually wear a 30 underband anyway. Although I could wear it comfortably, it did make me wonder how a 32 underband would cope with their size. Additionally, I found the removable straps provided with the bras are surprisingly short – at 5'7" in height, I found myself wearing them at nearly their full extension.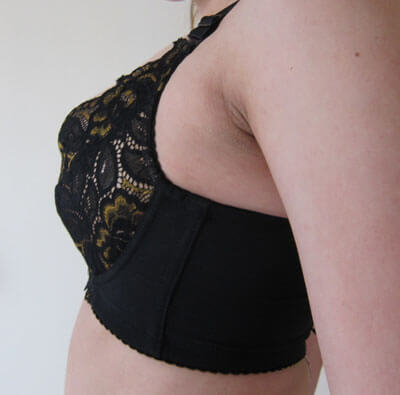 Side view of the 'Reveler les secrets' bra where fit problems are most visible
The cups are incredibly shallow in volume, which I am assuming is responsible for the 'push-up' effect without padding – by keeping the cup volume small, the bra forces your breast tissue up into cleavage. However, I feel this is best suited for people with a shallower breast shape as I found myself getting 'double boob' in both cup sizes – in the 32C this was actually inside the cup, which made me suspect there was some fault in construction. You can see the extent of this in the photo above – I felt it was too extreme to actually wear the bra during the day as the silhouette was so strange. The 32D was a better fit, but the neck edge was still slightly tight – I found myself having to readjust my bra throughout the day as my breasts kept essentially falling out of the cups.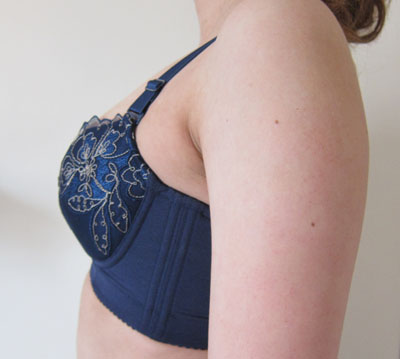 Side view of Profond; whilst the fit was slightly better there were still issues
Nevertheless, I don't feel that this bra style worked particularly well for me – I can see how on different breast shapes the bra can provide a push up effect, though this is at the expense of sacrificing breast shape as it gives the effect of 'flattening' the breast from a side view.
Overall I was disappointed by the 'Poise' bras – whilst they do achieve what they claim, I feel like their sizing is not consistent and comes up very small, nor do I feel the push up effect is particularly good (though this could well be due to my more 'European' views towards bra fit and shape!). It's a shame really – the embroidery on the 'Profond' bra is very cute indeed and I'd like to be able to wear it on a regular basis!
The 'Reveler les secrets' bra can be purchased here and  'Profond' here.
Readers: Have you tried either of these brands? What were your fit experiences?