Plus Size Lingerie And Swimwear for Your Inner Ballerina: Meet Lulu West
Items for this review were provided by Lulu West. All opinions are my own.
My personal lingerie tastes tend to tilt towards the vintage or classically pretty side of things, so I was intrigued when Lulu West offered to send some samples. It's not often I find myself reviewing a brand that is previously totally unknown to me, but the extra feminine look and feel of Lulu West's offerings had instant appeal. I loved both their vintage-inspired pieces and their girly ballerina-inspired swimwear, and consequently will be reviewing one piece from each category today. I was sent both the Jessica V-Neck Slip and the Sweet Bandeau Halter Top and Bikini for this review.
Let's start with one of my common lingerie shopping difficulties: I'm one of the many women who is stuck in the lingerie and clothing size gap. As a size 12/14 woman, I'm frequently included in both regular size lines and plus size lines. This means I should have more choices, right? Ha, no. I frequently find myself fitting into the cut of "standard" size lines without being flattered by them or being flattered by the cut of plus size lines while swimming in their smallest size. Tons of women have similar issues, which is one of the reasons that I'm extra excited about Lulu West. If you're right in that size gap, this brand may be cut perfectly for you.
This girly pink silk slip immediately stood out to me, but I fell in love with it even more in person. It's hard to capture the gorgeous details with a camera --- it's honestly one of those pieces that is better in person than in a photo. The body of the slip is made out of pale pink silk and falls in a tremendously flattering way. The lace at the neck and shoulders is intricately detailed with art deco-style motifs, but also provides lots of stretch for comfort. I had originally thought that I would use this as sleepwear, but the v-neck and the short length work perfectly under several sheer dresses that I have. I tried a size 14/16 and it draped flatteringly over me rather than drowning me, which is rare for a plus size brand. I suspect I'll get lots of wear out of this slip and would buy more colors in a heartbeat if Lulu West made them.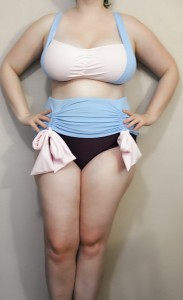 The Sweet Bandeau Halter Top and Bikini:
I was extremely nervous about the whole wireless swimsuit idea, as I tend to stick to bra size swimwear with serious underwires. I loved the cut of this suit, though, and it was surprisingly good in terms of lift and shape! While I definitely wouldn't go and play in the waves while wearing it, I'd definitely take it on vacation to ensure that I looked cute while hanging out in the pool and/or hot tub. I love the giant bows on the suit as well as the cut of the bottoms. I carry most of my weight in my stomach, so this helps cover it nicely while still feeling like I'm wearing a two-piece swimsuit. This swimsuit feels thoughtfully designed --- it's clear Lulu West has thought lots about what plus size women really want in a swimsuit, as well as how to balance that with a delicate look that isn't found often in plus size brands.
The Verdict:
Lulu West is a great brand for plus size women as well as those who fall into the gap between standard sizes and plus sizes. Their pieces are flattering, well made, and priced well in relation to their quality. I'm thrilled to have discovered them and will definitely be back to purchase more from them!