Does This Pearl Front Thong Shock You? My Encounter with Bracli Pearl Thongs
Disclosure: I received this item free of charge for review purposes. All opinions are my own.
"Those pearls go WHERE?!" I thought. I had come face to face with an eight foot poster of a panty-clad woman's torso. At first glance, the panty seemed like a pretty standard stretch lace affair, but at the same time I was struck with one of those vague what's-wrong-with-this-picture senses that something was not exactly what it seemed. Second glance. Aaah, it is a pearl thong, a pearl FRONT thong.
I immediately dissolved in an inward shocked schoolgirlish giggle. It was like seeing a car driving backward down the freeway or an executive wearing her bra outside her blouse. Thongs, which not too long ago were considered scandalous, have become commonplace --- even desexualized to the point of being classified as an outfit "solution" to prevent VPL. But this image of a string dividing a lady's front? It seemed TOO sexy, and so unexpected I couldn't look away.
It takes a lot to shock and intrigue a lingerie trade show regular. But Bracli did it.
After some time sidling up to the poster and then examining the actual garment pictured, my surprise turned to awe. I became enamored of this lacy, pearly panty. I spent a long time considering it and asking myself how something so overtly sexual, with foreign, rigid components in THAT area could still seem elegant. As a lingerie designer, I think a lot about what good taste is; how do you define something that is context-based, inchoate, emotional, and personal? And how come classic-looking components can sometimes coalesce into something tacky when misconstructed or misused (think red lipstick and decolletage at a funeral), while on the other hand a pearl front thong like this one from Bracli can flirt with scandal but ultimately land on the side of elegant good taste?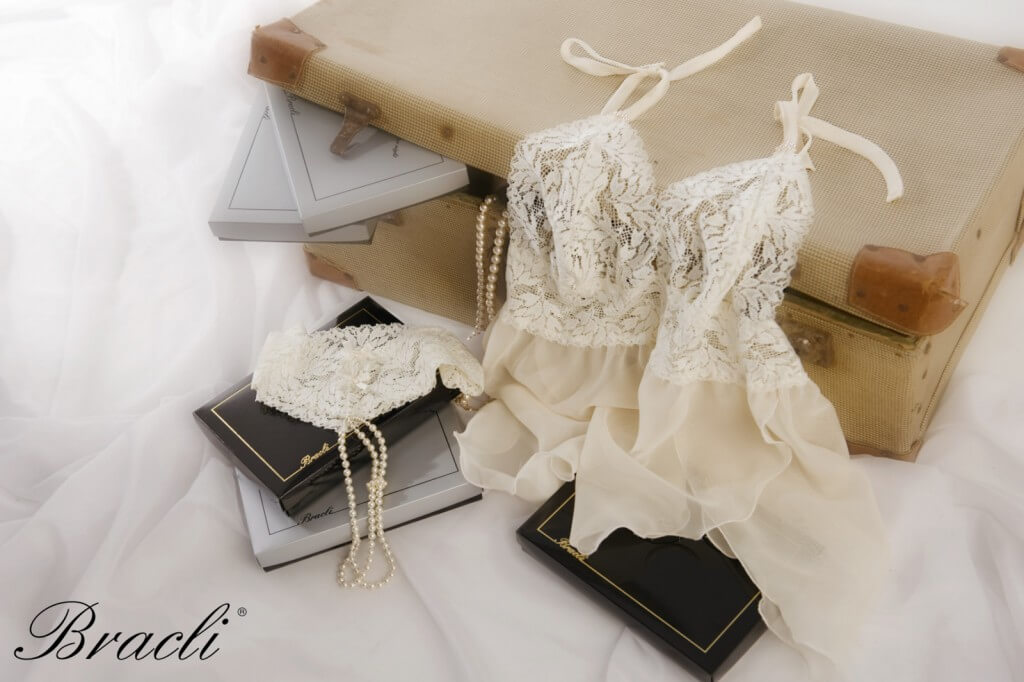 In this case it has to do with the fine quality of the materials as well as the whole brand concept, which together elevate each product to a higher realm of sensuality, mystery and luxury. According to its US representative, Bracli exclusively uses pearls from Mallorca, Spain and Spanish-made lace (launching in 2014, lace from Calais, France, and limited edition freshwater pearls --- ooh, bumpy!)
And what about the name? It's a creative word compounded of two Spanish ones: BRAga and CLItoris (underwear and clitoris). According to its website, "Bracli is the result of combining intimate clothing with the subtle stimulation of the most sensitive parts of a woman's body." Luis Alvarez, Bracli's inventor who patented the design in 1996, writes, "However, there is a stimulus that is more important than just the physical, more intense than the soft rubbing of the pearls, which is that Bracli stimulates the imagination and invites you to imagine. It is an invitation that is extended not only to the woman who wears Bracli, but also to whoever wants to share this experience as an accomplice, as a confidant... The excitement is contagious to all who participate in this pleasureful experience."
My own participation in this pleasureful experience began when a Bracli Body Pearl Thong ($84) arrived in the mail. The glossy scented black box hinted at sensual delights contained inside, and beckoned irresistibly for me to open it and try it on immediately. I can't remember the last time I was so excited to try on lingerie. I felt like I was entering mini-outer space, thrilled to be experimenting in a new realm and maybe a little nervous about the physical sensation that might accompany it. Even in my fugly home glasses and linty socks, I felt totally transformed.
I think the most important job of lingerie is to make its wearer FEEL sexy, followed secondarily by helping her look sexy. Bracli is incredible because not only does the novelty of it delight its wearer into imagining herself differently in it, but also, physically, Bracli thongs do not let her forget she's wearing it. Some thongs are sexy; Bracli is sex.
Okay, so we know I'm a fan, but I would be remiss in this review if I didn't mention a few things about Bracli that I think have great potential for improvement. My bodysuit fit perfectly from the hips down, but the placement of the stretch lace straps caused gapping at the waist on me as it does on the model in the photo. It might be a more flattering garment if the points of connection between the straps and panty portion were adjusted --- though I'll also add that "flattery" is not the main concern of this garment, and any eyes on a woman wearing it would probably not be bothered by this fit issue.
If one were wearing a thong instead of the Bodysuit, this fit problem would be a nonissue. Bracli's strength, I think, is in its mastery of the pearl thong, which can be bought individually in several styles and colors or with a matching bra. I did not try any bras on, but the cuts and fits of these appear in photos not necessarily the strength of the collection. In the future, I would love to see a broader range of silhouettes from this brand, since it has so much power and appeal.
There's also a menswear section! I would love to hear your thoughts on Bracli's pearl thong --- are you as excited as I am about this innovation? Would you wear it?  What do you think of it on a man? For more information, visit www.bracli.us