The Longline Bra is Reborn: 8 Favorite Picks!
Disclosure: This post contains affiliate links.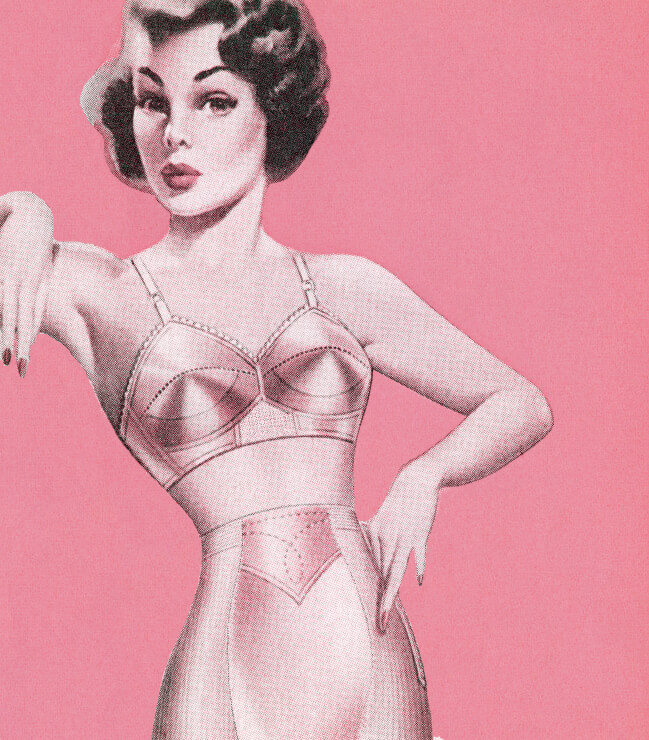 I was at a dinner party recently when a svelte professor friend of mine pulled me aside conspiratorially. It was Oscar season, and everyone had been gossiping about their picks. What could this woman want to confide in me, I wondered? But as a lingerie designer, I'm pretty used to being sought out for quiet talks about skivvies and other generally private matters.
She leaned in and said, "I am obsessed with longline bras." I asked why, and she said they fit her small rib cage and bust in a way that lent support while not causing any digging or discomfort. She also thought the appearance was more flattering, since there was more fabric in the silhouette and this had an effect of making the area appear larger. I asked to see (for professional reasons!) and she dartingly looked around at the room full of wine-soaked women and gay men and then lifted her shirt to show me her adorable longline bra from independent brand Fortnight.
The longline bra trend has been going on for a few seasons, and it's nice to see a reinterpretation of an old silhouette that has been neglected for many years.
Longline bras are those that extend a few inches below the bottom of the cup, over the ribcage and sometimes as far as just above the navel.  Sometimes they are structured like bustiers and have shaping properties.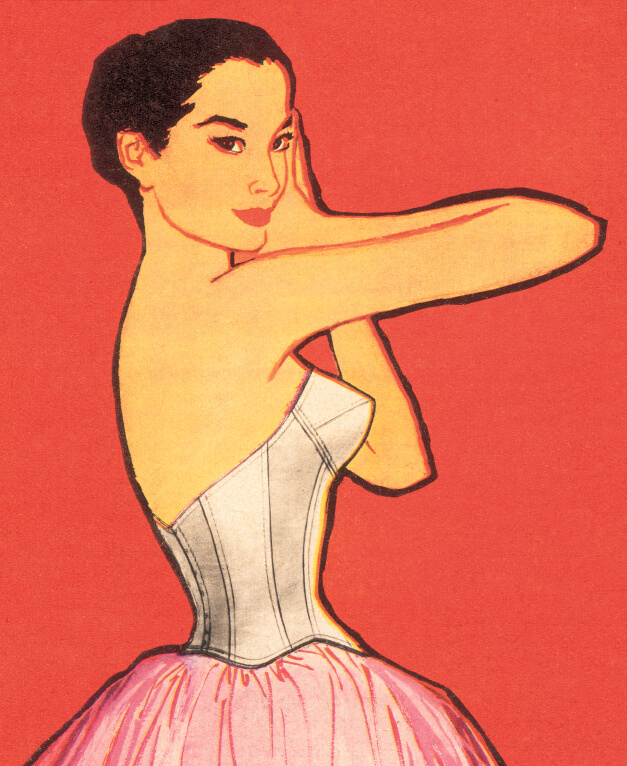 The longline bra had its heyday in the midcentury, when dresses fit tightly over the rib cage and waist. A longline bra did the all-in-one job of supporting and shaping the bust as well as slimming the rib cage. A girdle or structured slip might take over shaping from the rib cage through the waist and hips. Longline bras were especially good foundations under the popular strapless dresses of the 1950s, since their length allowed them to fit the body more securely without requiring straps in order to stay in place. They were the functional foundation for the bombshell silhouette of the era — though they were not necessarily considered especially sexy or fashionable pieces as standalone lingerie. 
During the more minimalist lingerie eras of the 60s and 70s they all but disappeared in favor of soft cup triangle "no-bra bras," and haven't reemerged as fashion pieces until recently. The longline is a cousin of the bustier, which has maintained a presence since the 80s, but it can differ in a few ways. Bustiers are sometimes designed to be worn as ready to wear, and feature strong boning and wiring in their waist and cup structure. They are often associated with statement-making surface prints, designs, and fabrics that may refer to modes like traditional corsetry, punk, vintage costume, body-con, or hyper embellishment. 
What's emerged recently in the longline bra is a much softer and sweeter approach. The length does not necessarily serve a shaping purpose, and in some cases doesn't involve boning at all. Here are some favorites of mine:
RETRO AND STRUCTURED
The two styles below make reference to the more structured origin of the retro longline bra. Va Bien is known as a shapewear brand, and I like how this style is both functional as well as sexy (Floral strech lace and power tulle, along with ultra-lift cups and a low plunge).
Bordelle is a great fashion brand that does gorgeous things with powerful stretch materials and references to feminine bondagewear. This bra is modern and sexy while having a structured feel to it.
PRETTY AND GIRLY
This new generation of longline bras focus on floral and ditsy prints, lightweight fabrics with low stretch content, and are not designed for shapewear function.
SOFT BRA
A different direction for the longline trend is the sweet unstructured stretch bralette, designed for light support and a general air of sweetness.
What are your thoughts on longline bras? I've read that some larger sized women prefer them because they allow breast weight to be distributed around the rib cage, and I've heard others claim they're hard to find and sizing is difficult. Any favorite styles or brands?