Luxury Lingerie Reviews: FYI by Dani Read, Lascivious & Jenny Packham
Who can resist the January sales? I most certainly can't. Here are just a few of the bargains I snapped up from last season and my thoughts on them!
All images by Karolina Laskowska unless otherwise credited.
FYI by Dani Read 'Despote' bra and briefs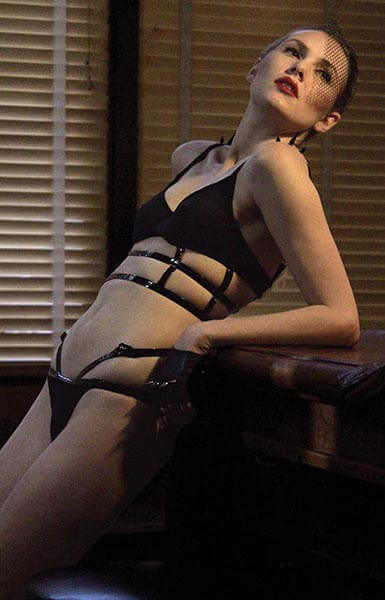 The 'Despote' set, image by FYI by Dani Read
FYI by Dani Read is one of the brands I've been admiring from afar for a while now --- after all, leather and spikes are right up my street when it comes to design aesthetics! Unfortunately, I faced the usual issue of student budgeting and could only dream of owning a set.
Imagine my glee then when I spied the 'Despote' set at the Coco de Mer sale for a fraction of its original price... silk chiffon paired with patent leather caging and black spikes? Yes please! I snapped it up and waited impatiently for my order to arrive. I ordered a 32C bra and Medium brief, the closest sizes to what I usually wear. The bra retailed at $156 and the brief at $108. Whilst the bra is sold out, the brief is available here.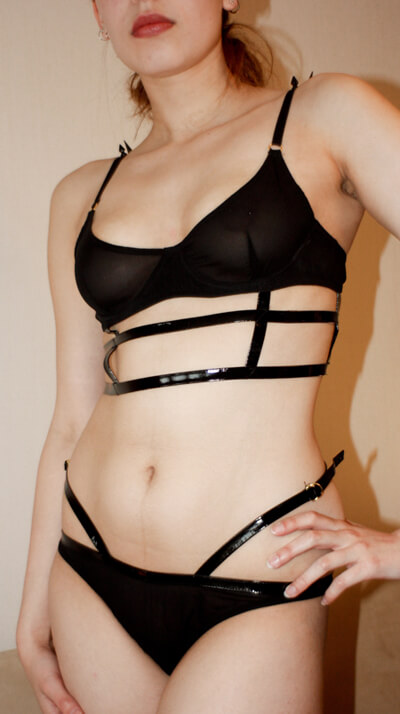 Unfortunately, I was left feeling a little deflated by the garments that arrived. Whilst the set still looks a damn sight cooler than most of the lingerie out on the market, I just didn't feel the quality or fit were quite up to scratch. The leather cage structure doesn't offer much adjustment and seems to follow a very straight shape, leaving an unattractive bulge in the back of the garment. Considering the set as boudoir pieces, I'm able to forgive the less than perfect fit on the bust --- after all, with those spiked shoulder straps I don't think I'll be fitting any t-shirts over this bra any time soon!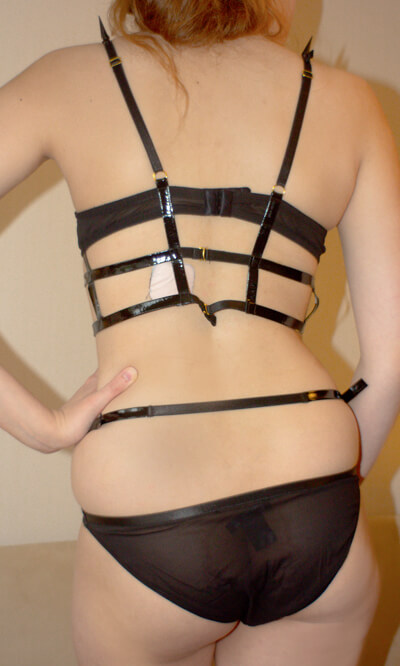 The leather strapping on the briefs has a an elasticated panel and adjustable gold sliders, whilst the strap placement is particularly nice for those of us with larger hips, sitting on top of them instead of cutting into them. The cut of the briefs at the back is a little off though --- I couldn't get the material to sit flat and so had to make do with it bunching together!
Overall I was a little disappointed by the set, though I suppose my issues are always a danger when ordering over the internet without actually seeing the product in person. Nevertheless, it's still a very striking lingerie set, and most certainly incredibly different to most of other luxury brands on the market --- for all its faults I'm sure it will still be making many an appearance in the bedroom!
Lascivious Lila bra and Isla briefs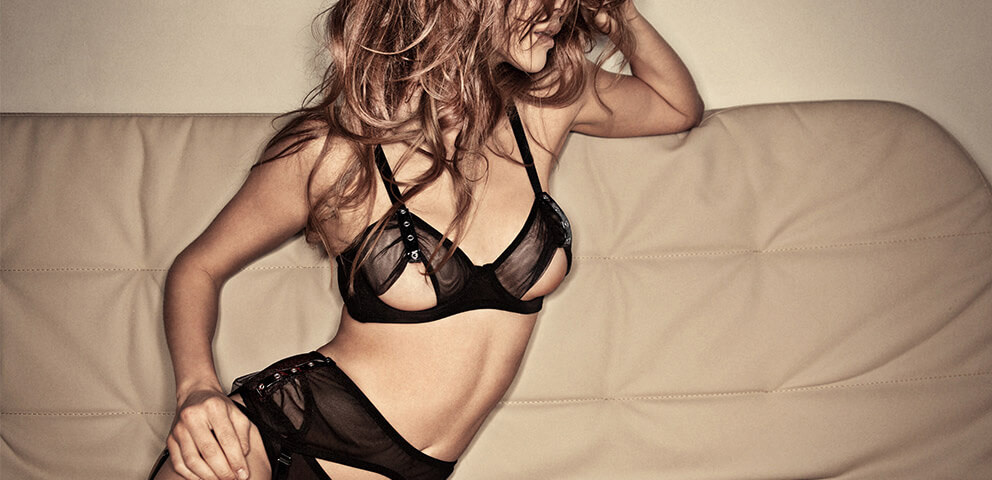 The 'Isla' set, image by Lascivious
Lascivious' classic Lila bra has been a part of my collection for quite some time now --- and I've been looking out for matching briefs ever since! The Isla briefs were another lucky steal at the Coco De Mer sale and go almost perfectly with the Lila bra. I purchased a 32C Lila bra and M Isla briefs.
The Lila bra is an open cup with sheer gathered mesh detail above the bust. The Isla briefs are made of powernet, with similar gathered mesh details on the hip panels, with patent eyelet tape and elastic details. There are silver hooks and eyes going down the centre back of the briefs and removable suspender straps. The bra retails for £86 here and the briefs for £112 here.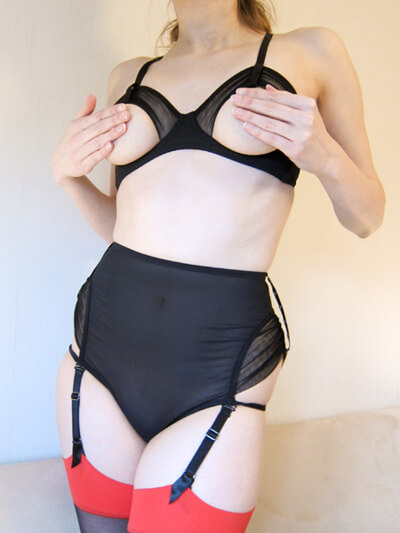 For a cupless bra, the fit is very good --- the wire encases the breast well, whilst the underband is comfortably tight and the mesh detailing is beautiful.  Obviously for a bra of this style support isn't an issue!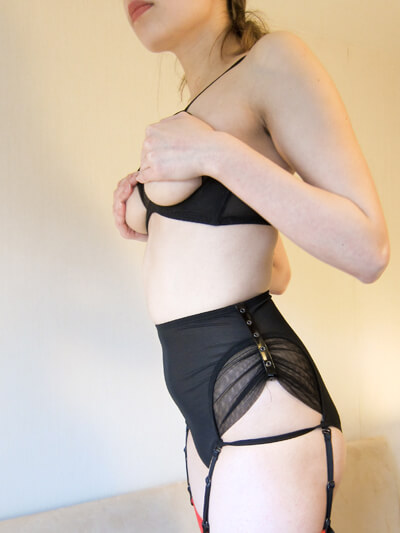 Overall the briefs are a good fit, with the mesh detail on the hip sitting quite high. The high-waist also means the suspenders actually keep your stockings up, making this the very first pair of suspender knickers that do what they're supposed to!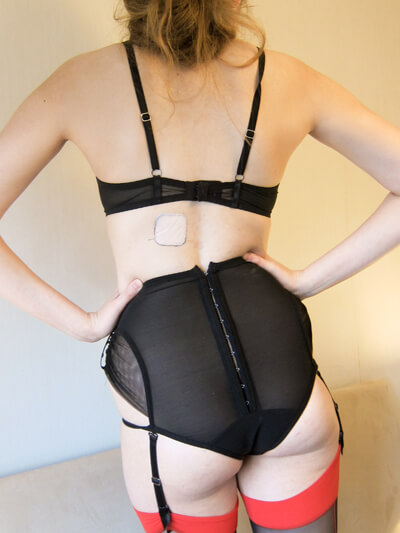 My only issue with these briefs is the hook and eye fastening at the back. There's no delicate way to put this, but it really hurts. The hooks are surprisingly sharp and there isn't any layer between them and your skin, so wearing these for more than a few minutes became incredibly uncomfortable. I'm a little heartbroken about this --- these are truly gorgeous knickers and I'd been hoping to wear them on an everyday basis but it's just not feasible! Luckily the set's gorgeous enough to qualify as boudoir-only --- where, let's be honest, comfort isn't completely necessary.
Edit (06/03/13) - I've since been informed that the Isla knickers I purchased had a manufacturing fault --- the hooks that had been causing the discomfort had been sewn in the wrong way round --- they should have been facing away from the body.
Jenny Packham silk & lace robe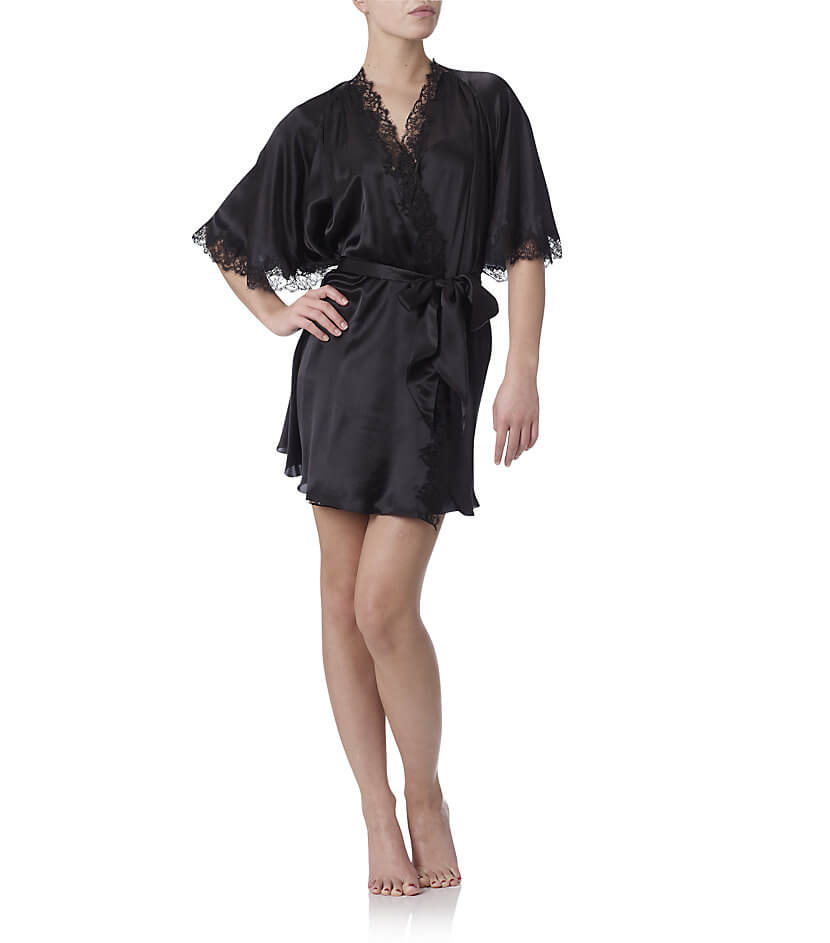 Lace trim robe by Jenny Packham, image by Harrods
Jenny Packham is one of those designers whose lingerie I've often admired from a distance --- whilst many of her designs are beautiful, the price tags can make the eyes water somewhat. I was very lucky in acquiring this robe --- as a current season piece it still hasn't reached the sale, so it was a chance ebay find that led it into my possession. It's a simple enough piece, made of silk satin with a lace trim along the neckline and sleeves.
The robe I managed to get is a size Large (I would ordinarily opt for a Medium), however as a piece of loose-fitting loungewear I don't feel it causes any major issues. The bra retails for £739 and can be purchased here.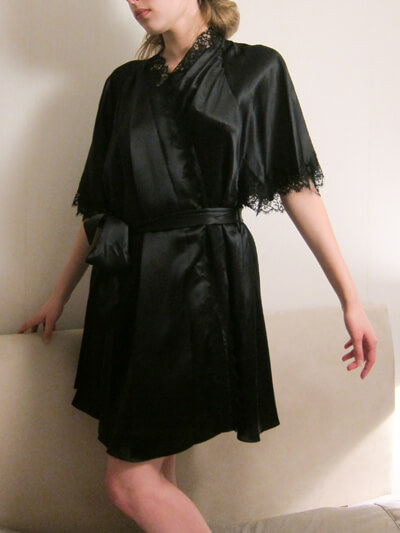 Funnily enough, I don't feel there's much I can really say about this robe. Overall, it's very pretty --- there's a lovely lace trim along the sleeves and neckline. The loose sleeves and full skirt are fun to swoosh around in and the tie waist is nice. But that's about all I can say about the garment. It's pretty, but it's not special. It's not made by artisans and finished imbeccably --- the lace appliqué is machine-sewn on and it is made in China (this isn't a knock at China; I'd just expect a garment at this price point to have more expensive labour costs).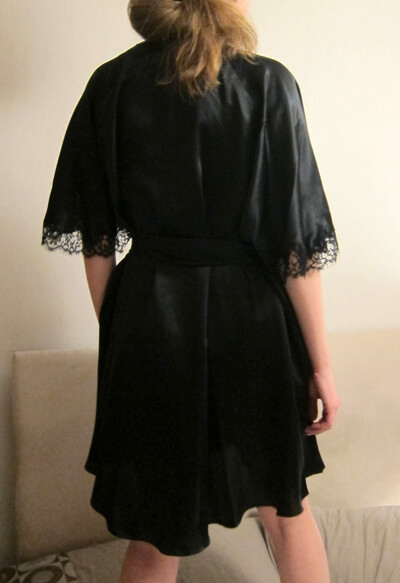 As with most premium and luxury lingerie, you are paying for the name rather than the lingerie itself. There's nothing wrong with the robe, but I just can't see how it justfies the £739 price tag. For that sort of money I would personally want something unusual and impeccably crafted, though that's just not the way the industry works.
Readers --- did you manage to catch any bargains in the sales? Have you tried any of the designers above?