The Glorious Brazilian Bikini +4 Swim Brands to Watch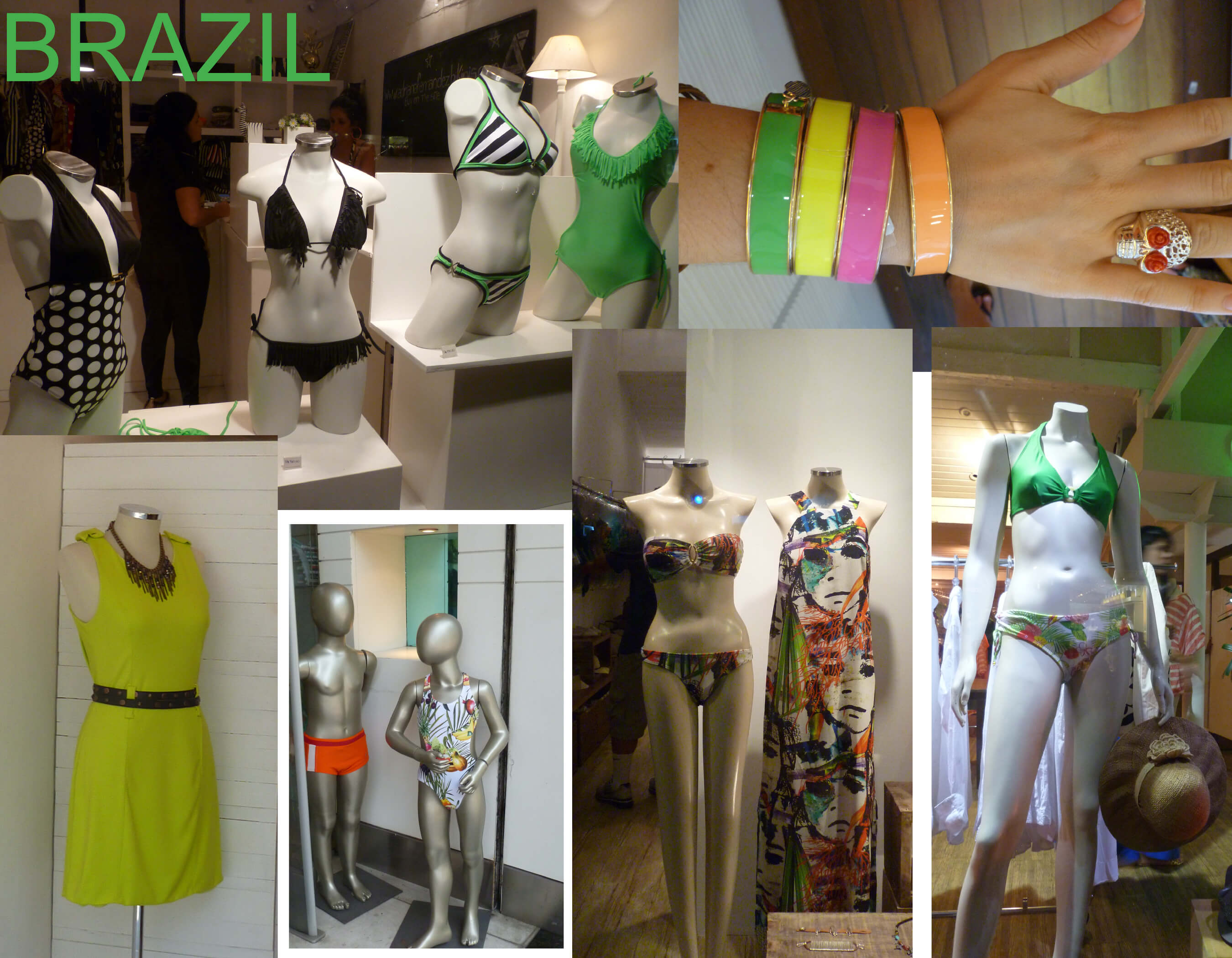 I'm writing this from Buzios, Brazil, where I've spent a week contemplating the tininess of the Brazilian bikini.
Back in the States, even our skimpiest bathing suits generally keep the behind at least somewhat modest (or else who knows what kind of judgment would greet you), but here the guiding principle of beach dress seems to be the more skin, the better.
At first, this sea of flesh was shocking to my North American sensibilities. But now that I've become acculturated to it (and even bought myself a teeny fuchsia two-piece), I've come to think the spirit that accompanies tiny beach attire here is actually refreshing and would be a welcome influence on our overly body-conscious culture in the States.
We American women, as has been discussed from many different perspectives on this blog, are in a constant battle with our bodies. We idolize the supermodel physique, but resent it too since it's out of reach. And who --- even among those of us who do like our bodies and believe theoretically that we SHOULD live in a less judgmental culture --- doesn't sometimes catch herself seeing another woman and thinking, "she's wearing THAT?"
The glory of the Brazilian beach is that people seem much more comfortable in their skins. All shapes and sizes frolic in thongs and tiny triangle tops, the men in little briefs, playing football and eating variants of fried cheese, the national snack. There does not seem to be the attitude that if a woman's body doesn't conform to a specific ideal of beauty, she doesn't deserve to be wearing something small, or that she somehow owes it to the public to keep herself modest. Everyone can dress skimpy, sexy, and enjoy the sun on whatever regions of their skin they'd like.
Aside from getting to ponder the most noteworthy aspect of the Brazilian bathing suit (its size), this trip has been a great trendspotting experience to see what a year-round beach culture is wearing. It got me excited to spotlight some trends I saw in the boutiques in Ipanema and Buzios that were also influencing swim direction here in New York. In general, Brazilian swim is more uniform in silhouette, whereas North American swimwear is taking varied directions in shape, but both had interesting print and detail. Both, also, are revisiting one-piece shapes in innovative ways.
During market week for Resort and Spring 2013, I visited (Capsule), a trade show in New York City for emerging trend-forward brands, and came across three lines that impressed me: Beth Richards, Beach Riot, and Lilibon. A fourth, K Belo, I found by word of mouth in Brooklyn.
In this deepest, darkest month of winter, I want to share my finds with you so we can all have something inspiring to look forward to in the near future (tropical vacation, anyone?) or in the more distant frolicsome months ahead.
BeachRiot reflects the easy, sporty-yet-sexy, particularly American influence of its Southern California roots. For spring, designer Nicole Hanriot showed a mix-and-match variety of pieces. The line, though it includes disparate fabric, color, and detail choices, is unified by a strong brand identity that merges vintage Americana print, trashy-chic, and casual cool. Silhouettes vary widely, and include Brazilian cut bottoms and wispy crochet-inspired tops.
Canadian designer Beth Richards's take on swim is modern, sleek, and severe-yet-sexy. Her mostly monochromatic black and white palette feels modern and refreshing among the bold colors and prints for the past few seasons. Silhouettes feel more constructed than her cohorts', with a conscious attention to placed cutouts and opacity mixed with transparency --- all to a very sexy and sophisticated effect. UV-protected fabrics make this a functional swim choice, and the option to mix and match pieces and to use them as ready-to-wear bodysuits makes it a versatile and elevated one too.
Lilibon is sweet, feminine, and lovely. Inspired by 1940s pin-ups, designer Emilie Bon says, "I have always loved lingerie, and I aim to bring the same sense of style and unashamed feminity to the women's resort wear." Design details include high waisted briefs and structured bra tops, sweet fluttery ruffles, and pastel floral print.
K Belo features classic styles with a modern twist, the kind of swimwear that, rather than catering to a specific and defined aesthetic like the previous three brands, is a chic and flattering choice for a range of tastes, body types, and uses. Brooklyn designer Diane Belgrod was inspired for 2013 by "the hazy nostalgia for a bygone era of style and leisure. Dreaming of a weekend jet-set to 1950s Havana, Cuba, taking just one small suitcase full simply of swimwear." Made of Brazilian fabric, the line includes classic one-pieces and separates in black, with pops of brights as well as breezy stripes and polka dots.
Writing this from faraway Brazil is putting me in a deliciously acquisitive swimsuit mood, and I am so excited to go out and get some of these sophisticated pieces this spring. The variety of swimwear among these brands --- and the choice to change my look day-to-day on the beach --- is the best part. My teeny Brazilian bikini will also be coming home with me, and I'm planning to sport it in all its flesh-showing glory back on more modest American turf.
What are your thoughts on body consciousness and beachwear? Do you have any favorite swim brands to share?
Last Updated on