Sweet Treats: Craveable Lingerie To Indulge In This Holiday Season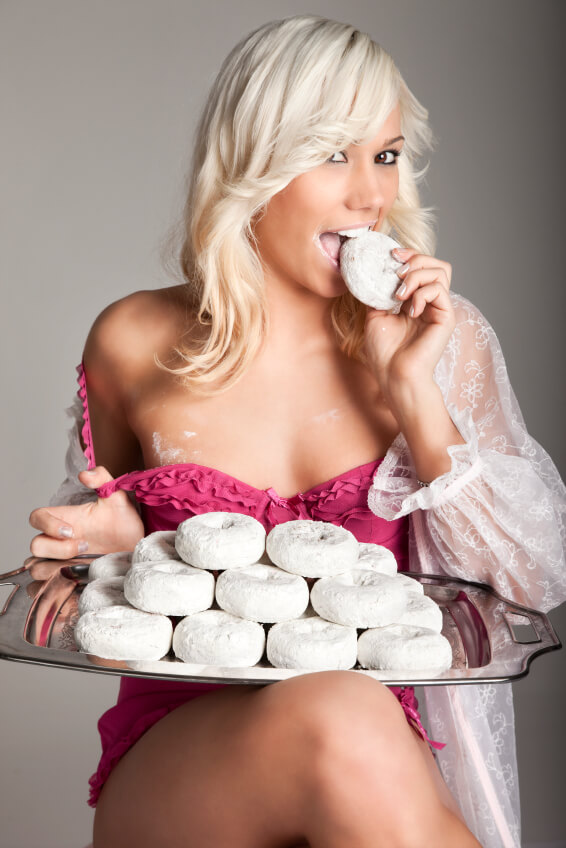 'Tis the season of obligatory spending and gluttonous indulgences!
Every year the month of December rolls around and throws the masses into a tailspin of retail mania, holiday stress, and high-calorie binging. And each year this tradition begins earlier then ever, starting in October with Halloween and taking us through Thanksgiving dinner, Hanukkah, and then Christmas and Kwanzaa. By the time we ring in the New Year our bellies are over-stuffed and our consciences are wrought with guilt. But rather than declare the usual resolution of a new fitness regime (while relying on our Spanx to get us by in the meantime) why not find an alternative way to control our cravings and keep those extra few pounds at bay?
Today there are many ways in which you can enjoy the spirit (and treats) of the season while maintaining your dress size (and dignity). My personal favorite choice is to indulge in some delectable themed intimate apparel and sleepwear. Because what better place to satisfy your cravings than with lingerie?
Below is a list of my top eight tasty food-inspired pieces for the holiday.
1) It Takes All Sorts bullet bra and knickers by Frantic About Francis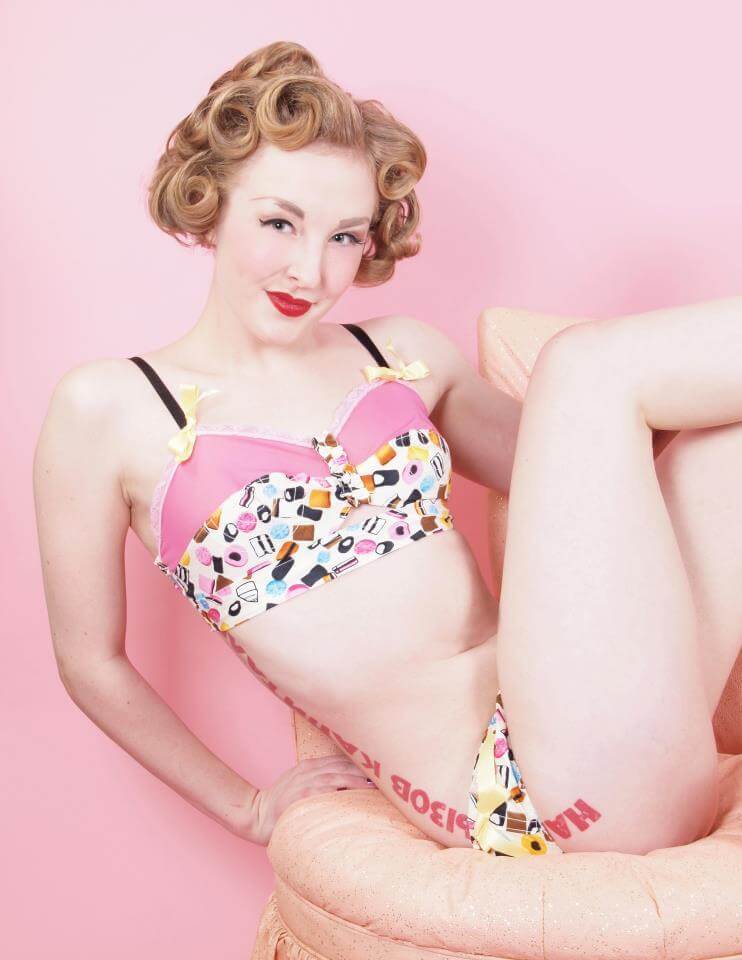 This retro-inspired set by Frantic About Francis is printed with confectionary goodness, guaranteed to make your mouth water. The licorice-printed cotton mixed with soft, candy-pink mesh, and lemon-yellow bows add sweet and feminine touches to help any girl feel like a savory 50s pinup. Available at www.franticaboutfrances.bigcartel.com
2) Drawstring Candy Spill Pajama Pants by Dylan's Candy Bar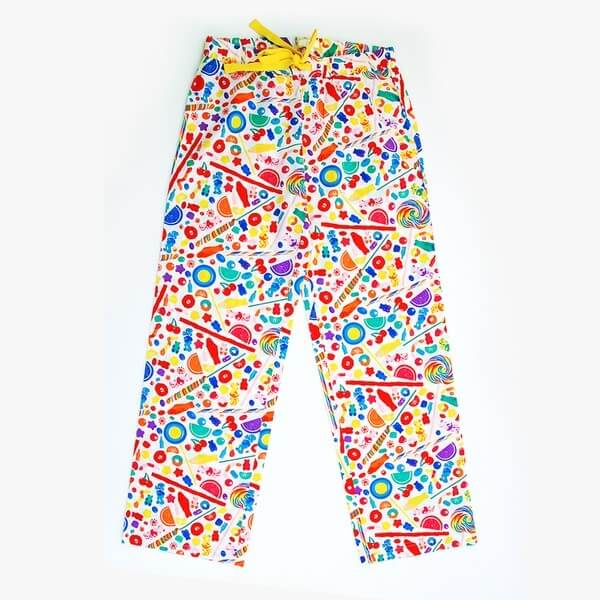 What better to keep cozy this season then in super-soft pajama pants? These candy-coated drawstring pants by sweet shop favorite Dylan's Candy Bar are a fun and playful way to satisfy those cravings without straying far from your diet. Available at www.dylanscandybar.com
3) Fast Food crew socks by Socksmith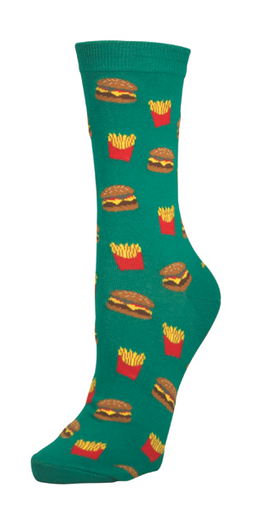 Visually pig-out this season with the hamburger-and-fries-printed crew socks by Socksmith. These junk food socks will allow you to satisfy your cravings without the artery-clogging consequences of today's fast food. Consider it a healthy alternative to the real thing, sure to keep you satiated and content. Available at www.socksmith.com
4) Sloth Cupcake Bow Burlesque Corset by Madame Dulcibelle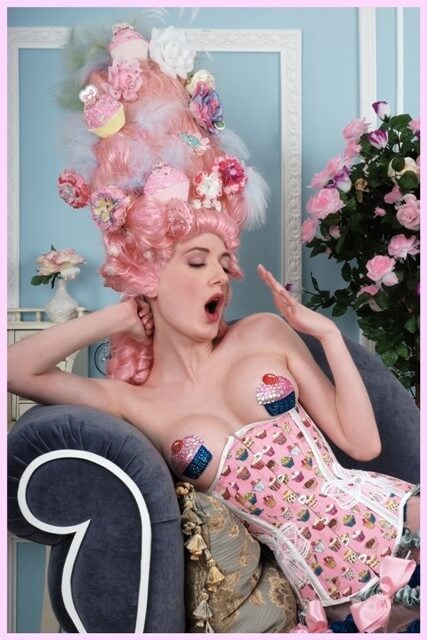 This steel-boned bespoke corset from Madame Dulcibelle is a decadent treat for anyone with a sweet tooth! The Marie Antoinette-inspired cupcake print is accented with satin trim and bow appliques which emphasize a woman's curves and gives the illusion of a teeny tiny waistline. Available at www.etsy.com/shop/MadameDulcibelle
5) Candyland Tights by Celeste Stein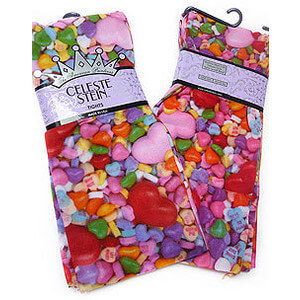 These saccharine-covered, photo-printed tights by Celeste Stein are a perfect way to show off your sweet side. The rainbow clusters of candy hearts are a funky way to flaunt your legs this season and will make them look good enough to eat. Available at www.electricalice.bigcartel.com
6) Cupcake Print cropped cami top and short set by Coquette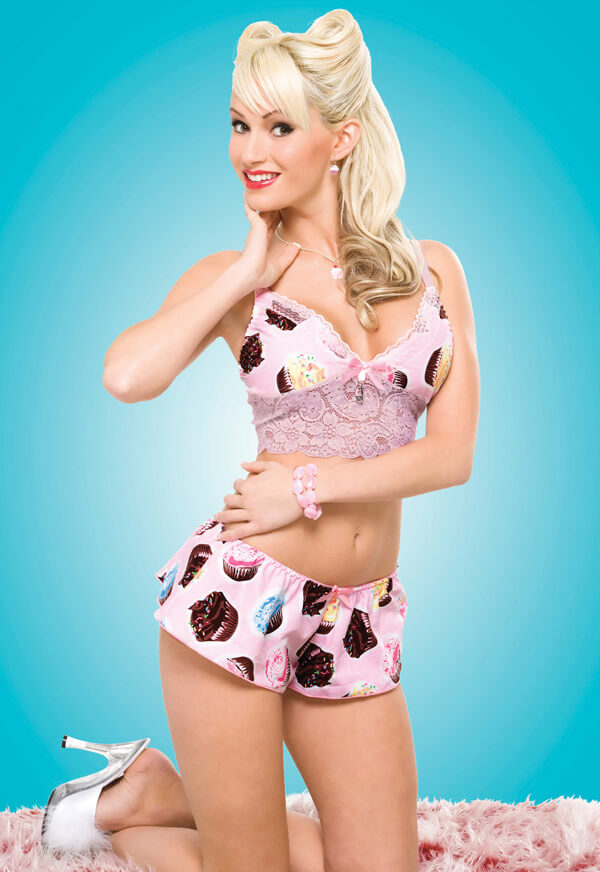 Show your flirty side with oversized cupcakes and lace trim. This cute little cami set by Coquette is the perfect dessert choice after any meal. Give into temptation and savor the whipped icing and rainbow sprinkles without any fear of regret. Available at www.pinupdoll.com
7) Gummy Bears knee socks by Sock It To Me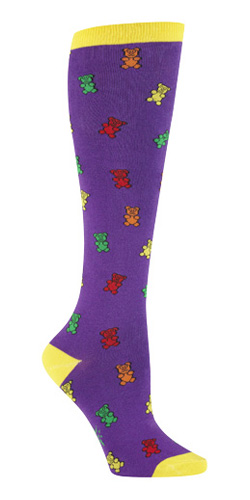 Next time the munchies strike, try satisfying them with these treats for your feet. These nostalgic knee-highs by Sock It To Me feature adorable, dancing gummy bears in an array of flavors just begging to be eaten. Completely sugar-free, calorie-free, and guilt-free! Available at www.sockittome.com
8) Cupcake Parade flannel pajama set by P.J. Salvage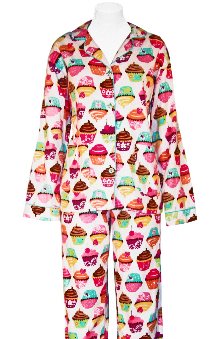 Avoid tipping the scale in these tasty cupcake pajamas by P.J. Salvage. These boyfriend-style pjs feature mouth-watering gourmet cupcakes in a range of flavors and designs. And the cozy fabric will leave you snug as a bug with sweet dreams all night long. Available at www.pjsalvage-shop.com
What other lingerie items are you craving this season? How do you make it through the holiday season each year?