Lingerie Reviews: Autumn Acquirements From Maison Close, Lascivious, & Lacing Lilith
Disclaimer: The Soie Cherie set was kindly provided MemeShop. All other garments in this post were purchased by me. Lascivious and Lacing Lilith are not affiliated with these reviews in any way. All opinions are my own.
I'm constantly shopping for new lingerie – I have a terrible habit of justifying it as 'research' for my lingerie studies! I'm forever trawling the internet, sample sales, and eBay in case I manage to uncover a bargain. Here are my lucky finds from the last month and what I thought of them.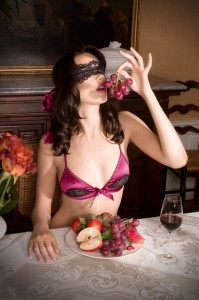 Maison Close's Soie Cherie bra. Image from MemeShop.com
I've encountered the brand Maison Close only briefly in the past – they'd always appeared to me as being highly erotic and boudoir wear-focused, with lots of garments featuring naughty cutouts and straps. The Soie Cherie set was therefore quite a pleasant surprise – it's much girlier and not quite as obvious as the brand's other offerings. Featuring a soft bra (£60) and detachable-suspender brief (£55), the set is made in a stretch fuchsia silk with delicate black stretch lace inserts. Sizing comes up very small in Maison Close's designs, so I would fully advise going up a size in any order. I ended up ordering a Medium bra and Large briefs when I usually wear a 30D bra and UK 10/12 briefs.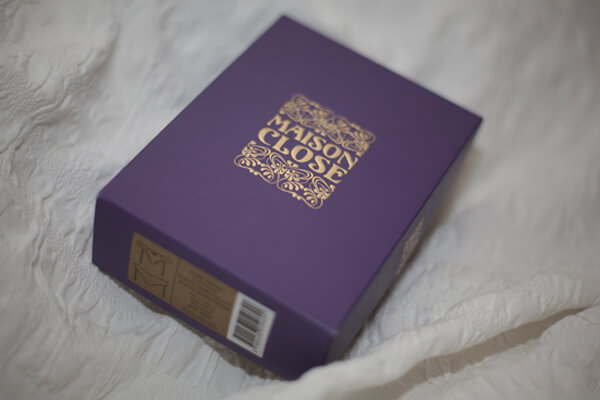 My first impression of the set was that Maison Close use utterly gorgeous packaging – each garment comes in its own purple and gold branded box and is wrapped in tissue paper. The actual set is very flirty and feminine – the combination of delicate lace and soft silk gives it a very luxurious feel.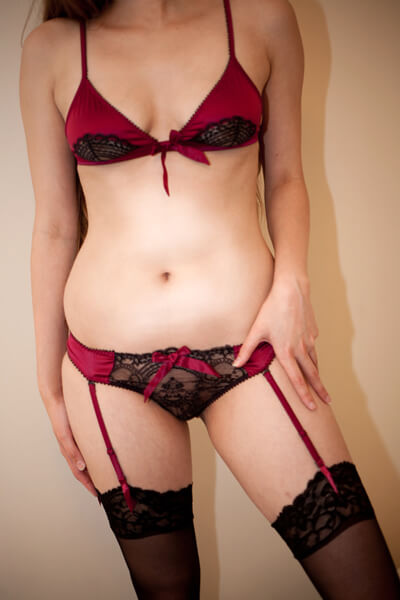 Unfortunately, it does appear to be a bedroom-only set. As with most soft styles, the bra doesn't provide any major amount of support, though it does give a flattering shape to a smaller bust. I also had some issues with the knickers – on their own, they are utterly fabulous, being both comfortable and flattering. However, the problems start with the garter straps: the fact that they are silk makes adjusting them quite tricky, whilst the small clips can get quite fiddly and make it rather difficult to actually attach them to stockings. My real problem with them, though, was the fact that they don't actually hold your stockings up – take a single step, and you'll find your stockings actually start pulling your knickers down! This is unfortunately unavoidable for any suspender straps that come from the hips and not the waist. If you are considering buying them, I'd simply advise ditching the suspender straps and pairing the briefs with some lace hold ups.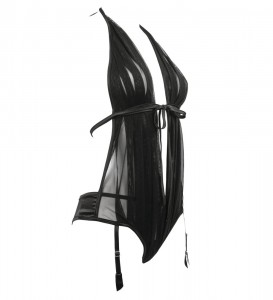 I can't deny that I've been eyeing up the Midori bodysuit (£198) for a while now – I adore Lascivious' aesthetics, and as part of their 'Classics' range, this garment has simply been taunting me every season. I was lucky enough to find this bodysuit in a sample sale a couple of weeks ago and so avoided breaking the bank! Featuring sheer net that drapes across the body, elastic strap detailing, satin ties around the bust and neck and suspender straps, it's a hugely flattering piece for all sorts of body shapes. The satin ties can be worn according to your preferences, whether you prefer them crisscrossing across the body or wrapped tightly under the bust.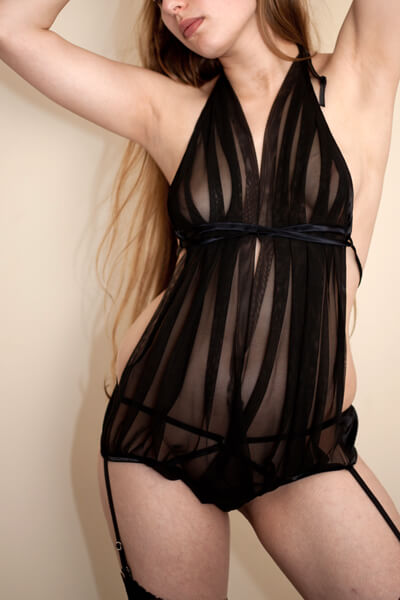 Unfortunately I have once again encountered some trouble with Lascivious' sizing – I'd previously purchased knickers and another bodysuit from them in a Medium, only to find that they were too short for me in the torso.  With this playsuit, I took a bit of a risk in buying it in a size Large. Whilst it fits perfectly on my bottom, this time it's a little too long in the torso, with the draped mesh falling a lot lower on my body than in any of Lascivious' product shots! Nevertheless, I think it still looks absolutely gorgeous when worn so I don't have any real complaints!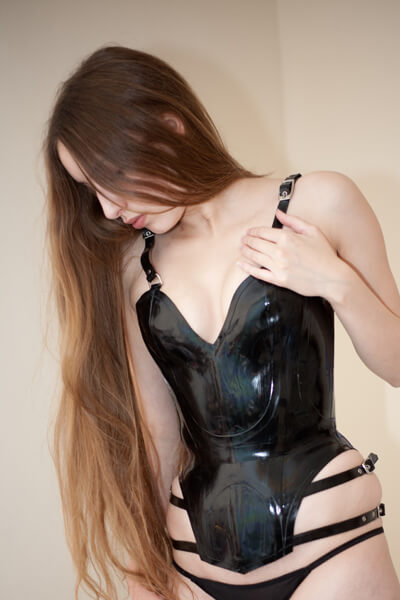 Latex can seem like a pretty scary material for most people – with its obvious fetish connotations, the average lingerie lover is going to deem it just a little too S&M to incorporate into their lingerie drawers. Nevertheless, latex has been rather prevalent in the high fashion world recently, perhaps making it a little more socially acceptable! I've previously only dipped my toes in the water by buying latex stockings and fingerless gloves (the perfect accessory to toughen up any lingerie outfit – trust me!), but decided to take a jump when I saw this Lacing Lilith corset sample (in my size would you believe it!) on eBay. It's a lot more extreme than my usual lingerie tastes but I still have no regrets – latex is a fabulously forgiving material and it's bound to make an impact wherever you wear it. I bought this with the intention of wearing it for Hallowe'en but I haven't quite decided how I'll be styling it! Either way, I have plans of making this corset at home with the rest of my lingerie collection --- I wonder how softening the look with some lovely lacey pieces would look?
1940s and 1950s bras
Finally, my occasional perusal of vintage shops resulted in my finding these two vintage lingerie treasures: a 1940s and a 1950s bra, both in amazing condition. Most surprising of all, though, is that they both fit! They both feature delicate lace inserts, pale satins, and intricate stitching and boning. Both bras use liberal amounts of boning for their support (instead of the underwire we are all so familiar with now), with the 1950s bra's being so effective it is in fact strapless. They both have the rather pointy bust shape that was so popular at the time – unfortunately this renders them a little inappropriate for daily-wear, though the collector in me says this is irrelevant!
Readers: What do you think of my most recent lingerie wardrobe additions? What have your most recent purchases been?