September Lingerie Adventures: What Katie Did, Victoria's Secret, Sparklewren, and More!
September always seems to be my busiest month. Once again, it's been crammed full of lingerie happenings. As well as being inundated with orders (following the launch of my brand last month), I've been juggling lingerie events and preparations to move cities! It's been an exhausting month but worth every moment. Here are a few of my favourite adventures. I hope you enjoy them!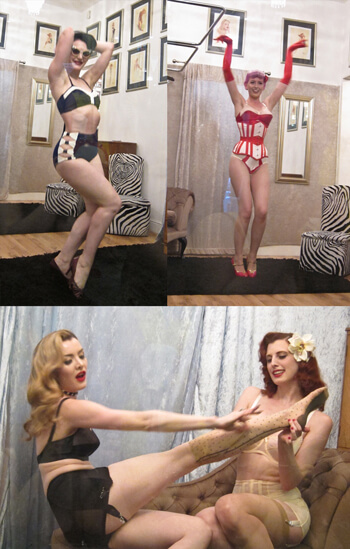 Clockwise from the left: SS13 including the new highwaisted bikini and Morticia corset, Miss Miranda and Sophie St Villier's burlesque routine
My lingerie month began with an invitation to What Katie Did's fabulous AW12 collection launch – a delightful afternoon of fabulous fashion shows and some rather delicious WKD cupcakes. A particular highlight of the event was the SS13 preview show. My personal favourites included a red and peach colourway for the Morticia corset and a delightful highwaisted bikini with side cutouts. We were also treated to a fabulous burlesque performance courtesy of Miss Miranda and Sophie St Villier – I was very taken with Miss Miranda's polka dot seamed stockings and ended up picking up my own pair!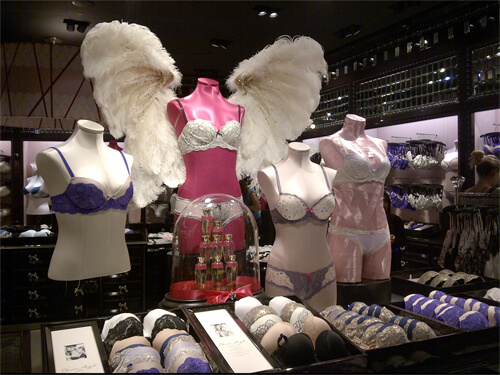 Inside Victoria's Secret Bond Street boutique - angel wings and all
Before leaving London, I knew I had to go and see what all the fuss was about with Victoria's Secret. They'd opened their Bond Street boutique amidst a flurry of controversy and speculation and I was itching to see it for myself. My first impressions were exactly what I expected: it's glamorous, attention-grabbing, and very, very 'American.' The décor is all black and pink gloss and chandeliers, with lingerie covering literally every available surface. It was a little overwhelming – the themes of each room were vague at times, and the designer collection left my jaw dragging along the floor – though not for the right reasons.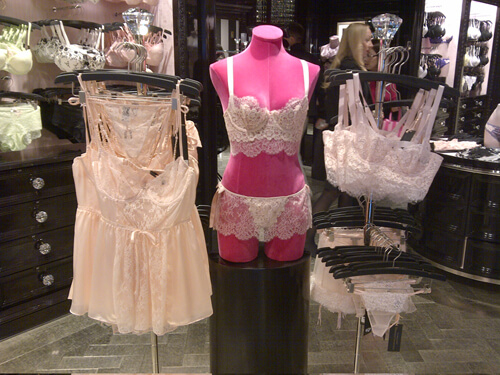 Some of the 'Designer Collection'
With a premium price, the designer collection seemed average at best, with the lingerie being poorly constructed and offering incredibly limited sizing. I did wonder why they'd even bothered to include it – after all, the department store 'Fenwick's' is just across the road and offers the crème de la crème of lingerie (Carine Gilson, Chantal Thomass and La Perla just to name a few) and often for a less intimidating price tag. Additionally, the mainline products seemed to have an unnecessarily high mark-up --- it seemed like the average bra on offer was around £30, which seems a little ridiculous considering the British high street offers multiple identical products for around £10. To be fair to VS, the customer service was impressive --- sales assistants could be found everywhere and they were all incredibly happy to help and discuss the products.
I was a little disconcerted by their infamous fitting service (having a tape measure wrapped around the top of your bust on the shop floor and then being offered a less-than-accurate size). Nevertheless, armed with my fitting card, I explored the shop in a bid to find something I'd like to add to my lingerie collection. Unfortunately, the only bras I could find in a 32C were molded cups and pushups; the lace balconettes seemed reserved only for those in a 32D or above. I'm personally rather fond of my bust shape and don't feel it needs a two-cup-size boost! I fully understand that expanding size ranges can be a complex and costly undertaking for a lingerie brand, though with a label as big as Victoria's Secret you'd think it wouldn't be too much of a risk.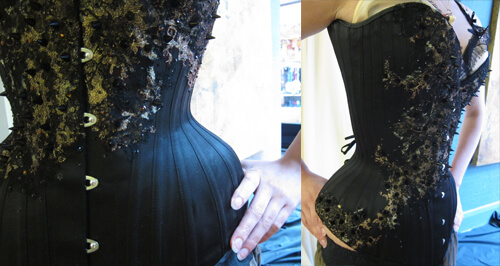 Details on the Sparklewren 'Burning Coals' corset
So what could be a better cure for the boring and mass-produced than a visit to the wonderful Sparklewren boutique? After popping in to Jenni's Birmingham boutique last week, I knew my lingerie lust list had just been entirely re-written. Her new 'burning coals' corset is one of the most gorgeous garments that I've ever laid my eyes upon: phenomenal shaping and exquisite embellishment, with layered golden lace, crystals and spikes – everything I could ever ask for in a corset! I was even lucky enough to try it on. All I need to do now is win the lottery and make it mine! I thoroughly recommend visiting the Sparklewren boutique to any lingerie and corsetry lover --- the creations it houses are more works of art than simply garments and the couture laces and crystal embellishments are sure to appeal to any lover of shiny things!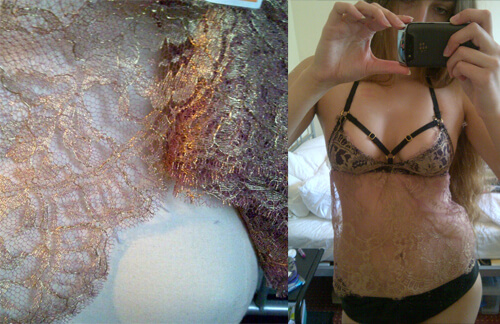 My gorgeous new French lace and my first camisole experiment with it
Finally, I've been getting to grips with the aftermath of launching my own lingerie brand! The response I've gotten has been a lot better than I ever could have expected. I've been inundated with orders and have received some incredibly lovely messages from customers – it's really helped to enforce that following my dream was actually a good idea. Unfortunately, my shop's orders seem to have taken up all of my spare time! I'd ordered some stunning French Leavers lace that I've been barely able to touch since it arrived. I'm hoping at some point in the near future I'll manage to get some free time for some new designs – all I've managed so far is a lace camisole, when really I want to be trying out the soft bras and high-waisted knickers that are still just ideas in my head!
Now that September's over, I'm finally going back to my lingerie studies at university. It's going to be an incredibly exciting year – we're going to be looking at corsetry and swimwear, to name just a few of the things we'll be doing. I can't wait to see where my new lingerie school adventures go, and I'm looking forward to sharing them with you!
Readers, have you had any of your own lingerie adventures last month? What do you think of mine?