8 Corsetieres to Follow on Instagram
It seems that 75% of what I do with my iPhone is check Instagram. Luckily, I can combine my idle habit with research by following my corsetmaking colleagues, thereby continually staying informed and inspired. What I love about Instagram is that it emphasizes a certain spontaneity and behind-the-scenes feel, and is also a bit more intimate. Unfortunately, a couple of my favorite corsetieres aren't on Instagram. Conversely, this isn't a directory of all the corsetieres on Instagram; I'm mostly emphasizing those who consistently post their work, but not by simply re-posting professional images thereof.  For a true backstage peek at handmade corsetry, these are the corsetieres I've been following.
If you don't have Instagram, you can view any user's public feed at http://web.stagram.com/n/username.
Alicia Rose
@iamaliciarose: Freelance lingerie designer and corsetiere. UK-based, with a great eye for composition of both her insta-shots and the designs she previews on the platform. As well as these works in progress and studio snapshots, expect to see florals and English pastoral views. I only recently started following Alicia, but am really loving what I've seen thus far.
Alige Corsetry
@Alige: Italian corsetiere. Lots and lots of studio shots, from works-in-progress to samples on live models; also makes accessories and other lingerie.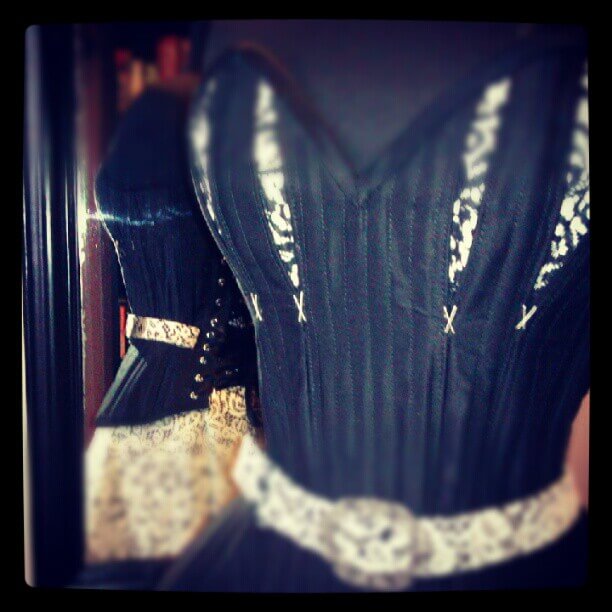 Crikey Aphrodite
@crikeyaphrodite: Corsetiere, new to Instagram, but not to corsets. There's a definite emphasis on cat pictures, but maybe if we all go show her some appreciation she'll show us more workshop tidbits, along with the admittedly-adorable cat.
Hannah Light
@hannahlight: Neon Duchess on Facebook. A comfy mix of workroom and personal shots populate her feed. Her corset aesthetic is an interesting, quirky and curvaceous blend.
Autumn Adamme
@missdarkgarden: Designer/proprietress of corset legend Dark Garden. Owned by a Russian Blue (corsetieres are typically a bunch of cat ladies, if you haven't gathered). New styles, custom ensembles for fancy events, and the occasional bit of found inspiration accumulate here. For more Dark Garden goodness and then some, you may also want to follow @tulitulip, @hollybobisuthi, @kalicodelafey, and @kristin argue.
Elise Scarytale
@sweetcarousel: Sweet Carousel Corsetry.  Inspiration, lifestyle, personal style, and a healthy proportion of workroom snapshots with the occasional professionally shot photo thrown in.  Stylistically, Sweet Carousel works the hard/soft dichotomy pretty comfortably, executing styles with lace and bows with the same ease as those with studded leather.
Julia Bremble
@marmaladekiss: Perhaps better known as Sew Curvy Corset Kits. Corsets in progress, new materials for the web shop, and personal snapshots mingle in her feed.
Pop Antique
@popantique: Lastly, if you are interested in BTS shots of Pop Antique, Dollhouse Bettie, and Dark Garden laced with doses of cat belly, tea porn, and San Francisco scenery, you can find me on Instagram as (what else?) @popantique.  I've already warned you that I'm pretty addicted to IG, but I at least try to maintain a certain level of aesthetic standard on my shots.
Stay tuned for future installments! I've got plenty more designers, boutique owners, and classic addicts in my feed that I'd love to share with you…. If you're not following her yet, "The" Addict is of course @thelingerieaddict.
Who do you love to follow? Please share your favorite lingerie-related Instagrammers in the comments; I'd love to scope out some new eye candy.