Reviewed: The Body Wrap's 'Sheer Iridesscent' Slip & Bodysuit
Note: These items were purchased by me. The Body Wrap is not affiliated with this review in any way.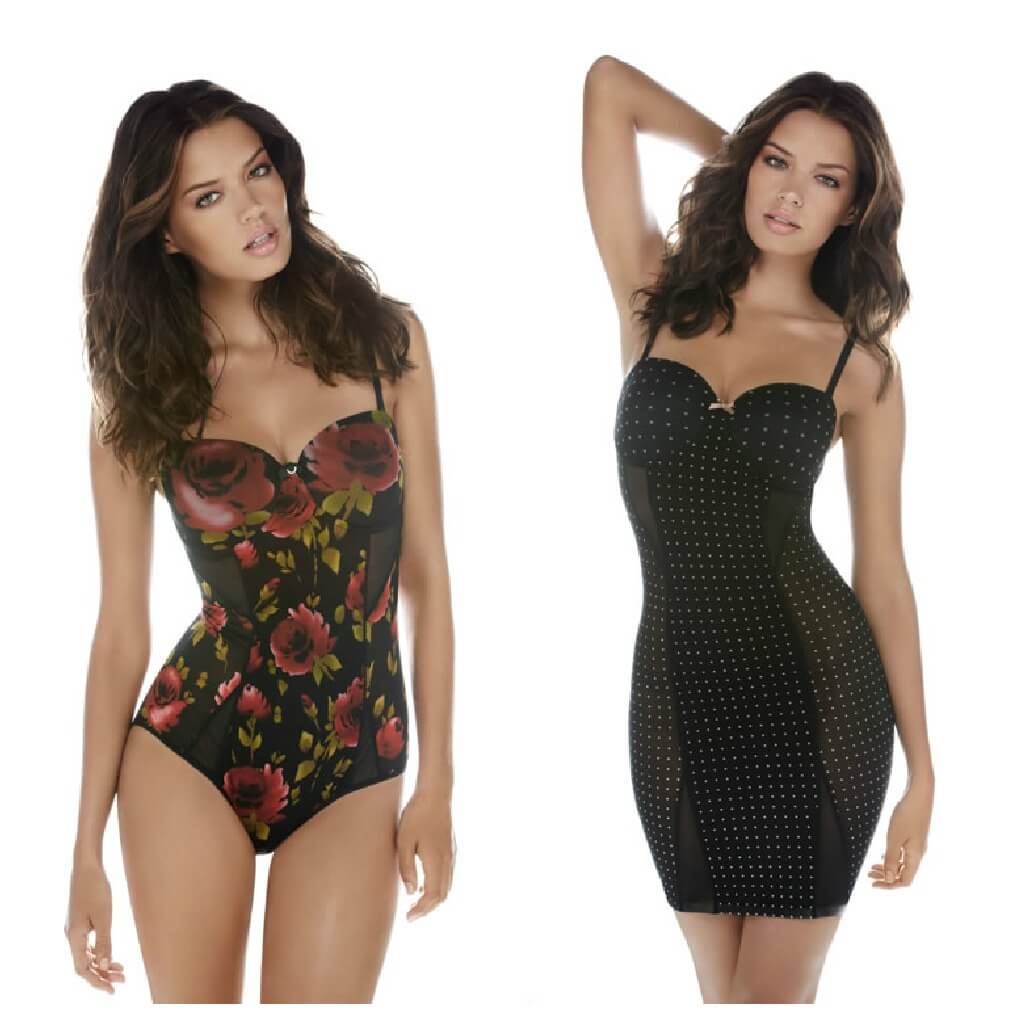 I've been wanting to try The Body Wrap for awhile. So much shapewear (the non-pinup kind, anyway) is boring and beige, that I love the idea of a shaping garment that can do double duty as something both pretty and functional. The Sheer Iridesscent Line is The Body Wrap's trendier take on shapewear, specializing in more fashion-forward fabrics but with less contouring, shaping, and control.
Since my bust, waist, and hip measurements put me in between sizes, I purchased the Romantica bodysuit in size L (left) and the Diva Dot slip in size M (although if I went by my weight, I'd be an XL... how do people come up with these size charts?). These pieces are available to purchase at The Body Wrap's website for $78 each.
The five-second review: The shapewear is pretty and would make a great layering piece (particularly for innerwear as outerwear looks), but it doesn't shape. I'd buy this for the appearance, but not for the effect.
The good: The Sheer Iridesscent line really is pretty. The mesh is good quality (but definitely not powermesh), and I could definitely see myself wearing either of these pieces with a pencil skirt, skinny jeans, or beneath a sheer blouse. This is lingerie you can feel comfortable showing off. I also like that there are several different prints and patterns to choose from.
The not-so-good: This shapewear doesn't shape. Or smooth. Or sculpt. Or do much of anything really. And while that would be okay if this was "just" a slip or a bodysuit, if you're going to promote a garment as contouring shapewear (and charge premium shapewear prices), it would be nice if it actually delivered. Otherwise, why not just sell it as regular lingerie?
The other issue was related to fit and, looking back, was similar to a problem I had with the Bethanny Frankel 'Skinnygirl' Shapewear. Namely, the bra cups.
All of The Body Wrap's full body pieces (like the bodysuit and slip) fit at least three bra cup sizes, with several of them fitting up to four (for example: A-D). That's a lot of variation, and so you wind up with a generic (and generically fitting) bra. Basically, if you're small busted, your boobs are keeping themselves up. But these pieces also illustrate perfectly one of my overall suggestions with regards to shapewear: namely, it can be better to focus on one specific area (for example: just your waist or hips or tummy) than trying to get one piece that does it all.
In summary, this is a nice fashion line, but not much more. If you are wanting full-body shapewear, I recommend buying from a brand that sells by bra size instead of dress size or purchasing a shaping dress that lets you wear your own bra. Not only will your bosoms get the support they deserve, but so will the rest of your parts.
Have you tried The Body Wrap? What did you think of it? Do you feel like shapewear should actually do something when you wear it? Let me know your thoughts in the comments.